Oven Baked Pork Chops seasoned with a quick spice rub and baked to perfection. This baked pork chop recipe produces tender, juicy and flavorful pork chops every time!
These baked pork chops are absolutely delicious and so easy to make. They are seasoned and cooked in a sheet pan, ready in about 20 minutes and always turn out perfect. This is definitely a pork chop recipe to have handy, especially during busy weeknights.
We love serving them with sauteed green beans and maple oven roasted sweet potatoes for an amazing meal the whole family loves.
Most people think baking pork chops produces dried, tough and tasteless meat. I am happy to tell you that oven baked pork chops can be amazingly tender and juicy if you cook them at the right temperature and for the right time.
The Best Baked Pork Chops
I get so many questions about cooking boneless pork chops in the oven, mostly from people who grew up eating dried up pork and are hesitant to even try pork recipes. I will try to answer some of the most often asked questions for you. However, know that achieving tender, succulent and never-dry pork chops is pretty easy – especially if you are aware of the internal temperature safety guidelines for all things pork. (I think most of us forget that a little pink on pork meat is safe to eat).
Pork Chops Recipe Ingredients
This oven baked pork chop recipe uses a very simple dry rub that is super flavorful. However, feel free to customize the seasonings and spices if you prefer.
Pork Chops: In this recipe I use boneless pork chops that are 1-inch thick minimum. Bone-in pork chops are also an excellent option.
Olive Oil: Canola oil, avocado oil and coconut oil can be used as well.
Dry Rub Mix: Brown sugar, garlic powder, paprika, Italian seasoning, salt and pepper.
How To Make Pork Chops In The Oven
You can season the meat ahead of time and let it sit on the counter for 15 to 30 minutes or in the refrigerator overnight. However, you can season the pork on the sheet pan and bake it right away.
First, preheat the oven to 375 degrees Fahrenheit.
In a small bowl, mix the dry rub ingredients.
Place the chops on a baking sheet and drizzle them with the oil. Rub the oil all over the chop (this helps keeping the seasoning on). Next rub the chops with the dry rub mixture on both sides.
Bake until the internal temperature reaches 140 degrees, the temperature will rise while the pork rests (read more about carryover cooking at the bottom of the post).
Remove the meat from the oven and let it rest for 5 to 10 minutes. I like to tent the pork with aluminum foil or parchment paper.
At this point, you can recheck the internal temperature if you wish. Serve and enjoy!
Do You Cover The Pork Chops While Baking?
No. I bake pork chops on a baking pan uncovered.
What Temperature Should Pork Chops Be Cooked At?
The USDA's safe temperature guideline for pork chops is 145 degrees Fahrenheit.
I recommend to remove them from the oven when the temperature reached 140 degrees Fahrenheit and allow the pork to rest for a few minutes. During this time the temperature will rise 5 to 10 degrees.
At What Oven Temperature to Cook Pork Chops?
For this recipe, I bake the pork chops in a 375 degrees oven.
How Long Do You Bake Pork Chops at 375 degrees?
Although not all pork chops are created equal – the fat content, the exact thickness of the chop, how the pork was raised (organic, grain feed, etc) and how hot your oven gets – all have an effect on the exact baking times, these pork chop recipe bakes for about 20 minutes. It is important you check the meat temperature with an instant read thermometer to prevent overcooking. I usually start checking after 17 minutes of cooking.
For juicy pork chops – patience, a watchful eye and a meat thermometer are keys to success.
What is The Best Pork Chop for Baking?
Let's talk about pork chop cuts:
Pork chops are a cut from the loin of the pig that runs from the shoulder to the butt.
If you go to the market you will find several cuts of pork chops. Their name depends only by what area of the loin they are cut from. The rib chop and the loin chop are usually the most popular cuts. For this recipe, I used boneless loin chop.
The best pork chops for baking are boneless or bone-in pork chops that are at least 1-inch thick. Don't remove that fat layer at the edge, it will protect the edges from drying out.
What kind of seasoning should I use for Oven Baked Pork Chops?
When seasoning pork, the sky is the limit! Pork chops are incredibly versatile. They have a mild flavor and can take to different kinds of seasoning.
For this easy pork chop recipe, I seasoned the pork with a simple dry rub made with brown sugar, garlic powder, paprika and Italian seasoning.
Spices like cumin and chili powder are also wonderful seasonings for pork chops. Take a look at these Baked Pork Chops with Southwest Dried Rub. They are so flavorful and easy to make!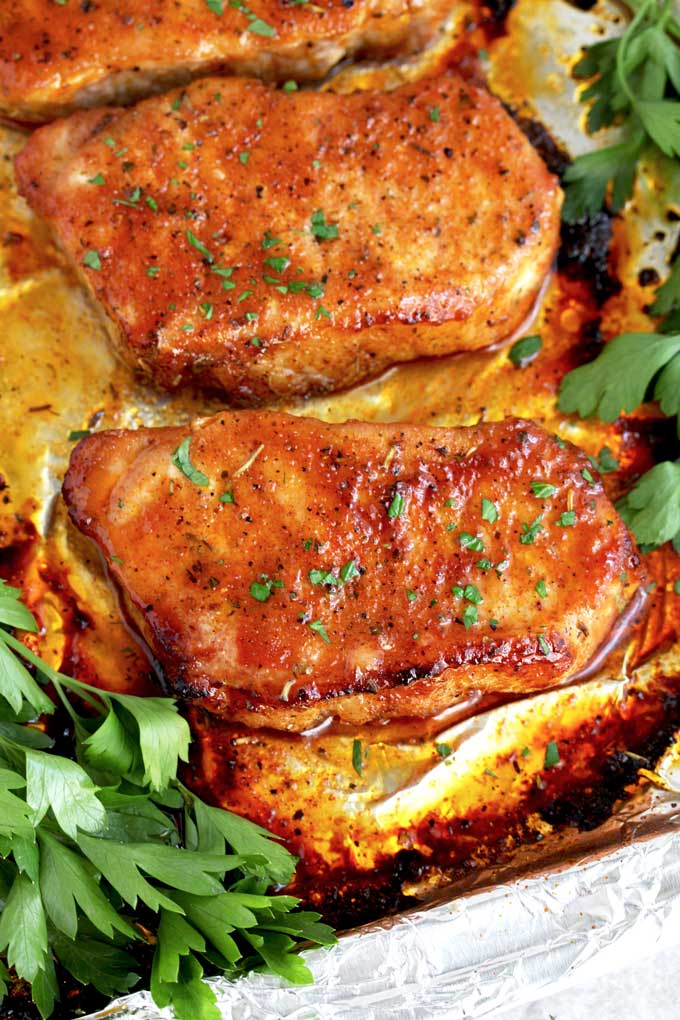 What is Carryover Cooking?
When we cook, heat transfers from the outside part of the food inwards as heat slowly moves towards the inner center, this process continues even after the meat is removed from the heat source. Carryover cooking also known as "resting" increases the temperature of the final product by 5 to 25 degrees Fahrenheit, depending on the size and density of the food been heated. A large roast's temperature may increase 20 to 25 degrees during carry over cooking, while a steak may only rise 5 to 8 degrees.
Resting meat, also refers to the process of allowing meat juices to redistribute after cooking. If you cut into a steak right after taking it off the heat, the meet juices run all over – leaving the meat less juicier and with less flavor.
Wondering what to serve with these delicious Boneless Baked Pork Chops? Here are a few side dishes ideas:
Take a Look At These Other Easy Recipes: