These Sauteed Green Beans are easy to make and the perfect side dish to serve with any meal. Fresh green beans (string beans) are sauteed in a skillet and tossed with garlic, lemon zest, Parmesan cheese and pistachios. These are the best green beans hands down!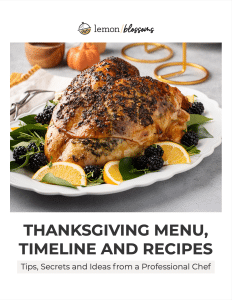 psst… Thanksgiving stress?
Not anymore!
Download our limited-time guide to hosting a smooth Thanksgiving, as experienced & perfected by Chef Kathy.
If you are looking for the perfect recipe for green beans – a simple and quick side dish to serve on a busy weeknight or at a holiday party, this vegetarian, easy and delicious recipe for fresh green beans, is the absolute best and our favorite way to cook string beans.
My oldest son loves these saute green beans so much that I always have to make a double batch as he could eat the whole skillet-full by himself!
The BEST Sautéed Green Beans Recipe
This recipe has a handful of simple ingredients and is ready in little time.
This green beans recipe is versatile and can be easily customized to your taste. Don't have pistachios? Skip them or use any other nut like sliced almonds or chopped pecans.
This sauté green beans are crisp-tender and loaded with flavor. The combination of garlic, Parmesan cheese and lemon zest is delicious and the pistachios not only add a nice crunch but also elevates this side dish to holiday worthy standards!
Fresh green beans are plentiful and loved even by picky eaters, making this the most perfect side dish to serve at family gatherings.
Green beans (string beans) are healthy, full of nutrients and are low in calories.
How To Prepare Green Beans For Cooking
Fresh green beans or string beans can be purchased off the vine or already trimmed and packaged.
If purchased off the vine (not trimmed), simply cut off the stem off the tip.
I put the greenbeans in a colander and rinse them with cold running water.
How Do You Trim Green Beans?
Trimming green beans is very easy. You only have to remove the tip of the stem end or bean topping where the pod was attached to the plant. The other end, the tail end doesn't need any trimming, unless you are making a recipe that asks you to remove it for aesthetics.
Cut Off: Working in batches, gather a handful a of green beans together. Line up their stems and cut them off with a knife.
Snap: You can quickly snap the tip of each string bean with your fingers, this takes time (and no knife).
Sautéed Green Bean Ingredients
Green Beans/String Beans: Trimmed and blanched. You can use French beans (haricot vert) as well.
Olive Oil: You can use butter or a combination of olive oil and butter (this is a popular combination used by restaurants when pan-frying vegetables or proteins. However, olive oil imparts great flavor and keeps this recipe a bit healthier.
Garlic: Fresh garlic is always the best option. You can use garlic paste as well.
Lemon Zest: It adds so much flavor! If you feel adventurous, try using orange zest or lime zest.
Pistachios: I buy shelled pistachios although pistachios on the shell are less expensive, Chopped pecans or almonds are great options. If you are allergic to tree nuts, skip them!
Parmesan Cheese: Freshly grated is the best but I have been known to use grated Parmesan from a green container proudly! No judging! If you want to keep this recipe dairy-free, you can use toasted Panko bread crumbs.
How To Saute Green Beans
First, trim and blanch the green beans (blanching green beans is so easy and a technique everyone should master! (Instructions on the recipe card).
Drain the green beans and gather all your ingredients. The saute process goes fast!
Heat the olive oil in a large saute pan.
Saute the garlic and lemon zest until they become aromatic.
Stir in the green beans and saute for a few minutes.
Add the pistachios and Parmesan cheese and saute for a couple of minutes. You want the nuts to get warm and aromatic.
Season with Salt and pepper to taste and serve.
Can I Sauté Green Beans Without Blanching?
Yes, you can. It is beneficial to quickly boil or blanch the green beans as a way to pre-cook them and to preserve their texture and beautiful bright green color. Blanching for a few minutes and a quick saute results in crispy, yet tender green beans.
If you want to skip the blanching process, I suggest you steam the green beans as follows: Add 1/4 cup of broth to the skillet or saute pan. Add the green beans and cover the the pan with a lid. Steam the string beans over medium-high heat until they turn bright green and are crisp tender (don't overcook them!). Drain/remove them form the saute pan and keep them uncovered. Proceed with the recipe as written.
Can I Blanch Green Beans Ahead of Time?
Yes you can blanch green beans/string beans ahead of time. Drain the beans, dry them with paper towels and then store them in the refrigerator for up to 2 days.
How Do You Make Green Beans Taste Better?
The secret to make green beans taste better is to to make sure of the following:
Season The Green Beans Properly! This is so obvious yet sometimes we are afraid to add a little bit of salt, herbs or spices. Although we may think salt is bad (and can be if consumed in high quantities), salt is one of the most important seasonings in cooking – that includes any seasoning that contains salt also. If you want to make your green beans extra happy, adding some garlic and cheese doesn't hurt!
Don't Overcook The Green Beans: We eat with all our senses so presentation and texture are important. Crisp bright green green beans taste so much better than mushy, dirty olive green, sad green beans!
Do You Make Green Beans Not Rubbery?
Rubbery green beans is a sign that your green beans are undercooked. Simply cook them a bit longer. If after you sauté the string beans you feel they are still undercooked, you can cover the skillet with a lid and allow the green beans to cook for a couple of minutes. The steam created in the pan will help soften the green beans.
Green Beans, String Beans, French Beans, Haricot Verts – What's the Difference?
There is not much difference between these – and you can use any of them for this recipe!
String Beans: Green beans are also referred as string beans because many years ago a varietal of the bean used to have a notorious fibrous string that ran along the seam of the bean pod. Nowdays most green beans are stringless.
French Beans or Haricot Verts: The name haricot vert means green bean in French. These beans are younger, skinnier and usually pricier than traditional green beans.
Sauteed Green Bean Recipe Tips
You can substitute fresh string beans with frozen green beans for this quick side dish recipe. Simply thaw out the green beans, pat them dry and proceed to saute them. Frozen green beans don't need to be blanched.
Add red pepper flakes to this green bean dish to add a little spicy heat.
If you want to keep this recipe nut-free, use toasted Panko bread crumbs instead.
To skip the blanching process, steam the string beans in about 1/4 cup of broth (directions above under "saute green beans without blanching").
Don't saute the green beans for too long! You don't want overcooked mushy veggies!
Green beans can be trimmed ahead of time and stored in an airtight container or resealable plastic bag in the refrigerator for 2-3 days I like to place a single sheet of paper towel inside the container or bag to keep the beans dry and fresh.
What To Serve with Sauteed Green Beans?
Want some recipe inspiration? Check out some of our favorite side dishes!
Follow me on social media for more recipe ideas & inspiration! Pinterest Facebook Instagram My Newsletter
Sauteed Green Beans Recipe
Easy to make Sauteed Green Beans (string beans) with garlic, lemon zest, Parmesan cheese and pistachios is a simple and tasty side dish perfect for weeknight meals, dinner parties and holiday meals.
Prep: 10 minutes
Cook: 10 minutes
Total Time 20 minutes
Servings 6 servings
Ingredients
1 pound green beans rinsed, trimmed and blanched
2 tablespoons olive oil
4 garlic cloves, minced
1 tablespoon lemon zest
2 tablespoons pistachios, shelled and chopped slightly
2 tablespoons Parmesan cheese, grated
Instructions
Heat the olive oil in a large saute pan over medium-high heat. Add the garlic and lemon zest and saute stirring often for about 1 – 2 minutes or until the garlic and zest become fragrant. Don't allow the garlic to brown.

Add the blanched green beans to the pan and stir well. Saute, turning frequently for about 2 – 3 minutes.

Stir in the pistachios and Parmesan cheese. Saute for about 2 minutes, tossing frequently. Season with salt and pepper to taste. Serve.
Chef's Tips
Don't allow the garlic to get brown. You can turn the heat to medium if needed.
Blanching green beans preserves their texture and color producing crisp-tender green beans.
f you want to skip the blanching process, I suggest you steam the green beans as follows: Add 1/4 cup of broth to the skillet or saute pan. Add the green beans and cover the the pan with a lid. Steam the string beans over medium-high heat until they turn bright green and are crisp tender (you don't want to over cook them as they will be saute after). Drain them and remove them from the saute pan. Do not keep them covered. Then, proceed with the recipe as written.
Nutrition
Calories: 89kcal (4%)Carbohydrates: 6g (2%)Protein: 2g (4%)Fat: 6g (9%)Saturated Fat: 1g (6%)Cholesterol: 1mgSodium: 30mg (1%)Potassium: 193mg (6%)Fiber: 2g (8%)Sugar: 2g (2%)Vitamin A: 545IU (11%)Vitamin C: 11.3mg (14%)Calcium: 53mg (5%)Iron: 0.9mg (5%)
* Please note that all nutrition information are just estimates. Values will vary among brands, so we encourage you to calculate these on your own for most accurate results.