Learn how to cook green beans perfectly and enjoy crisp tender and bright green beans every time. Blanching green beans is a simple and quick method that preserves the green beans texture and color.
Check out our other How To Cook cooking recipes, methods and techniques with step by step photos and videos!
How To Cook Green Beans
There are many ways of cooking fresh green beans but blanching is one of the easiest and best ways to cook crunchy yet tender green beans or string beans perfectly every time.
The process of blanched cooking is very simple and only takes a few minutes. You mostly be waiting for water to boil, seriously! The two step blanching process simply means boiling fresh green beans for a couple of minutes and quickly shocking them to stop the cooking. Quick and easy for sure!
Before cooking green beans, string beans, French beans, garden beans, wax beans or any other type or varietal of this healthy and tasty green vegetable, let's talk about how to trim green beans.
How To Prepare Green Beans
Fresh green beans can be purchased already trimmed in packages or off the vine. I always place the raw green beans in a colander and rinse them under cold water, then I shake them dry.
Trimming green beans is very easy. You can either snap the ends of each string bean with your fingers (this used to be my job growing up), or simply cut off the non edible stem off the tip with a sharp knife.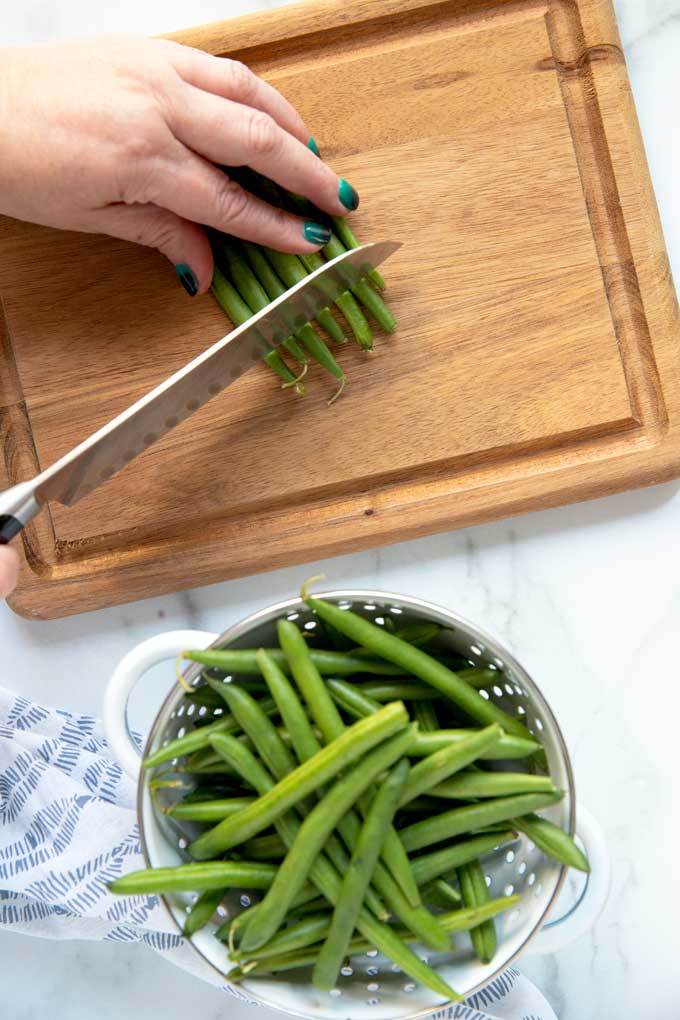 What is Blanching?
Blanching is a simple and basic cooking technique that consists of plunging vegetables in a large pot of boiling salted water for just a couple of minutes, followed by placing the vegetables into ice water to stop the cooking process. This process is referred to "blanch and shock".
What Is The Purpose of Blanching?
Blanching brightens the color of vegetables. Blanching or par-cooking is especially beneficial for green vegetables like string beans, broccoli, snap peas, pole beans and asparagus.
Blanching partially cooks the veggies making them perfectly crisp tender.
Blanch cooking removes bitterness in certain vegetables like kale, broccoli rabe and bitter melon.
Blanching or flash boiling can also help loosen the skin of nuts like almonds and soft, thin skinned fruits like tomatoes and peaches.
Flash boiling preserves the vegetable nutrients.
Blanching is an important step before freezing vegetables.
How To Blanch Green Beans
Trim and rinse the green beans.
Bring a pot of salted water to a rolling boil.
Prepare and ice bath by filling a bowl with cold water (tap water is OK) and some ice.
Add the raw trimmed green beans to the boiling water and cook for 2 to 3 minutes.
Transfer the green beans to the ice bath for 4 to 5 minutes. Drain the beans.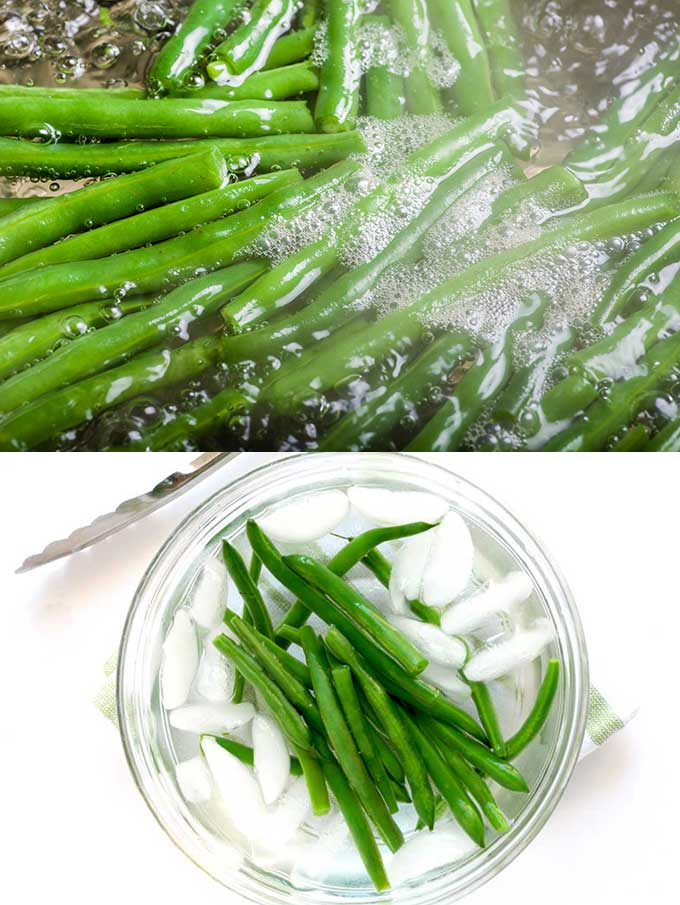 You have questions? We have answers!
How Long Do You Blanch Green Beans?
Blanching raw green beans in boiling water, only takes 2 to 3 minutes. After the quick boiling, plunged them into iced water for 4 to 5 minutes.
Is It Necessary To Blanch Green Beans or String Beans?
Blanching or quick boiling is a great way to cook green beans to crisp tender perfection. Although you can freeze green beans without blanching, I highly recommend blanching before freezing green beans.
How To Store Green Beans?
Store raw unwashed green beans in a bag or container in the refrigerator or fridge crisper for up to a week. After blanching, store the cooked green beans in a resealable bag in the refrigerator for up to 2 days or in the freezer for up to 8 months.
Blanching Green Beans Tips and Notes
Blanching veggies on the stove top only takes a couple of minutes. Keep an eye on the pot! Cooking the green beans too long can turn the beautiful green color into a dull olive green.
For tasty blanched vegetables, always cook them in salted boiling water.
Blanched green beans are a great addition to any homemade crudité platter.
Blanching can be done in water or in fat, such as olive oil.
Looking for Other Ways To Cook Green Beans?
Follow me on social media for more recipe ideas & inspiration! Pinterest Facebook Instagram My Newsletter
How To Blanch Green Beans
Learn how to cook green beans perfectly and enjoy crisp tender and bright green string beans every time. Blanching green beans is a simple and quick method that preserves the green beans texture and color.


Prep: 5 minutes
Iced Water Bath: 5 minutes
Cook: 3 minutes
Total Time 13 minutes
Servings 4 servings
Ingredients
1 pound green beans washed and ends trimmed
3 quarts water plus more for ice bath
2 teaspoons salt
Ice cubes about 4 cups
Instructions
Add water and salt to a large pot or sauce pan. Heat over high heat and bring to a rolling boil.

Prepare an ice bath by setting out a large bowl filled with water and ice,

Add the beans to the hot water and cook for about 2-3 minutes or until the beans are bright green and crisp-tender.

Remove the green beans from the hot water and immediately transfer them to the iced water. Drain and use as desired.
Chef's Tips
You can serve the beans right after blanching or store them in an airtight container or resealable plastic bag in the refrigerator for up to 2 days. Blanched green beans can be stored in a freezer bag and freeze for up to 8 months.
Nutrition
Calories: 35kcal (2%)Carbohydrates: 8g (3%)Protein: 2g (4%)Fat: 1g (2%)Saturated Fat: 1g (6%)Sodium: 1205mg (52%)Potassium: 239mg (7%)Fiber: 3g (13%)Sugar: 4g (4%)Vitamin A: 782IU (16%)Vitamin C: 14mg (17%)Calcium: 63mg (6%)Iron: 1mg (6%)
* Please note that all nutrition information are just estimates. Values will vary among brands, so we encourage you to calculate these on your own for most accurate results.