Homemade Avocado Hummus is a tasty and healthy dip recipe that comes together quickly and delivers a velvety smooth texture and fresh flavor from creamy avocado and cilantro. Serve it as a spread or as an appetizer with veggies or pita chips.
If you are looking for easy vegetarian appetizers and dips, you may want to check our warm Corn Dip and easy Guacamole recipe.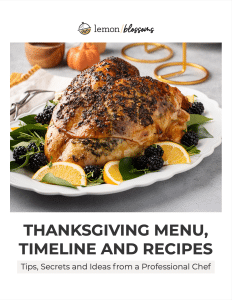 psst… Thanksgiving stress?
Not anymore!
Download our limited-time guide to hosting a smooth Thanksgiving, as experienced & perfected by Chef Kathy.
Hummus Avocado Dip
One of the reasons why I love making hummus is because it's such a versatile dip that can be used as a snack, spread or condiment. It serves as a stand alone appetizer or party dip served with vegetables and pita chips.
Avocado hummus can also be part of a mezze platter, served with a bowl of vegan Baba Ganoush, Tzatziky olives, roasted peppers and pita bread or an addition to a charcuterie board with an assortment of cheese and crackers.
I often pack this homemade hummus in lunch boxes and I love adding it to my avocado toasts!
Why You Should Make This Recipe
This avocado hummus recipe is vegetarian/vegan, gluten-free, dairy free, grain free and also a healthier party dip option.
Homemade hummus tastes so much better than store-bought, and honestly I never see avocado hummus at the market.
Hummus is budget friendly, quick and easy to make.
What Is Avocado Hummus Made Of?
Avocado: Using ripe avocados is key for a flavorful and super creamy hummus dip. Make sure you pick avocados that are ready to be eaten, but not overly ripe with dark spots.
Chickpeas: Hummus purists will say the only way to make the best hummus is by soaking and cooking dried chickpeas. I respectfully disagree. Canned chickpeas produce great results with less work. I am all about less work these days!
Tahini: Use good quality tahini as it is the most predominant flavor in any hummus.
Lemon Juice: Nothing compares to the flavor of fresh lemon juice.
Olive Oil: I love the fruitiness of extra virgin olive oil, but any other olive oil can be used.
Cilantro: If you don't like cilantro, use fresh parsley instead.
Iced Cold Water: To help you reach the right consistency.
Salt and Ground Black Pepper
How To Make Avocado Hummus
This simple and fresh hummus recipe is so easy to make. Make sure you gather all your ingredients first as the whole process takes less than 10 minutes!
Place the chickpeas, avocado, tahini, cilantro, lemon juice, olive oil, salt, pepper and water in the bowl of a food processor or blender.
Blend until smooth. You may need to add extra water to reach the perfect creamy consistency.
Taste for seasoning and serve.
You have questions? We have answers!
Can I use a mini food processor to make hummus with avocado?
You need a standard size food processor (6 cups minimum) to make this recipe.
Is this recipe healthy?
Hummus is a healthiesh dip. Avocado hummus is incredibly nutritious and a great source of plant-based protein and fats. Avocado hummus contains heart-healthy ingredients and is naturally gluten-free, grain free and dairy free which makes it a great option for people with dietary restrictions.
How long does homemade avocado hummus last?
Due to the fresh avocado, this recipe doesn't last as long as regular hummus; however, it will keep in an airtight container in the refrigerator for about 3-4 days.
What's The Ideal Consistency of Hummus
Hummus should be smooth, creamy and easy to spread, but not too thin and never runny.
Can You Still Eat Avocado After It Has Turned Brown?
When avocado turns brown due to oxidation (after it's cut open), it may not look appetizing but it's actually safe to eat.
Storing and Freezing
Storing: Keep hummus stored in an airtight container in the refrigerator for 3-4 days.
Freezing: Hummus freezes well. You can freeze hummus in an airtight container for up to 3 months.
Serving Suggestions
Enjoy it with veggies such as celery, carrots and bell peppers.
Serve it with crostini, crackers or pita chips.
Spread it on your favorite sandwich or wrap (this Chicken Shawarma wrap is unbelievably delicious!!)
Avocado Hummus Recipe Tips
This recipe is delicious as is but if you want to make it your own, here are some variations we know work. Add 1/2 teaspoon of ground cumin, 1 chopped jalapeno and 2 garlic cloves. Use fresh parsley and top it with chopped tomatoes.
I use 2 avocados for this recipe. If your avocados are not very ripe, you may need to add additional water to the recipe. Add one tablespoon at a time until you reach a smooth and creamy dip consistency.
You can garnish your homemade hummus with chopped avocado, chickpeas, chopped tomatoes and chopped cilantro.
Follow me on social media for more recipe ideas & inspiration! Pinterest Facebook Instagram My Newsletter
Avocado Hummus
This easy to make homemade Avocado Hummus is creamy, smooth and so tasty! This creamy hummus recipe is made in 10 minutes and can be used as a spread for sandwiches or for dipping veggies, pita chips and crackers.
Prep: 8 minutes
Cook: 0 minutes
Total Time 8 minutes
Servings 10 people
Ingredients
1 (15-ounces) can garbanzo beans, drained
2 ripe avocados, peeled, seeded and cut into big chunks
1/4 cup tahini
3 tablespoons extra virgin olive oil
1/4 cup lemon juice, freshly squeezed
2 tablespoons cilantro, chopped (or use about half of a bunch or less)
2 tablespoons iced-cold water (plus more if needed)
Instructions
Combine all the ingredients in the bowl of a food processor. Process until the mixture is smooth and creamy. You may need to add extra water (one tablespoon at the time) to reach the proper consistency (creamy/dip). Adjust seasoning to taste.

Spoon the hummus into a serving bowl and serve.
Nutrition
Calories: 138kcal (7%)Carbohydrates: 5g (2%)Protein: 1g (2%)Fat: 13g (20%)Saturated Fat: 1g (6%)Sodium: 5mgPotassium: 228mg (7%)Fiber: 2g (8%)Vitamin A: 60IU (1%)Vitamin C: 6.6mg (8%)Calcium: 13mg (1%)Iron: 0.5mg (3%)
* Please note that all nutrition information are just estimates. Values will vary among brands, so we encourage you to calculate these on your own for most accurate results.