These Shrimp and Grits have the perfect balance of flavors. Bold and Spiced Cajun Shrimp on a bed of creamy and cheesy grits. Finished with a drizzle of the most delicious, rich and buttery sauce! Oh my!
---
Don't be intimidated! These Southern Style Shrimp and Grits are easy to prepare and will make for a fabulous dinner everyone will love!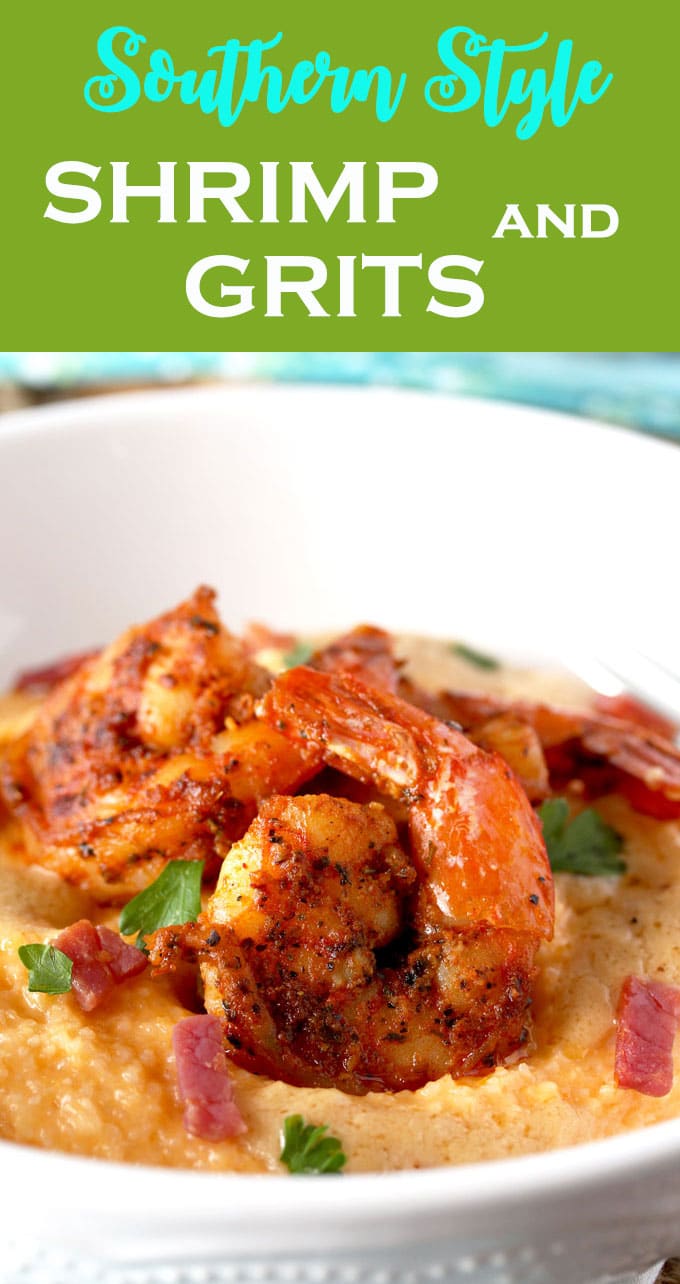 I only became really familiar with shrimp and grits after moving to the South. What a marvelous and flavorful dish it is! Easy and quick are just added bonuses, of course! I decided to make it at home and it was an instant hit.
The shrimp gets coated with Cajun spices, paprika and Italian seasoning which gives them such a bold flavor. Then it gets quickly sautèed in butter and garlic. Yum! Shrimp only takes a few minutes to cook so you can have that part of dinner ready in no time. Now try not to eat all the shrimp right out of the pan!
I used quick cooking grits (not instant) and as the name says, they cook fast! Because I served them with shrimp I cooked them in seafood stock. If you want to make just the grits and serve them with other proteins – like these delicious Herb Crusted Pork Chops with Apple and Maple Bourbon Glaze, you can cook them in chicken or vegetable stock. Either way, the result is grits that are super creamy and incredibly cheesy!
Now the sauce. Guys I am not going to lie, buttery, rich and decadent are the right words for it. This is not a fat-free-healthy-no-carb-light sauce but, my gosh, it is mouthwatering and over the top delicious! The good news is a little bit goes a long way!
Start the sauce by creating a roux* with butter and flour. You want to cook the roux until you reach a medium-tan almost "dulce de leche" color. Then you add heavy cream and cook it until it thickens a bit.
*Roux – a thickening agent made from equal parts of fat (usually butter) and flour.
Kathy's Notes
WANT TO TRY THESE SOUTHERN STYLE SHRIMP AND GRITS?
PIN IT TO YOUR SEAFOOD OR MAIN DISH BOARD!!
FIND ME ON PINTEREST FOR MORE DELICIOUS RECIPES!
This recipe was inspired by Joe Barnett's Shrimp and Grits
Follow me on social for more recipe ideas & inspiration! Pinterest Facebook Instagram My Newsletter
Southern Style Shrimp and Grits
These Shrimp and Grits have the perfect balance of flavors. Bold and Spiced Cajun Shrimp on a bed of creamy and cheesy grits. Finished with a drizzle of the most delicious, rich and buttery sauce!
Prep: 5 minutes
Cook: 35 minutes
Total Time 40 minutes
Servings 4 people
Ingredients
For the Grits
3 tablespoons unsalted butter
3 cups seafood stock
1 1/2 cups quick cooking grits
2 teaspoons tomato paste
1 1/2 cups heavy cream
1 1/2 cups extra sharp cheddar cheese, shredded
Salt to taste
For the Shrimp
1 tablespoon Cajun seasoning
2 teaspoons paprika
1 teaspoon Italian seasoning
Ground black pepper to taste
1 1/2 pound large shrimp
2 tablespoons unsalted butter
1 tablespoon minced garlic
2 ounces country ham, diced (optional)
Instructions
To Make the Sauce
In a small saucepan over medium low heat, melt the butter. Stir in the flour mixing constantly for about 6 - 8 minutes or until the mixture (roux) reaches a medium tan color.

Slowly whisk in the stock and heavy cream. Bring to a boil and cook whisking frequently for about 10 minutes until the sauce thickens and coats the back of a spoon.

Whisk in the Worcestershire sauce and the hot sauce. Taste for seasoning. Keep it warm until ready to use.
To Make the Grits
In a medium saucepan over medium heat, combine the butter and stock. Bring to a boil.

Slowly whisk in the grits and simmer over low heat whisking frequently for about 5 minutes. Add the tomato paste and cream and mix well to combine. Cook for about 2 - 3 minutes or until creamy.

Add the cheese and mix well. Simmer for about 1-2 minutes. Season with salt to taste. Keep the grits warm until ready to serve.
The Shrimp
Season the shrimp with the Cajun seasoning, paprika, Italian seasoning and ground black pepper.

Melt the butter in a 12 - inch skillet over medium low heat. Add the garlic and cook for about 1 minute. Turn the heat to medium and add the shrimp. Cook for about 2 minutes per side or until cooked through. Transfer the shrimp to a plate and stir the pan drippings into the sauce.

To serve, place a few heaping spoonfuls of grits on a plate, top with the shrimp and drizzle with the sauce. Top with the crispy country ham (optional)
The Country Ham
Add the diced ham to a small saute pan over medium high heat. Cook for about 2 - 3 minutes or until golden and crispy.
Nutrition
Calories: 1227kcal (61%)Carbohydrates: 56g (19%)Protein: 55g (110%)Fat: 86g (132%)Saturated Fat: 50g (313%)Cholesterol: 554mg (185%)Sodium: 3677mg (160%)Potassium: 908mg (26%)Fiber: 3g (13%)Sugar: 2g (2%)Vitamin A: 4200IU (84%)Vitamin C: 6.8mg (8%)Calcium: 942mg (94%)Iron: 27.7mg (154%)
* Please note that all nutrition information are just estimates. Values will vary among brands, so we encourage you to calculate these on your own for most accurate results.
---
NEVER MISS A RECIPE!
---
Things You May Need
12-Inch Skillet
Calphalon Tri-Ply Stainless Steel Cookware, Dutch Oven
All Natural Seasoning – Cajun
Slap Ya Mama Cajun Seasoning Original & Hot Blend
Quaker Quick Grits
Seafood Stock