This Coconut Curry soup recipe is made with succulent shrimp and fresh vegetables in a creamy and rich coconut curry broth. This hearty Thai coconut soup has so much flavor that is hard to believe it's a healthy soup. Made in one-pot, in less than 30 minutes, this is one of our reader's favorite recipes!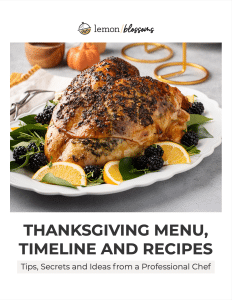 psst… Thanksgiving stress?
Not anymore!
Download our limited-time guide to hosting a smooth Thanksgiving, as experienced & perfected by Chef Kathy.
The best healthy Coconut Curry Soup
If you love Thai food, and want to cook it at home instead of ordering take-out or having to drive to your favorite local Thai restaurant, this soup recipe is for you.
This boldly flavored creamy Thai curry soup is very quick and easy to make and guaranteed to become a favorite soup for the whole family.
Pure delicious comfort food, a big bowl of this healthy soup is like a hug for the senses. Built layer upon layer, this simple soup has the absolute best flavor.
The soup base is made with vegetable broth (or chicken stock) infused with fresh ingredients like ginger, garlic, and lime juice and seasoned with red curry paste, fish sauce and soy sauce. Fresh vegetables and shrimp (or your favorite protein) turns this soup into a whole meal. Coconut milk adds richness and creamy texture and fresh Thai basil (or regular basil) makes the whole soup extraordinary.
Why you'll love this soup recipe?
Healthy: Packed with veggies, lean protein and fresh herbs, this low-carb, gluten-free coconut curry soup is a great addition to your menu and not just during the winter months.
Versatile: Use your favorite veggies, switch up the protein (Thai coconut curry chicken soup anyone?), keep it vegetarian, add rice noodles. Change it up to your taste and needs.
Flavor: Vibrant, bold and bursting with flavor.
Ingredients, substitutions and variations
This is a list of ingredients, substitutions and ideas for making variations. For a full list of ingredients and quantities, check the printable recipe card below.
What is coconut curry made of? Simple ingredients that you can find at any grocery store.
Broth:Vegetable broth, chicken broth or fish fumet can be used as the base for this Thai curry soup recipe.
Vegetables: The recipe calls for red bell peppers and mushrooms. Choose the veggies according to your personal preference. Choose whatever is in season from the fresh produce area of the grocery store or at your favorite farmer's market. Besides red bell pepper (or orange or yellow), red onion, asparagus, diced carrots, broccoli, green beans and even small pieces of sweet potatoes can be used to make this recipe.
Proteins: We used large shrimp (raw) peeled and deveined, keep the tails on for looks, tails off for easy slurping. Boneless chicken breasts or thighs cut into small pieces for quick cooking can be used. Any mild white fish such as cod, tilapia or halibut, cut into small pieces (2 to 3 inches), can also be used. To make a protein-rich vegan soup add tofu, chickpeas or beans.
Coconut Milk: We used full-fat coconut milk for a luscious, richer broth. I personally always use regular coconut milk instead of light coconut milk and never fat-free coconut milk for soups or curries (can you tell I'm very passionate about what type of cans of coconut milk you buy?). Light coconut milk can be used, just remember that the soup won't have the rich taste and creaminess of full fat coconut milk. Unsweetened coconut cream can be used if that's what you have at home. If using coconut cream, you can use the full amount or just a little bit less.
Red Curry Paste: Not all red curry paste brands are created equal! I've been using Mae Ploy Red Curry Paste for years and is the one that I recommend. It seems to me that Thai Kitchen Red Curry Paste is easier to find in most markets. If that is all you can find, go for it. I know that Mae Ploy is not vegetarian/vegan as it contains shrimp paste. Red curry sauce or panang sauce is not what you need for this recipe.
Fish Sauce: Don't get turned off by the smell of fish sauce! It is a strong and unpleasant smell but it delivers flavor! Substitute fish sauce with coconut aminos or add seaweed flakes to the soup to keep it vegetarian / vegan.
Garlic and Ginger: Fresh garlic cloves and fresh ginger is best. Garlic paste and ginger paste are the next best option.
Basil: In a perfect world, fresh Thai basil leaves will be ideal however, I use regular basil (Italian basil) if that is all I can find.
Smart additions
Rice noodles: Makes the soup more filling so it can be a meal by itself! Soak the noodles and follow package instructions.
Rice: Add some steamed rice into the soup pot the last few minutes of cooking.
Spinach: Fresh spinach makes this soup more nutritious!
Fresh cilantro: Adds flavor (not that the soup needs it).
Extra veggies: You can add zucchini and/or yellow squash slices, butternut squash or sweet potato cubes, green beans, cauliflower florets, tomato quarters.
How to make Coconut Curry Soup
Heat the oil in a large soup pot or Dutch oven. Sauté the red bell peppers and mushrooms.
Add the minced garlic and ginger and cook until they become aromatic (about a minute) then, add the red curry paste.
Add the broth, soy sauce, fish sauce, coconut milk, pepper and brown sugar. Mix well and bring to a gentle simmer.
Add the shrimp and cook until the shrimp turns pink. Shrimp cooks very fast, keep an eye on it. Remove the pot from the heat and stir in the lime juice, green onions and chopped basil. Enjoy!
What does coconut curry soup taste like?
This healthy Thai soup is bold and loaded with well balanced flavors. Savory, rich and creamy from the coconut milk that also lends it's natural sweetness to balance the saltiness of the fish sauce, and the sour taste of lime juice. Although it has a mild sour taste, it's not like the well known Tom Yum Soup aka Thai hot and sour soup. A hint of spiciness from the red curry paste and the wonderful fresh flavor of the Thai basil makes this soup incredibly delicious.
Can I use curry powder instead of red curry paste?
No they are both different ingredients from different cuisines. Curry powder like garam masala is a mixture of warm spices used in Indian cuisine. Red curry paste is a Thai ingredient made with things like red chili peppers, garlic, lemongrass and sometimes shrimp paste.
What does coconut milk do for soup?
The natural sweetness of coconut milk balances the overall flavors and sour notes of soups and curries. The richness and creaminess of the coconut milk contributes to the overall depth of flavor and adds luscious creaminess to soups and curries.
What do you serve Thai soup with?
This coconut curry soup can be served as a light meal. You can serve this soup with dishes like Jasmine Rice with Ginger and Lemongrass, Asian Peanut Sesame Noodles, Thai Chicken Larb Recipe, stir fries or any noodle dish.
Thai Curry vs Indian Curry
Curry is a term used in many different cuisines around the world however, the ingredients to make curry vary from region to region.
Thai curries and Indian curries are not the same. Thai curries use fresh herbs and bright ingredients like lemongrass and lime leaves. Wet chili pastes and ingredients like fish sauce and soy sauce for saltiness. Coconut milk is usually added to balance flavors, for richness and creaminess.
Indian curries are made with toasted spices that are then ground into powder. The combination of spices is called masala. Some spices used in Indian curries are cinnamon, cardamom, fenugreek and turmeric. Indian curries are usually thicker than Thai curries.
Making Ahead, Storing, Freezing and Reheating
Make Ahead:
Although is best when eaten fresh, if you want to make this soup ahead of time, don't add the shrimp and Thai basil. Shrimp overcooks quickly and reheating the soup can potentially overcook the shrimp. Add the shrimp and fresh basil (to brighten up the flavors) when you are ready to serve the soup. Cool the soup completely and store it in an airtight container in the fridge for 2 days.
Storing
Store leftover soup in an airtight container in the fridge for 1-2 days.
Freezing
If you are planning on freezing this coconut curry soup, I suggest that you follow the recipe without adding the coconut milk or the shrimp. Although soups made with coconut milk hold better in the freezer than soups made with dairy milk, the texture and flavor of the soup is never the same after defrosting and reheating. Shrimp overcooks quickly so reheating the soup can overcook the shrimp making it rubbery.
Reheating
Reheat leftover coconut curry soup on the stovetop over medium-low heat until warm through. If you have any leftover fresh herbs or lime juice, you can add them to brighten the flavors!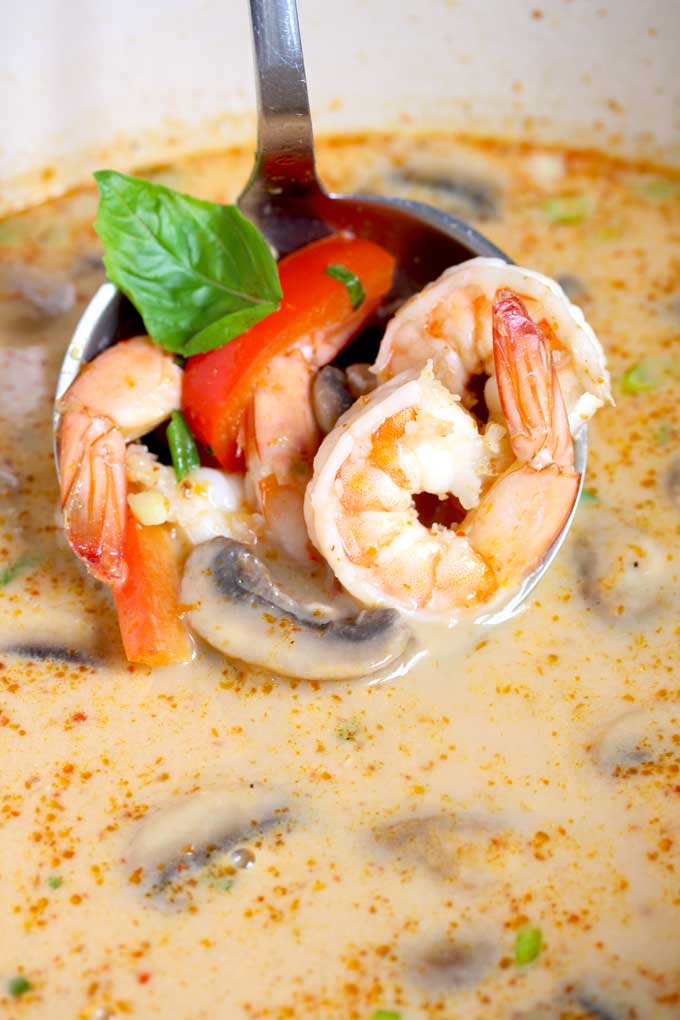 Thai Coconut Curry Soup Tips and Notes
Make it more filling: Add rice noodles to make the soup a bit more filling. Follow the package directions for soaking and simmer the noodles in the soup for a few minutes.
Mild, medium or spicy hot: If you are sensitive to spicy foods, start by adding 1 tablespoon of curry paste.
Not all curries are created equal: Don't substitute red curry paste with curry powder. They are completely different ingredients. Red curry paste (or yellow curry paste or green curry paste) a wet paste from Thailand and curry powder is a combination of toasted, dried spices used in Indian cuisine.
Vegetarian and Vegan adaptable: This soup can be made vegan by switching a few ingredients. Check the ingredient's and substitutions section above for details.
Bringing Thai flavors to the entire world: This delicious recipe was adapted from Lisa's Dinner Time Dish. Although it has wonderful Thai flavors, this is not an authentic Thai recipe. We have the most respect for the people of Thailand, their culture and cuisine. It's with best intentions and a full heart that we made some adjustments to the ingredients used in this soup to make it more accessible to everyone in America and the world, especially in areas with limited Asian ingredients.
Recipe adapted from Lisa at Lisa's Dinner Time Dish.
Follow me on social media for more recipe ideas & inspiration! Pinterest Facebook Instagram My Newsletter
Coconut Curry Soup with Shrimp
This Coconut Curry Soup is infused with ginger, garlic, red curry paste and coconut milk. Loaded with succulent shrimp and vegetables, this tasty Thai soup is easy to make and ready in under 30 minutes!
Prep: 10 minutes
Cook: 15 minutes
Total Time 25 minutes
Servings 4 servings
Ingredients
2 tbsp coconut oil (vegetable or peanut oil can be use)
1 red bell pepper, thinly sliced
5 oz white button mushrooms, stems removed and sliced
2 tbsp garlic, minced
2 tsp ginger, minced or grated
2 tbsp red curry paste
4 cups chicken stock (or fish stock)
2 tbsp soy sauce
3 tsp fish sauce
1 (14 ounces) can regular coconut milk
1 teaspoon brown sugar
1/4 tsp pepper
1 lb large shrimp, deveined and peeled
1 tablespoon lime juice
¼ cup green onions, sliced
2 tbsp fresh basil, chopped
Instructions
Heat oil in a large soup pot over medium heat.

Add red bell pepper and saute for about 2 minutes. Add the mushrooms and saute for about 3 minutes.

Add garlic and ginger and saute just until fragrant. Stir in the red curry paste.

Stir in chicken stock, soy sauce, fish sauce, coconut milk, brown sugar and black pepper. Bring to a simmer.

Add the shrimp and cook just until the shrimp turns pink. This should take about 3 – 4 minutes. Do not overcook the shrimp or it will be rubbery!

Remove from the heat and stir in lime juice, green onions and basil. Serve immediately.
Chef's Tips
We used full-fat coconut milk for a luscious, richer broth. light coconut milk can be used but the soup won't have the same luxurious taste and texture.
We used large shrimp (raw) peeled and deveined, keep the tails on for looks, tails off for easy slurping.
This soup can be made with boneless chicken breasts or thighs cut into small pieces and any mild white fish such as cod, tilapia or halibut, cut into small pieces (2 to 3 inches) each.
To make a plant-based protein-rich soup, add tofu, chickpeas or beans.
If you can't find fresh Thai basil, regular Italian basil can be used.
If you are sensitive to spicy foods, start by adding 1 tablespoon of curry paste.
Nutrition
Calories: 305kcal (15%)Carbohydrates: 16g (5%)Protein: 32g (64%)Fat: 12g (18%)Saturated Fat: 7g (44%)Cholesterol: 292mg (97%)Sodium: 2085mg (91%)Potassium: 583mg (17%)Fiber: 1g (4%)Sugar: 7g (8%)Vitamin A: 2245IU (45%)Vitamin C: 48.3mg (59%)Calcium: 194mg (19%)Iron: 3.8mg (21%)
* Please note that all nutrition information are just estimates. Values will vary among brands, so we encourage you to calculate these on your own for most accurate results.
This recipe was made as part of an event called Freaky Friday organized by An Affair from the Heart. These are recipes made by other participants: