Asian Peanut Sesame Noodles – These Asian noodles are loaded with veggies and tossed in a tasty and creamy Peanut Sesame dressing. These Sesame Noodles are easy to make, delicious and ready in less than 30 minutes!
Sesame Noodles are one of my favorite vegetarian recipes to make at home. These delicious Asian noodles are not only super flavorful but they can also be easily customized to your taste. You can use your favorite vegetables, make the dressing spicy or mild and enjoy these noodles cold or warm.
This noodle recipe comes together quickly and can be made ahead which makes it perfect for hectic days, entertaining, picnics and potlucks.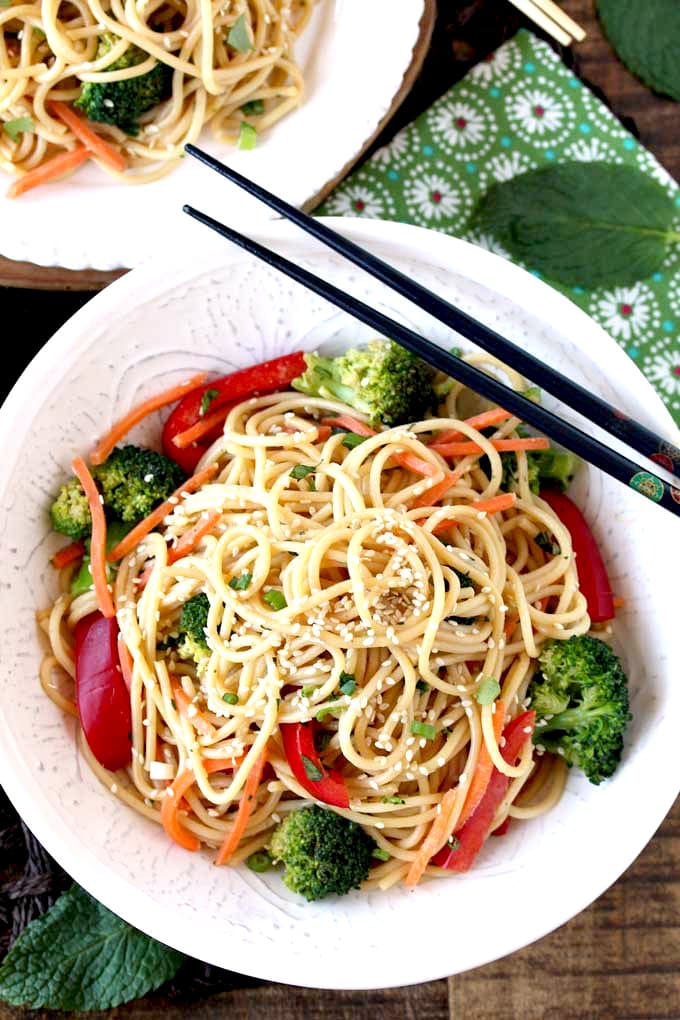 Sesame Noodles Ingredients
Soba Noodles or Spaghetti – Use your favorite noodle. If you are following a gluten free lifestyle use gluten-free noodles.
Broccoli Florets – Cauliflower is also a great option.
Red Bell Peppers – Use any color bell pepper you like.
Carrots – Peeled and cut into matchsticks.
Scallions – Sliced.
Cilantro – You can use parsley if you don't like cilantro.
Mint – Fresh.
Sesame Seeds – I like to toast them quickly in a dry skillet. They add flavor and crunch!
Asian Peanut Sesame Dressing Ingredients
Peanut Butter – I use creamy peanut butter.
Oil – You can use any mild oil like avocado oil, canola oil, vegetable oil and a mild olive oil.
Tahini – This sesame seed paste is now available at most supermarkets.
Soy Sauce – You can use low-sodium soy sauce if you prefer. If you are following a gluten-free diet, use tamari.
Rice Vinegar – This is a great ingredient to have handy. White wine vinegar is a good substitution.
Honey
Sesame Oil – Known as Asian oil or toasted sesame oil.
Fish Sauce – Available in the Asian isle of most supermarkets. It is pungent and stinky but it will deliver in flavor!
How To Make Asian Peanut Sesame Noodles
Make The Asian Dressing: In a small bowl, whisk all the peanut sesame dressing ingredients until well combined. You can also mix all the ingredients in a lidded jar and shake away!
Get Your Veggies Ready: Have all your vegetables and herbs prep and ready to go. This recipe comes together quickly.
Cook the Noodles and Drain: Bring a large pot of salted water to boil and cook the noodles according to the package directions. A minute before the noodles are done, add the broccoli to the pasta pot. This will quickly blanch the broccoli and set their beautiful green color. This step is optional but recommended. Drain.
Toss Everything Together: Toss the pasta, broccoli and the rest of the vegetables and herbs with the Asian dressing.
Garnish and Serve: Top with the sesame seeds and serve warm or refrigerate for later.
What Kind Of Noodles To Use For This Peanut Sesame Noodle Recipe
You can use any noodle you would like. Some great options are:
UDON NOODLES – These wheat flour noodles are thick, soft and chewy.This common Japanese noodles can be found in most supermarkets.
RAMEN NOODLES – These Chinese-style noodles are chewy, thin and have little curls. You can always buy packages of ramen noodle soup – use the noodles and toss the seasoning pack.
SOBA NOODLES – These Japanese style noodles are made from buckwheat flour. They can be found in the Asian isle of the supermarket.
SPAGHETTI OR LINGUINE – I always have a box or two of these at home.They work as well as any other noodle.
GLUTEN FREE PASTA – Perfect for people following a gluten-free diet.
Possible Variations
The ingredients for these Asian noodles can be changed according to your like or what you have already at home. This is the perfect recipe for "clean your refrigerator day". Here are a few ingredient ideas for you:
VEGGIES: Cauliflower Florets, Snow Peas, Edamame, Cucumber Slices, Asparagus.
PROTEIN: Tofu, Cooked Chicken, Shrimp or Steak.
HEALTHY CRUNCH: Almonds, Peanuts, Cashews.
OTHER SEASONINGS: Fresh ginger, chili garlic sauce, sriracha.
Can I Make These Sesame Noodles Ahead?
Yes! This easy noodle recipe can be make ahead. Store the seasoned noodles in the refrigerator in an airtight container for 2-3 days. If the noodles get a bit dry, you can toss them with a little bit of oil and/or vegetable broth.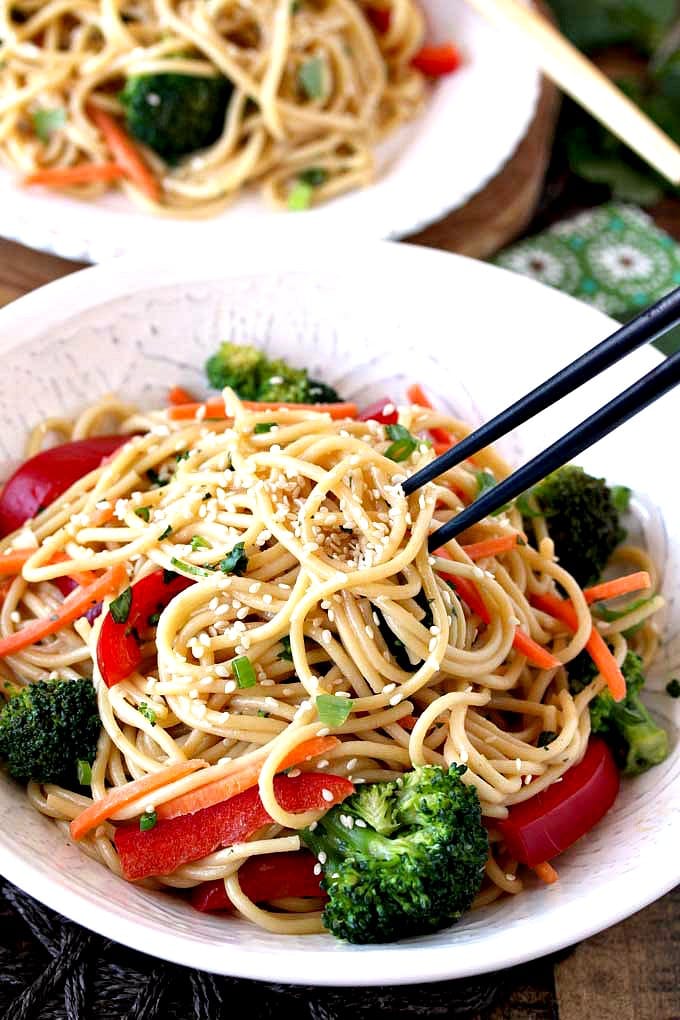 Follow me on social media for more recipe ideas & inspiration! Pinterest Facebook Instagram My Newsletter
Asian Peanut Sesame Noodles
These Asian Peanut Sesame Noodles are loaded with veggies and tossed in a tasty and creamy Peanut Sesame dressing. These Sesame Noodles are easy to make, delicious and ready in less than 30 minutes!


Prep: 10 minutes
Cook: 15 minutes
Total Time 25 minutes
Servings 6 servings
Ingredients
2 cups broccoli florets
1 red bell pepper, thinly sliced
1/2 cup carrots, peeled and sliced into matchsticks (I use bagged store bought shredded carrots)
4 scallions (green onions), thinly sliced
1/4 cup cilantro, chopped
2 - 3 tablespoons mint, chopped
1 tablespoon sesame seeds
For the Peanut Sesame Dressing
Instructions
To Make the Peanut Sesame Dressing
Place all the ingredients in a jar, close the lid and shake! or combine all the ingredients in a bowl and whisk until the mixture is smooth.
The Noodles
Cook the noodles according to package directions. During the last minute of cooking, add the broccoli florets. Drain the pasta and broccoli and place them in a large bowl.

While the pasta/broccoli are still warm, toss with the dressing. Add the red bell peppers, carrots, scallions, cilantro and mint. Toss gently to combine. Sprinkle with the sesame seeds and serve.
Nutrition
Calories: 550kcal (28%)Carbohydrates: 78g (26%)Protein: 18g (36%)Fat: 22g (34%)Saturated Fat: 3g (19%)Sodium: 1987mg (86%)Potassium: 551mg (16%)Fiber: 3g (13%)Sugar: 15g (17%)Vitamin A: 2715IU (54%)Vitamin C: 55mg (67%)Calcium: 82mg (8%)Iron: 3.8mg (21%)
* Please note that all nutrition information are just estimates. Values will vary among brands, so we encourage you to calculate these on your own for most accurate results.
This recipe was posted as part of the Winter Games Series. A few of my foodie friends joined me in celebrating the occasion by making delicious dishes from different countries participating in this exciting event. You can find other incredible recipes below.
These Asian Noodles proudly represent China. Trust me they are deliciously addictive!
Canada – Spicy Maple Bacon Chicken Drumsticks
China – Asian Peanut Sesame Noodles
Ireland – Homemade Irish Cream
Ireland – Irish Lamb Stew
Korea –Slow Cooker Korean Beef Short Ribs (Kalbi)