Thai Larb is a flavorful authentic Thai salad made with minced chicken, lime juice and fresh herbs. This Larb recipe is easy to make and can be ready in less than 20 minutes!
This is one of my favorite Thai foods to order at a restaurant. This simple Larb salad is light, refreshing and served with lots of veggies. Now, why should you make this Thai recipe at home?
This is a quick an easy recipe made in one skillet in about 20 minutes!
This Thai recipe is low-carb, low in calories and healthy.
It can be served as a salad, appetizer or a dinner meal if served with rice or quinoa.
This recipe uses simple ingredients that you can find in the Asian isle of any supermarket.
What is Larb?
Larb Gai, also spelled Laab Gai, Laap Gai, Lahb or Larp is a type of Lao meat salad popular in Laos and the Northern Isaan region of Thailand. It is the "unofficial National dish of Laos" and a popular street vendor food.
Larb is made with different types of minced or ground meat like minced pork (Larb Moo), ground beef (Laab Neua), ground duck (Larb Ped) and minced chicken (Larb Gai or Larb Kai).
Chicken Larb Ingredients
Authentic Thai Larb recipes include grounded toasted sticky rice known as khao khua, which thickens the sauce a little bit.
To make this recipe even easier and much quicker, I often skip this step with amazing results. Yes, some days toasting and grinding rice seems like a lot of work – however, I include this step in the recipe card below in case you feel you must add it!
Ground Chicken: You can use ground pork, lean ground beef, ground turkey, ground bison and even ground duck.
Fish Sauce: This is a must ingredient in Thai cuisine. Stinky, pungent and full of flavor.
Lime Juice: Fresh is best!
Brown Sugar: Caster sugar or granulated sugar can be used.
Thai Chili Pepper: Serrano peppers can be used. Chili powder or chili flakes are also a good option.
Oil: Any mild oil can be used.
Shallots: Peeled and sliced.
Garlic: I use fresh garlic. In a pinch, use garlic paste.
Scallions: Green onions thinly sliced.
Red Onions: I love red onions but you can use brown or white onions also.
Cilantro and Mint: I love using fresh herbs. They are a must!
For Serving: Choose your favorite – lettuce, cabbage, cucumbers, green beans, carrot sticks, sticky rice.
How To Make This Chicken Larb Recipe
Thai Chicken Larb or Laab is made in a single wok or skillet. Have all the vegetables you will be serving ready because the cooking process goes fast!
First, mix the sauce ingredients. Lime juice, fish sauce, and sugar. Set aside.
In a little bit of oil, stir fry the chiles, shallots, and garlic.
Add the meat and stir fry until cooked through.
Remove the mixture from the heat and add the scallions, onions, and the sauce. Toss to combine.
Add the herbs (if using, rice powder would be added at this time), toss. and serve.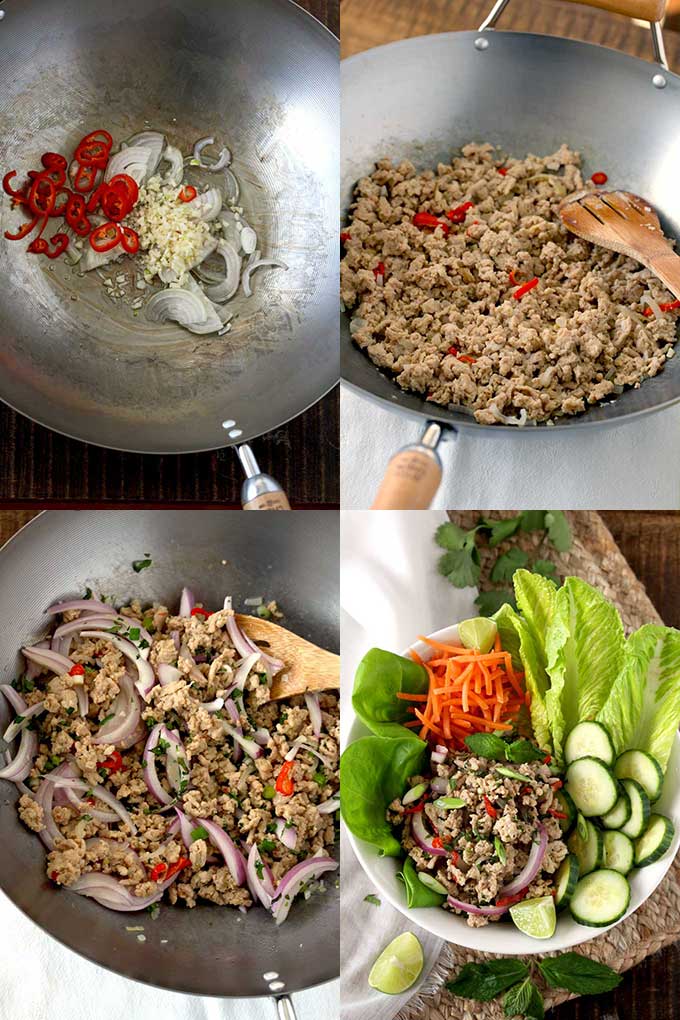 How To Make Toasted Rice Powder
To make rice powder, roast 1/2 cup of white rice in a dry pan over medium-high heat, stirring often until the rice is fragrant and medium brown in color. Place the rice in a food processor or blender and grind until a coarse powder is formed.
What Do You Eat Larb With?
Larb is often served with crispy lettuce leaves and fresh herbs and wrapped just like lettuce wraps. Larb is also served with steamed rice with all the dressing poured over the rice. So good!
You have questions? We have answers!
How Do You Eat Larb?
Thai Larp can be served as a salad or as a healthy appetizer. You can turn this tasty Laab salad into a crunchy Thai Lettuce Wrap! Larb is often served as a meal with white sticky rice and Thai Green Papaya Salad (Tom Sam)
Do You Eat Larb Cold?
The minced meat mixture can be served hot or warm with fresh vegetables. However, I can say with confidence that Thai Larb Gai is also delicious served cold.
What Does Larb Gai Mean?
Larb is a Thai salad made with ground meats like ground beef and ground chicken. Larb is one of the most popular dishes of Laos.
What is the Difference Between Larb and Nam Sod?
These two Thai recipes are very similar. If they were people, they would definitely be first degree cousins! Some of the ingredients are different, Nam Sod uses ginger for example and it is usually made with minced pork. Although both are from the Asaan region, Nam Sod is from the Southern area while Laab or Larb Gai is from the Northern area.
Is Larb Gai Healthy?
This dish is high in protein, low fat, low carb, dairy-free and gluten free. Enjoy the authentic flavors of Thai cuisine with this guilt free easy Laab recipe.
Larb Thai Recipe Tips and Notes
Ground Thai chili (Prik Pon) can be used instead of the fresh chiles.
If you want to make Thai Beef Laab, I recommend you use lean ground beef.
This Thai salad is full of umami. It has the perfect balance of sour, spicy, salty, sweet and overall deliciousness!
Use honey instead of sugar, if you prefer.
If you are planning on adding the toasted rice powder, make sure to read the notes section in the recipe card below.
SKIP THE TAKE-OUT – INSTEAD CHECK OUT THESE OTHER FAVORITE RECIPES:
This Larb recipe post was first published in 2018 and has been updated to provide the reader with additional information. The recipe remains the same.
Follow me on social media for more recipe ideas & inspiration! Pinterest Facebook Instagram My Newsletter
Chicken Larb Thai Recipe
An easy and healthy Thai salad made with ground chicken, lime juice and fresh herb served with lots of fresh veggies. Larb is made in a single skillet and in about 20 minutes. It is perfect served as a salad, appetizer or as a main dish with a side of sticky rice!If you would like to add toasted rice powder please read the recipe notes.
Prep: 10 minutes
Cook: 10 minutes
Total Time 20 minutes
Servings 6 servings
Ingredients
Larb Gai Mixture
1 tablespoon vegetable, canola or coconut oil (or any mild oil)
1 Thai chiles or serrano chiles, thinly sliced or 1/2 teaspoon Thai chili powder
1 shallot, finely chopped
4 garlic cloves, ninced
1 1/2 pounds ground chicken
2 scallions (green onions), thinly sliced
1/2 red onion, thinly sliced
2 tablespoons fresh cilantro, chopped
1/4 cup fresh mint, chopped
To Serve Pick Your Favorites:
Lettuce leaves, sliced cucumbers, carrot sticks, green beans, lime wedges, mint and cilantro,
If you would like to add rice powder to this recipe please read the notes.
Rice Powder (optional)
1/2 cup white rice (short grain)
Instructions
In a small bowl mix together the fish sauce, lime juice and sugar. Mix until well combined.

Heat a wok or medium size skillet over high heat. Add the oil. When the oil is hot, add the chiles, shallots and garlic and cook stirring for about 1 – 2 minutes or until the shallots become translucent.

Add the ground chicken and cook for about 4 – 5 minutes or until the chicken is cooked through and no longer pink.

Remove from the heat and add the scallions, onions and the Larb sauce. Toss to combine. Stir in the cilantro and mint.

Serve with your choice of lettuce leaves, carrots sticks, cucumber slices, green beans and more fresh herbs (optional).
To Make Rice Powder
Toast 1/2 cup of white rice in a dry pan over medium-high heat, stirring often until the rice is fragrant and medium brown in color. Place the rice in a food processor or blender and grind until a coarse powder is formed.


Chef's Tips
If you want to add toasted rice powder to this recipe, add it right after you stir in the Larb sauce. Mix to combine and then add the herbs.
Make it spicier by adding extra chiles or chili powder.
Adjust the fish sauce to your taste!
Nutrition
Calories: 236kcal (12%)Carbohydrates: 13g (4%)Protein: 20g (40%)Fat: 11g (17%)Saturated Fat: 2g (13%)Cholesterol: 97mg (32%)Sodium: 832mg (36%)Potassium: 703mg (20%)Sugar: 10g (11%)Vitamin A: 130IU (3%)Vitamin C: 7.9mg (10%)Calcium: 33mg (3%)Iron: 1.3mg (7%)
* Please note that all nutrition information are just estimates. Values will vary among brands, so we encourage you to calculate these on your own for most accurate results.
This recipe is part of Food Blogger's Winter Games Series! If you want to see the delicious recipes my friends are making this week, the links are below!
China – Cashew Chicken
Germany –Pork & Sauerkraut Cabbage Rolls
Greece – Greek Style Grilled Lamb Chops
Italy –Fettuccini Alfredo
Italy – Wild Mushroom Risotto
Korea – Oven Baked Korean BBQ Chicken Wings
Sweden –Easy Swedish Cucumber Salad
USA – Instant Pot Bourbon BBQ Ribs