Last updated on May 18th, 2019 at 07:07 pm
Thai Basil Chicken – A quick and easy Thai chicken recipe that it's budget friendly, light and full of flavor! Ground chicken, onions, red bell peppers, basil leaves and chilies stir fried in the tastiest thick savory sauce!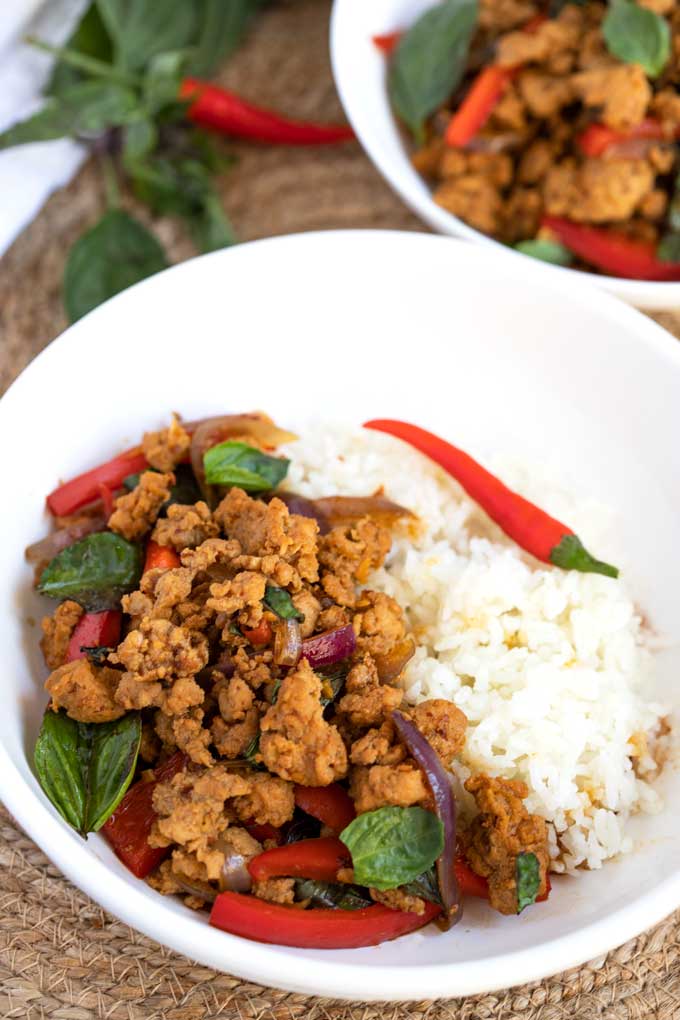 Thai Basil Chicken or Gai Pad Krapow is seriously one of the quickest dishes you can make! Just like this Korean Beef dish, this simple Thai recipe delivers the most flavor in very little time. Serve it with some jasmine rice, cauliflower rice or quinoa and you'd have a complete mouthwatering dinner ready in no time.
In this post I discuss what is Thai Basil Chicken and the ingredients and substitutions for making this recipe, I show step by step instructions on how to make this Thai chicken stir-fry, I answer some of the most frequently asked questions I get about this ground chicken recipe and give you some of my favorite tips and notes. Let's do it! (or if you prefer, skip to the recipe – although you may be missing some good information!)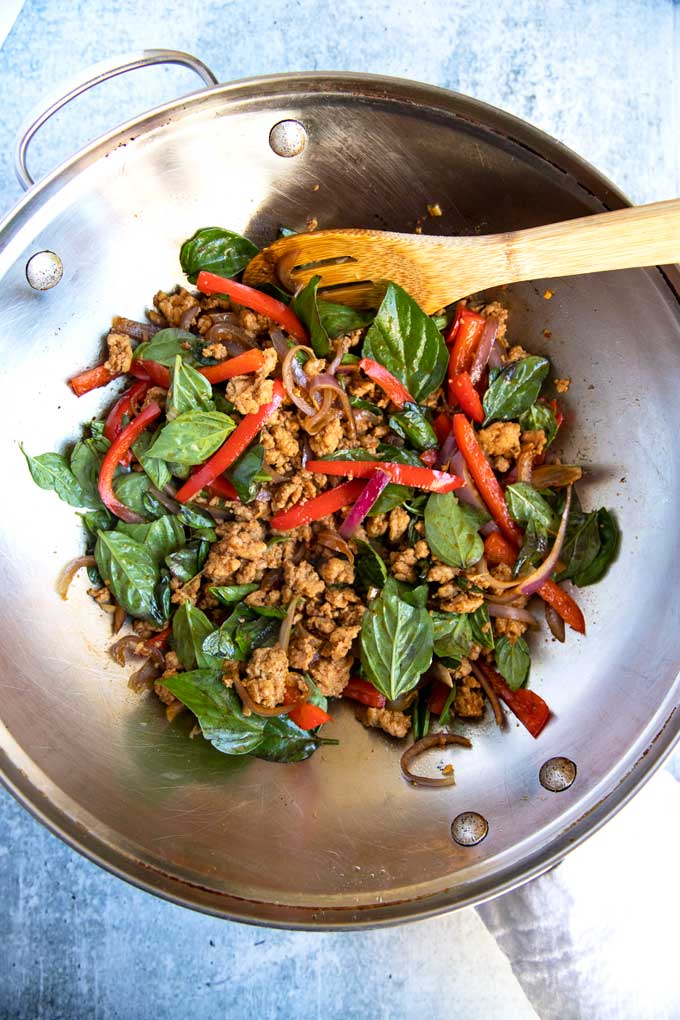 What is Thai Basil Chicken, Gai Pad Krapow or Pad Krapow Gai?

Pad Krapow Gai also known as Gai Pad Krapow is a popular Thai street food very well known in most of the world. In this quick and easy to make recipe, diced or ground chicken, pork or beef is stir fried in a savory sauce and then infused with fresh basil leaves. The word Krapow means holy basil (Tulsi), a specific type of basil commonly used for this recipe. Often times, this dish is topped with a fried egg.
Ingredients To Make Thai Basil Chicken
For The Chicken Stir Fry
Ground Chicken – You can use ground turkey, ground pork or ground beef as well.
Oil – Vegetable oil, canola oil, peanut oil, avocado oil and even coconut oil works.
Garlic – Minced. Fresh garlic is really a must for this simple ground chicken recipe.
Thai Chiles – Sliced thinly. Sometimes it is hard to find Thai chiles, don't worry! You can use other chiles like jalapenos or serranos. Remove the seeds and veins if you want a milder dish (the veins is where the heat is!). Dried Chili flakes can be used if you don't have fresh chiles.
Red Onions – Sliced. Feel free to use brown or white onions.
Red Bell Peppers – Sliced. Any color of bell pepper can be used.
Thai Basil – Holy basil or Italian basil can be used.
For The Stir Fry Sauce
Sweet Soy Sauce – If I have run out of sweet soy sauce I use low sodium soy sauce or light soy sauce mixed with a pinch of sugar. More on sweet soy sauce below. Use tamari to keep this dish gluten free.
Oyster Sauce – This rich and thick sauce is available in most supermarkets. You can find gluten free oyster sauce sold online and in certain specialty markets.
Fish Sauce – Stinky and delicious at the same time. Savory, pungent and readily available. Substitutions for fish sauce aren't as simple as opening a bottle of this stuff, this recipe from Cook's Illustrated, shiitaki mushrooms are the main ingredient in a salty/savory broth that resembles the umami flavors of fish sauce (a must read for vegetarians!). Food 52 suggests mixing soy sauce with anchovy fillets as an alternative.
Chicken Broth – Vegetable broth or water can be used. When making this Thai recipe with ground turkey, I still use chicken broth. Turkey broth tends to have a strong old-turkey flavor (or so I think!).
Ground Black Pepper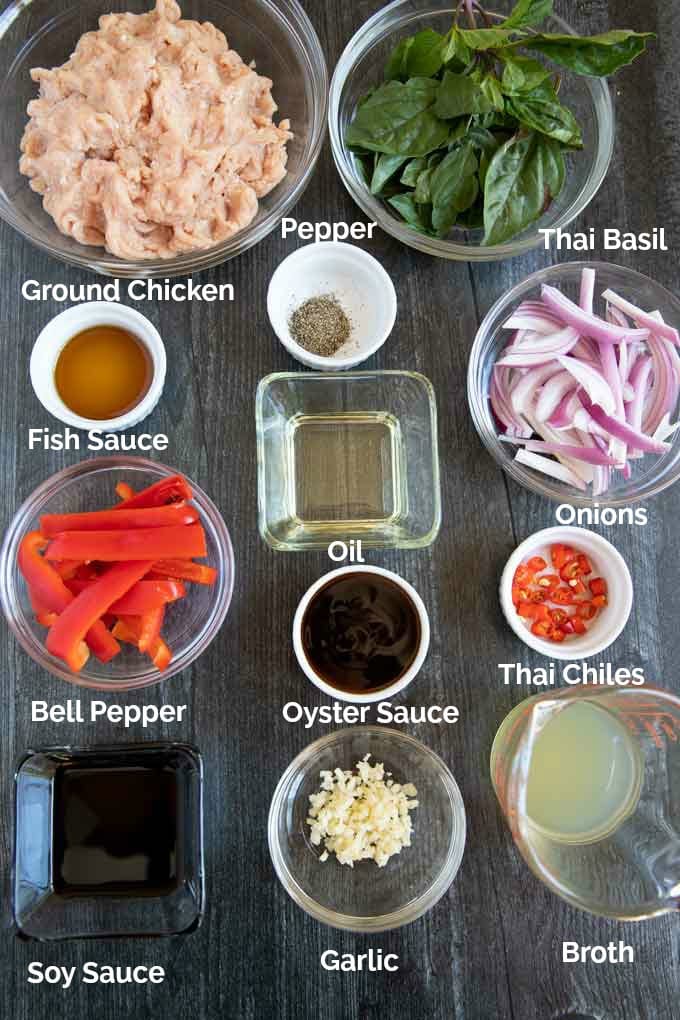 How To Make Thai Basil Chicken
Mix the sauce ingredients and set aside.
Heat the oil into a wok or large skillet and stir fry the garlic and chiles for about a minute. Don't brown the garlic.
Add the chicken and stir fry for 3 – 4 minutes, breaking up the ground chicken into smaller pieces (think small pebbles).
When the chicken is no longer pink, drain any excess liquid (if needed).
Add the onions and peppers and stir fry for about a minute. You want the veggies crispy.
Stir in the sauce and stir fry for a couple of minutes. The sauce will get a bit thick.
Stir in the basil and cook until the basil is wilted. The basil will turn a darker color as soon as it gets heated up. Serve!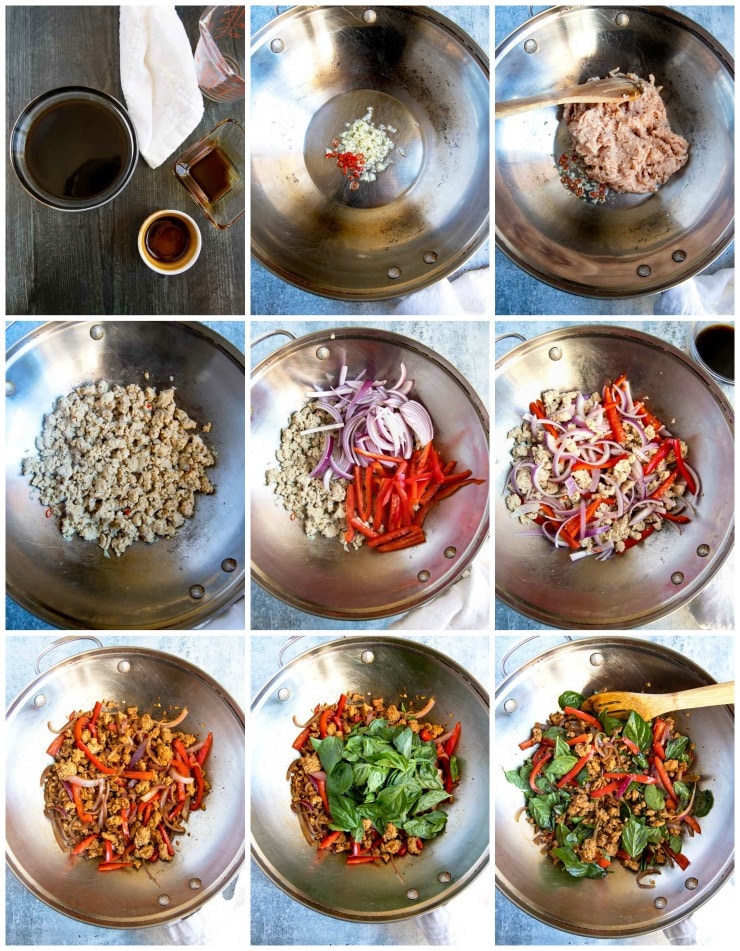 Frequently Asked Questions About This Thai Recipe
Can I make this recipe vegetarian?
Yes, you can use diced tofu or add other vegetables instead of the ground chicken. Read more about vegetarian substitutes for fish sauce in the ingredients portion of this post.
Can I add more vegetables to this Thai recipe?
Absolutely, you can add chopped asparagus, broccoli florets, cauliflower florets, mushrooms, snap peas and sliced carrots among other things. You can add all these vegetables at the same time you add the bell peppers and onions. Alternately if you like your broccoli extra crispy, you can add it at the end together with the basil leaves.
What is sweet soy sauce exactly?
Sweet soy sauce is a thick sauce made of soy sauce, palm sugar, aromatics like ginger and green onions and a mixture of spices.
Can I make Sweet Soy Sauce at home?
Yes you can! Omnivor's Cookbook has a great recipe for it here
It's 30 minutes until dinner time and I just noticed I don't have sweet soy sauce, what can I do? Help!
I've been there more times that I care to tell. Simply mix light or low sodium soy sauce with a big pinch of brown sugar. Not quite the same as simmering multiple ingredients until an almost syrupy consistence but it works!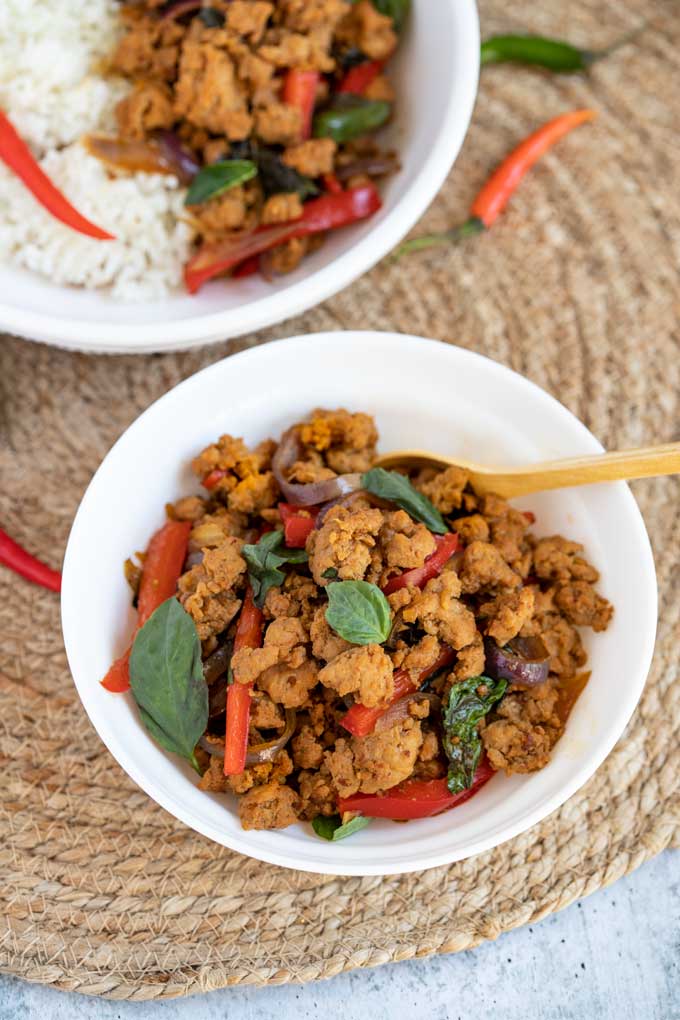 Tips and Notes About This Thai Recipe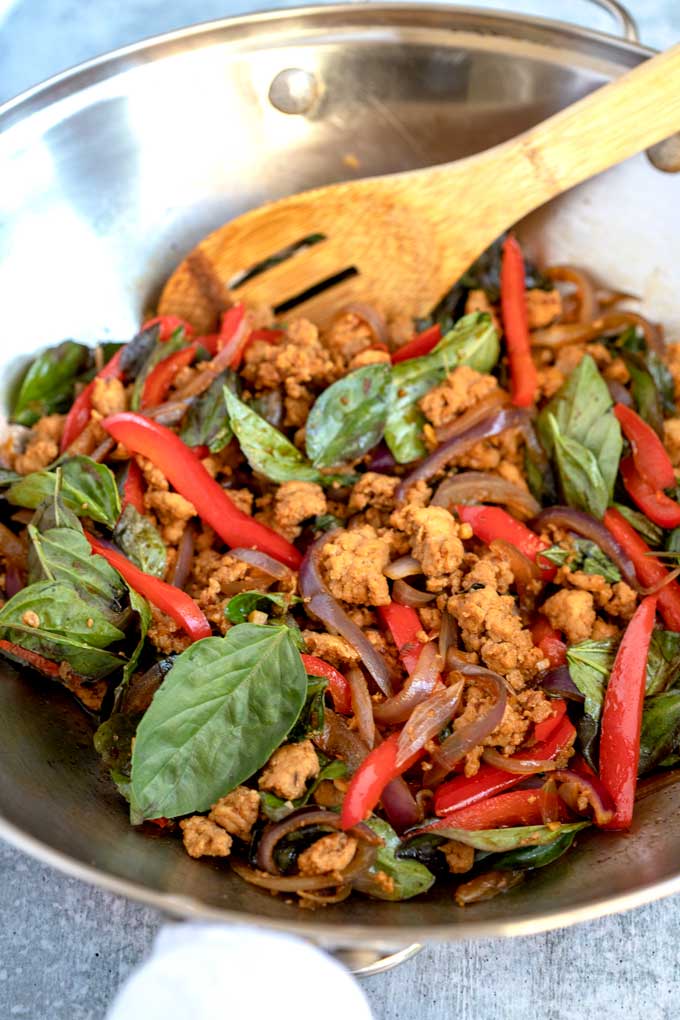 WANT TO TRY THIS THAI BASIL CHICKEN RECIPE?
PIN IT TO YOUR CHICKEN OR ASIAN FOOD BOARD TO MAKE IT LATER!!
FIND ME ON PINTEREST FOR MORE DELICIOUS RECIPES!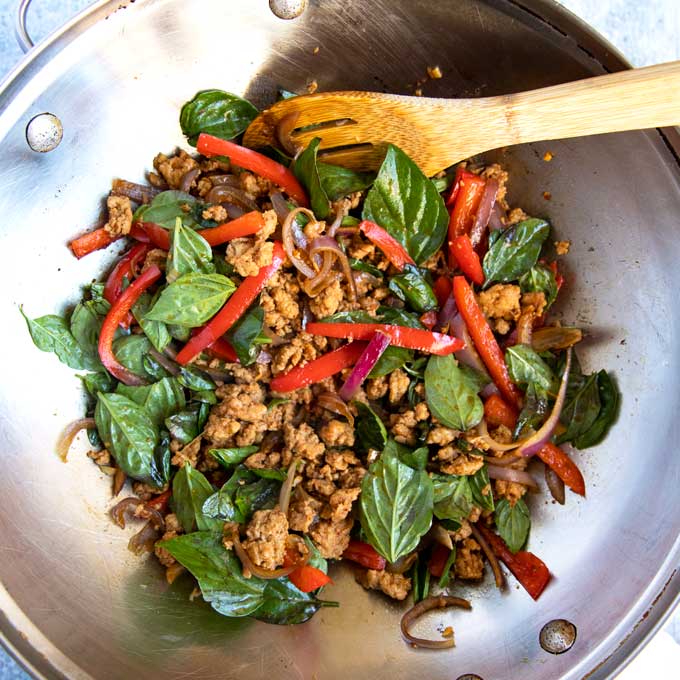 Print Recipe
Thai Basil Chicken
This quick and easy Thai Basil Chicken recipe is budget friendly, light and full of flavor! Ground chicken, veggies and basil are stir fried in the tastiest thick savory sauce!


Prep Time12 mins
Cook Time8 mins
Total Time20 mins
Servings: 4 servings
Calories: 311kcal
Ingredients
For the Stir Fry
2 tablespoons vegetable, canola or peanut oil
4 garlic cloves, finely chopped or minced
1 - 2 Thai or serrano chiles, seeded and thinly sliced
1 pound ground chicken
1 small red onion, sliced
1 red bell pepper, sliced
1 cup Thai basil leaves, stems removed, loosely packed *see notes
Instructions
In a small bowl mix the sauce ingredients and set aside.

Heat the oil in a wok or large skillet over high heat. Add the garlic and chiles and cook for about 20 seconds stirring constantly. Add the ground chicken and cook for about 3 - 4 minutes breaking up the meat into small pieces. You want the chicken to have some texture so don't break it up too much. When the chicken is no longer pink, drain any excess liquid.

Add the onions and red bell peppers and stir fry for about 1 minute. Stir in the sauce and cook, stirring constantly until the sauce starts to thicken, about 2 minutes. Stir in the basil and cook until the basil is wilted and the chicken is cooked through.
Notes
In the post above, I have listed substitution options in case you don't have sweet soy sauce. Light or less sodium soy sauce mixed with a pinch of brown sugar can be used instead. 
If you can't find Thai Basil you can use regular (Italian) basil.
The basil turns a darker color as it wilts. For a nice presentation, garnish with a few fresh basil leaves.
Nutrition
Calories: 311kcal | Carbohydrates: 20g | Protein: 21g | Fat: 16g | Saturated Fat: 8g | Cholesterol: 98mg | Sodium: 967mg | Potassium: 749mg | Fiber: 1g | Sugar: 13g | Vitamin A: 25.5% | Vitamin C: 58.8% | Calcium: 3.2% | Iron: 7.5%
NEVER MISS A RECIPE!
If you've tried this or any other of my recipes, don't forget to rate the recipe and to leave me a comment. I love hearing from you!