Shrimp Pad Thai combines stir fried rice noodles tossed in the tastiest sweet and tangy sauce. This restaurant style Pad Thai recipe can also be made with chicken, beef or tofu.
If you enjoy the flavors of Thai cuisine as much as I do, you need to make this amazing Pad Thai recipe. These easy to make Pad Thai noodles are made in one wok or skillet in under 30 minutes!
If you prefer, you can make Pad Thai noodles with chicken breast or chicken thigh pieces. Cut the chicken into small bite size pieces so they cook fast. You can also use beef. Thinly sliced flank steak is a great option. If you prefer, use tofu cut into small cubes and/or make Pad Thai with a combination of these ingredients.
Take a look at one of my favorite Thai soups, Tom Yum Soup it is incredibly easy to make and full of flavor!
What Is Pad Thai?
Pad Thai is a common street food dish from Thailand and one of the most popular Thai dishes in the United States. Pad Thai is made with rice noodles stir fried with eggs, chicken, shrimp and tofu smothered in an exotic savory, sweet and tangy sauce and topped with items like scallions, bean sprouts and chopped peanuts.
What Is Pad Thai Sauce Made Of?
Authentic Pad Thai sauce includes tamarind paste, fish sauce, lime juice, rice vinegar and sugar. I wanted to make this recipe as authentic as possible and although that may require you to visit your local Asian market, I promise it is totally worth it (and cheaper than a restaurant meal).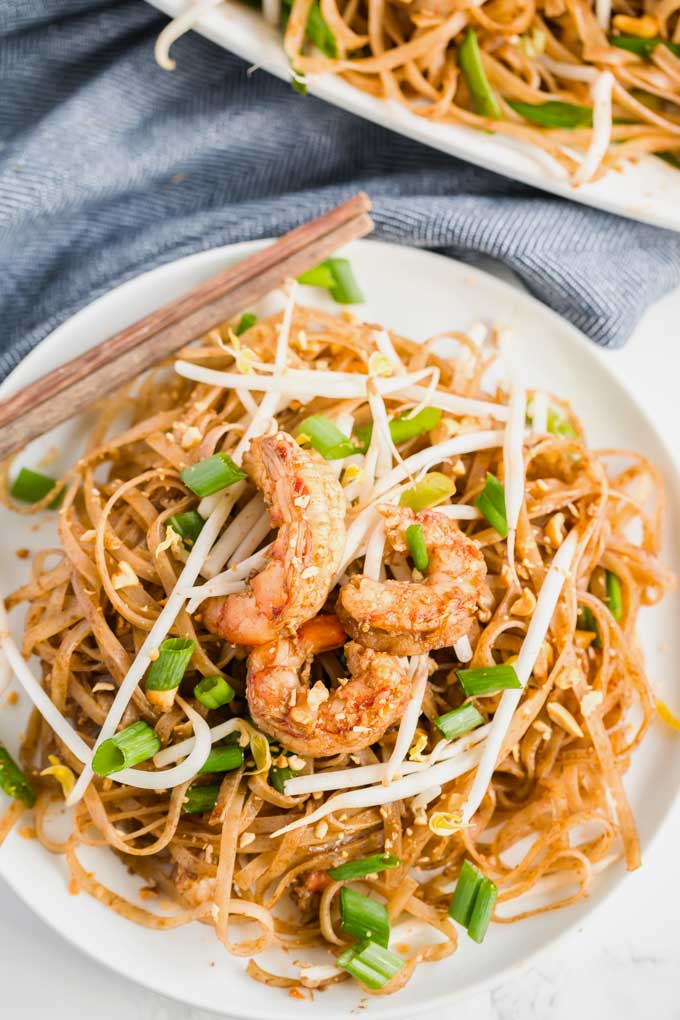 Shrimp Pad Thai Ingredients
For The Pad Thai Sauce:
Fish Sauce: A must for all Thai recipes. It may be stinky but the complexity of the flavor that this sauce adds to the dish is hard to replicate with any other ingredient. When I make vegan Pad Thai, I use liquid aminos.
Tamarind Paste: Definitely a key ingredient for authentic Pad Thai.
Lime Juice: Freshly squeezed is best.
Rice Vinegar: Use white wine vinegar, if needed.
Sugar: I use granulated sugar. Palm sugar can be used.
For The Pad Thai:
Oil: Use a mild flavored oil like vegetable or canola oil.
Garlic: I use fresh garlic.
Eggs: I use large eggs.
Shrimp: I always have frozen raw shrimp in my freezer. Large and medium shrimp work well.
Rice Noodles: These noodles are made with rice flour and are gluten free. I don't get the extra wide noodles but the medium size instead.
Paprika: It gives this dish it's reddish hue.
Green Onions: (Scallions)
Roasted Peanuts: I always buy dry roasted salted peanuts so if I have some leftover we can have them as a snack. You can get unsalted, if you prefer.
Bean Sprouts: If you cannot find bean sprouts, just omit them.
How To Make Shrimp Pad Thai
First, mix the sauce ingredients in a small bowl and reserve.
Then, soak the noodles in lukewarm water until pliable. This will take between 5 to 10 minutes. Drain and rinse.
Heat the oil in a wok or large skillet swirling the oil to coat the entire wok. Add the garlic and cook for just a few seconds. Crack the eggs into the wok.
As the egg whites start to set, break the yolks and add the shrimp and mix with the runny yolk. Cook for about a minute or until the eggs looks scrambled and the shrimp is just turning pink.
Add the soaked and drained noodles and stir fry for a few minutes.
Add the Pad Thai sauce and the paprika. Toss until the paprika is distributed and colors the noodles and the sauce is absorbed.
Place the green onions in the middle and fold the noodles on top, This will help steam the green onions. Add half of the peanuts and toss.
Remove from the oven and served topped with bean sprouts and the remaining chopped peanuts.
Tips for Making the Best Pad Thai
Have all your ingredients ready before you start cooking.
Do not overcook the noodles. After soaking, the noodles will be pliable. After they stir fry, they should be tender and have a chewy (al dente) texture.
Palm sugar, brown sugar or honey can be used instead of the granulated sugar.
CHECK OUT THESE OTHER AMAZING THAI RECIPES: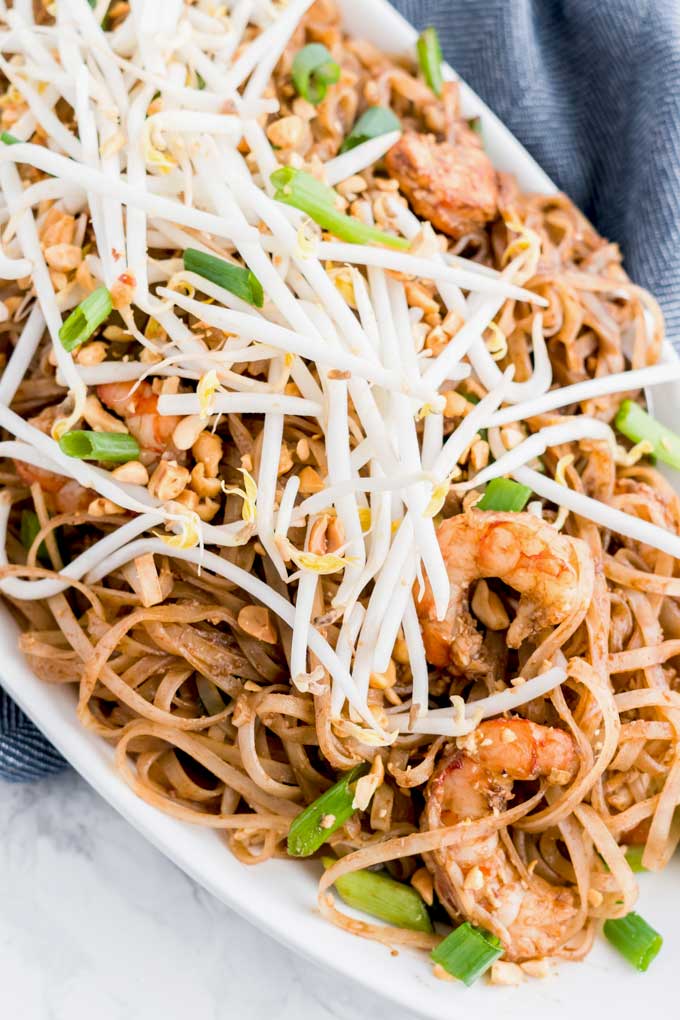 Follow me on social for more recipe ideas & inspiration! Pinterest Facebook Instagram My Newsletter
Shrimp Pad Thai
Shrimp Pad Thai combines stir fried rice noodles tossed in the tastiest sweet and tangy sauce. This restaurant style Pad Thai recipe can also be made with chicken, beef or tofu
Prep: 15 minutes
Cook: 10 minutes
Total Time 25 minutes
Servings 4 servings
Ingredients
Pad Thai Sauce
4 tablespoons fish sauce
3 tablespoons tamarind paste
1 tablespoon lime juice
1 tablespoon rice vinegar
4 tablespoons granulated sugar
Pad Thai Noodles
2 tablespoons vegetable or canola oil
2 cloves garlic minced
2 eggs
1/2 pound large shrimp peeled and deveined
14 ounces medium dried rice noodles
2 teaspoons paprika
3 green onions cut into 1-inch pieces
¼ cup roasted peanuts, chopped (divided)
1 cup bean sprouts
Instructions
For the Pad Thai Sauce
In a small bowl, combine the sauce ingredients and mix until the sugar has dissolved. Reserve.
Soak The Pad Thai Noodles
Heat a large pot of water until it becomes lukewarm. Turn off heat.

Soak the rice noodles for about 5 to 10 minutes or until flexible but solid. You don't want the noodles completely cooked. Drain noodles and rinse with cold water.
For the Pad Thai
Heat a skillet or wok over high heat. Add the oil and swirl the pan to coat completely. Add the garlic and stir for about 10 seconds.

Crack the eggs into the pan and as the egg whites start to set, pierce the yolks to let them ooze. Add the shrimp and mix with the runny egg yolk. Cook for about 1 minute until the shrimp is just starting to turn pink and opaque and the eggs look scrambled.

Add the soaked and drained rice noodles and cook for about 2 to 3 minutes or until soft. Add the sauce and paprika and fold together until the paprika evenly colors the noodles and all the liquid is absorbed, about 2 minutes.

Place the green onions in the center of the noodles, and then spoon some noodles over the green onions to cover and let steam for 30 seconds. Stir in most of the peanuts. Transfer to a serving plate and garnish with bean sprouts and the remaining peanuts.
Nutrition
Calories: 660kcal (33%)Carbohydrates: 108g (36%)Protein: 23g (46%)Fat: 15g (23%)Saturated Fat: 7g (44%)Cholesterol: 225mg (75%)Sodium: 2075mg (90%)Potassium: 387mg (11%)Fiber: 4g (17%)Sugar: 21g (23%)Vitamin A: 701IU (14%)Vitamin C: 9mg (11%)Calcium: 151mg (15%)Iron: 4mg (22%)
* Please note that all nutrition information are just estimates. Values will vary among brands, so we encourage you to calculate these on your own for most accurate results.