This Shrimp Alfredo recipe is made with succulent tender shrimp in a rich, creamy and cheesy Parmesan sauce. Shrimp Alfredo pasta is a twist on the classic Italian Fettuccini Alfredo everyone loves. Made in about 20 minutes, this easy recipe is great for a weeknight meal or special occasions.
We love having easy pasta recipes for dinner. This Garlic Butter Pasta is one of our favorite!
Seafood Fettuccine Alfredo with Shrimp
I love the simplicity of a good Italian pasta recipe and fettuccine Alfredo is definitely a classic and one of the most popular pasta sauces.
Making creamy homemade Alfredo at home is actually much easier than you think. So easy in fact, that is one of the first recipes my kids learned to make (Bragging alert: my oldest son makes the absolute best Alfredo pasta!)
This pasta sauce is so versatile that I decided to add tender and buttery shrimp to the cheesy and rich Parmesan sauce. It works and I am sure you are going to love it!
Why You Should Make This Recipe
Easy: This pasta recipe is easy to make with common ingredients found in Italian pasta recipes.
Homemade Meets Restaurant Quality: This simple pasta recipe is one you can serve during busy weeknights or on special occasions. The succulent shrimp definitely elevates the dish. This is the type of dish that will impress your family and friend, your boss and even your in-laws!
Versatile: Besides shrimp, you can use other types of seafood such as crawfish and crab meat.
Shrimp Alfredo Recipe Ingredients
Check the recipe card below for a full list of ingredients, exact amounts and instructions.
Shrimp: Fresh or frozen, thawed out shrimp works. I use large shrimp, peeled, deveined and with the tails off. Tails on make a better presentation although is a bit harder to eat.
Butter: I prefer using unsalted butter so I have better control of the salt level. If you only have salted butter at home use it.
Garlic: Fresh garlic is best however, you can use granulated garlic as well. Substitute the fresh garlic with 1/4 to 1/2 teaspoon of garlic powder or to taste.
Heavy Cream: You can use half and half or whole milk as well however, heavy cream makes the richest, most decadent Alfredo sauce.
Nutmeg – All you need is a little bit, just a pinch! Nutmeg adds wonderful flavor to any cream based sauce. Freshly grated nutmeg is best but I must admit, I sometimes reach for the "grated in a jar" one just for convenience. If you don't have nutmeg in your pantry, skip it!
Parmesan Cheese: Nothing compares to freshly grated Parmesan cheese however, if you are short on time or would like to make this Alfredo recipe a bit more budget friendly, you can get pre-shredded Parmesan or grated Parmesan cheese (no judgment here! I have done it several times). Keep in mind that grated Parmesan tends to make the sauce a bit grainy.
Parsley or Basil: Fresh parsley or basil makes this creamy shrimp pasta pop! It adds freshness to this rich and creamy dish.
Pasta: Fettuccine is a classic noodle to use with this sauce. However, you can use linguine or any short shape pasta like penne, fusilli or farfalle.
How to Make Shrimp Alfredo From Scratch
Cook the Pasta: Bring salted water to a boil and cook the pasta according to package directions. Cook the pasta until al dente and then drain, reserving some of the cooking water.
Cook the Shrimp: While the pasta is cooking, season the shrimp with salt and pepper to taste. Melt some of the butter in a large skillet and cook the shrimp for about 2-3 minutes per side. Remove the shrimp from the skillet and set aside. Remember that shrimp cooks fast! Don't over cook it.
Make the Sauce: In the same skillet, melt the remaining butter and cook the garlic until it becomes aromatic (if you're using granulated garlic, add it after the heavy cream). Whisk in the heavy cream and the nutmeg and simmer for a few minutes. The sauce will thicken a bit. Turn the heat to low and add the Parmesan cheese stirring constantly until the cheese melts. Season with salt and pepper to taste and return the shrimp to the skillet.
Combine the pasta with the sauce: Toss in the pasta until the pasta is well coated. Top with the fresh parsley or basil and some extra Parmesan cheese, if desired. Serve immediately!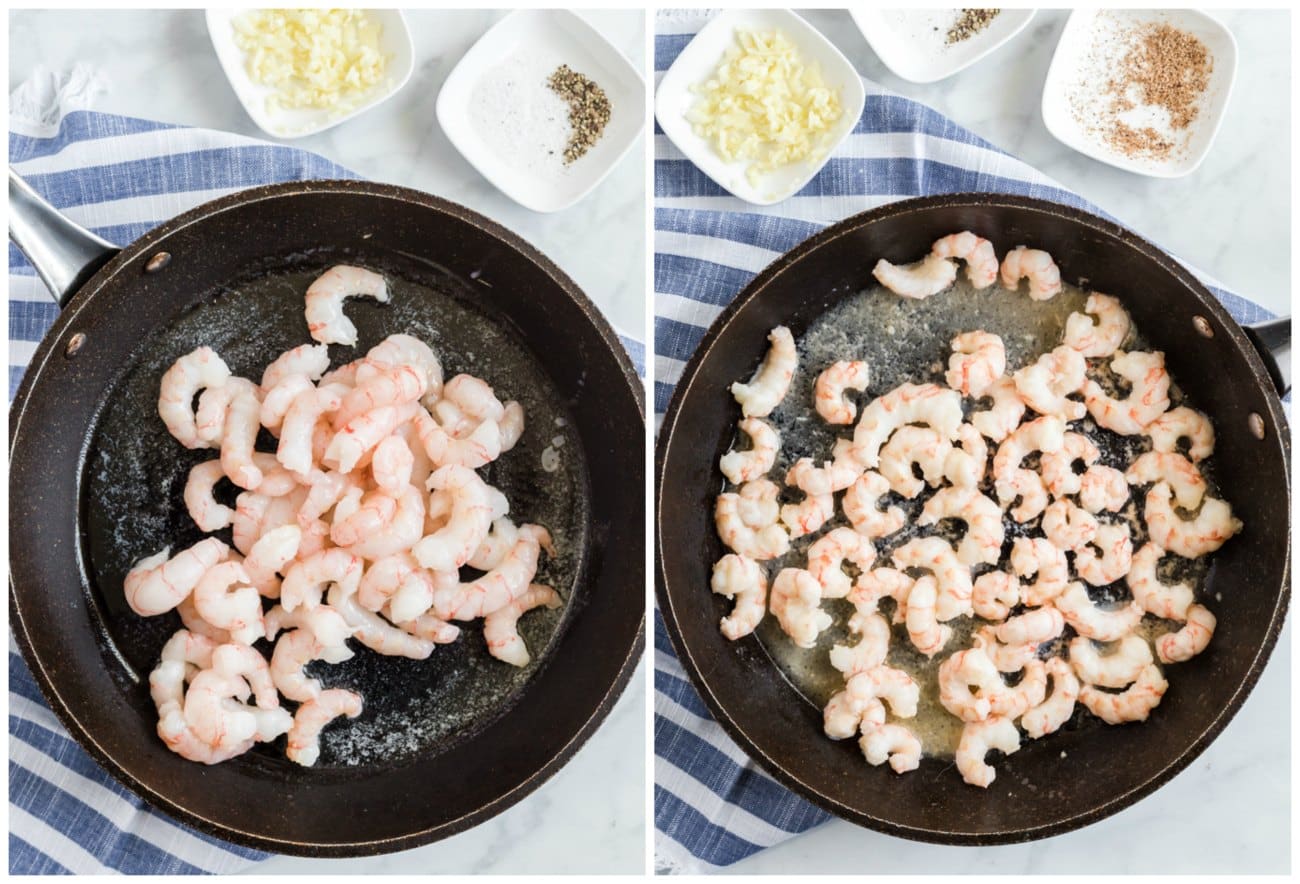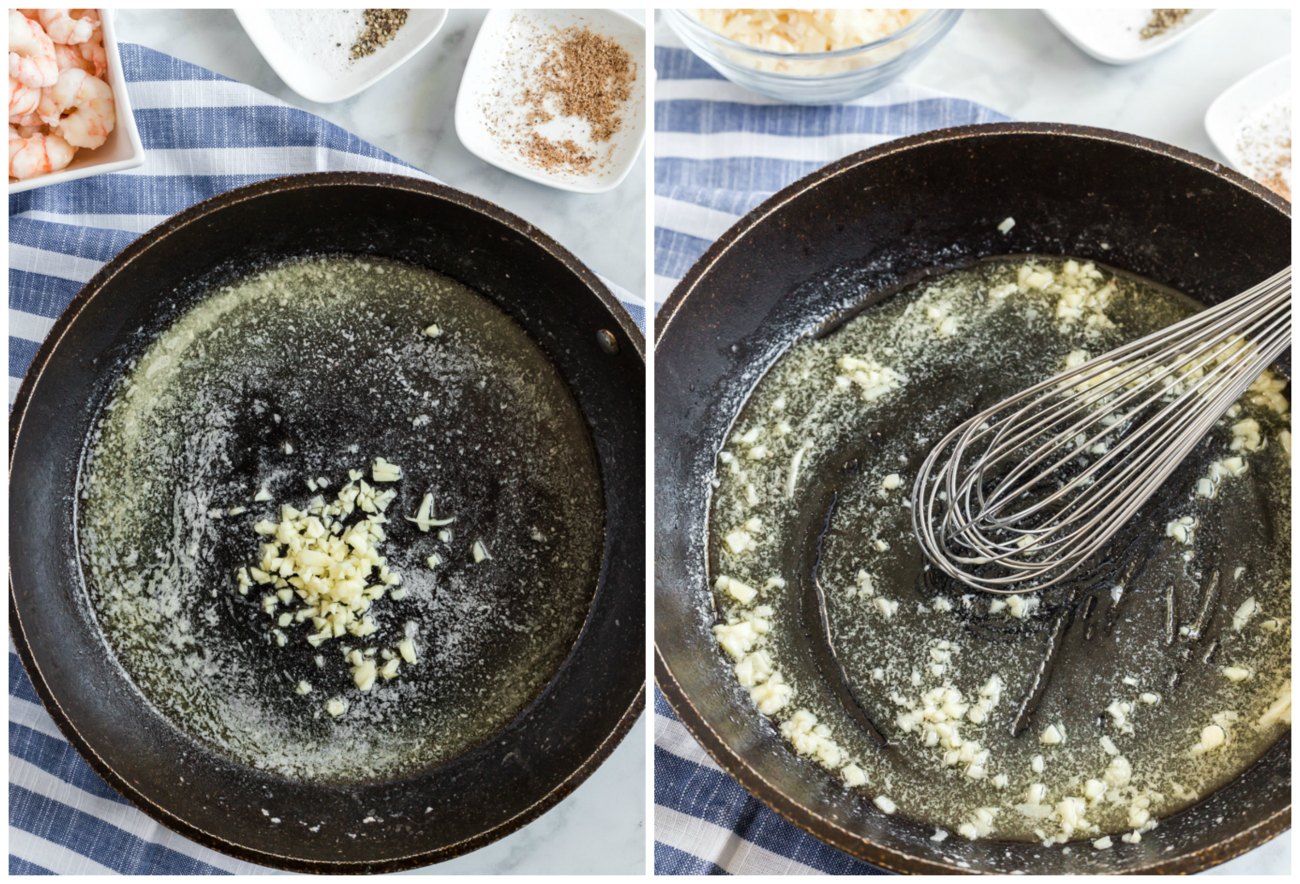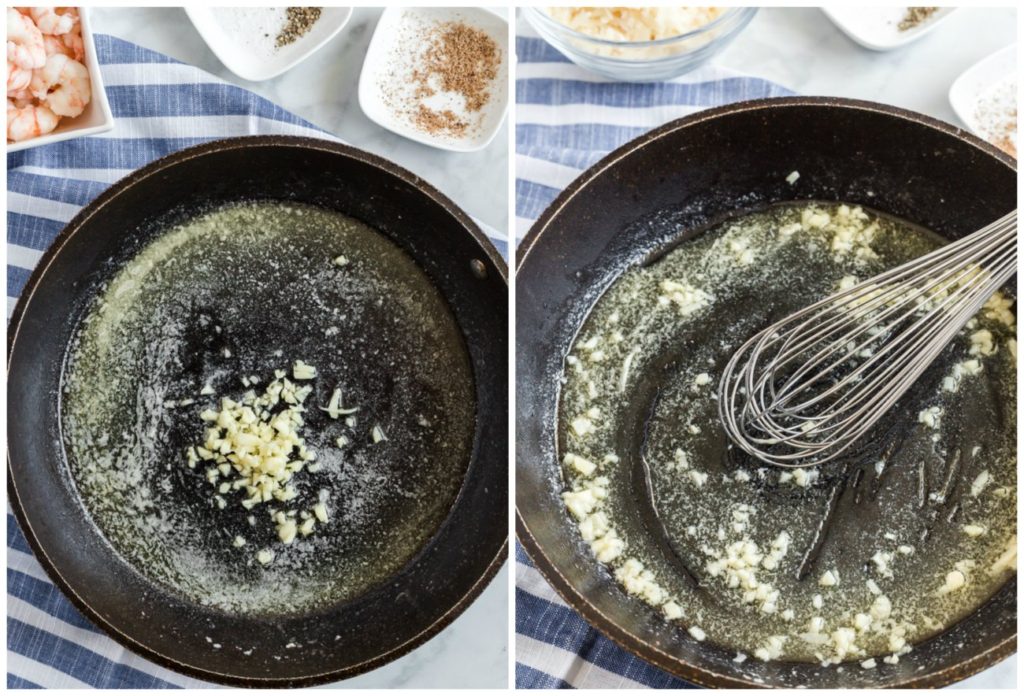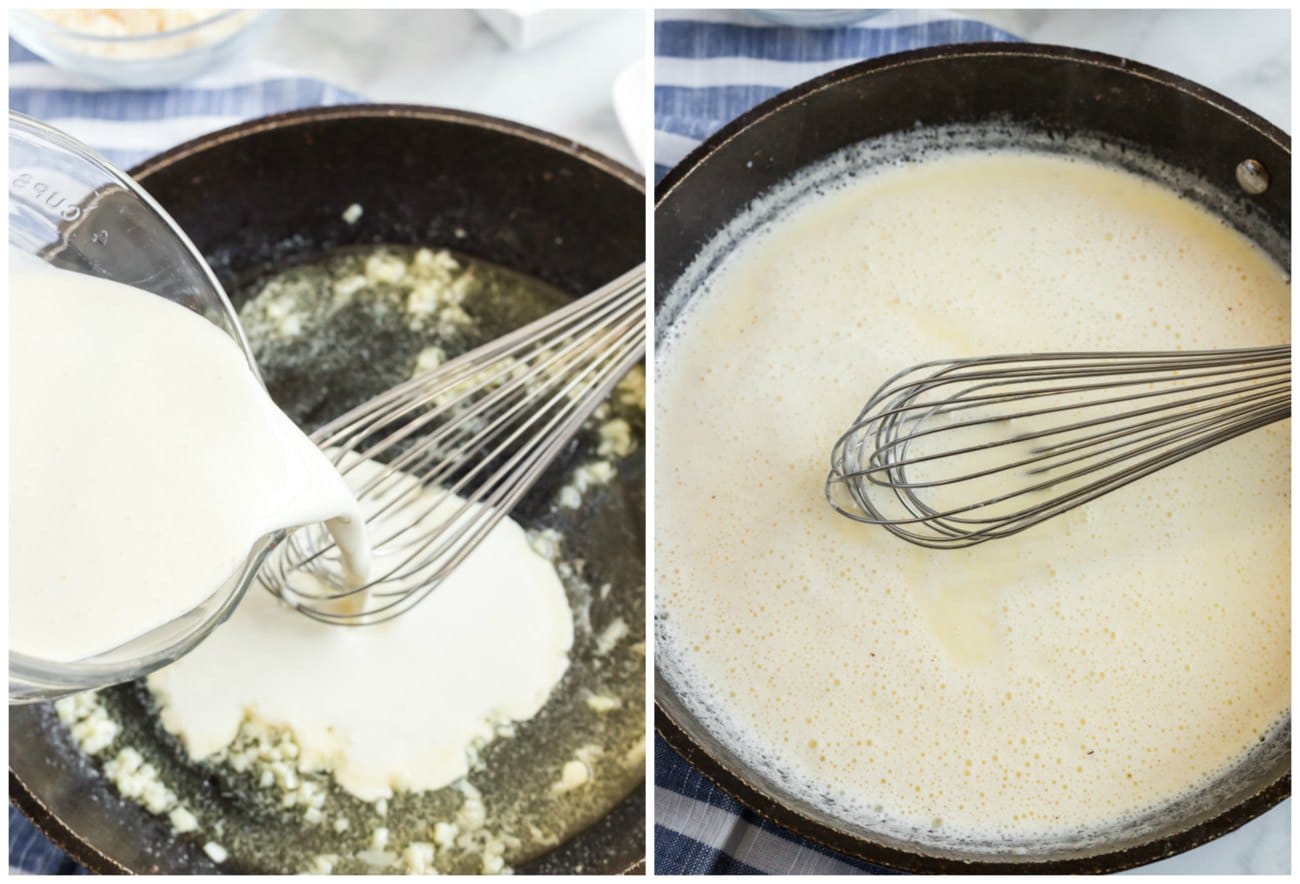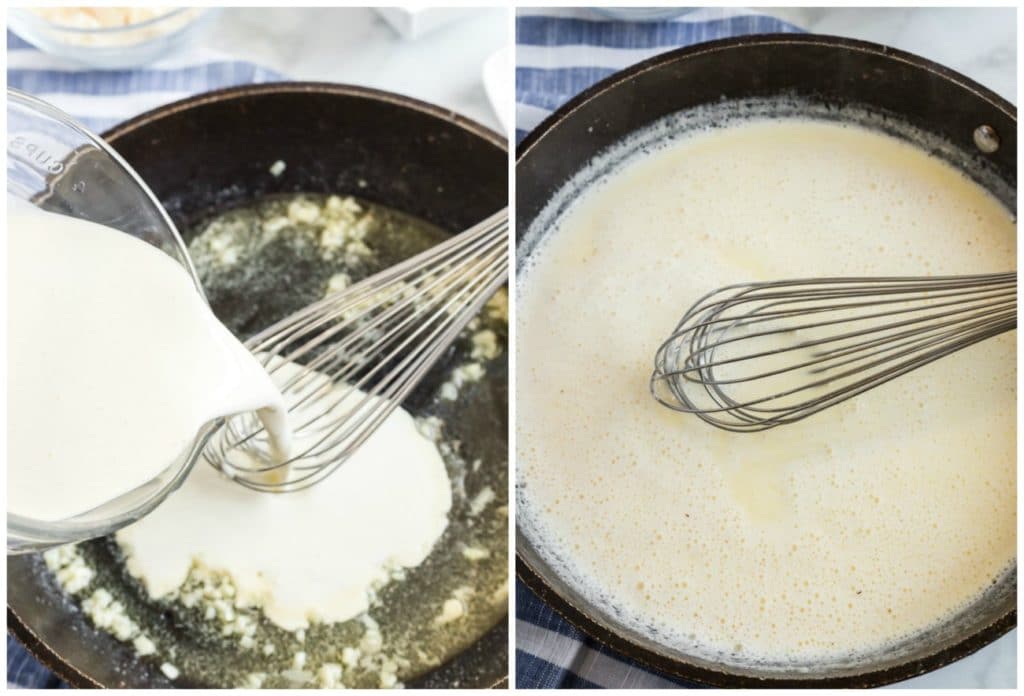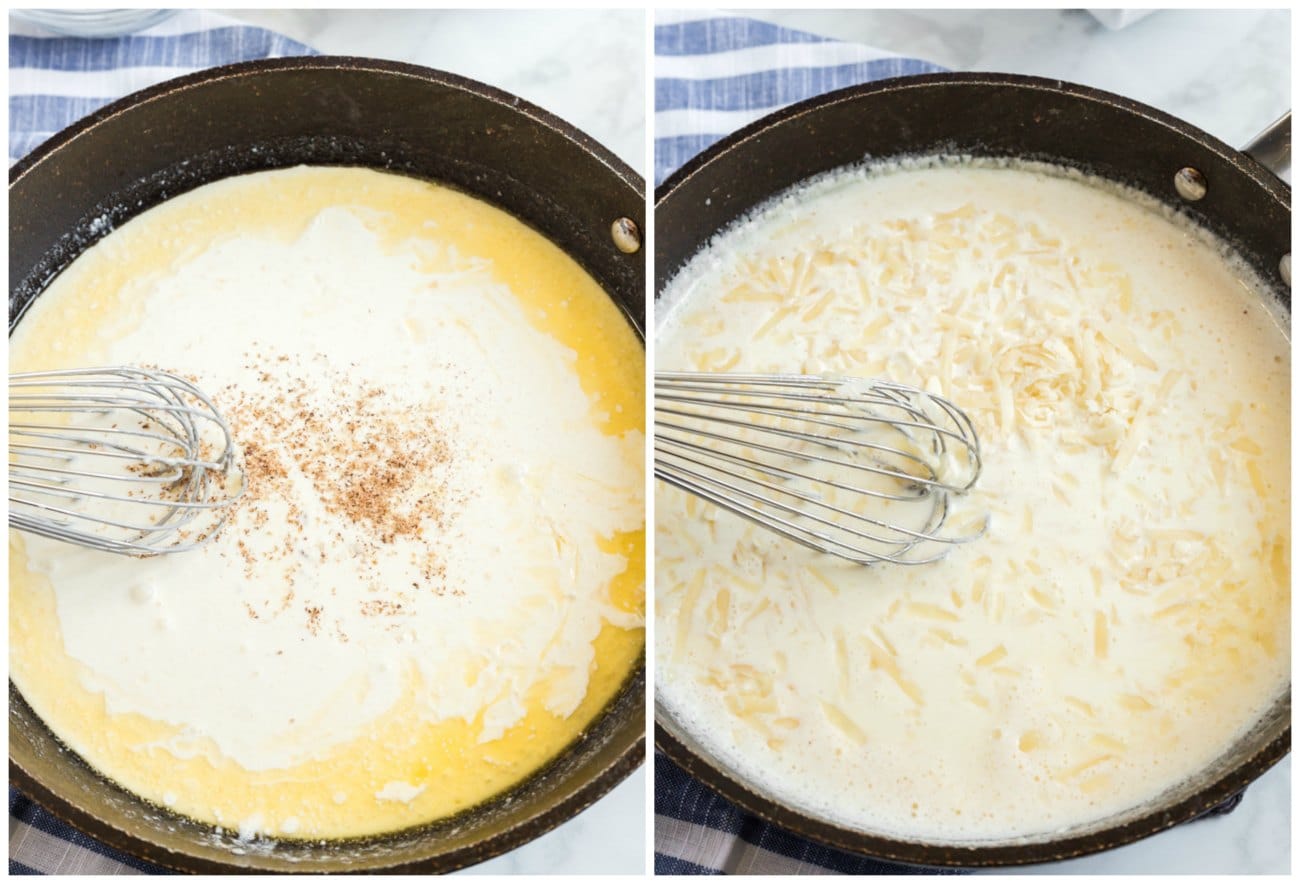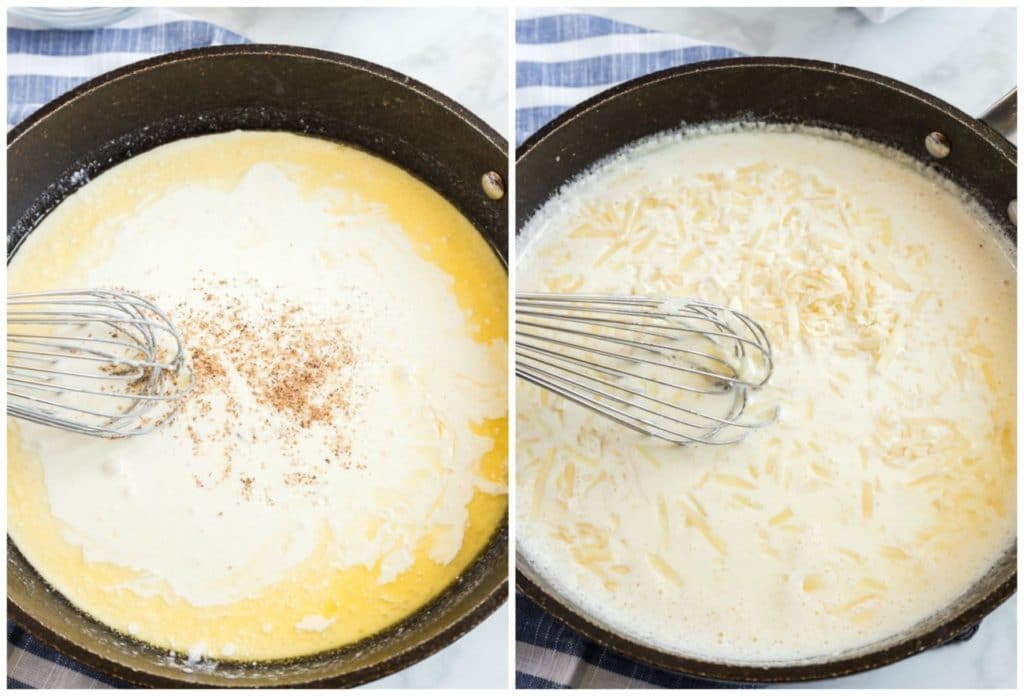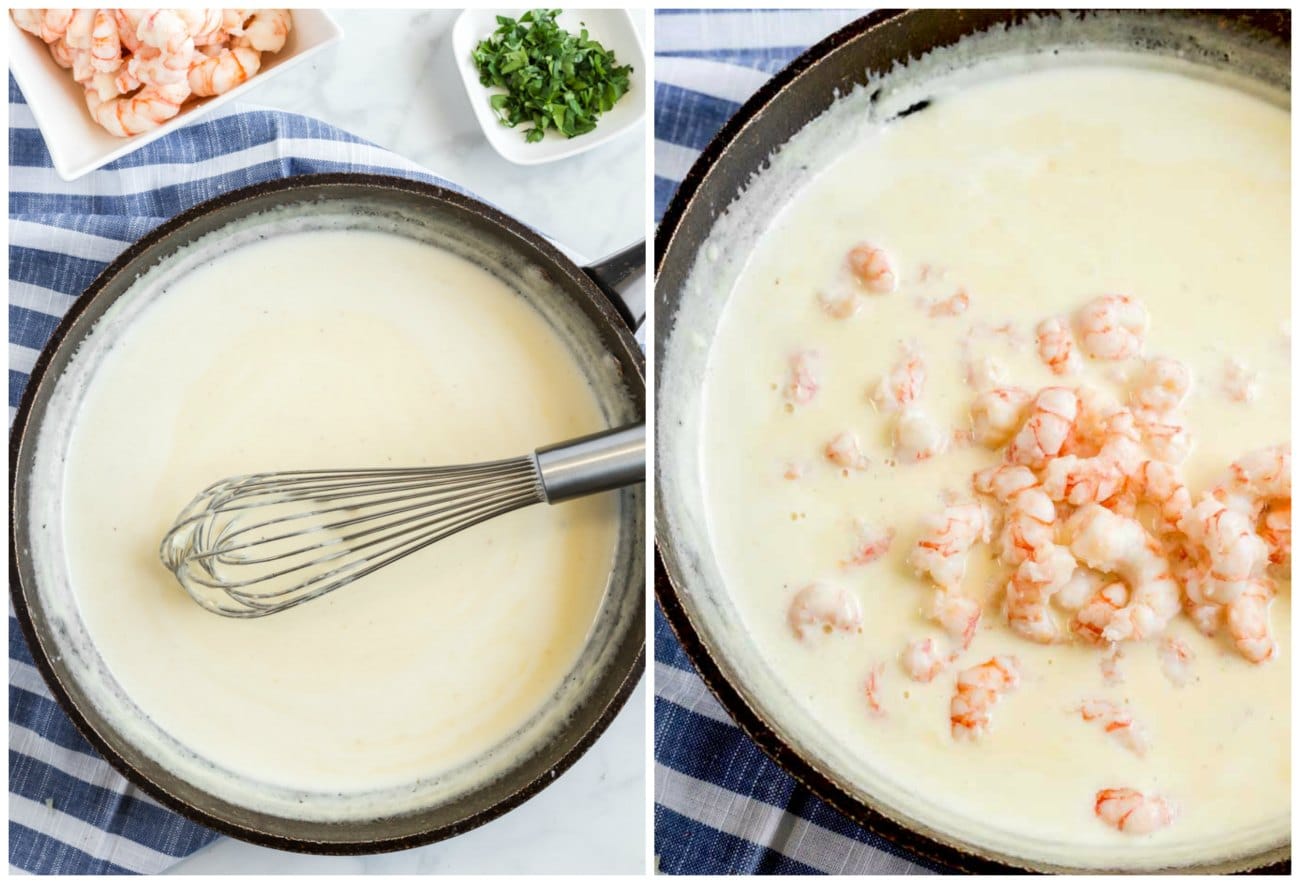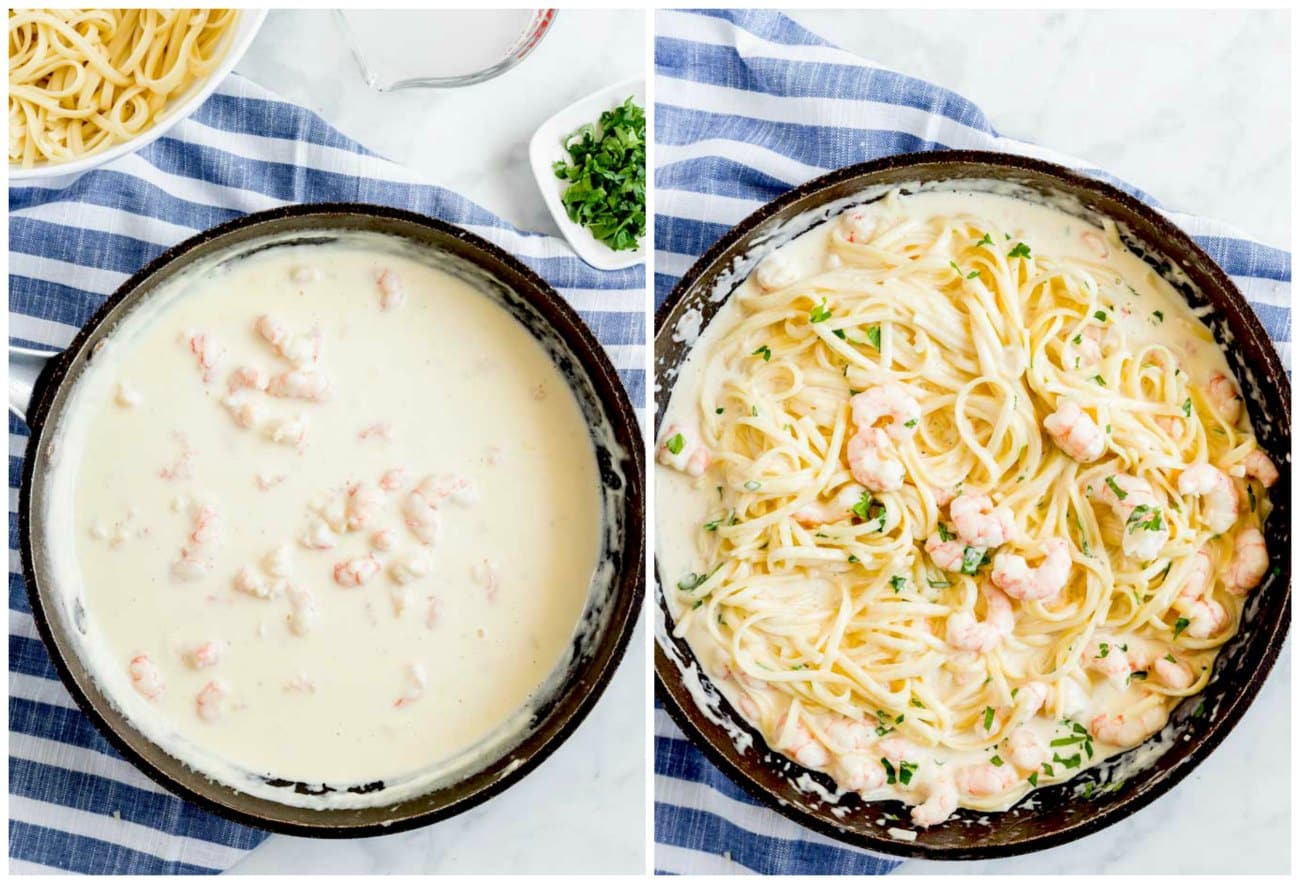 You have questions? We have answers!
What is traditional Alfredo sauce made of?
Traditional Alfredo sauce is made with a handful of simple ingredients. Butter, cream, Parmesan cheese, nutmeg, ground black pepper and garlic.
What does it mean creamy sauces "break"?
The meaning of "the sauce breaks" or a "broken sauce" is when the butter or oil in the sauce separates from the rest of the ingredients breaking the emulsion. Instead of looking homogeneous, you usually have a sauce that looks curdle with distinct oily areas.
Can I Use Store-Bought Alfredo Sauce to Make This Recipe?
Yes, you can use jarred Alfredo sauce as a shortcut however, homemade Alfredo sauce not only tastes better, but it's also made without any additives or preservatives. As an added bonus, is super easy to make, quickly and turns out delicious.
My Best Tip When Making Homemade Alfredo Pasta
Reserving the cooking pasta water is a must. The starchy pasta water creates an emulsion that helps make the creamy sauce smooth, velvety and absolutely perfect.
After you toss the pasta with the sauce, the noodles tend to absorb the sauce making the dish look dry. Adding some pasta water fixes that problem. After a quick toss your pasta will be creamy as if you just finished cooking it.
How Do You Know If the Shrimp is Cooked?
Raw shrimp has a grayish-white color and it looks a bit translucent. As it cooks, it turns whitish-pink and becomes opaque. This only takes about 2 minutes per side.
Another sign of perfectly cooked shrimp is that the shrimp curls up slightly resembling the letter C. Overcooked, chewy and rubbery shrimp curls up into an O shape.
Why Did My Alfredo Sauce Break?
Cheese sauces like this Alfredo sauce usually break because they get heated too much or too quickly. If you keep the sauce warm for an extended period of time, the sauce can break as well.
Sudden changes in temperature can also break the emulsion of the sauce (freezing/defrosting/reheating)
Can You Cook With Frozen Shrimp?
In theory, yes you can boil frozen shrimp in a pot of hot water although I never recommend this method. To make shrimp Alfredo, it's best to defrost the shrimp before cooking it.
An easy and super quick way to defrost shrimp is to place it in a colander under cold running water, giving it a toss every 2-3 minutes. It takes about 10 minutes for the shrimp to thaw out completely.
Should I Defrost Shrimp Before Cooking?
Yes, to make fettuccini Alfredo I thaw out the shrimp in the refrigerator before cooking them. If you are short on time, you can defrost the shrimp by placing it in a colander under cold running water.
Make Ahead, Storage, Freezing and Reheating
Make Ahead: Creamy pasta recipes are best when served fresh, immediately after made. Pasta dishes dry up quickly as the noodles tend to absorb the creamy sauce.
Storing: Keep any leftovers in an airtight container in the refrigerator for 1-2 days.
Freezing: I don't recommend freezing Alfredo pasta.
Reheating: If you need to reheat the sauce only (without the noodles), place it in a saucepan and warm it up slowly over very low heat, stirring as needed.
Pasta Alfredo (already mixed with the noodles) can be reheated in the microwave in small intervals, or in a baking dish, covered in a preheated 325ºF oven. You may need to stir the pasta with a little bit of water to make the sauce creamy again.
Shrimp can overcook fast so make sure you don't heat the pasta for too long.
Chef's Tip: I always reserve enough pasta cooking water to make the sauce creamy even after I've served everyone. If anyone wants seconds, I simply add a bit of the water, toss the pasta and voila! The pasta looks as if I just finished making it.
Alfredo Shrimp Recipe Tips
Shrimp cooks very quickly. It only takes about 2 minutes of cooking time per side.
If your Alfredo sauce looks a bit thin, don't worry. When tossing the pasta with the sauce, the pasta will release some of its starch, making the sauce a bit thicker.
If your shrimp pasta Alfredo is too thick, add some cooking pasta water and toss to combine.
Alfredo Pasta is best served immediately after it is ready. The sauce can be reheated on the stove top but must be heated slowly. otherwise it separates.
Make seafood Alfredo pasta by using other seafood like scallops or crawfish.
Other proteins, like chicken or sausage can be used to make this dish.
What Goes Well With Seafood Fettuccine?
A nice light salad of greens with a light vinaigrette like this Greek Salad Dressing is always a great side dish to serve with any creamy pasta dish. Garlic bread or breadsticks are also very popular when serving pasta.
You can Serve This Creamy Pasta with Shrimp with some of these side dishes as well:
Take a Look at These Other Easy Shrimp Recipes:
Follow me on social media for more recipe ideas & inspiration! Pinterest Facebook Instagram My Newsletter
Shrimp Alfredo Recipe
This Shrimp Alfredo recipe is packed with tender shrimp in a rich, creamy and cheesy Parmesan sauce. This restaurant quality Shrimp Alfredo Pasta is impressive, easy to make and one of our favorite shrimp pasta recipes!
Prep: 10 minutes
Cook: 15 minutes
Total Time 25 minutes
Servings 4 servings
Ingredients
12 ounces fettuccine or any pasta of your choice
1 pound large shrimp peeled and deveined, tails on or off
Salt and black pepper to taste
6 tablespoons unsalted butter divided
2 garlic cloves minced
2 cups heavy cream
A pinch of freshly grated nutmeg
1 1/2 cups freshly grated Parmesan cheese plus more for garnish – optional
1 tablespoon chopped parsley or chopped basil.
Instructions
Cook the pasta in salted water according to package directions.

Rinse and pat dry the shrimp. Season the shrimp with salt and pepper.

In a large skillet over medium heat, melt the butter. Add the shrimp to the pan and cook for about 1-2 minutes per side or until the shrimp turns pink. Remove the shrimp from the skillet and set aside.

Lower the heat to medium-low and add the remaining butter to the skillet. When the butter is melted, add the garlic and cook for 30 seconds to 1 minute scraping the bottom of the skillet to release any brown bits. You want the garlic to become aromatic but not to brown .

Whisk in the heavy cream and add the nutmeg. Simmer for 4-5 minutes or until just thickened.

Turn the heat to low and whisk in the Parmesan cheese, stirring continuously, until the cheese has melted. Season the sauce with salt and pepper to taste.

Drain the pasta reserving about 3/4 cup of the cooking liquid.

Add the shrimp and the pasta to the skillet and toss well. You want to toss the pasta for 1 to 2 minutes so it has time to absorb the sauce. If the pasta gets a bit dry, add some of the reserved cooking pasta liquid.

Sprinkle with parsley or basil and serve immediately topped with some extra Parmesan cheese (optional).
Chef's Tips
Shrimp cooks very quickly. It only takes about 2 minutes of cooking time per side.
If your Alfredo sauce looks a bit thin, don't worry. When tossing the pasta with the sauce, the pasta will release some of its starch, making the sauce a bit thicker.
If your shrimp pasta Alfredo is too thick, add some cooking pasta water and toss to combine.
Nutrition
Calories: 1154kcal (58%)Carbohydrates: 69g (23%)Protein: 51g (102%)Fat: 75g (115%)Saturated Fat: 45g (281%)Cholesterol: 527mg (176%)Sodium: 1508mg (66%)Potassium: 417mg (12%)Fiber: 3g (13%)Sugar: 3g (3%)Vitamin A: 2683IU (54%)Vitamin C: 7mg (8%)Calcium: 683mg (68%)Iron: 4mg (22%)
* Please note that all nutrition information are just estimates. Values will vary among brands, so we encourage you to calculate these on your own for most accurate results.