These Oven Roasted Sweet Potatoes are coated in a tasty maple syrup mixture and roasted until tender, caramelized and slightly golden. This tasty root vegetable makes the perfect savory, sweet side dish for holiday meals and everyday dinners.
Oven Roasted Sweet Potatoes
I admit, sweet potatoes are by far my favorite root vegetable, even more than potatoes. I love their flavor, the fact that they are quite nutritious and that they pair well with so many dishes.
This recipe is one of my favorite side dishes to make for dinner because it's simplicity and of course flavor. Although seasoned with maple syrup before baked, they are not overly sweet like my brown sugar candied sweet potatoes which I usually make as a side dish for holidays like Thanksgiving and Christmas.
Why You Will Love this Recipe?
Easy: You don't need any special skills and prep is super easy.
One-Pan: This is a side dish that only requires a sheet pan for baking. Less dishes to clean is always a plus for me.
Vegan and Gluten-Free: This is a great recipe to serve when you need a vegetarian, vegan and gluten-free side dish.
Quick: Prep work should only take you about 10 minutes. That is a plus especially when you are serving several dishes in one meal.
Flavor: Baking or roasting vegetables at high temperature brings out their natural sweetness intensifying their flavor. Add a bit of maple syrup to help with caramelization and you have a winner!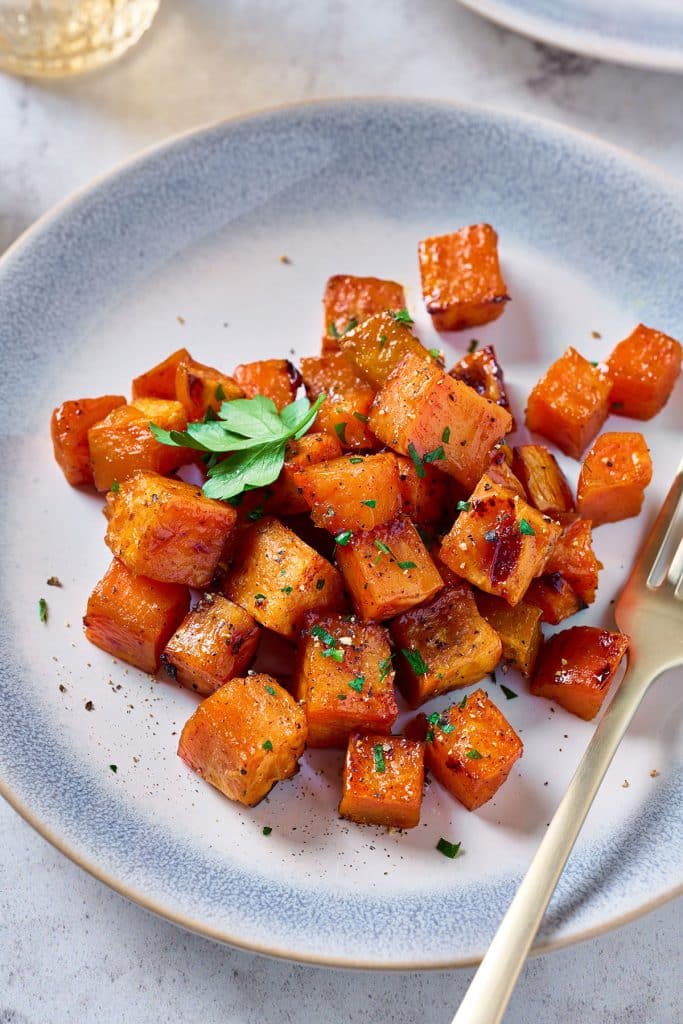 Maple Roasted Sweet Potatoes Ingredients
Sweet Potatoes
Olive Oil
Maple Syrup
Brown Sugar
Cinnamon
Salt
How To Make Roasted Sweet Potatoes with Maple Syrup
For specific instructions, check the recipe card below.
Preheat the oven to 400 degrees Fahrenheit and line a sheet pan with aluminum foil or parchment paper for easy clean up.
Peel and cut the sweet potatoes into 3/4 – inch pieces.
Toss the sweet potatoes with olive oil, maple syrup, brown sugar, salt and cinnamon.
Spread the sweet potatoes on the baking sheet in a single layer and bake.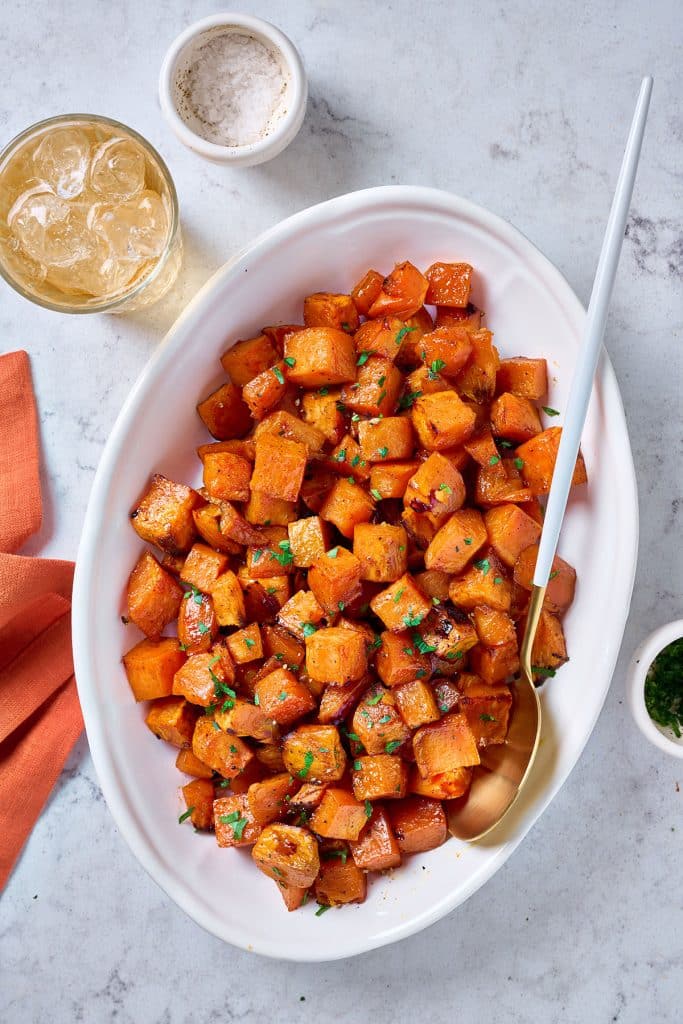 Sweet Potato Health Benefits
Sweet Potatoes are loaded with nutrients, antioxidants and are a great source of fiber. They help reduce and regulate sugar levels and are well known for boosting brain function and improving memory. Because of their high content of vitamin A they are especially important for the immune system.
You have questions? We have answers!
Do you leave the skin on sweet potato when roasting?
For this recipe, I peel the sweet potatoes. However, keeping the skin is up to your personal preference. Sweet potatoes can be roasted with the skin on or off.
What type of sweet potato is best for roasting?
For oven roasting, I prefer using red or orange sweet potatoes which are sweeter than other varieties.
Do You Have to Boil (par-boil) Sweet Potatoes Before Roasting?
No, you don't need to parboil the sweet potatoes before roasting them. Pre cooking them is an unnecessary extra step.
What Do You Serve Roasted Sweet Potatoes With?
This oven roasted sweet potato recipe is a great side dish to add to any holiday menu and also a delicious addition to your regular dinner rotation. We love serving them with:
Storing and Reheating
Storing: Leftovers can be stored in the refrigerator in an airtight container for about 3 days.
Reheating: Sweet potatoes can be reheated in the microwave at 50% power in small intervals until heated through or in a preheated 300° F oven until heated through (about 10 minutes).
Roasted Sweet Potatoes Recipe Tips
Use a baking sheet large enough to accommodate the sweet potatoes in a single layer.
Although this recipe calls for peeled sweet potatoes, their skin is edible so you can leave it on if you prefer.
Cut the pieces roughly the same size for even cooking.
To check for doneness, test the sweet potato pieces with a fork. The flesh should be tender and you should feel no resistance when piercing them.
You can use honey instead of maple syrup, if preferred.
This recipe is not overly sweet. Add additional maple syrup if you want.
Take A Look At These Other Side Dishes
Follow me on social media for more recipe ideas & inspiration! Pinterest Facebook Instagram My Newsletter
Maple Glazed Sweet Potatoes
Oven Roasted Sweet Potatoes are coated in a tasty maple syrup mixture and roasted until tender, caramelized and slightly golden. These delicious roasted sweet potatoes with maple syrup are easy to make and always a favorite!
Prep: 10 minutes
Cook: 30 minutes
Total Time 40 minutes
Servings 4 servings
Ingredients
2 large sweet potatoes
1/4 cup maple syrup
2 tablespoons brown sugar
1/4 teaspoon cinnamon
2 tablespoons olive oil
Instructions
Preheat the oven to 400 degrees Fahrenheit. Line a baking sheet with aluminum foil for easy clean up.

Rinse, peel and cut the sweet potatoes into 3/4 inch cubes.

In a small bowl, mix the maple syrup, brown sugar, cinnamon and olive oil.

Spread the sweet potatoes in a single layer on the baking sheet and pour the maple syrup mixture over them. Season lightly with salt and toss to coat.

Roast in the oven, for 30 to 40 minutes or until tender and the edges are lightly brown, turning them with a spatula once during the cooking process.

Remove from the oven and season with salt to taste. Serve warm.
Nutrition
Calories: 139kcal (7%)Carbohydrates: 19g (6%)Fat: 7g (11%)Sodium: 3mgPotassium: 45mg (1%)Sugar: 17g (19%)Vitamin A: 70IU (1%)Calcium: 27mg (3%)
* Please note that all nutrition information are just estimates. Values will vary among brands, so we encourage you to calculate these on your own for most accurate results.
This post has been updated with additional information for the reader. the recipe remains the same.