Candied Sweet Potatoes are the perfect side dish for fall. Coated with butter and brown sugar and topped with caramelized pecans, these roasted sweet potatoes are sweet, savory, delicious and easy to make.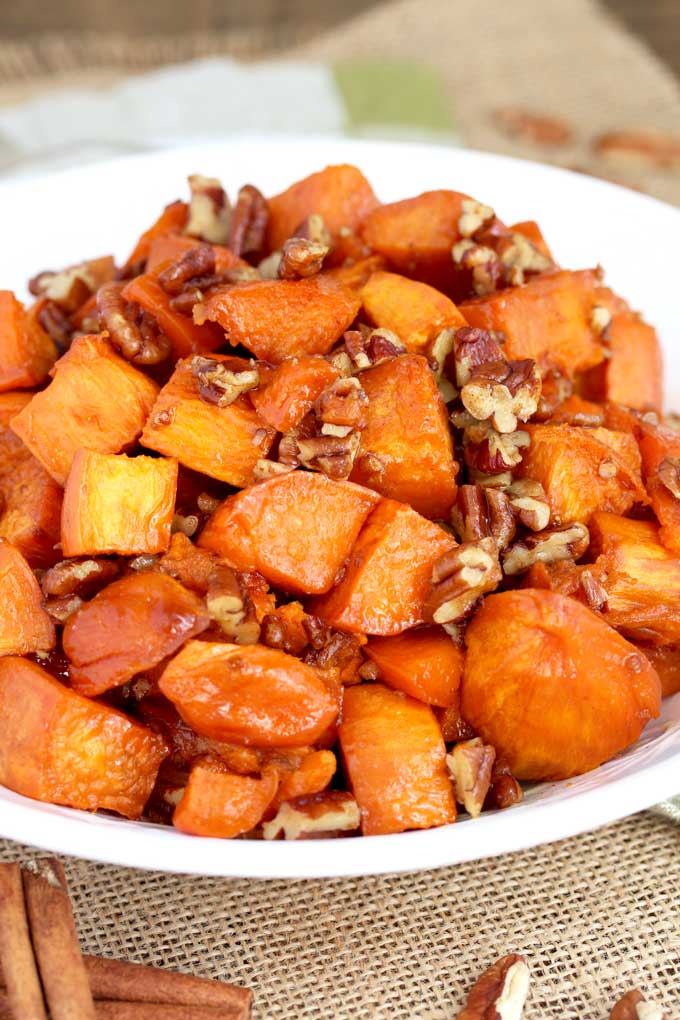 These Candied Sweet Potatoes are a must during the holidays, although I must admit they are so good that we make them all year round. This sweet potato recipe is so easy to prepare that can also be served as a side dish on busy weeknights.
We love serving them with these simple and tasty Oven Baked Pork Chops with Pan Seared Steaks and of course on special occasions with the best Prime Rib Roast.
This simple sweet potato recipe has a handful of ingredients and only takes a few minutes to put together. These baked candied sweet potatoes are tender, creamy and perfectly sweet – according to my kids they are sweet like candy!
Sweet potato cubes are smothered in butter, brown sugar, warm cinnamon and a pinch of ginger then oven roasted until creamy and tender. The amazing pecan topping is then added to the the sweet potatoes and roasted for a few extra minutes until the pecans are completely caramelized. The caramelized pecan topping adds the perfect nutty and crunchy bite to this delicious and easy side dish!
Candied Sweet Potatoes vs Candied Yams
You may be wondering what is the difference between sweet potatoes and yams. Although some supermarkets label the orange-flesh root vegetable as "yams", the truth is they are all sweet potatoes! Mary-Frances Heck, author of the cookbook Sweet Potatoes, explains that the reason for the name mix-up, is because Louisiana sweet potato growers marketed their sweet potatoes as "yams" in the 1930's to distinguish them from other states' produce.
Yams are grown in Africa, South America and some areas of Asia. They don't look much like what we know as sweet potatoes in America. Yams are starchy and not really sweet. Their skin is bumpy, bark-like and brown like yucca. Their flesh can be white, purple or reddish. Yam sizes vary. They can be small like a potato or grow as big as 5 feet long.
Candy Sweet Potatoes Ingredients
Sweet potatoes
Butter
Olive Oil,
Brown Sugar
Ground Ginger
Pecans
Ground Cinnamon
Pinch of Salt
Although some people make candied sweet potatoes by boiling the sweet potatoes, I find that roasting sweet potatoes – or any other root/vegetable for that matter, brings out the natural sweetness of the vegetable or root while intensifying its flavor. Roasting is easy, placing the ingredients on a baking sheet and allowing the oven to do the work is what I call effortless cooking.
At What Temperature To Roast Sweet Potatoes?
I set the oven temperature to 400 degrees Fahrenheit. This temperature is hot enough to allow the yams to get soft and creamy in the middle while allowing for caramelized sweet edges. Since the recipe contains sugar, I don't recommend setting the temperature any higher than 400 degrees Fahrenheit.
Candied Sweet Potatoes Recipe Tips
Cut the sweet potatoes into uniform size pieces to make sure they cook evenly. I like to cut the potatoes into 1-inch cubes.
Don't skip the oil. It is important to use plenty of oil when roasting vegetables. The oil helps achieve caramelized golden edges.
Spread the sweet potatoes on the baking sheet in a single layer for even cooking and proper air circulation.
Do not add the pecan topping mix until the candied yams are tender. Baking them for too long can result in burnt nuts.
This recipe is a bit lighter than the traditional Southern Candied Yams. It is sweet but not syrupy.
Take A Look At These Other Side Dish Recipes:
Follow me on social media for more recipe ideas & inspiration! Pinterest Facebook Instagram My Newsletter
Candied Sweet Potatoes with Brown Sugar and Pecans
Candied Sweet Potatoes are the perfect side dish for fall. Coated with butter and brown sugar and topped with caramelized pecans, these roasted sweet potatoes are sweet, savory, delicious and easy to make.
Prep: 10 minutes
Cook: 55 minutes
Total Time 1 hour 5 minutes
Servings 8 servings
Instructions
To Make the Pecan Topping
In a small bowl mix all the ingredients together.
For the Sweet Potatoes
Preheat the oven to 400 degrees Fahrenheit. Line a baking sheet with aluminum foil or parchment paper for easy clean up.

Spread the sweet potatoes in a single layer on the baking sheet and pour the melted butter and olive oil over the sweet potatoes. Sprinkle the brown sugar and ground ginger. Season with salt and pepper. Toss to combine.

Roast in the oven, for 40 -45 minutes or until tender and the edges are lightly brown, turning them with a spatula once during the cooking process.


Remove the baking sheet from the oven and sprinkle with the pecan topping. Bake for an additional 10 minutes. Remove from the oven and serve.
Chef's Tips
I use unsalted butter. However, you can use salted butter if that is what you have handy. Just season the sweet potatoes lightly with salt.
Nutrition
Calories: 299kcal (15%)Carbohydrates: 44g (15%)Protein: 3g (6%)Fat: 12g (18%)Saturated Fat: 3g (19%)Cholesterol: 11mg (4%)Sodium: 133mg (6%)Potassium: 610mg (17%)Fiber: 5g (21%)Sugar: 16g (18%)Vitamin A: 24265IU (485%)Vitamin C: 4mg (5%)Calcium: 64mg (6%)Iron: 1.3mg (7%)
* Please note that all nutrition information are just estimates. Values will vary among brands, so we encourage you to calculate these on your own for most accurate results.