Tender Pan Seared Scallops are cooked to perfection and smothered in a flavorful lemon garlic butter sauce. Learn how to cook scallops like a professional chef, and enjoy this restaurant quality seared scallops recipe at home anytime!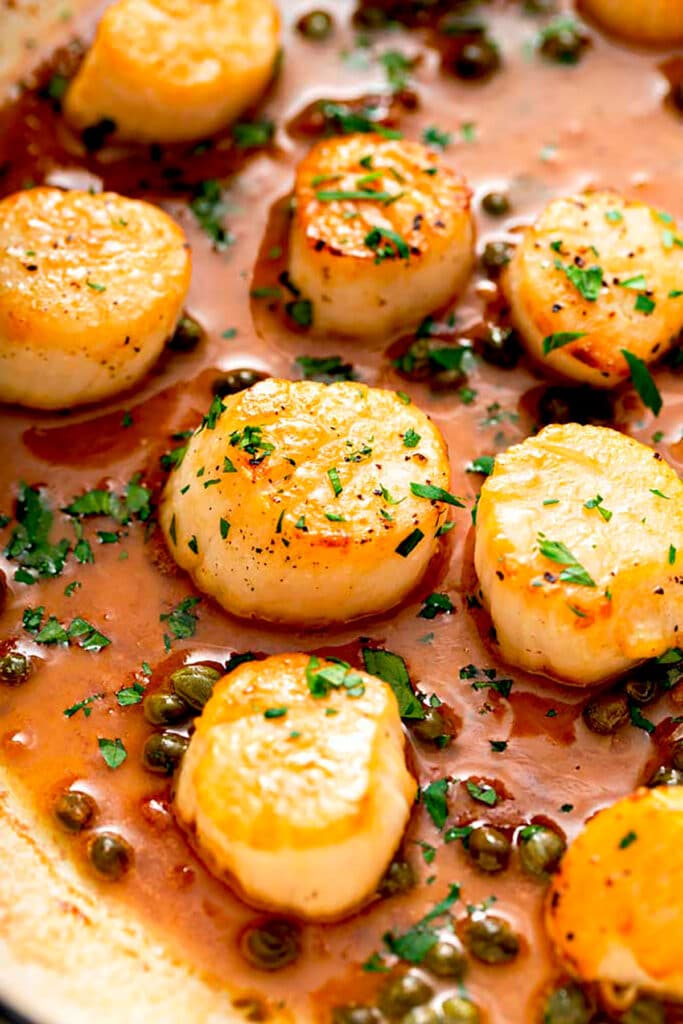 Pan Seared Scallops
Scallops are such a nice dinner option, one that can make you feel like you are dining at a nice upscale restaurant. Cooking scallops is actually very easy, easier than cooking other seafood.
One of my favorite ways to cook scallops is by pan searing or pan frying them. The process is simple and the results are mouthwatering delicious.
Before we dive into how to sear scallops, it's important to discuss how to buy scallops and how to prep them for cooking.
What Does A Scallop Taste Like?
Scallops have a mild taste similar to lobster. When cooked properly, they have a slightly sweet, buttery and nutty taste and a very delicate flavor.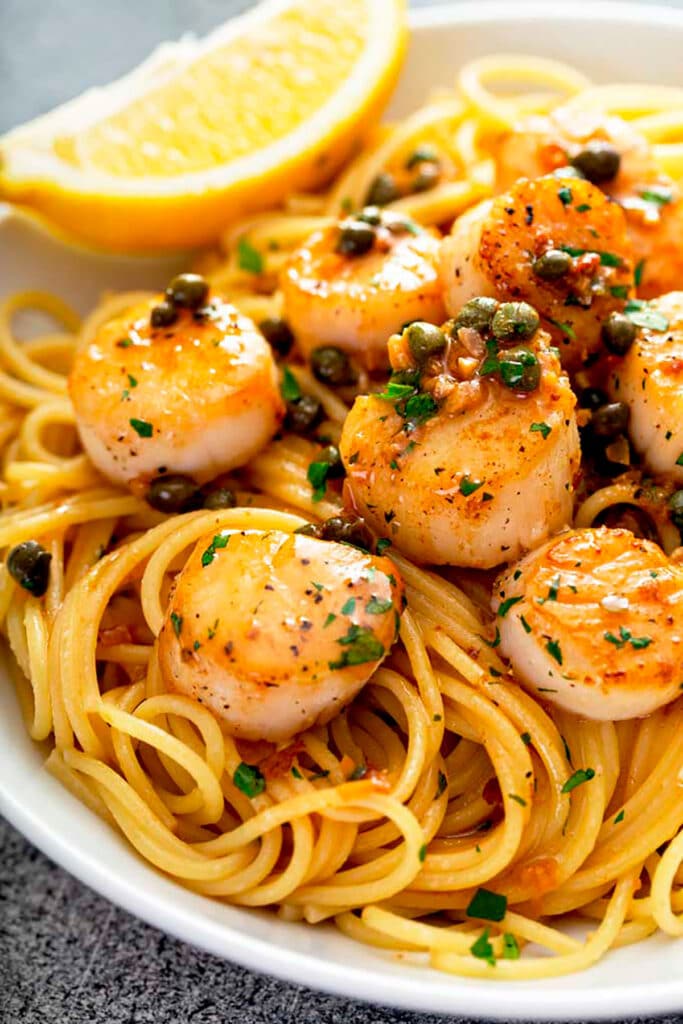 How To Buy Scallops
The most important thing to keep in mind when purchasing scallops is to get "Dry Scallops" and never to buy "Wet Scallops" even if the price difference is significant. You want to make the investment to prevent a less than mediocre meal.
Wet Scallops (don't buy these)
Wet scallops may look plump and big but looks can be deceiving and in this particular case they are. Wet scallops have been treated with sodium tripolyphosphate, a solution that is perfectly safe to eat but makes scallops impossible to sear. This solution makes a scallop soak up liquids like a sponge. These scallops usually have a very unpleasant soapy taste.
Fishmongers use this solution to make the scallops weigh more so they can charge you more money for – well, water!
Wet scallops are sold in most supermarkets. They should be labeled as "wet scallops" but if you are not sure, check the container that holds them. If the scallops are sitting in a bit of milky looking liquid, then they are "wet".
Dry Scallops
Dry scallops are untreated with chemicals and are superior in quality. They have a shorter shelf life and a larger price tag. Paying more for dry scallops is absolutely worth it. Dry scallops taste better, are much sweeter, fresher and cooking them is much easier. Dry scallops are often labeled as "dry-packed" or "chemical-free".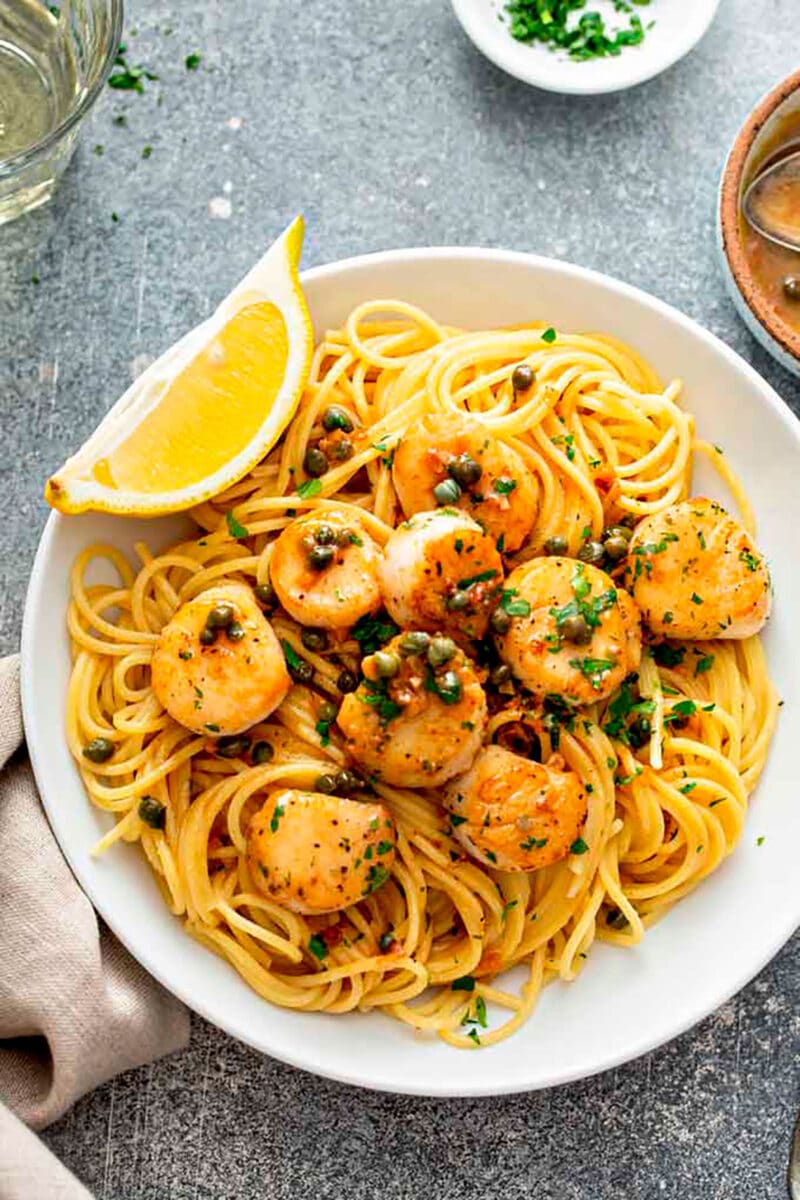 Scallops by the Number (Less is More)
Just like shrimp, scallops are sometimes in packages labeled with numbers. These numbers refer to the size of the scallops and how many of them are in a pound. For example, a bag labeled 20/30 count, means that it will take between 20 and 30 scallops to make a pound. Some are labeled "U-10" – this means that it will take under 10 scallops to make one pound. The smaller the number, the bigger the scallop!
Bay Scallops, Sea Scallops and Diver Scallops
Bay Scallops: These scallops are smaller, sweeter and delicate. Bay scallops are not the ideal scallop for pan searing as they will quickly dry up and turn tough. Bay scallops are well suited for deep frying, air frying, sautéing and for cold or raw preparations like salads, sushi and ceviches.
Sea Scallops: These larger scallops are sweet, brinier and very flavorful. Sea Scallops can be 1 to 2 inches in diameter and are perfect for pan-searing, baking and grilling. They are sold under the names "jumbo scallops", "Alaskan scallops" and "king scallops".
Diver Scallops: These scallops refer more to how they are harvested than their size. These are picked by divers who choose the best and biggest scallops they can find.

Scallops – Fresh vs Frozen
One of the questions I often get is "should I buy frozen seafood?" The answer is absolutely yes!
How To Cook Frozen Scallops
Frozen Scallops
Now let's talk about frozen seafood. Most fisherman flash freeze the seafood as soon as they catch it to preserve it. That means you are getting great quality seafood that has been handled properly. When purchasing frozen scallops, make sure they are IQF (Individually Quick Frozen). IQF scallops are easier to defrost.
Defrosting Scallops
It is best to defrost scallops in the refrigerator overnight. Another way to thaw out scallops is to place them in a resealable bag (or keep them in the bag they came in) and place them in a bowl filled with cold water. Don't put the frozen scallops directly in the water! Check after 15 – 20 minutes to see if they are completely thawed out.
How Long Are Fresh Scallops Good For?
Fresh scallops should be kept refrigerated for only 2 days.
Fresh Scallops
Fresh seafood doesn't always mean "fresh off the boat". Sadly you have no way to know if the seafood was properly handled from the boat to the supermarket.
It's best to purchase fresh seafood if you live in a coastal area or if you have a trustworthy fishmonger or you are near a thriving fish market near the ocean. Fresh scallops should smell fresh, not fishy and should be firm and white to beige in color with a pinkish hue.
Storing Scallops
Fresh scallops are best consumed the day you purchase them. However, they will keep in the refrigerator overnight. Ideally, scallops should be kept in the fridge covered on a bed of ice.
Frozen scallops will last in the freezer up to 3 months.
How To Prepare Scallops
Sometimes scallops are sold with the roe. When shucked, the roe is the orange or coral part attached to the muscle. The roe is a bit bitter and for this specific preparation, it should be removed. Simply pull it off. If the muscle is still attached, it will also have to be pulled off and discarded.
Do You Have To Wash Scallops Before Cooking?
Before cooking scallops, I give them a quick rinse under running cold water, then I pat them dry with paper towels. Pat drying the scallops is an important step to ensure perfectly seared, golden brown scallops.
Pan Seared Scallops Recipe Ingredients
Scallops: Purchase dry sea scallops, fresh or frozen.
Oil: I use olive oil. Vegetable oil or canola oil work as well.
Butter: Unsalted or salted.
Garlic: I use fresh garlic.
Wine: White wine like pinot gris, sauvignon blanc or chardonnay. If you prefer, you can skip the wine and use broth.
Broth: Chicken, fish or vegetable broth will work.
Lemon: Fresh lemon juice is a must. Lemon slices can be used as garnish.
Capers: Seafood and capers are a match made in heaven! Drain them before adding them to the dish.
Parsley: Fresh chopped parsley for color and presentation.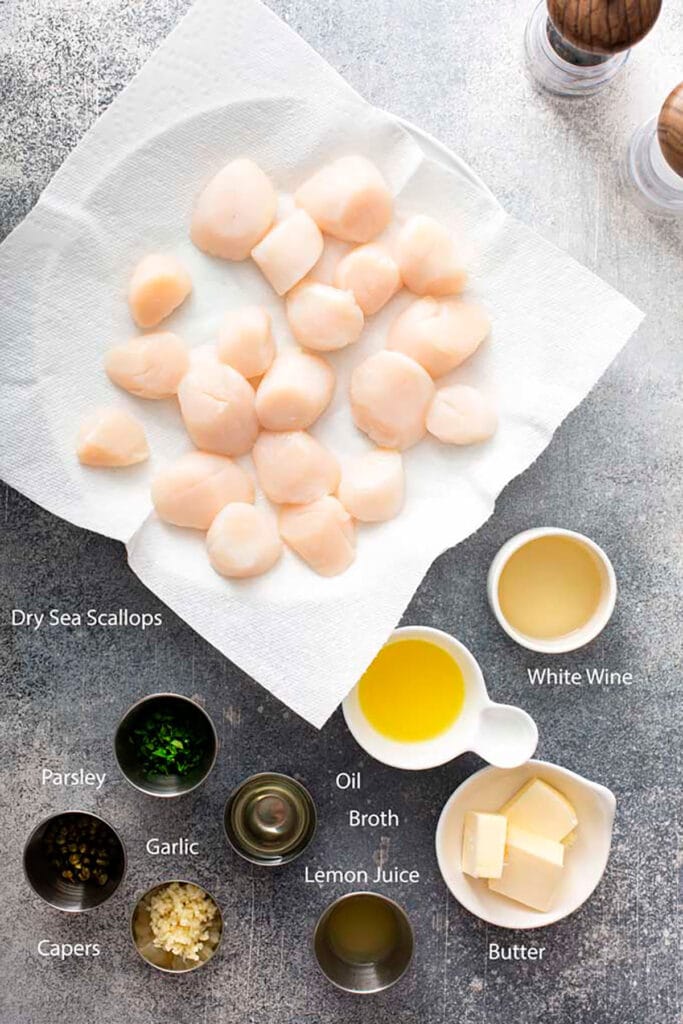 How To Cook Sea Scallops
Pan searing scallops is easy and the process only takes a few minutes, about 4 to 5 minutes to be exact. After pan frying, the scallops are removed from the skillet and the quick sauce is made. When the sauce is done, the scallops are returned to the pan for a quick warm up!
Prep and Pat Dry: Quickly rinse the scallops under cold running water. Remove the side muscle and/or roe if still attached, then pat each scallop dry. Make sure they are completely dry, otherwise it's almost impossible to get a good sear.
Season: Season the scallops with salt and black pepper. Some recipes dust the scallops with a bit of flour. This additional step, although not necessary, helps to get a nice golden brown crust. This step is added in the recipe notes for your reference.
Preheat the Skillet: Heat an oiled skillet over high heat until sizzling hot. A hot pan or skillet is key for great results.
Pan Sear: Place the scallops in the skillet leaving some room between them. Proper air circulation is key for a nice sear. Overcrowding the pan results in steamed scallops. Place the scallops in the hot pan and sear them without moving them for about 2 to 3 minutes before flipping them. Flip the scallops and cook the other side for about 2 minutes or until cooked through (they will look opaque). Remove from the skillet and keep warm.
Make the Garlic Lemon Butter Sauce: In the same pan, melt the butter, stir in the garlic and cook until aromatic, about a minute. Deglaze the pan by adding the wine and broth and scraping the bottom of the pan with a wooden spoon. Reduce the liquid mixture by half, about 2 – 3 minutes. Stir in the remaining butter, lemon juice and capers. Lower the heat and return the scallops to the pan. Season to taste and serve garnished with chopped parsley and lemon slices.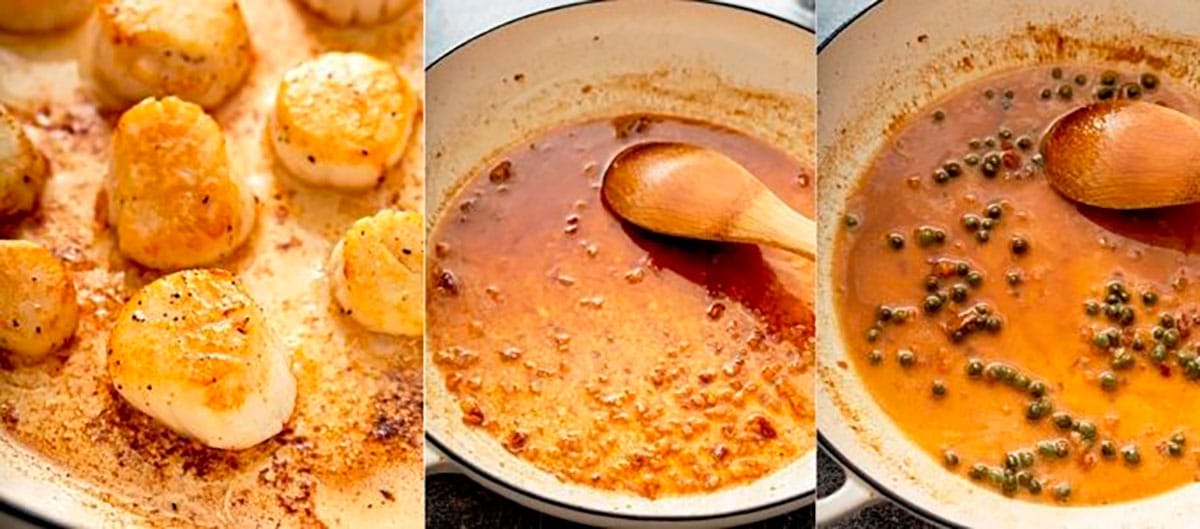 You have questions? We have answers!
When Cooking Frozen Scallops, Can You Cook Them Without Thawing?
No. Scallops should be completely thawed out before cooking them.
Do You Have To Rinse Scallops Before Cooking?"
Yes, scallops should be rinsed under running cold water and pat dried with paper towels before cooking.
How Long To Cook Scallops
Large sea scallops need to cook for 2-3 minutes per side. Scallops cook very fast so it's important to keep a watchful eye when cooking them. Overcooked scallops turn rubbery and chewy.
How Do You Know When Scallops Are Done?
You know your scallops are perfectly cooked when they look opaque and are firm to the touch like well set jello. Think of it as a raw egg white getting cooked. The change won't be as drastic but I like putting that mental image in my head. Seared scallops should have a nice golden brown "crust" and the sides should look opaque.
Why Won't My Scallops Sear?
There are a few main reasons why pan seared scallops won't get a nice golden brown crust.
You purchased the wrong type of scallop. Scallops sold under the label "wet scallops" are almost impossible to sear.
You forgot to pat the scallops dry before cooking them.
Your pan or skillet is not hot enough.
Your pan or skillet is overcrowded. Scallops need some room to do their thing! Leave at least 3/4 of an inch between them.
Can Scallops Be Reheated?
Yes, scallops can be reheated but you must make sure you don't overcook them. Scallops should be heated gently. If you have time, it's wise to reheat scallops over a pot of hot water. This is what I do. I boil some water in a small pot. I place a plate with the scallops on top of the pot (the plate must be able to sit comfortably on the pot), then I cover the plate with a lid and allow the heat/steam to warm the food slowly.
What Goes With Pan Fried Scallops?
Scallops are delicious on their own served as an appetizer with some bread to soak up the lemon garlic butter sauce. This No Knead Crusty Dutch Oven Bread is deliciously amazing!
You can also serve this easy scallops recipe over pasta, polenta, grits, mashed potatoes, cauliflower mashed potatoes, rice pilaf or a simple salad.
Perfect Fresh Pan Fried Scallop Recipe Tips
Make sure you purchase "dry" scallops. Dry scallops have not been soaked in a food grade chemical so they will sear properly
Pat the scallops dry with paper towels.
Don't overcrowd the pan when searing the scallops. Keep them apart and in a single layer.
Pan seared scallops are best served immediately!
This pan seared scallops recipe does not require the use of flour; however, if you'd like the scallops to have a thicker golden brown "crust", dust the scallops with flour (about 2 – 3 tablespoons of all-purpose flour), then season them with salt and black pepper and continue with the recipe as written.
Follow me on social media for more recipe ideas & inspiration! Pinterest Facebook Instagram My Newsletter
Pan Fried Scallop Recipe
Tender Pan Seared Scallops are cooked to perfection and smothered in a flavorful lemon garlic butter sauce.
Prep: 5 minutes
Cook: 10 minutes
Total Time 15 minutes
Servings 4 servings
Ingredients
1 to 1 1/4 pound dry sea scallops
2 tablespoons olive oil
3 tablespoon butter divided
2 garlic cloves finely minced
1/4 cup white wine or broth
1/4 cup chicken broth
2 tablespoon fresh lemon juice
1 tablespoon capers drained
2 tablespoons parsley chopped
Lemon slices or lemon wedges for serving
Instructions
Remove the side muscle from the scallops (if still attached).

Pat dry the scallops thoroughly with paper towels.

Season the scallops with salt and pepper.

In a large sauté pan or skillet, heat the olive oil over medium-high heat until sizzling. Add the scallops in a single layer. You may need to do this in batches to not overcrowd the pan.

Lower the heat to medium and without moving them, allow the scallops to brown lightly and form a golden brown crust underneath. This should take about 2-3 minutes. Flip the scallops and brown lightly on the other side, about 2 minutes or until cooked through (they will look opaque with a golden crust). Remove scallops from the skillet and transfer them to a plate. Keep them warm.

Melt 2 tablespoons of butter in the same pan. Add the garlic and cook, stirring for about a minute, making sure the garlic doesn't get brown.

Add the wine and broth and with a wooden spoon scrape any browned bits from the bottom of the pan. Cook until the wine/broth mixture has reduced by half, about 2-3 minutes.

Stir in the remaining butter, lemon juice and capers and turn the heat to low.

Return the scallops to the pan and warm them up for about 2 minutes. Remove from the heat. Add the parsley and season to taste.

Serve immediately with lemon slices.
Chef's Tips
Make sure you purchase "dry" scallops. Dry scallops have not been soaked in a food grade chemical so they will sear properly.
To achieve a nice thick golden brown crust on the scallops, dust the scallops with flour (about 2 – 3 tablespoons of all-purpose flour), then season them with salt and black pepper. Continue with the recipe as written.
Nutrition
Calories: 228kcal (11%)Carbohydrates: 5g (2%)Protein: 15g (30%)Fat: 16g (25%)Saturated Fat: 7g (44%)Trans Fat: 1gCholesterol: 52mg (17%)Sodium: 721mg (31%)Potassium: 289mg (8%)Fiber: 1g (4%)Sugar: 1g (1%)Vitamin A: 469IU (9%)Vitamin C: 7mg (8%)Calcium: 17mg (2%)Iron: 1mg (6%)
* Please note that all nutrition information are just estimates. Values will vary among brands, so we encourage you to calculate these on your own for most accurate results.