This Shrimp Scampi Dip is creamy, cheesy and full of flavor! This hot shrimp dip recipe is loaded with succulent shrimp, garlic, lemon zest and three types of cheese. Definitely a crowd pleasing dip!
If you love shrimp appetizers, take a look at my Mexican Shrimp Ceviche recipe!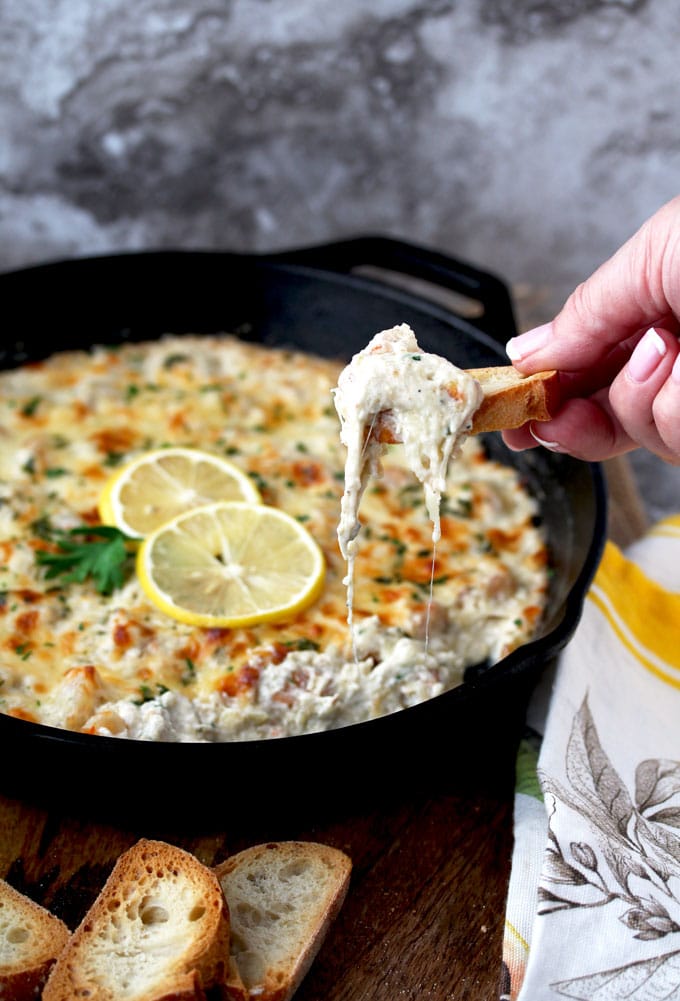 Enjoy the bright flavors of the Italian classic shrimp scampi in a creamy and cheesy dip! This easy to make shrimp dip is a great appetizer to serve at any party or gathering. Your family and friends will be asking you for the recipe, no doubt.
Creamy Shrimp Scampi Dip
Shrimp Dips are usually very quick and easy to make and this amazing shrimp dip is no different. This creamy shrimp scampi dip can be assembled ahead of time and baked when you are ready to serve it, which makes it an ideal appetizer to serve during the busy holidays.
This shrimp dip recipe is made in one single skillet that goes from the stove top to the oven. If you don't have an oven safe skillet like cast iron, simply pour the creamy dip in a baking dish before baking.
Shrimp Scampi Dip Ingredients
Shrimp: I always have a bag of raw large shrimp in my freezer. Because the shrimp is large, I cut it into thirds. You can use medium or small shrimp as well, just make sure the shrimp is cut into bite size pieces for easy scooping.
Butter: Unsalted. If you only have salted butter, use less salt in the when seasoning the shrimp.
Garlic: I use fresh garlic. Garlic is such an important component of creamy shrimp scampi so I always use fresh. Your next best option is garlic paste.
Lemon: You will use the juice and zest so fresh lemons are a must.
Parsley: I prefer the flavor of fresh Italian flat leaf parsley.
Cheese: Full fat cream cheese, Mozzarella and Parmesan. Freshly grated is best.
Sour Cream: For party dips I always use full fat sour cream but light can be used as well.
Mayonnaise: Regular mayonnaise works best.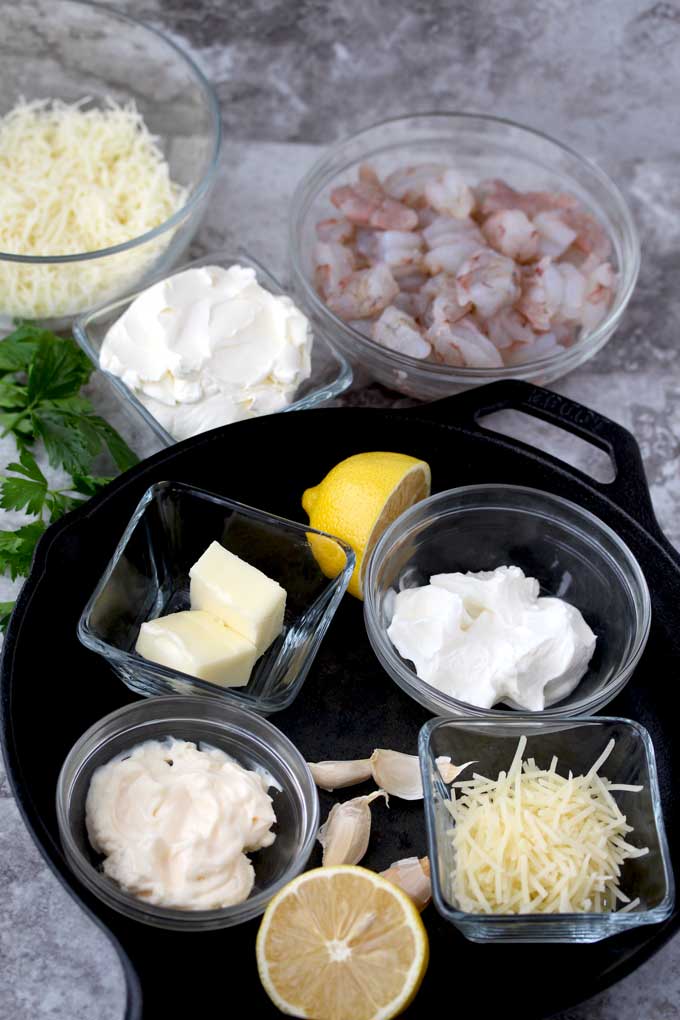 How To Make This Shrimp Dip Recipe
Have all your ingredients ready because the cooking goes fast!
In a skillet, saute the shrimp in butter with garlic and lemon zest. Add lemon juice. The shrimp is ready as soon as it starts to turn pink.
Do not overcook the shrimp! Remember the dip will bake and the shrimp will cook a little extra in the oven.
Remove the skillet from the heat and mix in the cream cheese.
Add the sour cream, mayonnaise, Mozzarella, Parmesan and parsley and mix until incorporated.
Top the shrimp dip with some extra shredded Mozzarella.
Bake until the shrimp dip is golden and bubbly. Serve it with some bread, crostini or crackers.
Can This Shrimp Dip Be Made Ahead?
Absolutely! You can assemble the dip the day before you will be serving it. Cook the shrimp, mix the rest of the ingredients, cool, cover it tightly and place it in the refrigerator. The next day all you have to do is remove it from the refrigerator about 20 minutes before baking it – just so it's not refrigerator cold, then bake and serve!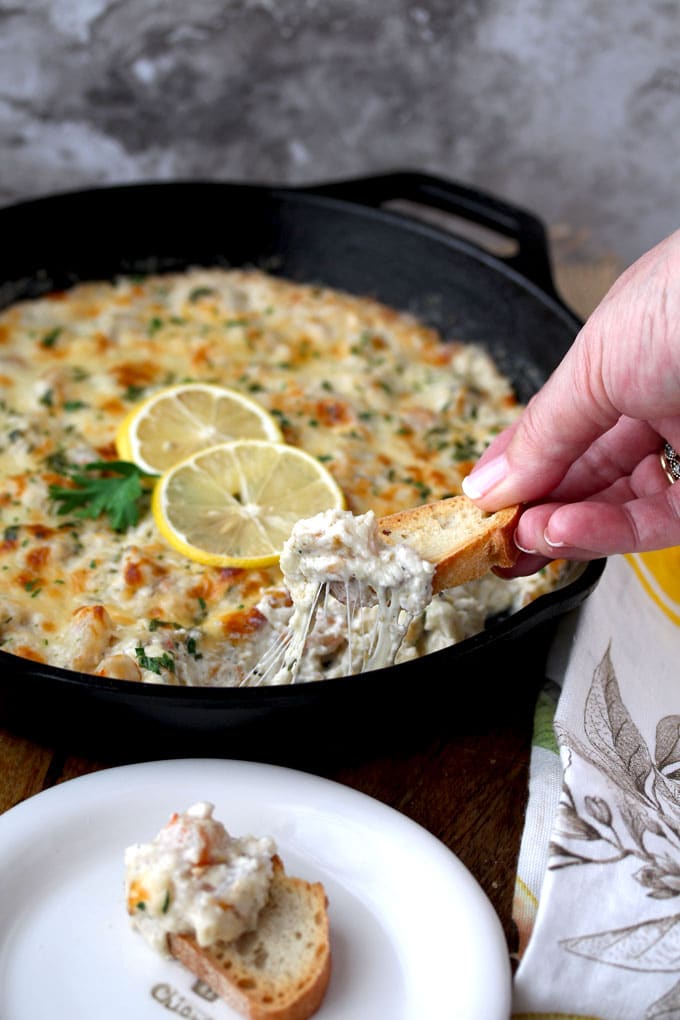 How To Serve Shrimp Dip
I like to serve this amazing shrimp dip with crostini, crackers or pita chips. Bread slices are also a great option for serving and scooping this creamy scampi dip.
Shrimp Dip Recipe Tips
Use a cast iron skillet or an oven safe skillet to make this a one skillet or one-pan dip. Less clean up is always a good thing!
You can make this recipe with large, medium or small shrimp. Cut the shrimp to small bite size pieces so it's easier to scoop and eat.
Take a look at these other shrimp recipes:
Follow me on social media for more recipe ideas & inspiration! Pinterest Facebook Instagram My Newsletter
Creamy Shrimp Scampi Dip
This Shrimp Scampi Dip is creamy, cheesy and delicious. Loaded with succulent shrimp, garlic, lemon zest and cheeses. This easy shrimp dip is always a crowd pleaser!
Prep: 5 minutes
Cook: 15 minutes
Total Time 20 minutes
Servings 4 people
Ingredients
2 tablespoons unsalted butter
4 garlic cloves, minced
Zest of 1 lemon
8 ounces large shrimp, peeled, deveined and cut into 1/4 inch pieces*
2 tablespoons lemon juice, freshly squeezed
4 ounces cream cheese at room temperature
1/4 cup sour cream
2 tablespoons mayonnaise
1/2 cup mozzarella, shredded plus more for topping**
1/4 cup Parmesan cheese, grated
1 tablespoon parsley, finely chopped plus more for garnish
Lemon slices for garnish (optional)
Instructions
Preheat the oven to 350 degrees Fahrenheit

In a 10 inch oven safe skillet*** or cast iron skillet over medium heat melt the butter. Add the garlic and lemon zest and cook stirring often for about 2 minutes.

Add the shrimp and season lightly with salt, pepper and cayenne. Cook stirring occasionally for about 2 – 3 minutes or until the shrimp is starting to get pink. Add the lemon juice and simmer for about a minute.

Remove the skillet from the heat and whisk in the cream cheese. Mix well until the cream cheese is well incorporated. Add the sour cream, mayonnaise, mozzarella, Parmesan and parsley and mix well to combine.

With a spatula level the mixture to an even layer, Sprinkle the top with Mozzarella (I used about 2 tablespoons).

Bake for 10 to 12 minutes or until the top is bubbly and golden. Remove from the oven and garnish with extra parsley and lemon slices (optional). Serve hot with bread, crackers or crostini.
Chef's Tips
*I cut each shrimp into 3 pieces.
**I used Part-Skim Mozzarella Cheese.
***I prepared this dip in a cast iron skillet and served it directly from it. If you don't have an oven safe skillet, you can transfer the dip into a 10-inch baking dish.
Nutrition
Calories: 348kcal (17%)Carbohydrates: 3g (1%)Protein: 19g (38%)Fat: 28g (43%)Saturated Fat: 14g (88%)Cholesterol: 213mg (71%)Sodium: 771mg (34%)Potassium: 128mg (4%)Sugar: 1g (1%)Vitamin A: 850IU (17%)Vitamin C: 7.5mg (9%)Calcium: 310mg (31%)Iron: 1.5mg (8%)
* Please note that all nutrition information are just estimates. Values will vary among brands, so we encourage you to calculate these on your own for most accurate results.
Recipe inspired by a recipe by Food Network Kitchen