Learn how to make crepes that are perfectly tender and thin with buttery golden crisp edges. These delicate homemade crepes can be made with sweet or savory fillings plus all the toppings! This basic French crepe recipe is delicious served for breakfast, lunch or dinner at home!
Welcome to #SummerGamesWeek 2021 hosted by Amy from House of Nash Eats! We are celebrating the start of the Tokyo Games with over 50 recipes representing more than 25 countries competing in the upcoming Summer Games! Come join me and my fellow Summer Games Week bloggers as we bring you recipes from appetizers to drinks to entrées and desserts!
Homemade Crepes
This easy foolproof crepe recipe is just as good as the crepês found in French crˆˆeperies. If that is not convincing enough, here are a few reasons why you should make these delicious French pancakes
Restaurant-style crepes at home don't require any special equipment or fancy cooking pans.
Crepe batter can be made ahead. Keep the batter refrigerated for up to 2 days!
Leftover crepes will keep in an airtight container or resealable bag in the refrigerator for up to 5 days.
Crepes freeze well.
Crepes are not only made with fewer ingredients than pancakes, but the ingredients used are simple staples you most likely have at home (no buttermilk required!)
Using a blender reduces the time needed to make the batter to about 15 seconds!
Basic crepes can be filled with an endless list of sweet or savory ingredients.
What Are Crepes?
Crepes are very similar to American pancakes except, they are much thinner, more delicate and are made without the use of any leavener such as baking powder. Baking powder is what makes pancakes super fluffy and thick.
Homemade crepes are very easy to make. To make the batter, you throw the ingredients into a blender and blend for a few seconds. The part that intimidates most people is spreading the batter in the pan thinly enough so they cook nicely. The truth is, this make take a little practice but, not matter what, I can guarantee that the first crepe to hit the pan won't look pretty. It never does! I call it the "throw away test crepe" although I never throw it away. I usually munch on it while cooking the rest of the batch.
French Crepe Ingredients
These are the crepe batter recipe ingredients:
Eggs: I use large eggs.
Milk and Water: I prefer using whole milk.
Flour: I use all-purpose flour for basic crepes.
Sugar: I always add sugar when making basic or sweet crepes and sometimes I omit it when making savory ones.
Vanilla Extract: I only use vanilla if making sweet crepes. Savory crepe batter doesn't need vanilla.
Butter: I use unsalted butter for the batter. You will need additional butter to grease the pan. Oil can also be used, in that case go for a mild oil like vegetable oil.
Salt: A little pinch is all you need to balance out and bring out the flavor.
How To Make Crepes At Home
Although I have yet to visit Paris, this basic crepe recipe is the one I use at home. I hear it is as good, if not better than French crepes.
For the detailed recipe, check the printable recipe card below:
Melt the Butter: I usually do this in the microwave but you can melt butter on the stove top (use the same pan where you will be cooking the crepes to reduce the number of dirty dishes!) Allow the butter to cool a bit while you gather the rest of the ingredients.
Blend: Combine all the ingredients in a blender and blend for about 15 seconds starting on low to medium speed.
Chill the Batter: Most recipes call for resting crepe batter for over an hour to improve the texture and flavor. The truth is, this very thin pancake doesn't need that much resting time. I chill the batter for 20 minutes minimum and up to 48 hours (if making them ahead of time).
Get the Pan Ready: Warm up a skillet (not special crepe-pan needed, any regular 8 to 10 inch skillet works, including cast iron). Coat the bottom of the pan with butter (and keep the butter handy as you will have to keep greasing the pan.)
Cook the Crepes: Pour the desired amount of batter (about 1/4 cup) into the pan, tilting and swirling the pan while pouring, as to cover the bottom of the pan in a thin and even layer. Cook for about 25 – 35 seconds or until the top looks dry and lightly brown around the edges. Carefully flip with a spatula and cook for about 10 seconds. Transfer to a plate and cook the rest of the batter.
Serve Filled or Topped: From butter and lemon to fresh berries and whipped cream. The possibilities are endless.
Crepe Filling Ideas
Crepes are a blank canvas when it comes to toppings and fillings. You can get as creative as you want, although there's something amazing about the simplicity of a homemade crepe with whipped cream and berries.
Sweet Crepe Filling Ideas
These filling and topping ideas are perfect for breakfast and dessert!
Whipped Cream (and berries!)
Lemon and Sugar (very Parisian and absolutely fabulous!)
Nutella (my little one's favorite, he even spreads Nutella on his regular pancakes.
Peanut Butter (with bananas, yum!)
Dulce de Leche or Salted Caramel
Ice Cream (any flavor although vanilla ice cream is my favorite)
Chocolate Sauce
Cooked fruit or Fresh fruit
Sweetened Cream Cheese (cream cheese frosting)
Lemon Curd or Cream Patisserie
Savory Crepe Filling Ideas
If you like my oldest son prefer savory breakfasts, then this is the way to go! These filling and topping ideas are great for breakfast, lunch and dinner crepes.
Ham and Cheese
Spinach and Feta
Bacon and Eggs
Brie and Cranberry Sauce
Hollandaise Sauce and Smoked Salmon
Basil Pesto and Roasted Veggies (or tomato slices and fresh mozzarella)
Does Crepe Batter Need To Rest?
Most people think that chilling crepe batter for at least an hour improve the crepe texture and flavor. Honestly, the difference between chilling or resting crepe batter for 20 minutes, 1 hour or more is minimal and since crepes are so thin, almost unnoticeable. If you ask me how to make crepes at home, I will say that I rest (chill) the batter for 10 to 20 minutes while I clean up or prepare the fillings or toppings.
Do I Need a Crepe Pan To Cook Crepes?
No. You don't need a crepe pan or any fancy equipment to make crepes (unless you really want to buy one). I prefer using a non-stick pan but cast iron skillets or any regular skillet works as well.
What Is The Difference Between A Crepe and a Pancake?
Pancakes use a leavening agent like baking powder or baking soda and crepes are only made with flour. The leavening in pancake mix makes them fluffy and thick.
Why Are My Crepes Sticking To The Pan
There are a few reasons why crepes get stuck in the pan. The most common reason is the lack of fat or grease. Adding butter to the batter and greasing the pan after you cook every single crepe is important. You can also use oil to grease the pan. Simply pour a few drops of oil in the pan and with the help of a paper towel, rub the oil all over the surface.
Use the right pan, that means a well seasoned skillet or preferably a non-stick skillet.
Cooking crepes at a low temperature can also cause the crepes to stick to the pan, usually because they aren't cooked enough to flip.
Why Are My Crepes Rubbery Or Chewy?
Crepes are usually rubbery if they are cooked at too low of a temperature or if too much gluten has developed because of over mixing the batter.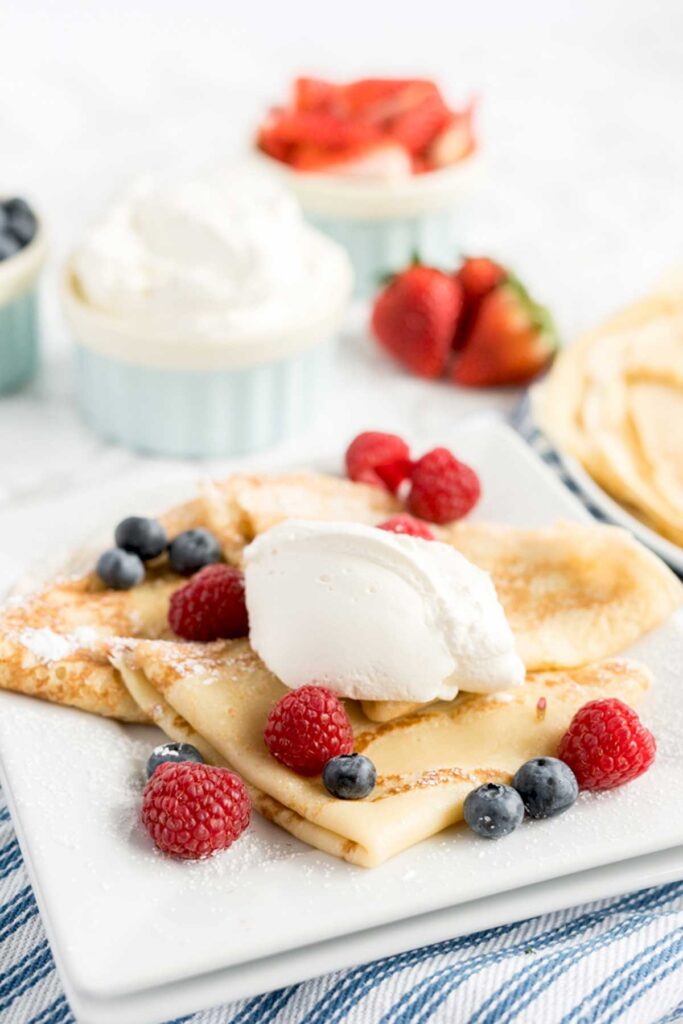 How Much Batter Should I Pour Into The Pan To make A Crepe
If using an 8-inch pan, pour about 3 tablespoons of crepe batter per crepe (a little less than 1/4 cup).
If using a 10-inch pan, pour about 1/4 cup of crepe batter per crepe.
If using a 12-inch pan, pour about 1/3 cup of crepe batter per crepe.
Butter Pecan Cake Recipe Tips
This cake freezes well. Cool completely, wrap it and freeze it for 2-3 months.
Nuts can be expensive so I try to save money by buying them in bulk. Warehouse clubs sell large bags that will last you a while. To prolong their shelf life, always keep them in the freezer.
Take A Look At These Other Delicious Brunch and Breakfast Recipes:
Wednesday #SummerGamesWeek Recipes
Wednesday #SummerGamesWeek Recipes
Follow me on social media for more recipe ideas & inspiration! Pinterest Facebook Instagram My Newsletter

Basic Crepes

Learn how to make crepes that are perfectly tender and thin with buttery golden crisp edges. These delicate basic homemade crepes can be made with sweet or savory fillings plus all the toppings!

Prep: 5 minutes

Cooling Time: 20 minutes

Cook: 20 minutes

Total Time 45 minutes

Servings 8 servings

Ingredients

2 large eggs
3/4 cup milk
1/2 cup water
1 cup all-purpose flour
2 1/2 tablespoons granulated sugar
Pinch of salt (optional but recommended)
1 teaspoon vanilla
3 tablespoons butter, melted (I prefer unsalted)
Additional butter to coat the pan may be needed

Topping and Filing Ideas:

Sweet: whipped cream, Nutella, sweet cream cheese frosting, lemon and sugar, syrups.
Fresh berries, fresh fruit, lemon curd, caramel sauce, powdered sugar, peanut butter, fruit preserves or jams.
Savory: Scrambled eggs, crispy bacon, brie cheese, spinach, Feta cheese, chicken salad, ham and cheese, tomato and mozzarella caprese.

Instructions

Combine all the ingredients in a blender and pulse for 10 to 15 seconds. Place the crepe batter in the refrigerator for 20 minutes (or up to 48 hours).

2 large eggs, 3/4 cup milk, 1/2 cup water, 1 cup all-purpose flour, 2 1/2 tablespoons granulated sugar, Pinch of salt

Heat a small non-stick pan or crepe pan over medium heat. Add a little butter to the pan (optional) and swirl to coat the bottom of the pan.

Pour the desired amount of batter (about 1/4 cup) into the pan, tilting and swirling the pan while pouring, as to cover the bottom of the pan in a thin and even layer.

Cook for about 25 – 35 seconds or until the top looks dry and lightly brown around the edges. Carefully flip the crepes with a spatula and cook for another 10 seconds. Remove from the pan and lay them flat on a plate. Repeat with the remaining batter.

Serve with your favorite crepe filling.

Chef's Tips

Yields about 17-22 crepes
Crepe batter can be made ahead. Keep the batter refrigerated for up to 2 days!
Leftover crepes will keep in an airtight container or resealable bag in the refrigerator for up to 5 days.
Crepes freeze well. Wrap them tightly and place them in a freezer safe resealable bag for about 2 months. Thaw out in the fridge.
Keep the crepes warm while you are cooking them by keeping them pile up on a plate near the hot stove. You can tent the crepes with aluminum  foil. I don't recommend keeping them in a warm oven as they tend to fry up easily.
To reheat, place a dump paper towel over the crepes and microwave them for a few seconds or until warm through.. Alternatively, they warm up nicely iin the microwave, inside a resealable ziptop bag.

Nutrition

Calories: 140kcal (7%)Carbohydrates: 17g (6%)Protein: 4g (8%)Fat: 6g (9%)Saturated Fat: 3g (19%)Polyunsaturated Fat: 1gMonounsaturated Fat: 2gTrans Fat: 1gCholesterol: 54mg (18%)Sodium: 64mg (3%)Potassium: 64mg (2%)Fiber: 1g (4%)Sugar: 5g (6%)Vitamin A: 228IU (5%)Calcium: 36mg (4%)Iron: 1mg (6%)

* Please note that all nutrition information are just estimates. Values will vary among brands, so we encourage you to calculate these on your own for most accurate results.

Recipe inspired by Alton Brown