This fresh Basil Pesto recipe is made with 5 ingredients in 5 minutes! Homemade Pesto is very easy to make and tastes so much better than store bought.
Homemade Pesto sauce is so versatile. It's delicious simply tossed with cooked pasta and can also be used in recipes like in this creamy Chicken Pesto Pasta or this quick and easy Pesto Pasta Salad.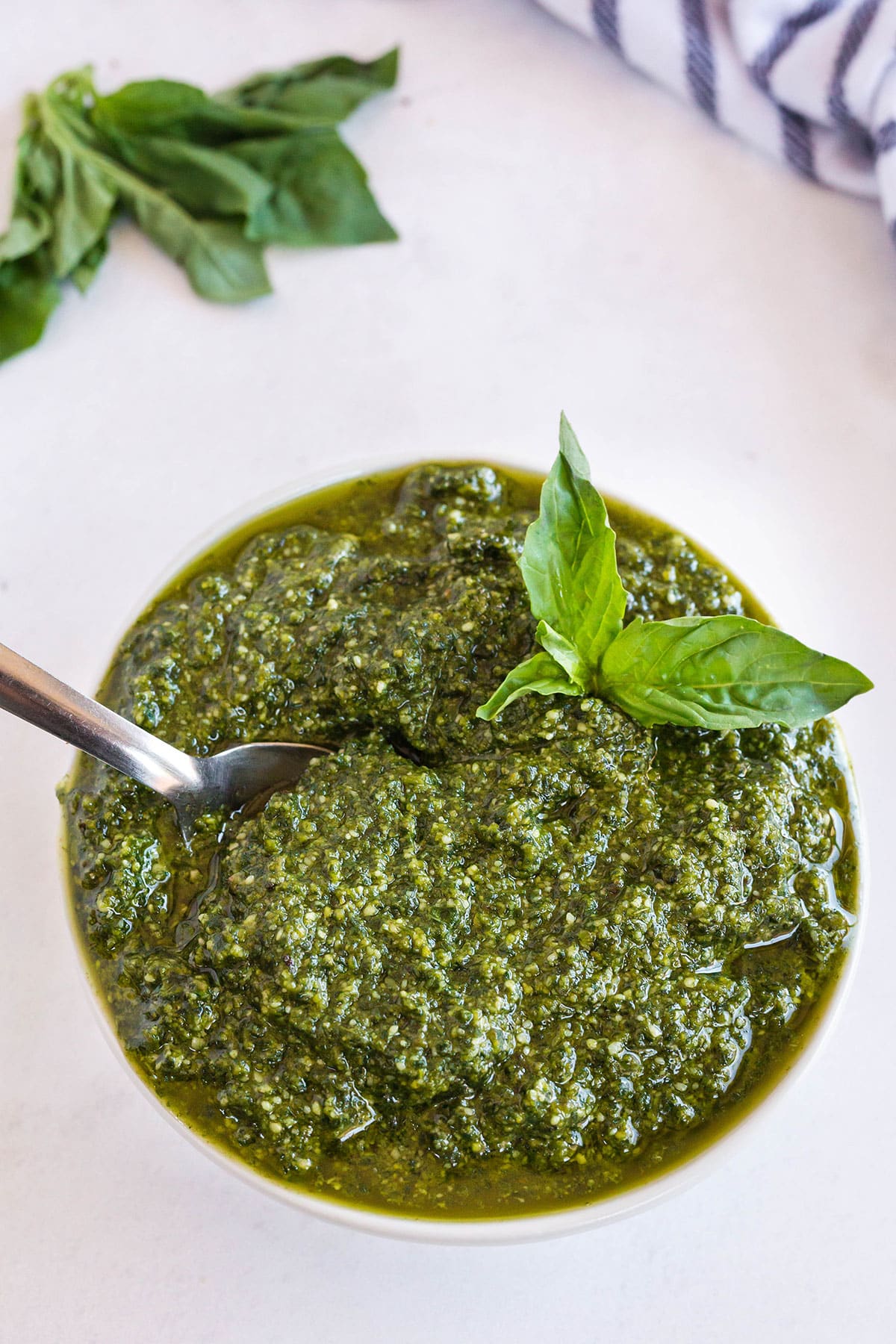 This easy Pesto recipe with pine nuts, fresh basil leaves, garlic and Parmesan cheese is fresh, incredibly flavorful and can be ready in minutes.
I don't know about you but, I could definitely eat pesto by the spoonful. The bright green basil sauce is definitely one of my favorite. I love that you can use basil pesto as a sauce, a condiment or a spread. Pesto adds so much flavor to simple recipes like roasted vegetables or flatbread, elevating them to new delicious heights.
What Is Basil Pesto?
Pesto is a classic sauce made with fresh basil, pine nuts, Parmesan cheese, garlic and olive oil ground in a mortar and pestle.
This tasty green sauce originated in Genoa, the capital of the Italian region of Liguria where for centuries pesto was made in ceramic or marble pestles. The sauce is also called Pesto Genovese and it's one of the most popular pasta toppings in Italy.
These days, homemade pesto is made in food processors or blenders. Already prepared pesto is also readily available in most supermarkets.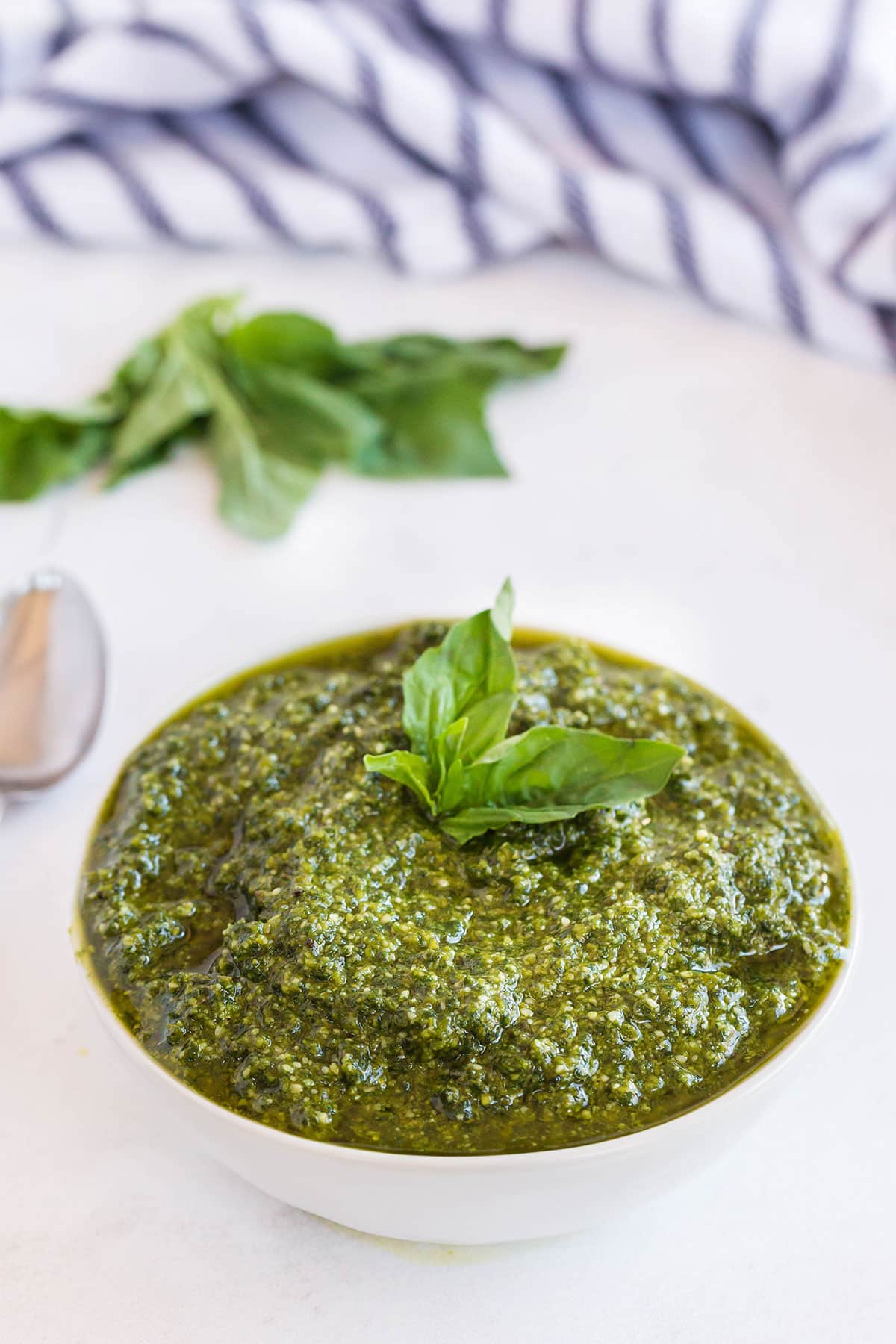 Pesto Ingredients
Fresh Basil: Basil leaves, quickly rinsed and pat dry. Do not use dried basil.
Pine Nuts: Although other nuts like walnuts can be used, pine nuts are traditional. For a nut-free pesto recipe, seeds like pumpkin seeds can be used.
Garlic: Fresh garlic cloves are a must for making basil pesto.
Parmesan Cheese: Freshly grated cheese adds saltiness and texture to this homemade pesto recipe.
Olive Oil: Oil binds the sauce together and gives it a rich creamy texture.
Salt and Black Pepper: Freshly ground pepper is best.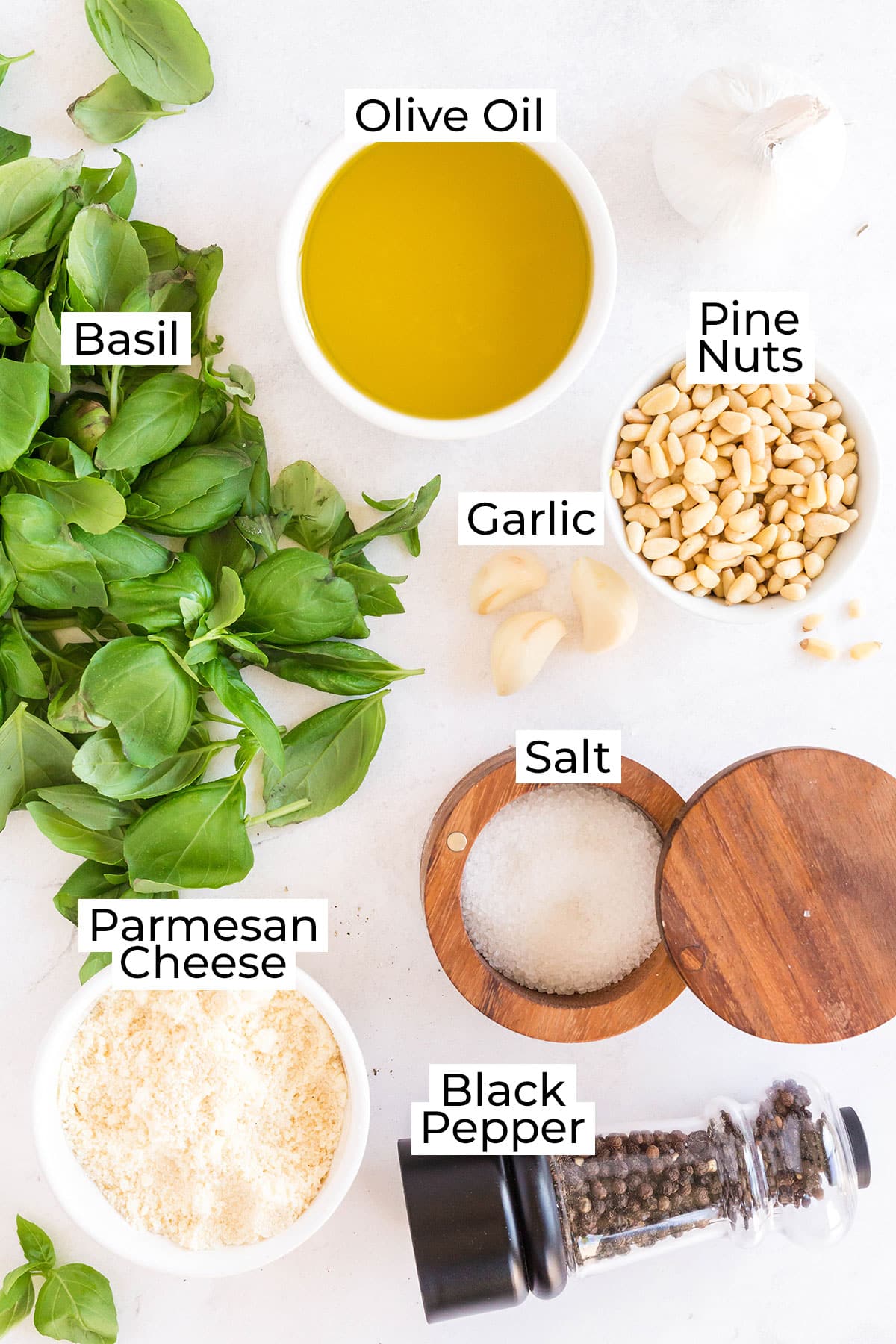 Pesto Ingredient Substitutions
Even the best pesto recipe can be adjusted to your taste and dietary restrictions. Here are a few ingredient substitutions for you:
Instead of Pine nuts: You can use other nuts like cashews, walnuts, almonds and pistachios.
Nut-Free Pesto: Although pine nuts are actually a seed and not a nut, some people are still intolerant to them. Use seeds like sunflower seeds or pumpkin seeds. Fresh edamame can also be used.
Instead of Basil: Use fresh arugula, spinach, sorrel, carrot tops, mint, cilantro or parsley. Blanched kale can also be used.
Instead of Parmesan Cheese: Use Pecorino Romano, Asiago or any other hard cheese.
Vegan Pesto: Instead of cheese, nutritional yeast can be used. 1 to 2 tablespoons is all you need.
How To Make Pesto
Place the fresh basil, garlic cloves and pine nuts in a food processor or blender.
Pulse until the ingredients are coarsely chopped.
Add the oil and process until incorporated and smooth.
Remove the sauce from the food processor and mix in the cheese.
Season to taste.
You have questions? We have answers!
Can You Freeze Pesto?
Yes, pesto can be kept in the freezer for up to 3 months. Freeze the pesto in an ice cube tray. Once frozen transfer the pesto cubes to a resealable bag. Label it and store it in the freezer for later use.
Can Pesto Be Made Ahead?
Yes, pesto can be stored in the refrigerator for up to 5 days, covered in a resealable container or in a jar with a tightly fit lid.
What Is Basil Pesto Used For?
Besides making pesto pasta, you can use this tasty sauce to drizzle over grilled or roasted meats, fish and vegetables.
Add pesto to your favorite pasta dishes. A few tablespoons of pesto added to your favorite pasta sauce enhances its flavors and makes sauces like Marinara or Alfredo sauce even more delicious!
Use it as a dip for breads like garlic bread.
Spread it on sandwiches and use it to top crostini.
Add a bit of pesto to soups like tomato soup or veggie soup for extra flavor.
Homemade Pesto Recipe Tips
For the most flavorful homemade pesto, lightly toast the pine nuts in a dry skillet before blending them into a sauce.
Remove the basil stems before making the pesto.
I prefer using a food processor instead of a blender as I think it bruises the basil a bit less. However, a blender works also.
If possible, use freshly grated Parmesan from a block of cheese.
Take A Look At These Easy Recipes:
Follow me on social media for more recipe ideas & inspiration! Pinterest Facebook Instagram My Newsletter
Basil Pesto Recipe
This fresh Basil Pesto recipe is made with 5 ingredients in 5 minutes! Homemade Pesto is very easy to make and tastes so much better than store bought.
Prep: 5 minutes
Cook: 0 minutes
Total Time 5 minutes
Servings 1 cup
Instructions
In a food processor or blender, combine the basil, garlic, and pine nuts and pulse until coarsely chopped.

Add the oil and process until fully incorporated and smooth.

Remove from the food processor and mix in the grated Parmesan cheese. Season with salt and pepper.
Nutrition
Calories: 1736kcal (87%)Carbohydrates: 10g (3%)Protein: 26g (52%)Fat: 182g (280%)Saturated Fat: 30g (188%)Cholesterol: 44mg (15%)Sodium: 771mg (34%)Potassium: 406mg (12%)Fiber: 2g (8%)Sugar: 2g (2%)Vitamin A: 2965IU (59%)Vitamin C: 11mg (13%)Calcium: 650mg (65%)Iron: 5mg (28%)
* Please note that all nutrition information are just estimates. Values will vary among brands, so we encourage you to calculate these on your own for most accurate results.