Pesto Pasta Salad – Loaded with asparagus, peas, tomatoes, mozzarella and Parmesan, this pasta salad recipe is perfect for any occasion, especially summer gatherings, picnics and potlucks. Make your own pesto or use store bought pesto for an effortless meal!
This Pesto Pasta Salad is one of my favorite cold pasta salad dishes of all time. It is packed full of flavor and always a crowd favorite. Super quick and easy to make and you can cut the prep time even more if you use store bought pesto (I always do because fresh basil is hard to find in my area – at least one that looks alive and well!).
Pasta Salads can be made-ahead which makes them a great option for entertaining. This particular pasta salad recipe is one of my go-to-recipes when I want to serve vegetarian pasta dishes. You can't beat quick, easy, delicious and always gone before I can blink!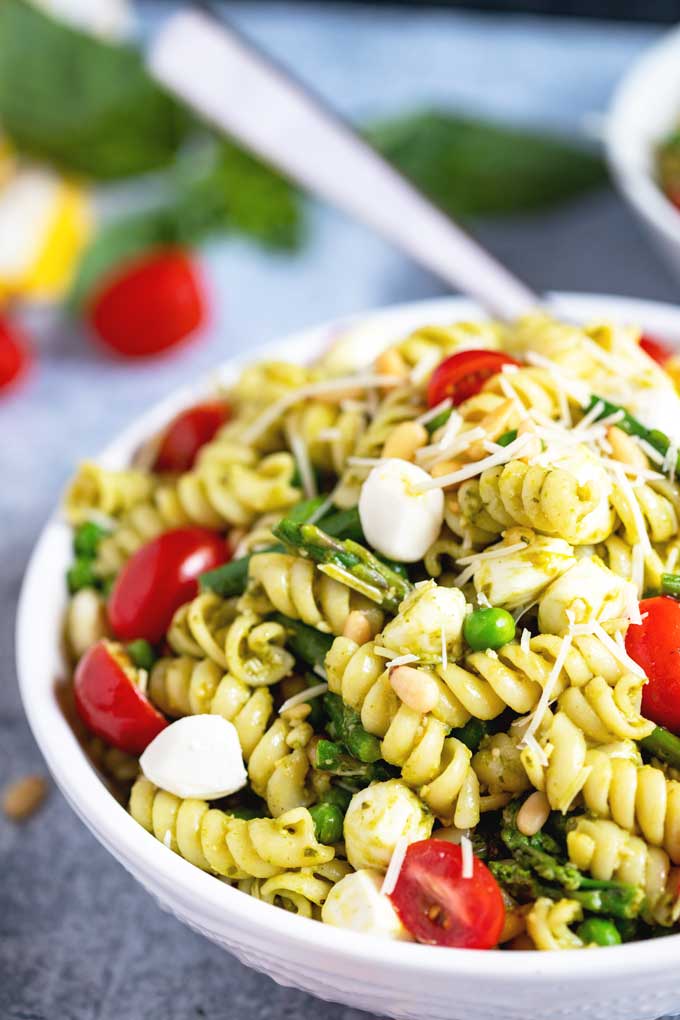 Why Should I Make This Pesto Pasta Salad?
The mouthwatering combination of tender noodles, delicious basil pesto, creamy mozzarella, salty Parmesan, crunchy toasted pine nuts and all the veggies are a winning flavor combination sure to impress your family and friends. Pesto Pasta Salad is one of those pasta dishes everyone seems to like so you know it will be well received anytime you make it.
Ingredients To Make Pesto Pasta Salad
Pasta – Any short pasta works well. Rigatoni, Fusili, Rotini, Elbows and Farfale are good options.
Basil Pesto – Homemade or store bought if you want to save some time. My favorite store bought pesto is Kirkland from Costco. Tastes like fresh pesto and the bright color can't be beat!
Asparagus – Thin asparagus work best for this pasta salad recipe.
Tomatoes – Small cherry tomatoes or grape tomatoes.
Peas – Fresh or frozen, although I tend to always use frozen as they are always available.
Fresh Mozzarella – You can use mozzarella pearls (see photo) or ciliegine which is about the size of a cherry.
Parmesan Cheese – Freshly shredded is always best but if you are short on time buy pre-shredded (no judgment!).
Pine Nuts – They can get expensive so I try to buy the exact amount I need from the bulk bins in the supermarket.
Italian Dressing – It really gives this salad a nice zing. You can use a combination of white wine vinegar and oil if you don't have any at home.
How To Make This Cold Pasta Salad
Bring a large pot of salted water to a rolling boil and cook the pasta according to package directions. A few minutes before the pasta is done add the asparagus into the pot. When the pasta is al dente, add the peas to the pot. This will quickly defrost the peas and make them tender.
Drain the pasta and veggies and rinse under cold running water.
Place the pasta and veggies in a large bowl and add the tomatoes, mozzarella, pine nuts and Parmesan.
Stir in the basil pesto and Italian dressing. Toss well to combine.
Tips, Notes and Frequently Asked Questions About This Recipe
Can Pesto Pasta Salad be Made Ahead of Time?
Yes, this pasta salad can be made ahead of time. Make it a few hours before serving it or the night before. Just keep it refrigerated in an airtight container.

How Long Will This Pasta Salad Keep?
This cold pasta salad can be stored in the refrigerator for up to 5 days. If it gets a bit dry, all you need to do is add a little bit of olive oil and toss it well.
What should I serve with Pesto Pasta Salad?
Grilled meats like lamb, steak, pork chops and chicken. Oven roasted chicken and baked salmon are also great options to serve with pasta salad. My favorite Grilled Chicken with the Best Marinade (Balsamic and Herbs) pairs wonderfully with this recipe as well as Pan Seared Steak.
Do not forget to add salt to your pasta water. It makes a world of difference as it adds flavor to the pasta.
Do not overcook your noodles – Cook your pasta until al dente, drain and then rinse it under cold running water. The cool water will "shock" the noodles and immediately stop the cooking.
If you don't have Italian Dressing handy, you can mix 1 to 2 teaspoon(s) of white wine vinegar with 2 teaspoons of olive oil and use that mixture instead.
I like the sharpness the Italian dressing (or vinegar mixture) adds to the pasta salad however, it is not a "must" ingredient. I have made this recipe many times without and I can say, it is always bursting with flavor.
Serve this salad as a side dish or lunch or top it with some grilled chicken and make it a complete and filling dinner!
You can add roasted peppers or artichoke hearts to this recipe.
Use homemade pesto if you have some made.
Take a look at these other Pasta Salads:
Mexican Street Corn Pasta Salad
Mediterranean Tuna Pasta Salad
Crunchy Asian Ramen Noodle Salad
Easy Southwest Pasta Salad with Lime Vinaigrette Dressing
WANT TO TRY THIS RECIPE?
PIN IT TO YOUR SIDE DISH, PASTA OR SALAD BOARD!!
FIND ME ON PINTEREST FOR MORE DELICIOUS RECIPES!
Follow me on social for more recipe ideas & inspiration! Pinterest Facebook Instagram My Newsletter
Easy Pesto Pasta Salad
Pesto Pasta Salad loaded with asparagus, peas, tomatoes, mozzarella and Parmesan. This pasta salad recipe is perfect for any occasion, especially summer gatherings, picnics and potlucks. Make your own pesto or use store bought pesto for an effortless meal!


Prep: 10 minutes
Cook: 10 minutes
Total Time 20 minutes
Servings 8 servings
Ingredients
12 ounces pasta (any short pasta shape)
1/2 pound fresh asparagus thin spears, cut into 1 1/2-inch pieces with tough ends trimmed off
1 cup frozen peas
1 cup cherry tomatoes halved
1 1/2 cups fresh mozzarella pearls drained
1 cup homemade or refrigerated basil pesto
1/4 cup toasted pine nuts plus more for garnish
1/4 cup Parmesan cheese, shredded plus more for garnish
1 tablespoon Italian dressing (or to taste)
Instructions
Cook the pasta in salted water according to package directions. A few minutes before the pasta is done, add the asparagus and finish cooking until the pasta is "al dente". Before draining the pasta, add the frozen peas into the pot. This will defrost the peas and make them soft.

Drain the pasta and run it under cold water to cool it down.

Place the pasta and vegetables in a large bowl. Add the tomatoes, mozzarella pearls, pine nuts, and Parmesan cheese.

Pour the pesto and Italian dressing over the salad and toss to coat evenly.

Serve, topped with additional pine nuts and Parmesan cheese.
Chef's Tips
You can use fresh mozzarella pearls, ciliegine (mozarella balls the size of a cherry), or just cut fresh mozzarella into bite size pieces.
Nutrition information provided is just and estimate and will vary depending on the brand of ingredients used.
Nutrition
Calories: 409kcal (20%)Carbohydrates: 40g (13%)Protein: 15g (30%)Fat: 21g (32%)Saturated Fat: 6g (38%)Cholesterol: 21mg (7%)Sodium: 495mg (22%)Potassium: 278mg (8%)Fiber: 4g (17%)Sugar: 5g (6%)Vitamin A: 1235IU (25%)Vitamin C: 13.1mg (16%)Calcium: 215mg (22%)Iron: 2.1mg (12%)
* Please note that all nutrition information are just estimates. Values will vary among brands, so we encourage you to calculate these on your own for most accurate results.
NEVER MISS A RECIPE!
If you've tried this or any other of my recipes, don't forget to rate the recipe and to leave me a comment. I love hearing from you!