This Mediterranean-style Tuna Pasta Salad is a healthy and lighter version of classic pasta salad packed with protein-rich tuna tossed with the best lemon yogurt vinaigrette. This no-mayo tuna pasta salad is an easy make-ahead recipe perfect served as a side dish, easy lunch or dinner.
Mediterranean Tuna Pasta Salad Recipe
This flavorful cold tuna pasta salad recipe is made with cooked pasta al dente, tuna fish, red onion, cherry tomatoes, kalamata olives, cucumbers and fresh herbs. Although this salad is not tossed with mayo like a classic tuna pasta salad, it has a light creamy consistency from the plain Greek yogurt used in the lemon vinaigrette.
This creamy tuna pasta salad is one of those wonderful recipes that can be served as a main dish or as a healthy side dish. Although I make this cold pasta salad year round, during the summer months this easy dish is usually on regular rotation. An excellent choice to bring to a potluck and the best pasta salad to serve at your next backyard barbecue or summer party.
Why We Love This Recipe?
Quick and Easy: This easy recipe is made with simple ingredients and comes together quickly.
Flavor: This creamy tuna pasta salad recipe has delicious flavor and is always a hit.
Healthy: This is a healthy tuna pasta salad loaded with veggies and protein-rich albacore tuna. Instead of mayonnaise we use a much lighter salad dressing made with fresh lemon juice, olive oil and a bit of plain yogurt for creaminess and tang.
Make Ahead: I love eating this salad as soon as I make it but it tastes fantastic after a day or two. This is the perfect healthy lunch to take to your office and a fabulous dish for entertaining and meal planning.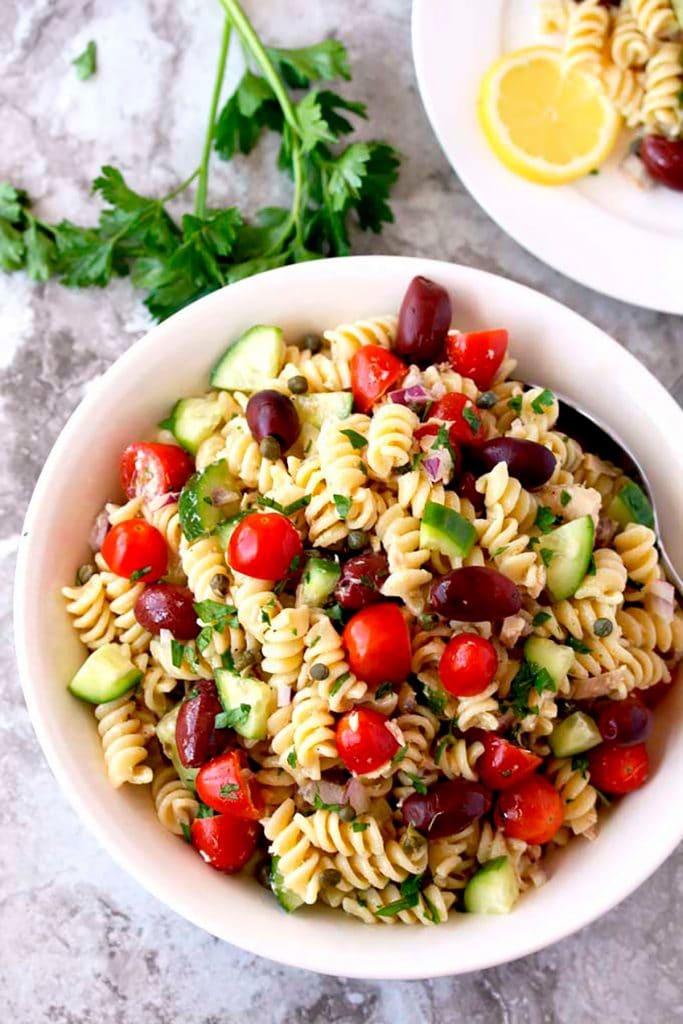 Tuna Pasta Salad Recipe Ingredients
Be sure to check the printable recipe card below for the complete ingredient's list and their exact quantities.
Canned Tuna: I use solid white tuna packed in water. Chunk light tuna is also a good option. I prefer tuna that is packed in water and not in oil just because the oil has lots of extra calories. Use your favorite can of tuna and if you choose wild caught tuna even better.
Pasta: Short or smaller pasta is best, that's why easy tuna macaroni salad is so popular. Choose your favorite noodles. Some of the best types of pasta for a pasta salad are bowtie pasta, rotini pasta, elbow macaroni and penne.
Onions: I love the color and bite of red onions but brown, white or yellow onions can be used. I prefer any of these options over green onions for this particular recipe.
Tomatoes: Cherry tomatoes or grape tomatoes work best.
Kalamata Olives: These Mediterranean olives are perfect for this salad.
Capers: I am a big fan of adding capers to fish recipes. I think they add a burst of bright flavor without adding the sweetness an ingredient like sweet pickle relish would add.
Cucumbers: I used seedless English cucumbers. Use what's available and in-season.
No Mayo Salad Dressing: Fresh lemon juice, plain yogurt, olive oil, Dijon mustard, garlic powder, salt, pepper and fresh parsley.
How To Make This Tuna Pasta Recipe?
In a large pot of water, cook the pasta according to package instructions until al dente.
While the noodles cook, make the dressing. Whisk all the dressing ingredients together and set aide.
Drain the pasta and allow it to cool. You can rinse the noodles with cold water if you want to speed up the cooling process.
In a large bowl, toss the cooked pasta, tuna fish and the rest of the ingredients together.
Pour the lemon yogurt dressing over the pasta salad and toss to combine.
Serve immediately or allow to sit for about 30 minutes, covered in the refrigerator so the flavors meld together.
Frequently Asked Questions
Can This Pasta Salad Recipe Be Made Ahead?
Yes, this recipe can be made ahead of time. Actually the longer the pasta salad sits in the fridge, the better it tastes. You can make it 1-2 days ahead of time. If it looks a bit dry, just drizzle a little olive oil and toss it.
Is Canned Tuna Good For You?
Canned tuna is good for you. Canned tuna is low in fat and high in protein. Due to high content of omega-3, tuna fish may support brain function, help lower cholesterol, and reduce blood pressure.
Variations and Substitutions
Add Extra Protein: For additional protein and to make this hearty salad your main course, add a can of chickpeas or cannellini beans, drained.
Replace the Tuna Fish: Say what? If you prefer, canned salmon can be used.
Plain Greek Yogurt Substitution: Use sour cream or light mayonnaise if you are out of plain yogurt.
Skip the Capers: If you are not a big fan of capers, you can skip them. Adding chopped pepperoncini or banana peppers can add a bright, tang flavor to this creamy pasta salad.
Fresh Herbs: Fresh dill compliments fish well and is an excellent substitution for fresh parsley. Fresh tarragon and basil are also delicious options.
Veggies: You can use your favorite veggies. To keep this pasta salad Mediterranean-style, add roasted bell peppers, artichoke hearts, roasted Brussel sprouts, asparagus, chopped roasted eggplant.
Making Ahead and Storage
Making Ahead: This delicious pasta salad can be made 1-2 days in advanced. If the salad looks a bit dry (the noodles absorb some of the lemon vinaigrette), drizzle a bit of olive oil over the pasta salad and toss to combine before serving it.
Storage: Store your tuna pasta salad in an airtight container in the refrigerator for 3-4 days.
Best Tuna Pasta Salad Tips for Success
Cool the pasta completely before adding the rest of the ingredients.
Cook the pasta until-al dente.
If you are making this recipe ahead of time you may need to drizzle a bit of olive oil before serving it. As the pasta sits, it soaks up the dressing so the salad may look a bit dry.
Salt the cooking water liberally. Doing so guarantees well seasoned pasta from the very beginning.
We use a small amount of plain Greek yogurt in the dressing to make the salad a bit creamy without using any mayonnaise.
Top this delicious tuna salad with crumbled Feta cheese.
Check out these delicious and easy pasta recipes:
Follow me on social media for more recipe ideas & inspiration! Pinterest Facebook Instagram My Newsletter
Mediterranean Tuna Pasta Salad (No Mayo)
This Mediterranean-style Tuna Pasta Salad is a healthy and lighter version of classic pasta salad packed with protein-rich tuna tossed with the best lemon yogurt vinaigrette. This no-mayo tuna pasta salad is an easy make-ahead recipe perfect served as a side dish, easy lunch or dinner.
Prep: 8 minutes
Cook: 8 minutes
Total Time 16 minutes
Servings 10 servings
Instructions
To Make the Vinaigrette
Whisk together the vinaigrette ingredients.
To Make the Pasta Salad
Cook the pasta according to package directions until al dente. Rinse in cold water.

Combine all the ingredients in a large bowl. Add the vinaigrette and toss well to combine. Serve (See Note)
Nutrition
Calories: 238kcal (12%)Carbohydrates: 29g (10%)Protein: 12g (24%)Fat: 8g (12%)Saturated Fat: 1g (6%)Cholesterol: 12mg (4%)Sodium: 522mg (23%)Potassium: 300mg (9%)Fiber: 2g (8%)Sugar: 3g (3%)Vitamin A: 470IU (9%)Vitamin C: 10.5mg (13%)Calcium: 32mg (3%)Iron: 1mg (6%)
* Please note that all nutrition information are just estimates. Values will vary among brands, so we encourage you to calculate these on your own for most accurate results.