This delicious Ramen Noodle Salad is easy to make, budget friendly and the perfect salad to feed a crowd. Crisp fresh veggies, mandarin oranges and crunchy ramen noodles are tossed in a savory, sweet and tangy Asian vinaigrette.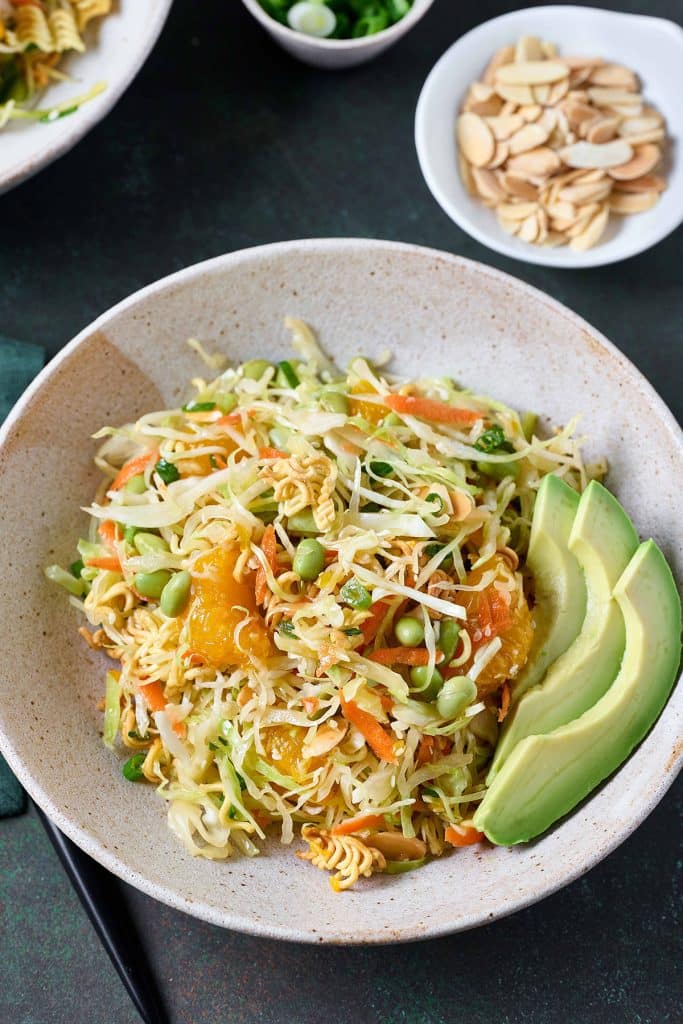 What's in Ramen Salad?
This simple Asian Ramen salad recipe combines crunchy ramen noodles, coleslaw, green onions, edamame and mandarin oranges with toasted almonds, creating a bowl full of crunchy goodness. Avocado slices as a topping is optional but highly recommended.
Tossed with an irresistible tangy dressing that blends fresh ginger, sweet honey, rice wine vinegar and toasted sesame oil with soy sauce, there's no shortage of umami in this delectable and easy salad recipe.
Why This Crunchy Ramen Noodle Salad Works
Texture: The crunchy texture of toasted noodles, crisp cabbage, fresh carrots and juicy mandarin oranges is irresistible.
Flavor: Flavor: Sweet, savory, tangy, toasty this easy Asian ramen noodle salad is refreshing and packed with well balanced flavor.
Veggie Packed: Instead of having a noodle salad sprinkled with a few veggies, this is a veggie salad topped with some crunchy noodles.
Inexpensive: Budget friendly ingredients and pantry staples makes this salad an easy dish that won't break the bank!
Ramen Salad Ingredients and Substitutions
Ramen Noodles: I use the noodles that come in the packages of instant ramen noodle soup. You won't be using the ramen seasoning packet so any flavor is just fine. Alternatively, you can use ramen noodles sold just like any pasta however the price is steep compared to the ones in the soup packs.
Almonds: I toast the almonds in a dry skillet to intensify their flavor. You can also use crunchy macadamias
Coleslaw: Sometimes grabbing a bag of pre-cut coleslaw mix at the market is just convenient. You can buy different types of cabbage such as green or red cabbage and carrots and make your own coleslaw. For a fun twist use broccoli slaw instead!
Edamame: I usually buy shelled frozen edamame. Thaw before using them. You can speed up the process by quickly blanching them in hot water.
Scallions: Aka green onions add a little bite to the salad while adding color.
Mandarin Oranges: I used canned mandarin oranges but you can also use fresh (cuties) when they are in season.
Optional: This is an optional ingredient. The creaminess of the avocado and the crispiness of the cabbage are a match made in heaven. Only add avocado when you are ready to serve the salad.
Sesame Seeds: They add texture and a nutty flavor, especially if you toast them first. Black sesame seeds can be used as well.
Asian Salad Dressing Ingredients
Ginger: I use fresh ginger. The next best option is ginger paste.
Sesame Oil: Toasted Asian sesame oil is the one used in this recipe. It's darker in color than regular sesame oil (looks almost like the color of maple syrup). A little bit goes a long way as this oil has a ton of flavor.
Rice Vinegar: You can also use white wine vinegar.
Soy Sauce: I used regular soy sauce for this recipe but low-sodium works too.
Honey: The sweetness of honey balances the flavors of all of the other ingredients.
Oil: Although I love extra virgin olive oil to make salad dressings, this Asian dressings benefits from a milder oil such as vegetable oil, avocado oil or a mild olive oil.
How To Make Ramen Noodle Salad From Scratch
Here you will find the highlights on how to make this recipe. For detailed instructions, check the recipe card below.
Break up the ramen noodles and place them on a prepared baking sheet along with the sliced almonds.
Bake until both are toasted, and the noodles are light golden brown. Toss halfway through baking.
Add the salad dressing ingredients to a small bowl and whisk together until completely combined.
In a large bowl, combine cabbage slaw, sliced scallions, mandarin oranges, and edamame.
After removing the baking sheet from the oven, allow the noodles and almonds to cool.
Add the toasted ramen and nuts to the cabbage mixture before tossing with the vinaigrette.
Just before serving, add the avocado and sesame seeds.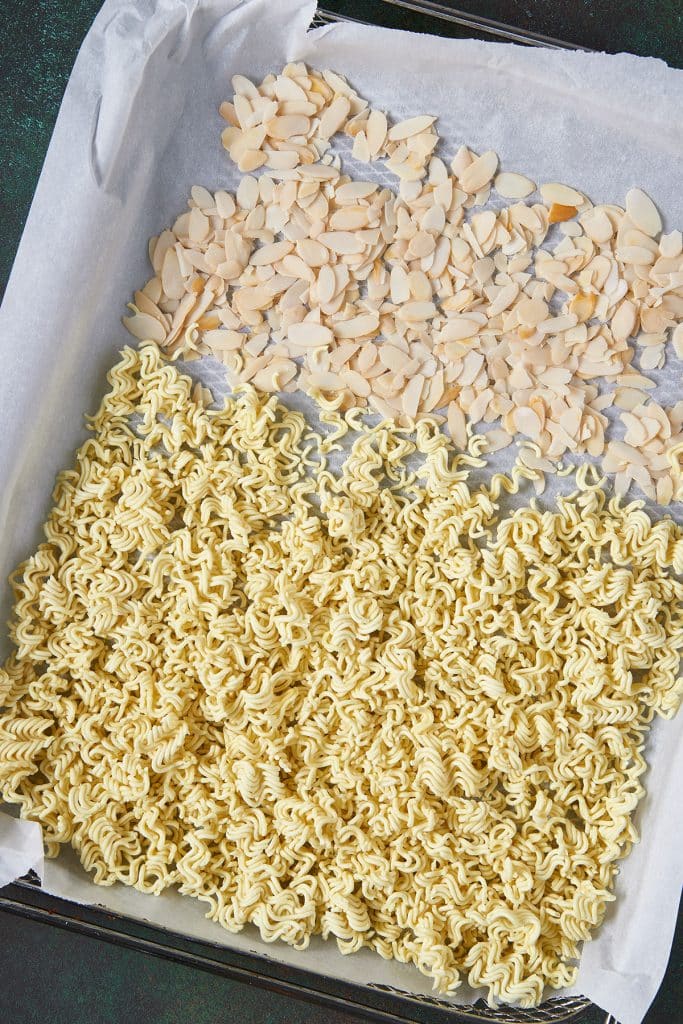 Tips For a Top-Notch Ramen Noodle Salad
Watch the almonds and ramen closely while they bake as they tend to browned quickly.

If you prefer, you can toast the ramen noodles and almonds on the stovetop in a large skillet.

Instead of coleslaw mix, you can make your own with green cabbage and carrots.
To make your own homemade coleslaw mix, you will need 6 to 7 cups of shredded cabbage and 1 carrot.
To thaw out frozen shelled edamame quickly, place the frozen edamame in a small bowl and pour boiling water over it.
If using avocado, add it only when ready to serve.
Frequently Asked Questions About Ramen Noodle Salad
What Can I Add to my Ramen Noodle Salad?
Other vegetables that pair well with the ingredients in this Asian ramen noodle salad recipe are shredded napa cabbage diced red bell pepper, snow peas, bean sprouts, and cucumbers. You can also add proteins like cooked shrimp or shredded chicken (check out our recipe for homemade rotisserie chicken).
Should I Use the Seasoning Packets for Ramen Noodle Salad?
No, you can set the flavor packets aside to use with a different recipe. The vinaigrette will impart plenty of its own unique flavor.
What Flavor of Ramen Noodle Soup Should I Use?
Since you won't be using the seasoning packets included in ramen soup, you can use any flavor like.
What's a Sumi Salad
A sumi salad is a cold noodle salad almost identical to this recipe except for the salad dressing that is usually made without soy sauce.
Can Ramen Noodle Salad Be Made in Advance?
Partially yes!
The Asian salad dressing can be made ahead and will last in the fridge 5-6 days days. You can prep all the ingredients a day ahead and store them separately in the fridge.
The noodles and nuts can be toasted and stored in an airtight container overnight.
Fully assembled, the salad can be made 2-3 hours in advanced however I recommend to add the crushed toasty ramen noodles about an hour before serving. The noodles soften a bit and lose some of their crunch when combined with the rest of the ingredients.
What Can I Serve with Ramen Salad?
Ramen salad is a great side dish to serve for dinner, lunch at a summer party or potluck. You can also serve it as a main dish with grilled chicken, tofu, shrimp or chickpeas for added protein.
Here are some ideas:
Storing Leftovers
Ramen Salad is best when eaten right after is made as the noodles lose their crispiness after they are tossed with the rest of the ingredients (especially the salad dressing). Leftovers can be store in an airtight container in the refrigerator overnight.
Follow me on social media for more recipe ideas & inspiration! Pinterest Facebook Instagram My Newsletter
Crunchy Ramen Noodle Salad
This Asian-style Ramen Noodle Salad is easy to make, budget friendly and the perfect salad to feed a crowd. Crisp fresh veggies, mandarin oranges and crunchy ramen noodles are tossed in a savory, sweet and tangy vinaigrette.
Prep: 10 minutes
Cook: 5 minutes
Total Time 15 minutes
Servings 6 servings
Ingredients
2 (3 ounces) packages of ramen noodles from ramen noodle soup, any flavor)
1/2 cup almonds, sliced
1 (16 ounce) bag of coleslaw mix *see notes
1 (8 ounce) bag edamame, shelled and thawed
1 bunch scallions (green onions), sliced thinly (about 4- 5 scallions)
1 (15 ounce) can mandarin oranges, drained
1 tablespoon sesame seeds
1 medium avocado. pitted, peeled and sliced (optional)
Asian Salad Dressing
1 teaspoon fresh ginger, minced
1 teaspoon Asian roasted sesame oil
1/4 cup rice vinegar
1/4 cup soy sauce (regular or low sodium)
2 tablespoons honey (use agave or maple syrup for vegan)
Instructions
To Make the Asian Salad Dressing
In a small bowl, add the ginger and whisk together with the remaining salad dressing ingredients until well combined and emulsified. Alternatively, you can add all the ingredients into a jar with a tight-fitting lid and shake well.
For the Salad
Preheat the oven to 400 degrees Fahrenheit. Line a baking sheet with parchment paper. Crumble the ramen noodles onto the baking sheet and spread them in a single layer along with the almonds.

Bake for about 5-6 minutes, tossing once until the ramen noodles and the almonds are slightly toasted and golden. Keep an eye on them, they toast fast! especially the almonds.Remove from the oven and set aside.

Add the coleslaw mix, edamame, scallions and mandarin oranges to a large bowl. Add the toasted ramen noodles and almonds.

Drizzle the salad dressing and sprinkle the sesame seeds over the top. Toss until well combined. Serve immediately. You can refrigerate the salad for 1-2 hours before serving but the ramen noodles may lose some of their crunch.
If using avocado, add it right before serving.
Chef's Tips
Homemade Coleslaw: To make your own homemade coleslaw mix, you will need 6 to 7 cups of shredded cabbage and 1 carrot.
Avocado Madness: Add the avocado when you are ready to serve the salad. At home we serve the avocado slices on the side. When mixed in, the avocado can get a bit mushy.
Baking Secret: Bake the ramen noodles and sliced almonds for 5 minutes. Remove the sheet pan from the oven and add the sesame seeds. bake for 1-2 additional minutes.
Edamame: If using frozen shelled edamame, thaw it first. This can be done quickly by blanching them in hot water for about 1-2 minutes.
Watchful Eye: Watch the almonds and ramen closely while they bake as they tend to browned quickly.
Nutrition
Calories: 251kcal (13%)Carbohydrates: 9g (3%)Protein: 3g (6%)Fat: 23g (35%)Saturated Fat: 3g (19%)Sodium: 548mg (24%)Potassium: 101mg (3%)Fiber: 1g (4%)Sugar: 6g (7%)Vitamin A: 40IU (1%)Vitamin C: 0.7mg (1%)Calcium: 42mg (4%)Iron: 0.9mg (5%)
* Please note that all nutrition information are just estimates. Values will vary among brands, so we encourage you to calculate these on your own for most accurate results.
This post was published in 2017 but has been updated to provide better information to the reader. the recipe remains the same.