This delicious strawberry spinach salad recipe combines sweet strawberries with fresh baby spinach, tangy feta or goat cheese, creamy avocado and crunchy candied pecans all tossed in a flavorful and velvety balsamic poppy seed dressing.
Easy Strawberry Spinach Salad Recipe

This Spinach Strawberry Salad recipe is made with fresh ingredients and has the absolute best flavor. The combination of savory, sweet, tangy, and crunchy makes this one of my favorite salads.
This easy salad recipe is a cinch to make. Just quickly combine the salad dressing ingredients, layer the salad ingredients in a bowl and drizzle the flavorful homemade dressing over the top. Now be ready to receive compliments and share the recipe!
What Goes in Strawberry Spinach Salad?
This strawberry spinach salad has the perfect combination of vibrant ripe strawberries, nutritious-packed crisp spinach, piquant sliced red onions and super creamy avocado. Goat or feta cheese add pops of tangy flavor and crunchy pecans add texture and nuttiness making this the most perfect salad.
This is a good salad to serve during the warmer months and during strawberry season although, I usually make it any time of year!
This crowd pleaser simple salad can be served as a main meal or as a side dish. It's also a great addition to any holiday table or dinner party.
Why You'll Love Easy Spinach Salad With Strawberries?
Easy: This fresh salad is quick and easy to make.

Versatile: This is a beautiful salad that will make even the simplest of meals feel special. A crowd pleaser dish that can be served on special occasions like Mother's Day, bridal shower, baby shower, Easter, 4th of July, etc.

Customizable: Swap ingredients and use what's in season. A combination of sweet berries, fresh blueberries, mandarin oranges, sliced apples or pears and different mixed greens will work beautifully. Toppings like sunflower seeds and sliced almonds will add texture.
Ingredients and Substitutions
For the complete list of ingredients and quantities, check the printable recipe card below.
Red Onion: The thinly sliced red onion adds a subtle tanginess and a pop of vibrant color to the salad.
Baby Spinach or Mesclun Mix: The tender and leafy greens, whether it's baby spinach leaves or baby greens mix, form the base of the salad and contributes freshness and crispiness.
Fresh strawberries: These bright, juicy strawberries are the star of the show, bringing a burst of sweet flavor and juicy texture.
Avocado: The chopped avocado is a satisfying, creamy addition to the salad. It adds a velvety texture along with a dose of healthy fats.
Candied Pecans: Chopped candied pecans add a nutty sweetness to the salad.
Goat Cheese or Feta Cheese: Whether it's creamy goat cheese or crumbled, salty feta cheese, either of these add a tangy and salty element to the salad as well as rich creaminess. For funky cheese flavor, try using blue cheese.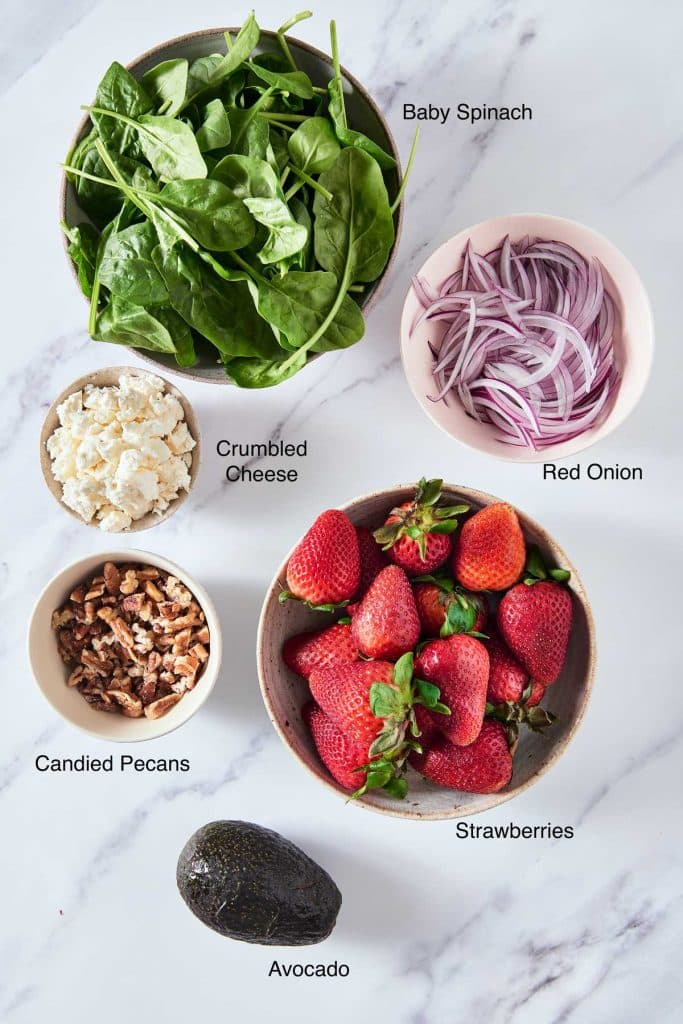 For the Balsamic Poppy Seed Salad Dressing
Balsamic Vinegar: This tangy and robust vinegar adds depth of flavor to the dressing, balancing the sweetness of the strawberries and adding a touch of acidity. If you want even more acidity, try adding a splash of lemon juice.
Dijon Mustard: The addition of Dijon mustard brings a subtle tanginess and a hint of earthy spiciness to the dressing.
Honey or Maple Syrup: The sweetness of honey or maple syrup complements the tartness of the balsamic vinegar. The sweetness creates balance in the dressing.
Poppy Seeds: These tiny, crunchy seeds add visual appeal and provide a subtle nutty flavor.
Fine Sea Salt and Black Pepper: This duo of seasonings helps to round out the flavors.
Olive Oil or Mild Oil (e.g. Avocado Oil): Oil provides a smooth, velvety texture to the dressing.
How to Make the Best Ever Strawberry Spinach Salad?
Here's the quick version of how to make this colorful salad. Find all of the details on the printable recipe card below.
Add the balsamic vinegar, Dijon mustard, honey, poppy seeds, salt, and pepper to a small bowl and whisk together until completely combined.
Then, slowly whisk the oil into the balsamic mixture.
Next, place the salad greens, strawberries, avocado, and onions on a serving platter or in a large bowl.
After layering the salad ingredients, sprinkle the pecans and cheese over the top.
Finally, drizzle the dressing on top.
Once the salad is dressed, serve immediately.
What to Serve With Strawberry Spinach Salad?
Strawberry spinach salad is the perfect dish to start a meal. It can be served as a side dish or as a main dish. Here are a few ideas:
Make Ahead and Storing Strawberry Spinach Salad
Make Ahead
The salad dressing can be made and kept in a container in the refrigerator for 5 to 7 days.
The salad can be assembled up to 24 hours ahead of time; however, wait until you are ready to serve to pour the salad dressing over it.
It's best to dress only the amount of salad you will be eating to prevent wilting.
Storing
The salad without the dressing can be stored in the refrigerator for 2-3 days.
The leftover salad dressing can be stored in a container in the refrigerator for 5 -7 days.
Making the Best Strawberry Spinach Salad
Eliminate pungency in your onions by placing red onion slices in a small colander, sprinkling them with salt, and rubbing it in with your fingers. Wait a couple of minutes and then rinse under cold water.

Avoid storing the salad once dressed, if possible, so that you don't wind up with soggy greens.

If you don't like raw onions, skip them!
Follow me on social media for more recipe ideas & inspiration! Pinterest Facebook Instagram My Newsletter
Strawberry Spinach Salad
This delicious strawberry spinach salad recipe combines sweet strawberries with fresh baby spinach, tangy feta or goat cheese, creamy avocado and crunchy candied pecans all tossed in a flavorful and velvety balsamic poppy seed dressing.
Prep: 10 minutes
Cook: 0 minutes
Total Time 10 minutes
Servings 6 servings
Ingredients
Balsamic Poppy Seed Dressing
¼ cup balsamic vinegar
1/2 teaspoon Dijon mustard
2 tablespoons honey or maple syrup
1 tablespoon poppy seeds
Fine sea salt and black pepper
⅓ cup olive oil or any other mild oil such as avocado oil
Strawberry Spinach Salad
½ small red onion very thinly sliced
8 to 10 ounces baby spinach or mesclun mix
1 pint strawberries hulled and cut in half or if they are big, into 3 sliced
1 avocado pitted, peeled and chopped
⅓ cup chopped candied pecans
4 ounces crumbled goat cheese or feta cheese
Instructions
In a small bowl, whisk together the balsamic vinegar, Dijon mustard, honey, poppy seeds, salt and pepper. Gradually and slowly, whisk in the oil so the vinaigrette emulsifies which makes it a bit creamy. Set aside.

In a platter or shallow bowl, layer the salad greens, strawberries, avocado and onions. Add the pecans and the cheese. Drizzle the dressing (as little or as much as you want) and toss. Serve.
Chef's Tips
To take the strong flavor from the red onions very quickly, place the sliced onions in a small colander, sprinkle them with table salt (about 2 teaspoons), with your fingers toss the onions so they get coated with the salt. Wait 1-2 minutes and rinse the onions under cold running water to remove the salt.
Alternately soak them in water for 20 minutes (not my preferred method).
Add the avocado as close to serving time as possible to prevent oxidation.
Toss the salad with the salad dressing when ready to serve.
Nutrition
Calories: 319kcal (16%)Carbohydrates: 23g (8%)Protein: 6g (12%)Fat: 24g (37%)Saturated Fat: 5g (31%)Polyunsaturated Fat: 3gMonounsaturated Fat: 14gCholesterol: 17mg (6%)Sodium: 281mg (12%)Potassium: 546mg (16%)Fiber: 5g (21%)Sugar: 14g (16%)Vitamin A: 3683IU (74%)Vitamin C: 61mg (74%)Calcium: 179mg (18%)Iron: 2mg (11%)
* Please note that all nutrition information are just estimates. Values will vary among brands, so we encourage you to calculate these on your own for most accurate results.