French Martini has the perfect combination of vodka, pineapple juice and a touch of Chambord liqueur that adds a hint of raspberry flavor. This French Martini recipe is smooth, silky, fruity and a great addition to your cocktail repertoire.

Some of our favorite Martini recipes are this fun and colorful Bikini Martini and this refreshing Lemon Drop Martini.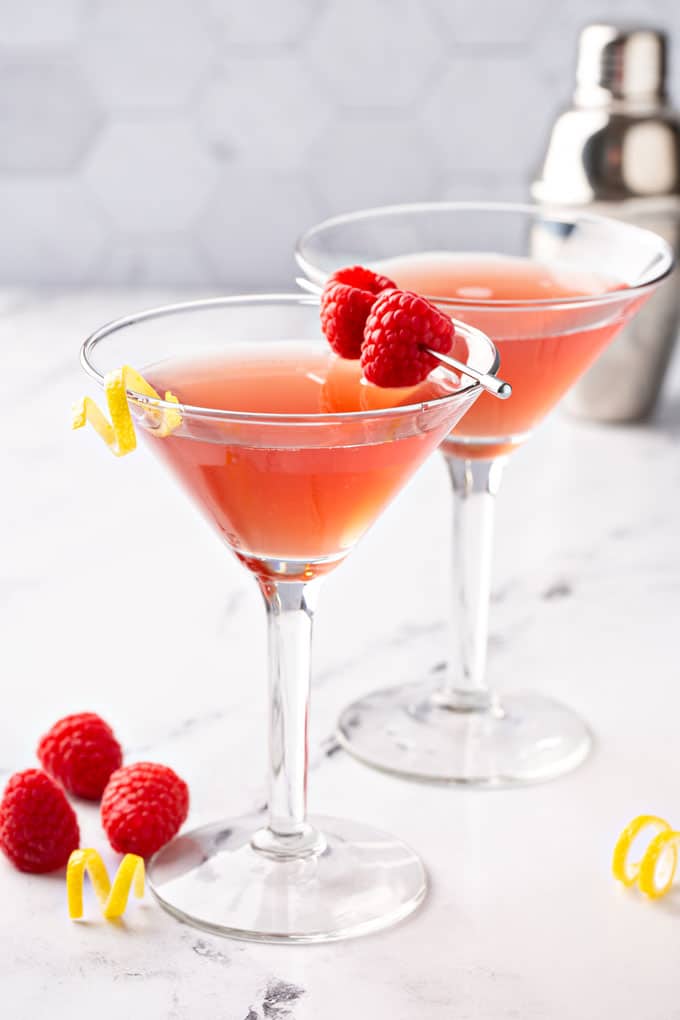 Move over James Bond! This French Martini with it's beautiful pinkish hue and fruity profile is as classy and delicious as the famous vesper gin and vodka martini from the spy movies! As a matter of fact, I feel as elegant and sophisticated as Jackie O. every time I drink one!
French Martini
This 3-ingredients French Martini is delightfully light, refreshing, slightly sweet and deliciously fruity. Although this vodka martini is a bit sweet compared to a traditional gin martini, don't expect a sugary drink.
This French Martini may have a soft and delicate look but I can guarantee, it's still considered a stiff drink. One that is incredibly tasty and easy to sip.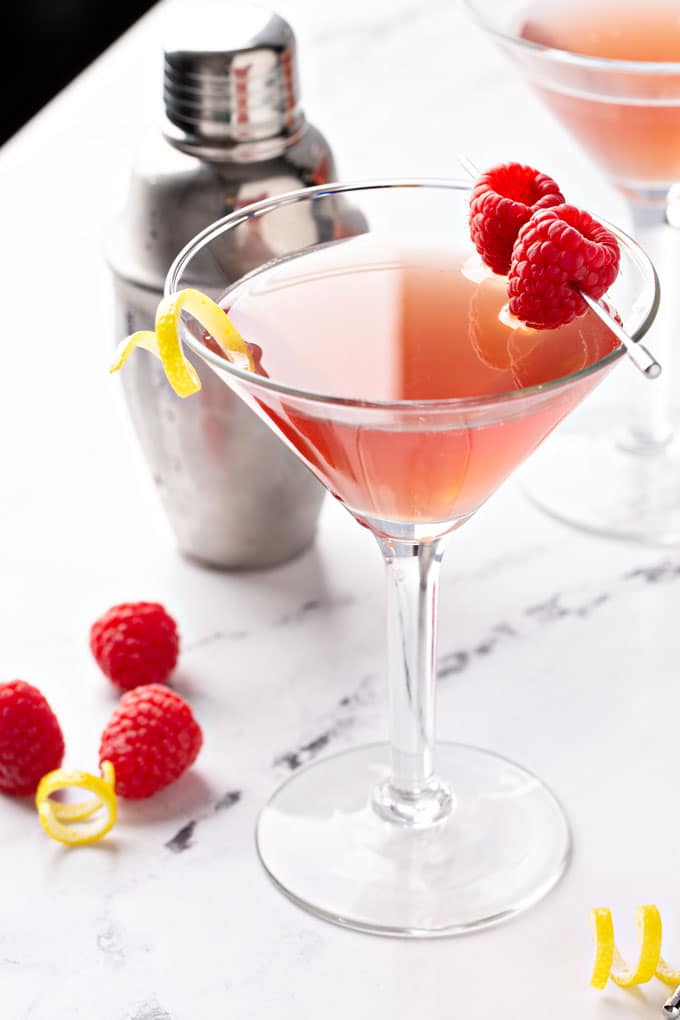 What Is A French Martini
A French Martini is a simple cocktail recipe made with high quality vodka, fresh pineapple juice and Chambord.
Unlike a traditional martini, this cocktail is made with vodka instead of gin and doesn't contain any vermouth. This amazing drink has a sweet and tart taste from the combination of pineapple juice and raspberry liqueur.
The French Martini emerged in New York in the late 80's and became popular worldwide in the 90's.
Why Is It Called A French Martini
French Martini got it's name because of the addition of Chambord, a French liqueur made from juicy blackberries and raspberries and cognac.
Although the brand Chambord has been around for about 40 years, raspberry liqueur has been produced in France since the late 1600s. It is said to have been introduced by Louis XIV during a visit to the Chateau de Chambord in the Loire Valley of France.
What Is A French Martini Made Of?
Vodka: Using premium vodka is of utmost importance. A high quality vodka gives this cocktail a luscious taste and a smooth finish.
Pineapple Juice: If you own a juicer, making fresh pineapple juice is of course the best option however, when I want a drink at 5 pm on a Friday, I grab a can of pineapple juice and call it a day!
Chambord: This raspberry liqueur is a great addition to cocktails, pastries, desserts and fruit dishes.
Garnishes: Lemon peel, fresh raspberries, or a slice or wedge of fresh pineapple are great options.
How To Make The Best French Martini
Fill a cocktail shaker half full with ice.
Pour in the vodka, the pineapple juice and the Chambord.
Cover and shake vigorously.
Strain into a chilled glass and garnish.
What Is Chambord
Chambord (pronounced sham-boar) is a liqueur made with raspberries, blackberries, Madagascar vanilla, honey, citrus peel, spices and cognac. It's flavor is intense, sweet, fruity and well balanced.
Chambord is a bit pricey but totally worth it's price. Since you only use a little bit of it (even when making desserts), it lasts a long time. You can purchase a small bottle which is more affordable.
Can I Use Raspberry Vodka?
Yes, raspberry vodka can be used and will give this cocktail a deep raspberry flavor however, nothing compares to the complexity of Chambord liqueur. Besides raspberries, this liquor is flavored with other spices and of course cognac.
What Can You Use Instead Of Chambord
If you don't have raspberry liqueur, you can use raspberry extract. Use half the amount (1/4 ounce) and go from there. Raspberry juice can also be used.
Another option is to use a black currant liqueur named Creme de Cassis.
French Martini Recipe Tips
Accentuate the fruit flavor by using 2 ounces of pineapple juice, 1 ounce of vodka and 1/2 ounce of Chambord.
You can make this cocktail with gin instead of vodka. Reduce the amount of Chambord to 1/4 ounce and add a pinch of salt.
For a similar taste, you can use Creme de Cassis, a blackcurrant liqueur instead of the raspberry liquor.
Chill the martini glass before poring the drink.
Take a look at these fabulous Party Cocktails!
Follow me on social media for more recipe ideas & inspiration! Pinterest Facebook Instagram My Newsletter
French Martini
French Martini has the perfect combination of vodka, pineapple juice and raspberry liquor. This cocktail is smooth, fruity and slightly sweet.
Prep: 5 minutes
Cook: 0 minutes
Total Time 5 minutes
Servings 1 serving
Ingredients
2 ounces vodka
1 1/2 ounces pineapple juice
1/2 ounce Chambord liqueur
Garnish Options:
Raspberry, lemon twist, lemon peel, pineapple
Instructions
Fill a cocktail shaker halfway with ice. Add in the vodka, pineapple juice and Chambord liqueur.

Shake vigorously for 20 seconds.

Strain into a chilled martini glass and serve with garnish.
Nutrition
Calories: 197kcal (10%)Carbohydrates: 10g (3%)Protein: 1g (2%)Fat: 1g (2%)Saturated Fat: 1g (6%)Sodium: 3mgPotassium: 60mg (2%)Fiber: 1g (4%)Sugar: 9g (10%)Vitamin A: 2IUVitamin C: 4mg (5%)Calcium: 6mg (1%)Iron: 1mg (6%)
* Please note that all nutrition information are just estimates. Values will vary among brands, so we encourage you to calculate these on your own for most accurate results.