Wow your friends by serving this hot pink Prickly Pear Margarita at your next gathering. So easy to make and very tasty!
Be bold, be different! I'm pretty sure they will ask you for the recipe! Need a fabulous appetizer to serve at your cocktail party? Check this Hot and Cheesy Crab Dip or my Fabulous Trio of Crostini recipe.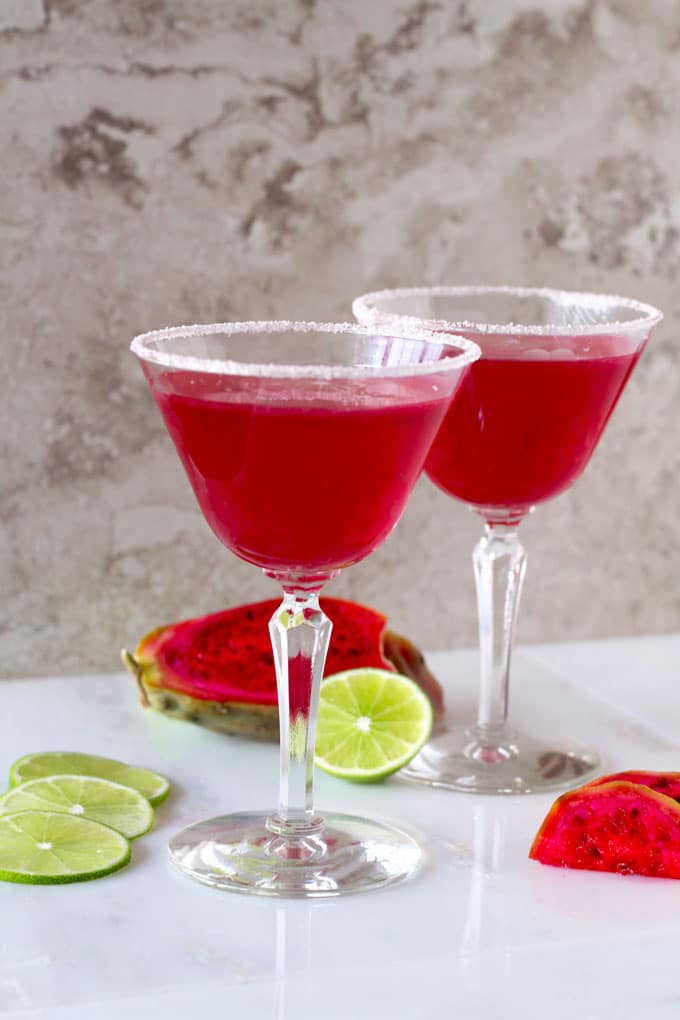 I am not going to write a super long post about this amazing Prickly Pear Margarita because guys – all you need to do is look at the photos! The vibrant color of this drink will make you smile every time. The look of this drink makes me happy, happy, happy (and so does the flavor of course!)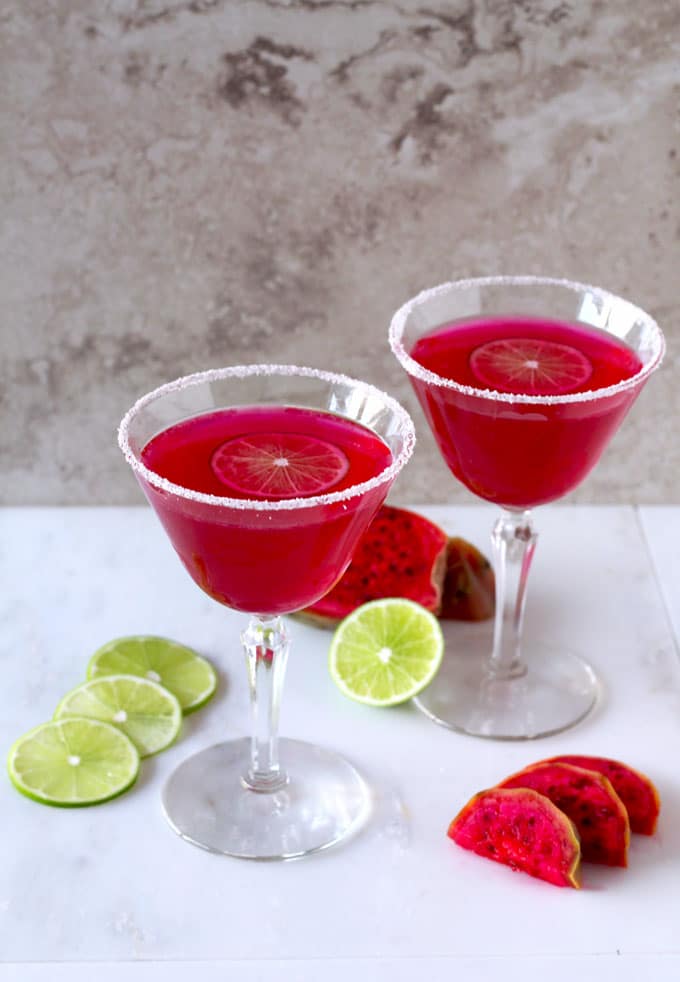 Prickly Pear, also called Cactus Pear or Tuna Fruit is the fruit of a cacti named nopales – which is also edible and usually cooked in savory dishes like stews, soups, sautes and salads. They are native primarily in the Southwest of the United States and Mexico.
Prickly Pears range in colors from lime green and orange to deep red. The color however does not indicate the maturity or ripeness of the fruit. They are covered in rough bumps and have tiny, barbed spines. Of course, unless you go to the desert to pick your own fruit, you don't have to worry about spines. The ones sold at the market are already "spine free".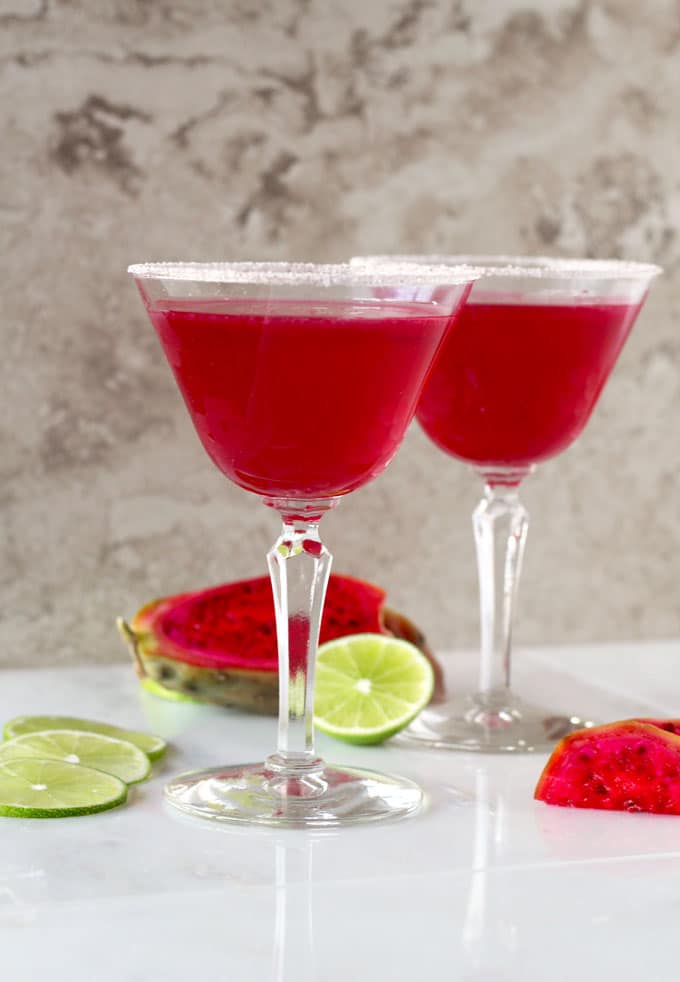 The inside of the fruit has the most vibrant hue of pink however, the flavor is mild, delicate, not too sweet and a bit floral. The taste is like a combination of a watermelon and bubblegum (yes, I know it sounds a bit weird but apparently – and according to google – that is the description most people come up with).
Do you love margaritas as much as I do? Here's a fantastic recipe for Pomegranate Margarita (one of my favorite margaritas ever!!)
Prickly Pear Margarita Recipe Tips
For this recipe (and to make things easier) I used prickly pear syrup.
This margarita packs a bit of punch! Shake it with lots of ice for best results
You can rim the glasses with either salt or sugar.
What else can you make with prickly pear syrup? Think salad dressing! White wine vinegar, finely chopped shallots, prickly pear syrup, extra virgin olive oil, salt and pepper ~ tossed with spinach, mesclun greens, beets…
Follow me on social media for more recipe ideas & inspiration! Pinterest Facebook Instagram My Newsletter
Prickly Pear Margarita
Hot pink and beautiful. This prickly pear margarita is easy to make and super tasty!
Prep: 5 minutes
Total Time 5 minutes
Servings 2 servings
Ingredients
4 ounces silver tequila
2 ounces Triple Sec
2 ounces prickly pear syrup
1 ounce fresh lime juice
Ice Cubes
Salt or Sugar to rim the glasses
2 lime slices, for garnish plus estra to rub the rims of the glasses
Instructions
Rub the rim of 2 glasses with a lime slice and dip in a plate of salt (or sugar)

Pour the tequila, triple sec, prickly pear syrup, lime juice and ice cubes in a cocktail shaker. Shake vigorously for about 30 seconds. Strain into the glasses and garnish with a lime slice.


Chef's Tips
You can serve it over ice if you wish.
Nutrition
Calories: 297kcal (15%)Carbohydrates: 29g (10%)Sodium: 10mgSugar: 22g (24%)Vitamin C: 4.3mg (5%)
* Please note that all nutrition information are just estimates. Values will vary among brands, so we encourage you to calculate these on your own for most accurate results.