Last updated on April 14th, 2019 at 08:23 pm
Lump crab meat, cheese, lemon and dill are baked to bubbly and gooey golden brown perfection. This Hot and Cheesy Crab Dip is scrumptious, rich, delicious and the ultimate party dip!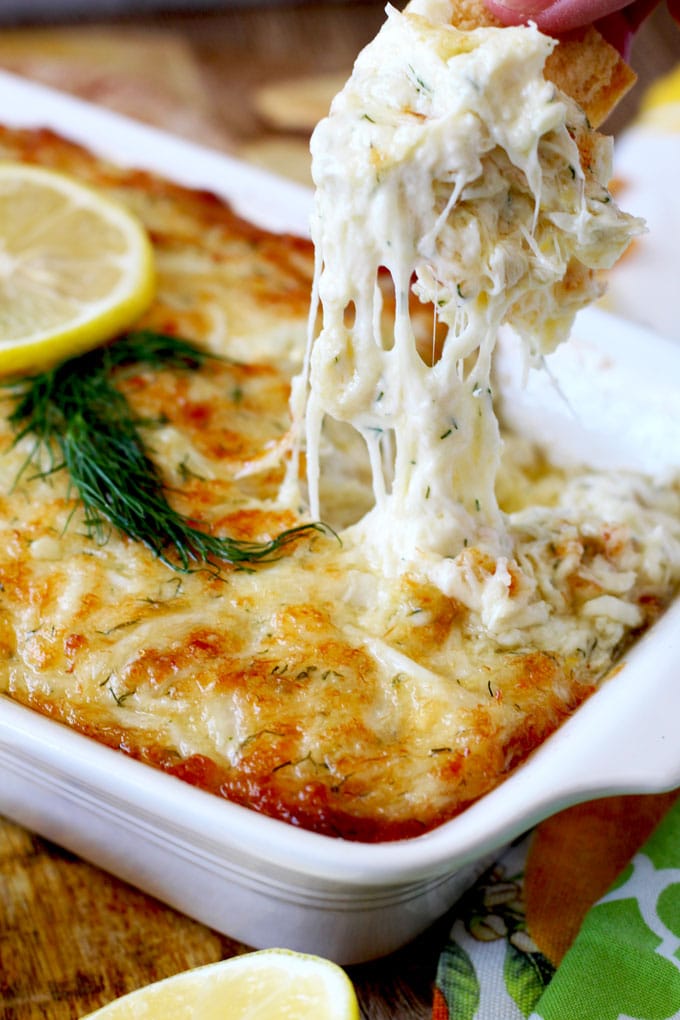 If you want to impress your family and friends with cheesy, gooey, melt in your mouth flavor, this Hot and Cheesy Crab Dip is the way to go!! This easy to make appetizer is always a crowd pleaser!
Many year ago, the hubs and I went on a romantic getaway to Hawaii. I say "romantic" because it sounds cool we didn't take our son with us, (we only had one baby then). As much as we loved our time together, we missed our sonso much that we spent half the time wishing he was there and the other half calling him.
One night for dinner, we went to a wonderful restaurant and had the most amazing crab pizza. It was different, it was creamy and extremely decadent but somehow the freshness of the crab meat came through in every bite.
At the time , I was developing a menu for a restaurant and looking for inspiration everywhere! Hawaii was the perfect place for the job! At that moment, in that restaurant, I decided to recreate those flavors into a crab dip!
After a few times recipe testing (yes it's a hard job sometimes), this Hot and Cheesy Crab Dip was created.
I wish I could say this is a skinny dip but – that would be the biggest lie! This hot and cheesy crab dip is scrumptious, rich, decadent, full bodied, extra creamy and crab meat lumpy! The lemon zest and dill add freshness and great flavor to the delicate crab meat.
Kathy's Notes
This Hot and Cheesy Crab Dip is as easy to make as it is flavorful. If you can mix a few ingredients together and put them in the oven – to heat and melt – then you are on your way to dip heaven!
This recipe feeds a crowd. It's a party dip after all! Feel free to cut the recipe in half.
You can also make the whole recipe and bake just a portion of it. You can use the remaining mix to top salmon or cod. Mound the unbaked dip on top of the fish and bake.
Serve this Hot and Cheesy Crab Dip with toasted pita bread, pita chips or sliced French bread.
I would not use imitation crab meat for this dish.
Do you want other easy appetizer ideas? I have some delicious ones for you:
Fabulous Trio of Crostini the perfect dish for last minute entertaining!
Queso Fundido Dip gooey, melty and delicious – with a surprise ingredient that takes it to the next level!
Hot and Creamy Shrimp Scampi Dip, the ultimate crowd pleaser!
---
WANT TO TRY THIS HOT AND CHEESY CRAB DIP?
PIN IT TO YOUR APPETIZER BOARD TO MAKE IT LATER!!
FIND ME ON PINTEREST FOR MORE DELICIOUS RECIPES
Print Recipe
Hot and Cheesy Crab Dip
Lump crab meat, cheese, lemon and dill are baked to bubbly and gooey golden brown perfection. This Hot and Cheesy Crab Dip is scrumptious, rich, delicious and the ultimate party dip!
Prep Time10 mins
Cook Time15 mins
Total Time25 mins
Servings: 6 people
Calories: 749kcal
Ingredients
3 tablespoons unsalted butter
3 garlic cloves, minced
2 teaspoons lemon zest
3 tablespoons fresh dill. chopped plus more for garnish
16 ounces lump crab meat
2 cups Swiss cheese, grated
2 1/4 cup mayonnaise
Ground black pepper to taste
Lemon slices
Instructions
Preheat the oven to 350 degrees Fahrenheit

In a medium saute pan over medium heat, melt the butter. Add the garlic, lemon zest and chopped dill.

Saute for about 2- 3 minutes or until aromatic. You don't want to brown the garlic!

Add the crab meat and mix well to combine.

Remove from the heat and pour into a mixing bowl. Let the mixture cool for a few minutes.

Add the mayonnaise and shredded cheese. Mix well to combine and season with ground pepper.

Place the mixture into a baking dish and place in the oven. Bake for 15 minutes or until is bubbly and the top is golden.

Garnish with lemon slices and dill if desire. Serve hot with pita chips or bread slices.
Nutrition
Calories: 749kcal | Carbohydrates: 2g | Protein: 25g | Fat: 70g | Saturated Fat: 14g | Cholesterol: 94mg | Sodium: 1260mg | Potassium: 216mg | Sugar: 2g | Vitamin A: 320IU | Vitamin C: 6.8mg | Calcium: 392mg | Iron: 0.7mg
NEVER MISS A RECIPE!
If you've tried this or any other of my recipes, don't forget to rate the recipe and to leave me a comment. I love hearing from you!
---
Things You May Need
Calphalon 2 Piece Classic Nonstick Fry Pan Set,
Zester
Baking Dish