This Lemon Drop Martini has the perfect balance of sweet, tangy and lemony goodness. If you prefer a smooth vodka cocktail that won't hit you in the face with a strong alcohol taste, this lemon drop cocktail recipe is perfect for you. Made with simple ingredients, this not so classic martini is sure to put a smile on your face.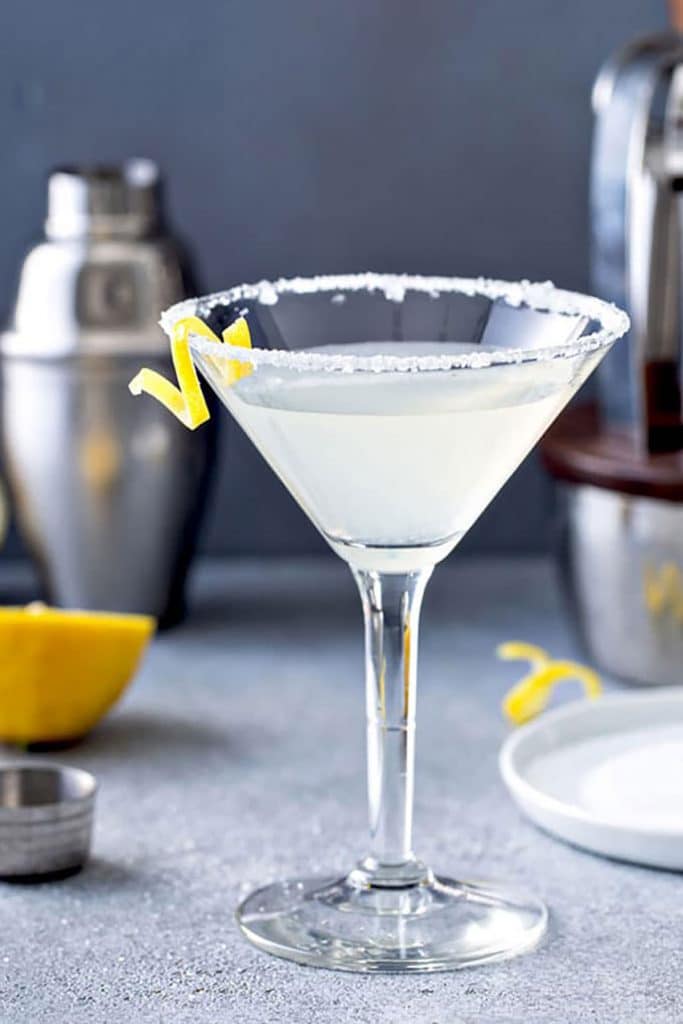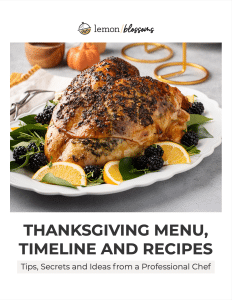 psst… Thanksgiving stress?
Not anymore!
Download our limited-time guide to hosting a smooth Thanksgiving, as experienced & perfected by Chef Kathy.
The Best Lemon Drop Recipe
The fresh taste of lemon, good quality vodka, the subtle taste of orange liqueur, the sweet crust of sugar on the rim of the glass plus the perfect lemon twist it's what makes the lemon martini such a classic!
The lemon drop martini is possibly my favorite cocktail ever. Although similar to a lemon drop candy, this famous cocktail is not overly sweet. It has the perfect amount of sour notes and zing from fresh lemon juice and a touch of sweetnesses from superfine sugar and that deliciously crunchy sugar rim.
What's a Lemon Drop Martini?
The Lemon Drop cocktail is a vodka-based cocktail that was created in San Francisco in the 1970's by Norman Jay Hobday at the Fern bar. It is also known as Lemon Drop Martini although unlike most martinis, this drink is made with vodka instead of Gin or vermouth.
What's in a Lemon Drop?
The best lemon drops are made with a few simple ingredients and although the sugar on the rim is optional, I highly recommend it. It truly compliments this tart cocktail.
Good Quality Vodka
Fresh Lemon Juice
Triple Sec
Superfine Sugar
Ice
Lemon slice or lemon twist as garnish
How to Make a Lemon Drop Cocktail
One of the reason this lemon drop recipe is so easy to make is because you don't need to make and cool simple syrup before mixing this lemon drink. Instead, superfine sugar is mixed in with the vodka, triple sec and fresh lemon juice. Super easy right?
In a cocktail shaker half-filled with ice, add the vodka, triple sec, sugar and lemon juice. Shake well.
Take a lemon wedge and rub the top edge area of a chilled martini glass. Dip the edge into the superfine sugar.
Pour the drink into a sugar-rimmed martini glass. Garnish with a lemon curl.
Lemon Drop Tips for Success
Freshly Squeezed Lemon Juice is a Must: Cocktail recipes with such few ingredients require the best ingredients. Fresh lemon is a must for this recipe.
Don't have Superfine Sugar? No problem!: If you don't have super fine sugar handy, don't worry! Place some regular white granulated sugar in a small food processor or grinder and process – just pulse it a couple of times. Don't over do it or you will end up with a powdery mess.
Use Good Quality Vodka: This cocktail has a healthy amount of vodka. Although you don't need top shelf, using a smooth vodka is essential. I love Tito's, Ketel One vodka and Stolichnaya.
Cold Drink and Chilled Cocktail Glass: No one wants a lukewarm cocktail! To all home bartenders out there, go the extra mile by chilling the martini glass.
For an Extra Citrus Zing: Make lemon sugar for the rim! Combine lemon zest and sugar. It's as simple as that!
What Does a Lemon Drop Drink Taste Like?
A Lemon Drop tastes like refreshing lemonade with a vodka kick! It's tart and sweet and it goes down smoothly but you can certainly taste the vodka.
Should You Use Simple Syrup In Your Lemon Drop Martini Recipe?
Some cocktail recipes like this martini uses simple syrup while others use superfine sugar as sweetener. Both work very well for mixed drinks and do the same job. When I want to make a drink quickly and I haven't planned ahead, superfine sugar is my secret weapon.
Simple syrup combines equal parts of sugar and water that are boiled, then cooled and then used to sweeten drinks. Although you can purchase a bottle of simple syrup, making it at home is very easy.
Why Is It Called Lemon Drop?
This sweet and sour martini is the adult version of a lemon drop candy. The sugar on the rim and the tart cocktail when properly made, should remind you of the popular English confection. The lemon drop martini was created as a way to attract single female customers who were new to the bar scene.
Can I Use Something Other Than Triple Sec?
Yes, instead of making this martini with triple sec, you can use Cointreau which like triple sec is in the same family of dry orange liqueur. Your next best options are Grand Marnier and orange Curaçao.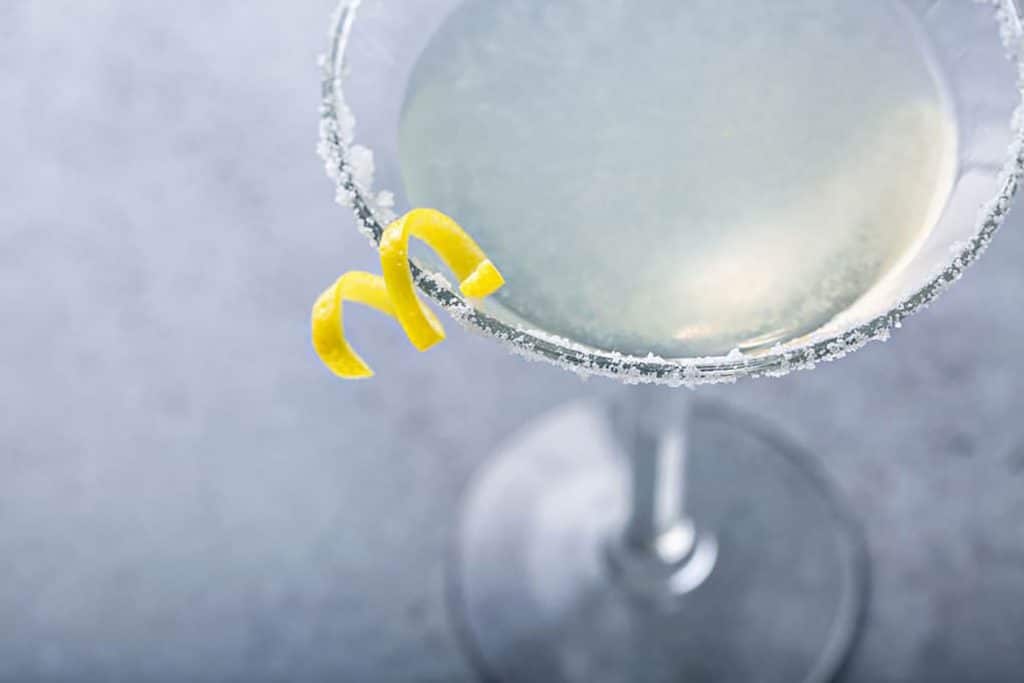 Serving a Lemon Drop Martini
Lemon drop is the perfect cocktail for girl's night, movie night and spring and summer dinner parties however, it's so delicious that I love having one any time.
How to Rim a Glass with Sugar
To rim a martini glass (or any other glass) with sugar, simply put the sugar in a small plate. Run the cut side of a lemon wedge around the rim of the glass. Dip the rim of the glass into the bowl of sugar and set aside.
How to Make a Lemon Twist for Garnish
To make a lemon twist, lemon spiral or lemon curl to garnish your favorite cocktail, without any special bartenders' tools (such as a channel knife), I will share 2 simple methods. Both are easy but one requires about 2 + hours of inactive prep time. The lemon curls from that method will look more like the ones you get at a bar.
Quick and Easy:
Cut a slice of lemon (about 1/8 inch thick).
With a paring knife, make a cut slicing through the peel only.
With your fingers, pull the peel off the lemon leaving the fruit and pith behind.
Trim most of the pith away.
Roll the lemon peel on your pinky finger or on a drinking straw. Then release the lemon curl. It should hold its shape although it won't be as tight and perfect.
Fancy with Resting Period:
Cut both ends of a lemon (or orange).
With a paring knife, slice down the length of the lemon ONLY cutting through the peel, not through the fruit.
Pull a corner of the peel to separate the peel from the fruit. Peel off the lemon. You should have the peel of the whole lemon in one single piece.
Next, roll the peel lengthwise tightly (as if making a cylinder shape). Secure the roll with a couple of toothpicks on each end.
Place the tight roll in cool water and refrigerate for 2 hours or overnight.
Remove the roll from the water and remove the toothpicks. Slice into 1/8 inch slices. Uncoil and place on your drink!
Take a Look at These Other Classic cocktails Recipes:
This Lemon Drop Martini recipe is adapted from What's Cooking America – Best Lemon Drop
Follow me on social media for more recipe ideas & inspiration! Pinterest Facebook Instagram My Newsletter
Lemon Drop Cocktail
This Lemon Drop Cocktail is sweet, sour, citrusy and the perfect vodka cocktail to make any night of the week. Making this Lemon Drop Martini recipe at home is very easy and tastes so much better than anything you can get at a cocktail bar.
Prep: 5 minutes
Total Time 5 minutes
Servings 1 serving
Ingredients
1 ½ ounces good quality vodka
1/2 ounce Triple Sec
1 teaspoon superfine sugar or to taste
3/4 ounce lemon juice, freshly squeezed
Ice cubes
Lemon, thinly sliced
Instructions
In a cocktail shaker half-filled with ice, add the vodka, triple sec, sugar and lemon juice. Shake well.

Take a lemon wedge and rub the top edge area of the martini glass. Dip the edge into the superfine sugar.

Pour the drink into a sugar-rimmed martini glass. Garnish with a lemon slice.

Enjoy!
Nutrition
Calories: 162kcal (8%)Carbohydrates: 10g (3%)Sodium: 1mgSugar: 9g (10%)Vitamin C: 8.3mg (10%)
* Please note that all nutrition information are just estimates. Values will vary among brands, so we encourage you to calculate these on your own for most accurate results.
This post was first published in 2018 and has been updated to provide the reader with new photography and additional information. The recipe remains the same.