This Lychee Martini recipe is a refreshing, sweet and fruity vodka martini with floral notes from tropical lychees. This lychee cocktail is easy to make with only 3 ingredients and it's absolutely delicious!
If you are looking for a fabulous martini to add to your cocktail recipe collection, this Lemon Drop recipe is our reader's favorite drink!
Lychee Martini
I love a good twist on a traditional recipe, especially a vodka cocktail like a classic martini or a dry martini. This lychee martini recipe is fruity, slightly sweet, flavorful, quick to make and never disappoints.
The first time I had a lychee cocktail was at the beautiful restaurant Nobu in Malibu. At Nobu's, they combine vodka, elderflower liqueur and lychee juice to make an incredibly aromatic mixed drink. Oh, and their sushi, sashimi and pretty much everything on their menu is the absolute best too!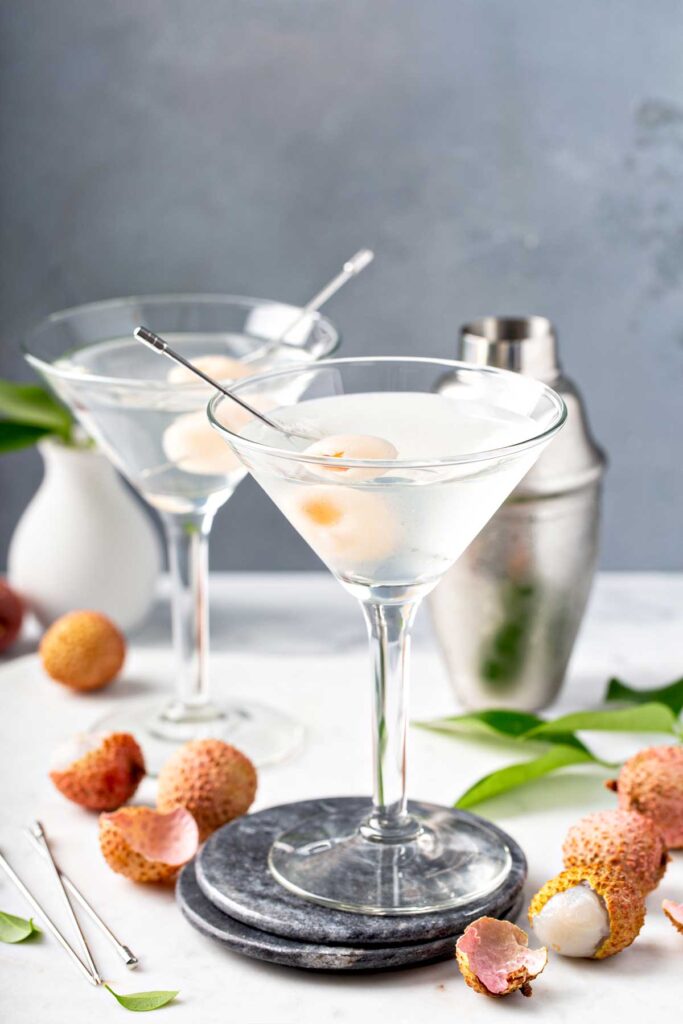 Last week, I was fortunate enough to get a reservation at Masaharu Morimoto's restaurant in Orlando, Florida. Well, truth be told, it was my friend Lauren's organizational skills that got us in for dinner! They are always so booked.
To say we wanted to order almost everything on their menu would not be an exaggeration! Of course, our dinner had to start with a cocktail so the first thing I ordered was their amazing Lychee martini. It was as good as I expected it to be. The words heavenly, refreshing and glorious come to mind!
Morimoto's uses lychee liqueur on their recipe and even though it was as close to perfection as you can imagine, I wanted to create something at home that was just as delicious, but both accessible and affordable!
I don't know about you, but I don't usually have many liqueurs and spirits at home. I love making quick, easy, affordable and incredibly tasty drinks whenever possible.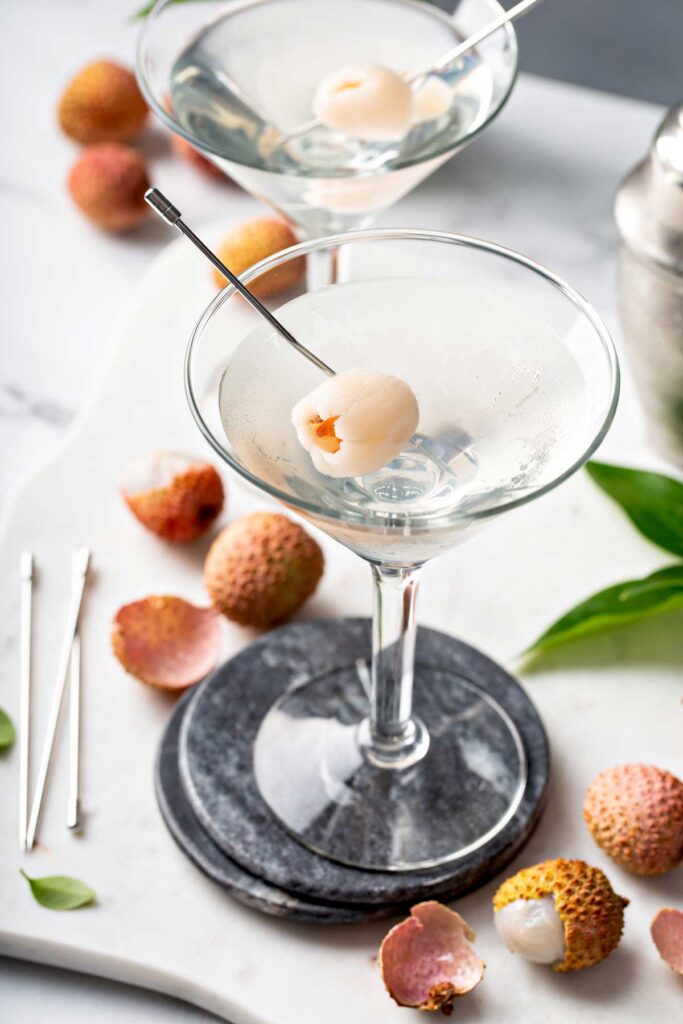 What is Lychee?
Lychee, Litchi or Lichee is a small tropical fruit native of Southeast Asia. Although China is the largest producer of this tasty and unique fruit, it also grows in the United States in places with subtropical climates like Florida.
The golf ball sized fruit has red rough skin and a sweet, whiteish, almost transparent interior and the texture of a skinless grape. They have a large seed in the middle which is removed when canned. Litchi fruit is closely related to another Asian fruit – rambutan.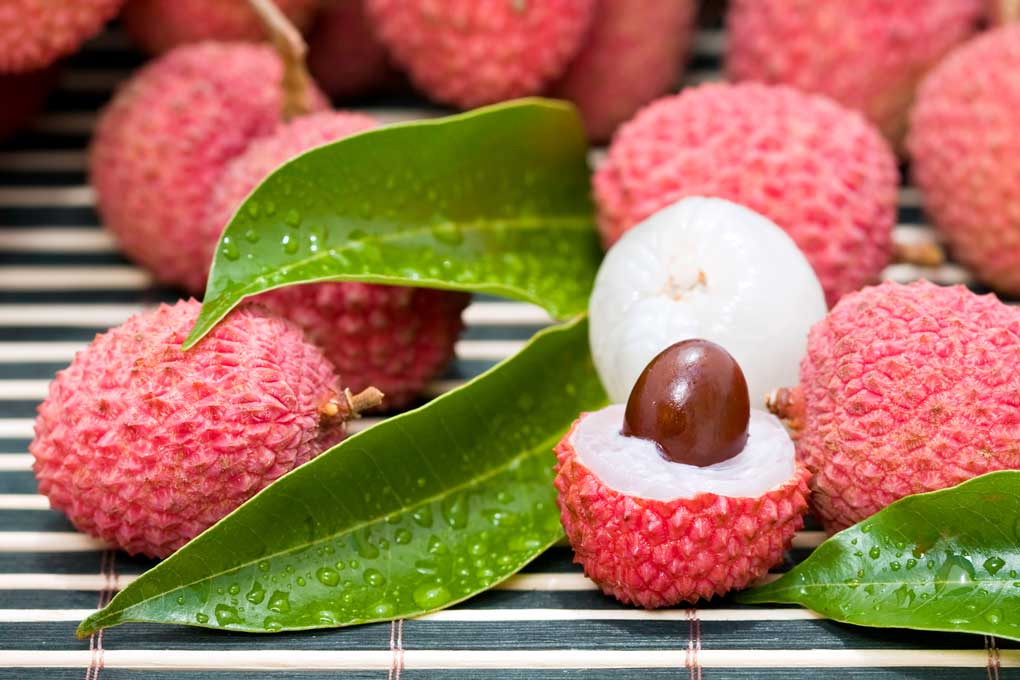 What Does Lychee Taste Like?
Trying to pinpoint the flavor of lychee will most likely result in a good and fun debate. Most people think it taste like a sweet, strong-flavored grape with a hint of citrus and with delicate, light floral notes.
Some people think lychee taste like a pear and even watermelon. If you can't find fresh lychee, I suggest you get canned lychee and give it a try. It's truly a clean, very unique and extraordinary flavor.
Lychee Martini Ingredients
To make this tasty tropical vodka martini, you basically need 3 ingredients plus ice! As for equipment, a cocktail shaker is all you need. Of course, having the proper glassware is a must, but this cocktail is so good that I would drink it out of paper cups!
Lychee: You can use lychee liqueur, but I use canned lychee for this recipe. Lychees in the can are more affordable than buying lychee liqueur. The syrup or juice in the can is what gives this cocktail it's fabulous taste while the actual fruit is used as garnish.
Vodka: Get good quality vodka and keep it chilled. I usually keep mine in the freezer at all times (It's a must in case of a zombie invasion).
Vermouth: I use dry vermouth for martinis. Vermouth needs to be refrigerated after opening.
What Are Lychee Used For?
In the United States, lychee is used mostly for making drinks and cocktails. Around the world, besides eating lychee straight like a fruit, they are made into desserts like cakes, mousse and cheesecake, jams, salads, muffins and even soup!
Lychee also have some medicinal properties and is said to relieve fever, pain and cough.
Fresh Lychee Vs Canned Lychee
Fresh lychee and canned lychee are both very good. If you are lucky enough to get your hands on some fresh lychee by all means get them and enjoy them. Fresh lychee looks a bit like a very big strawberry with rough skin, which you will have to peel off. In the middle, there is a big seed that will also need to be removed (You won't be able to miss it. It's big, smooth, oblong shaped and brown in color). The seed is not edible.
Canned Lychee pretty much requires you to open the can! The fruit is peeled and seedless and most of the time canned in syrup. The syrup (or juice) from the can is great for making cocktails and non-alcoholic drinks like lychee lemonade.
When Is Lychee Season?
Fresh lychee season starts in June and lasts through summer. Unfortunately, in my area it is almost impossible to find this fresh fruit so I usually buy it in cans.
Canned lychee can be found in the Asian area of any supermarket or super center, as well as in Asian stores.
How Do You Pronounce Lychee?
Technically speaking, there are two ways to pronounce the name of this exotic fruit. Lai-chee, is the way the British pronounce it. While in America, lee-chee is commonly used (especially if you live in Hawaii).
Check Out These Other Lychee Recipes:
Check Out These Other Cocktail Recipes:
Follow me on social media for more recipe ideas & inspiration! Pinterest Facebook Instagram My Newsletter
Lychee Martini
This Lychee Martini recipe is a refreshing, sweet and fruity vodka cocktail with floral notes from tropical lychees. Easy to make with only 3 ingredients!
Prep: 8 minutes
Cook: 0 minutes
Total Time 8 minutes
Servings 2 servings
Ingredients
Ice
6 ounces vodka
4 ounces lychee juice or syrup reserved from the can of lychee
1 ounce vermouth
2 lychee for garnish. I used canned lychee.
Instructions
Fill a cocktail shaker halfway with ice. Add vodka, lychee juice and vermouth. Shake well. Strain into two chilled martini glasses. Garnish with lychees.
Nutrition
Calories: 252kcal (13%)Carbohydrates: 12g (4%)Protein: 1g (2%)Fat: 1g (2%)Saturated Fat: 1g (6%)Polyunsaturated Fat: 1gMonounsaturated Fat: 1gSodium: 2mgPotassium: 115mg (3%)Fiber: 1g (4%)Sugar: 10g (11%)Vitamin C: 48mg (58%)Calcium: 3mgIron: 1mg (6%)
* Please note that all nutrition information are just estimates. Values will vary among brands, so we encourage you to calculate these on your own for most accurate results.