Bikini Martini is a fun, fruity and tropical cocktail sure to impress your guests. If you are looking for a delicious and beautiful vodka cocktail, this easy to make drink is like sunshine in a glass.
If you love a good and tasty Martini cocktail as much as we do, check out my Lemon Drop Martini recipe and this incredible French Martini!
Martinis are one of my favorite mixed drinks and this beautiful Bikini Martini is on top of my favorite drinks list!
Similar to a Malibu Sunset drink, the Bikini Martini is made with a blend of coconut rum and vodka, pineapple juice and sweet grenadine. Just 4 simple ingredients, lots of flavor and the look of a tropical sunset in a glass.
Bikini Martini
Layered Drinks:
Layered cocktails are one of the best party cocktails. They are always a conversation starter and so stunning to look at. Although the color effect will make you look like an expert mixologist, the truth is, layering this mixed drink is super easy and requires zero skills!
To layer this mixed drink, simply pour in the ingredients in order of viscosity, from the heaviest to the lightest. Pour slowly not to create too many "waves" and that is it! You will end up with the perfect martini every time!
Layered Drinks
A layered cocktail is also called a "stacked drink" or a "pouse-cafe". These beverages are all about gravity! Heavy liquids sink while lighter liquids float! It's like a child's science experiment – but for adults!
Cocktail Ingredients
Coconut Rum: I use Malibu Rum
Vodka: Use your favorite brand. I always keep my vodka in the freezer. A chilled cocktail is always best.
Pineapple Juice: Not juice cocktail. Chilled.
Grenadine: I use a couple of dashes only so the drink is not overly sweet.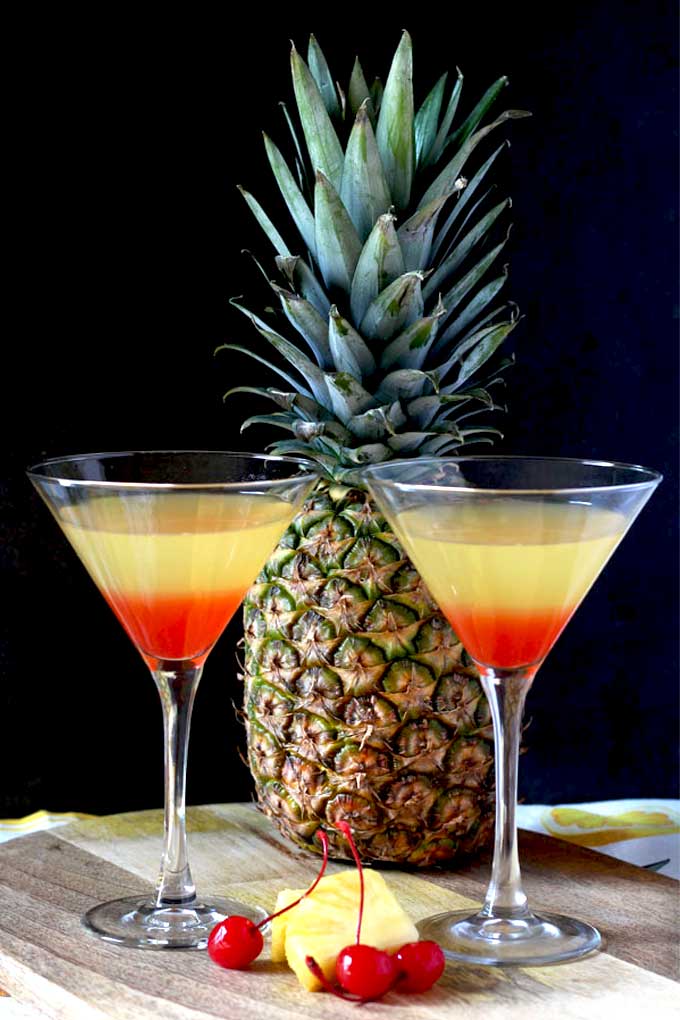 Bikini Martini Mocktail
Now that we have established clearly how incredibly easy it's to make this fun sweet martini, let's talk about what to serve to guests that don't drink any alcohol. Since you already have the pineapple juice and the grenadine handy, all you need is some coconut water to make the most perfect and refreshing summer mocktail!
To make the virgin version of this Bikini Martini you will need:
5 oz pineapple juice + 3 oz coconut water + a healthy dash of grenadine + ice
In a tall glass, put some iced (crushed ice is great too).Pour the granadine, the pineapple juice and the coconut water. Garnish with a chunk of pineapple and a maraschino cherry. Serve with a straw.
Bikini Martini Cocktail Tips
Make sure the pineapple juice is chilled.
Keep vodka in the freezer so you are always ready for a fun cocktail!
To add a tropical touch to this coconut rum and vodka martini, garnish it with a cocktail skewer or toothpick filled with 2 pineapple pieces and 2 maraschino cherries.
Take a look at these fabulous Party Cocktails!
Check out these other Favorite recipes from Lemon Blossoms:
This post was first published in 2016 and has been updated to provide the reader with additional information. The recipe remains the same.
Follow me on social media for more recipe ideas & inspiration! Pinterest Facebook Instagram My Newsletter
Bikini Martini Recipe
This Bikini Martini Cocktail with fruity tropical flavors and beautiful colorful layers is like a sunset in a glass. Made with coconut rum, vodka, grenadine and pineapple juice, this easy to make martini is always a showstopper!
Prep: 5 minutes
Cook: 0 minutes
Total Time 5 minutes
Servings 2 servings
Ingredients
4 oz coconut rum
3 oz vodka
4 oz pineapple juice
2 dashes grenadine
Garnishes
Pineapple chunks optional
Maraschino cherries optional
Instructions
Combine the coconut rum, vodka and pineapple juice in a drink shaker with a couple of ice cubes. Shake firmly.

Pour in a martini glass, add a couple of dashes of grenadine in the middle. The grenadine will set at the bottom of the glass
Nutrition
Calories: 261kcal (13%)Carbohydrates: 7g (2%)Sodium: 2mgPotassium: 73mg (2%)Sugar: 6g (7%)Vitamin C: 5.7mg (7%)Calcium: 7mg (1%)Iron: 0.2mg (1%)
* Please note that all nutrition information are just estimates. Values will vary among brands, so we encourage you to calculate these on your own for most accurate results.