French Toast Sticks are a fun and tasty breakfast treat the whole family will love. This easy French Toast recipe makes the best fluffy, buttery, cinnamon filled, dunkable French Toast ever!
My love for homemade French Toast is never ending. Whether is a plate filled with classic French toast, a French Toast Bake, French Toast Roll Ups or these finger-friendly, decadent cinnamon French Toast sticks, the truth is -I cannot resist sweet custard-soaked bread cooked in buttery goodness to crispy golden brown perfection! Pour a little maple syrup over and meet breakfast French Toast heaven!
French Toast Ingredients
This French Toast Sticks recipe uses simple everyday ingredients and delivers lots of flavor.
Texas Toast Bread: Texas Toast French Toast always turn out perfect however brioche, challah, French bread, sandwich bread and cinnamon bread can also be used.
Eggs: I use large eggs.
Half and Half: I often use whole milk, skim milk or whole cream. Of course cream produces the richest custard.
Vanilla Extract
Granulated Sugar: Other types of sugars like coconut sugar can be used.
Cinnamon: Lots of it! but don't be alarmed, the flavor is spot on and delicious! If you prefer French Toast without cinnamon, simply skip it. You could add a bit of orange zest instead.
Salt: Every sweet custard needs a little pinch of salt. I use sea salt.
Butter: For greasing the griddle or frying pan.
Powdered Sugar: Optional but highly recommended. Not only gives the homemade French Toasts Sticks a great restaurant look but it adds a little sweetness as this recipe is not overly sweet.
Maple Syrup – For dipping and dunking! Blueberry syrup or butter syrup are also great options.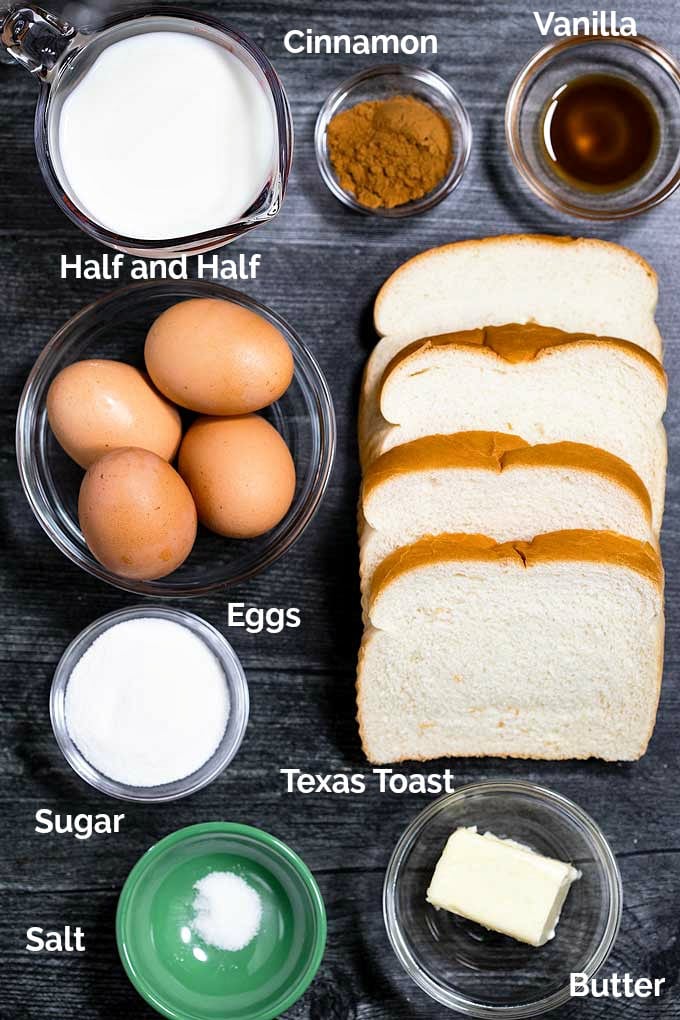 How To Make French Toast Sticks
If you are wondering how to make French Toast Sticks from scratch, like the ones you love from your favorite fast food restaurant, I have good news for you, homemade French Toast sticks are super easy to make and they turn out perfect every single time!
First, make the French toast custard by whisking the eggs, Half and Half, vanilla, sugar, cinnamon and salt in a medium size bowl.
Cut the Texas Toast bread slices into thirds (or any other bread you may be using).
Melt the butter in a skillet or griddle.
Working in batches, dip the bread into the custard mixture until well coated. The custard has a good amount of cinnamon that tends to rise to the top. Swirl the bread sticks when dipping to prevent the cinnamon from concentrating too heavily on the bread sticks.
Place bread sticks in the skillet (or griddle) and cook until golden brown on the bottom side. Flip with a spatula and cook the other side until golden brown.
Remove the cinnamon French Toast Sticks from the skillet and serve sprinkled with powder sugar alongside maple syrup.
You have questions? We have answers!
What is French Toast custard?
A custard is a sweetened mixture of milk and eggs that can be baked or cooked slowly on the stove to or oven and sometimes. Custard is what gives French toasts their creaminess, softness, fluffiness and incredible flavor. Custards can be flavored with many things like orange zest, almond extract, fuits and even chocolate.
Can I make French Toast Sticks ahead of time?
Yes! French toast are the perfect breakfast recipe to make ahead. You can store cooked French toast in a resealable plastic bag in the refrigerator or freezer. To reheat, place them on a baking sheet and bake them in a preheated 350 degrees oven for about 8 – 10 minutes or until heated throughout. You can also reheat them in the microwave in 30-second intervals until warmed through.
Can I Freeze French Toast?
Yes! For best results, place the cooked french toast sticks on a baking sheet and freeze until they are firm (about 45 to 60 minutes). Transfer the sticks to a freezer-safe resealable plastic bag and store in the freezer for up to 2 months.
Can French Toast Custard Be Made Ahead?
Absolutely! You can prep this recipe ahead of time by making the custard in advanced. Store French toast custard in a sealed container in the refrigerator for up to 24 hours.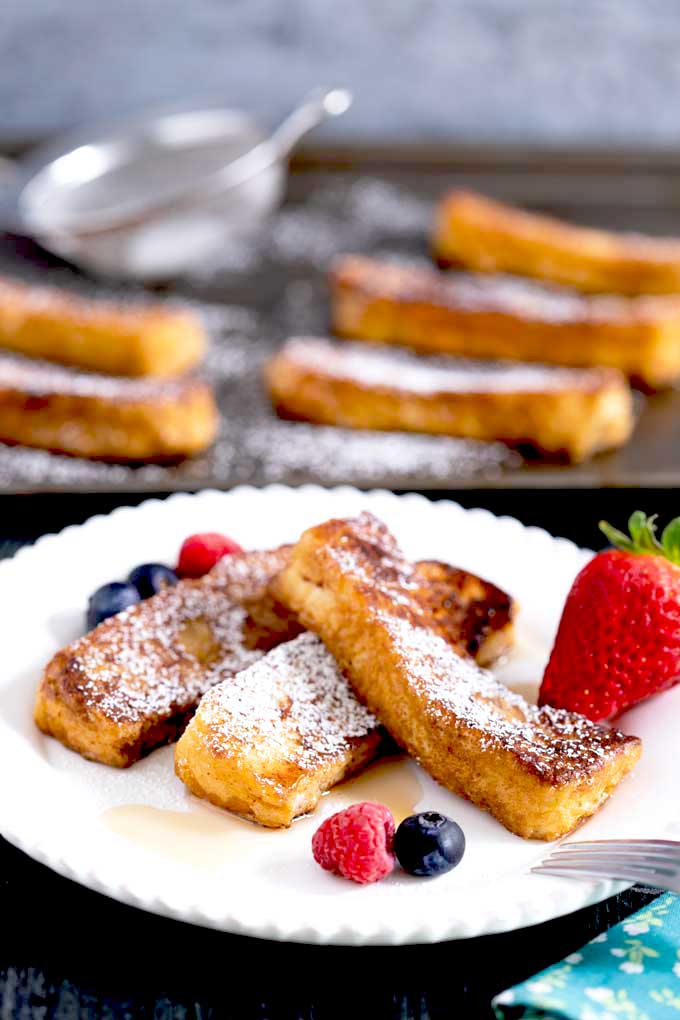 French Toast Sticks Recipe Tips
To make the process of making French toast sticks even easier and a lot quicker, line a sheet pan with parchment paper – dip the bread into the custard and place it on the baking sheet. When done with all the bread, proceed to cook. This works great if you double the recipe to make 2 batches!
Lightly stale bread or day old bread makes the best French toast.
Instead of cinnamon, you can use other flavorings like almond extract, lemon or orange zest or pumpkin spice.
Turn these cinnamon French toast recipe into a churro French toast by rolling the warmed cooked French toast sticks in cinnamon sugar!
Wondering what to serve with French toast? Bacon in the oven always cooks to crispy perfection and it's perfect served with this recipe.
Check Out These Other Delicious and Easy Breakfast Recipes:
Follow me on social media for more recipe ideas & inspiration! Pinterest Facebook Instagram My Newsletter
Cinnamon French Toast Sticks
These fluffy and tasty French Toast Sticks are a fun breakfast treat packed with lots of flavor. This breakfast recipe uses simple pantry ingredients and is always a family favorite!
Prep: 10 minutes
Cook: 10 minutes
Total Time 20 minutes
Servings 4 people
Ingredients
8 slices Texas Toast bread (Brioche, Challah or other breads can be used)
4 eggs
1 cup whole milk, Half and Half or Cream
1 tablespoon vanilla extract
3 tablespoons sugar
2 teaspoons cinnamon
3-4 tablespoons butter
Maple syrup
Instructions
Instructions
In a large bowl, whisk together the eggs, milk, vanilla, sugar, cinnamon and pinch of salt.

Cut each bread slice into thirds.

In a large skillet or griddle over medium heat, melt 1-2 tablespoons of butter,

Working in batches, dip a few of the bread sticks into the egg mixture and flip them until well coated. Let the excess egg mixture drip off and then place the bread sticks in skillet or griddle without overcrowding the pan.

Cook until each side is golden brown and crispy, about 3-4 minutes. Transfer the French Toast Sticks to a plate and sprinkle them with powdered sugar. Serve with maple syrup.
Chef's Tips
Lightly stale or day-old bread works best for this recipe as the bread soaks up more of the custard-egg mixture.
Different breads like brioche, cinnamon bread, challah and French bread can be used.
You can use milk, Half and Half or cream for this recipe. Cream will produce a richer, creamier custard-egg mixture.
This recipe freezes well. Just place the cooked french toast sticks on a baking sheet and freeze until firm (about 45 to 60 minutes). Transfer the sticks to a freezer-safe resealable plastic bag and store in the freezer.
To reheat, remove the number of French Toast Sticks you would like to reheat and place them on a baking sheet. Bake in a preheated 350 degrees oven for 8 minutes or until heated throughout.
Nutrition
Calories: 355kcal (18%)Carbohydrates: 38g (13%)Protein: 12g (24%)Fat: 16g (25%)Saturated Fat: 8g (50%)Cholesterol: 192mg (64%)Sodium: 410mg (18%)Potassium: 199mg (6%)Fiber: 2g (8%)Sugar: 15g (17%)Vitamin A: 600IU (12%)Calcium: 236mg (24%)Iron: 2.6mg (14%)
* Please note that all nutrition information are just estimates. Values will vary among brands, so we encourage you to calculate these on your own for most accurate results.
This post was first published in 2019 and has been updated to provide the reader with additional information. The recipe remains the same.