Last updated on April 14th, 2019 at 08:22 pm
This Stuffed Pumpkin French Toast Bake is full of flavor! Sweet cream cheese filling and a crunchy pecan topping make it spectacular. The perfect breakfast to serve to family or a large crowd!

---
This Cream Cheese Stuffed Pumpkin French Toast Bake is nothing but extraordinary! Creamy, crunchy, pumpkin-y and delicious! You can make it ahead or the day you need it! It's just that easy!
This is absolutely one breakfast and brunch dish I make over and over again. Although it may seem like a complex dish, I can guarantee it's very simple to prepare and turns out great. It's rich and decadent and everyone always loves it.
If you are a pumpkin lover like me, then you must be excited about this time of year when we Americans go crazy about all things pumpkin! Yeah!
Time to hit your favorite coffee shop for a pumpkin latte and enjoy things like this Pumpkin Pecan Cheesecake, or this Dulce de Leche Pumpkin Butter with Bourbon, the perfect gift for teachers and co-workers! If you are looking for an easy-to-make adult drink, this 2 ingredient Harvest Shandy is perfect for the season!
Let's get back to this delicious Stuffed Pumpkin French Toast Bake. The creamy custard is a cinch to make! Sweetened condensed milk gives it sweetness and richness – how much I love condensed milk? Too much! Pumpkin puree, pumpkin spice and cinnamon give it warmth and an amazing and delicate pumpkin flavor.
The cream cheese filling has 3 ingredients and couldn't be easier to make. It tastes a bit like cheesecake. The pecan topping is addicting! I kept eating it while assembling the French toast. I am lucky there were any pecans left to use for the recipe!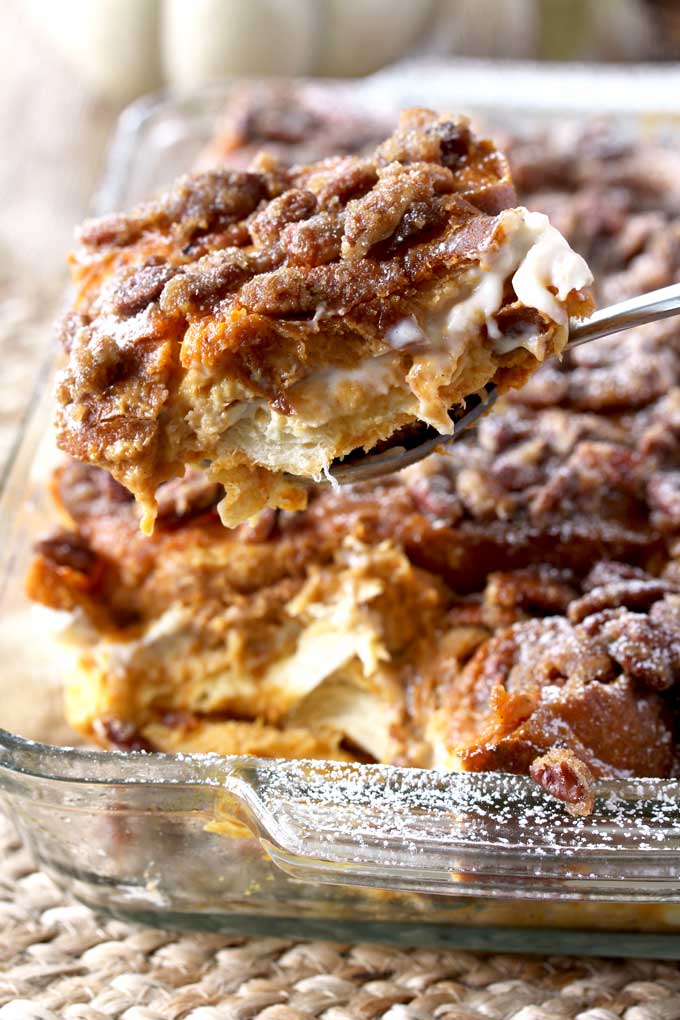 Kathy's Notes
You can use walnuts instead of pecans, if you prefer.
Laying the bread in the baking pan doesn't have to be perfect. Its delicious French toast not a Lego project! The bread slices won't all be even (just take a look at the bread on the ingredients photo above – there's no way to have evenness with that bread!!!
A day old bread is always best but I never remember to buy the bread until the last minute – no big deal!
This is the perfect breakfast and brunch dish for any Thanksgiving celebration.
WANT TO TRY THIS STUFFED FRENCH TOAST BAKE?
PIN IT TO YOUR BREAKFAST OR BRUNCH BOARD!!
FIND ME ON PINTEREST FOR MORE DELICIOUS RECIPES!
Print Recipe
Cream Cheese Stuffed Pumpkin French Toast Bake
This Stuffed Pumpkin French Toast Bake is full of flavor! Sweet cream cheese filling and a crunchy pecan topping make it spectacular. The perfect breakfast to serve to family or a large crowd!
Prep Time20 mins
Cook Time40 mins
Total Time1 hr
Servings: 10 servings
Calories: 731kcal
Ingredients
For the Pumpkin French Toast
1 (15-ounces) can pumpkin puree
1 (14-ounces) can sweetened condensed milk
1 1/4 cup milk
1 tablespoon butter, melted
1/2 teaspoon cinnamon
1/4 teaspoon pumpkin spice
1 teaspoon vanilla extract
4 eggs
1 loaf Brioche or Challa bread, sliced
For the Cream Cheese Filling
For the Pecan Topping
3 tablespoons butter, melted
1/2 cup brown sugar, packed
1 cup chopped pecans
Pinch of salt
Optional
Maple syrup for drizzling
Powder Sugar for dusting
Instructions
To Make the Cream Cheese Filling
In a stand mixer with the paddle attachment, mix the cream cheese until creamy, add the powder sugar and mix well. Add the vanilla and mix until well combined. The mixture should be creamy and lump free. Set aside until ready to use.
To Make the Pecan Topping
Place the melted butter in a small bowl, add the pecans and mix until all the nuts are coated with the butter. Add the sugar and pinch of salt and mix well to combine. Set aside
The Rest
Preheat the oven to 350 degrees Fahrenheit. Lightly spray a 9 x 13 baking dish with cooking spray.

In a large bowl, combine the pumpkin puree, condensed milk, milk, 1 tablespoon of melted butter, cinnamon, pumpkin spice, vanilla and eggs and whisk until well combined.

Grab a slice of bread and submerge it into the pumpkin custard, turning it to make sure both sides get soaked with custard. Transfer to the prepared baking pan. Repeat the process until the bottom of the pan is covered.

Spread the cream cheese filling on top of the bread.

Soak the remaining bread slices with the custard and place them on top of the cream cheese layer.

Top with the sugared pecan mixture.

Bake for 40 - 45 minutes. The top should be golden.

Remove from the oven and dust with powdered sugar (optional) and serve with a drizzle of maple syrup (optional)
Notes
You can assemble, refrigerate covered and bake when needed. It can be reheated covered in a 300 degree oven or in the microwave.
Nutrition
Calories: 731kcal | Carbohydrates: 76g | Protein: 16g | Fat: 40g | Saturated Fat: 17g | Cholesterol: 163mg | Sodium: 701mg | Potassium: 330mg | Fiber: 3g | Sugar: 36g | Vitamin A: 1145IU | Vitamin C: 0.2mg | Calcium: 354mg | Iron: 4.1mg
---
NEVER MISS A RECIPE!
---
Things You May Need
Price Disclaimer
Price Disclaimer