Easy to make oven Baked Chicken Leg Quarters is an effortless and budget-friendly dinner meal packed with lots of flavor. Whole chicken legs and chicken thighs are seasoned with a simple spice mixture and baked until perfectly moist and tender. Crispy skin and succulent juicy dark meat make these baked chicken quarters irresistibly delicious!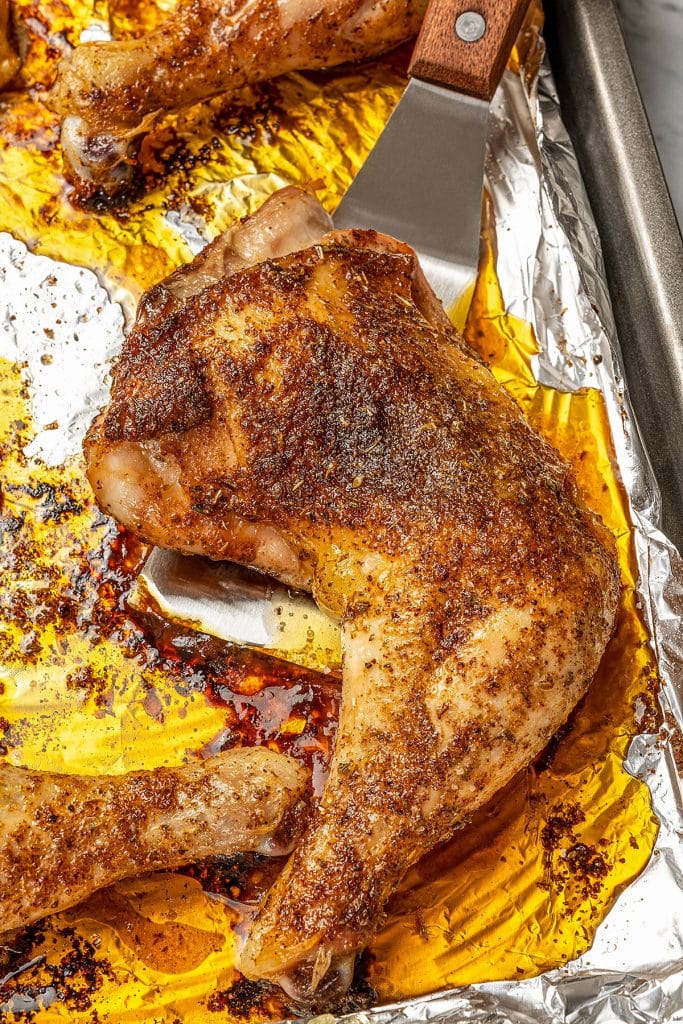 Crispy & Juicy Baked Chicken Leg Quarters
Take your chicken dinner game plan to new heights! This baked chicken leg quarters recipe is an easy weeknight dinner sure to please your whole family.
This roast chicken quarters recipe is made with simple ingredients, requires less than 10 minutes of hands-on prep, bake in about 40 minutes and delivers flavorful thigh-drumstick pieces with juicy meat and crispy chicken skin.
As much as I love well seasoned baked chicken breasts, there are times when white meat just doesn't cut it! Dark meat chicken pieces have so much flavor and the best part is, they always turn out lusciously juicy (even when you accidentally over cook them!)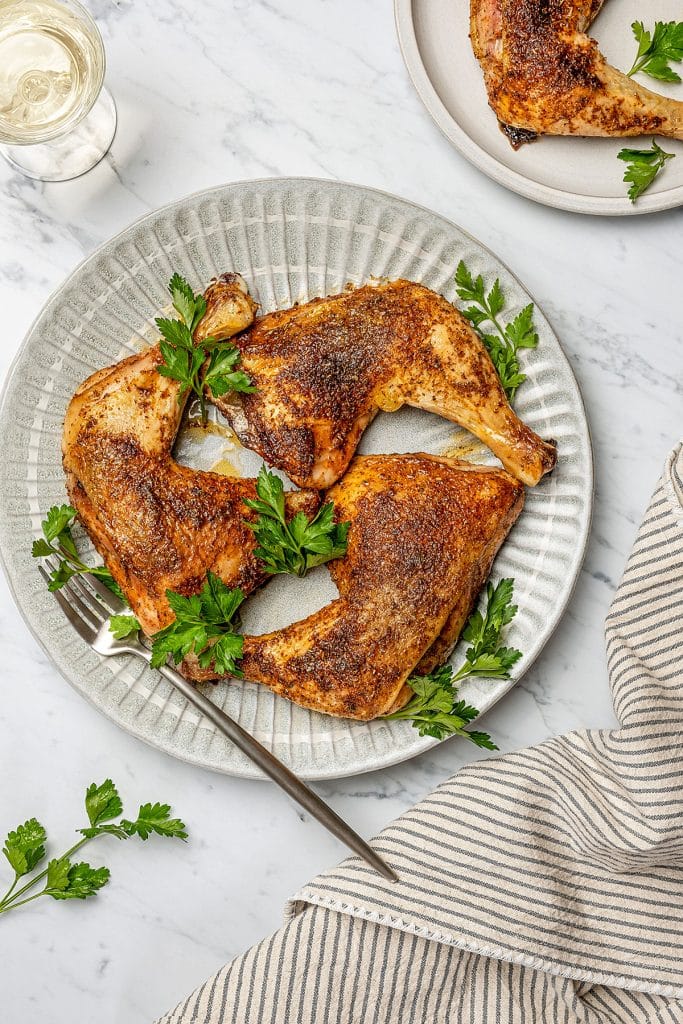 Why You'll Love This Chicken Quarters Recipe?
Crispy and Juicy Chicken: There's no need to stress about over cooking dark meat! Unlike chicken breasts, chicken drumsticks and chicken thighs stay moist even when they have the crispiest skin!
Easy Recipe: Quick prep, simple pantry ingredients, little clean up and delicious flavors!
Budget Friendly: Bone in chicken quarters are inexpensive and often on sale. They are a great way to feed a crowd or large family on a budget.
Effortless: Stir together some common spices for a simple seasoning mix and let the oven do its thing! Like most baked chicken recipes minimal work is required.
What Pieces of Chicken are in a Leg Quarter?
A leg quarter or whole chicken leg includes the chicken thigh and chicken drumstick joint together. This cut of chicken is entirely dark meat and is almost always sold bone-in and skin-on.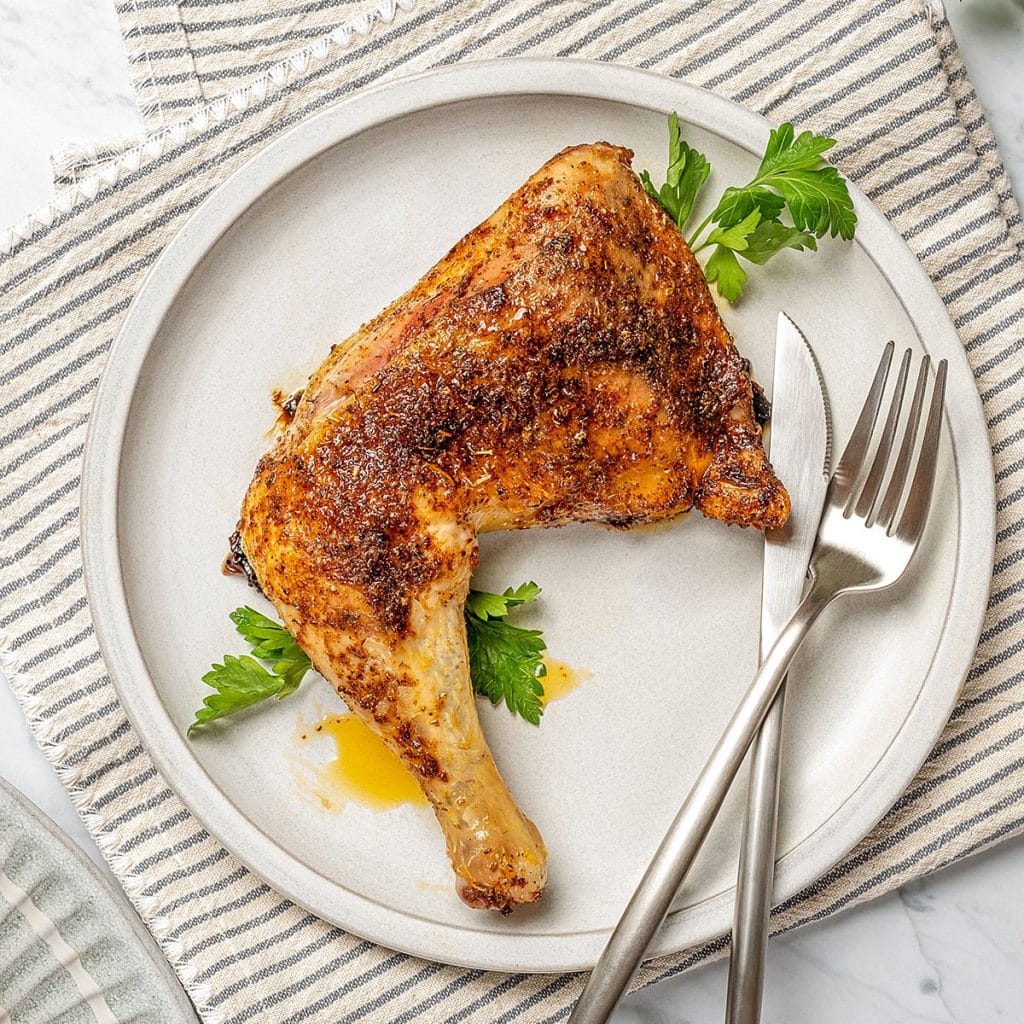 Ingredients and Substitutions
For specific details and quantities, please check the recipe card below.
Chicken Leg Quarters: You will need bone-in and skin-on thigh-drumsticks pieces, aka whole chicken leg. Since this is actually a quarter of the whole bird, you can cut through the joint and separate the chicken drumstick from the chicken thighs. You can do this before or after roasting the chicken.
Oil: I use olive oil but grapeseed oil, avocado oil or vegetable oil can be used.
Seasoning Mix: The flavorful dry rub is made with basic ingredients you probably already have in your pantry. Dried oregano, sweet paprika (substitute with smoked paprika if preferred), chili powder, dry mustard (aka powdered mustard), ground black pepper, salt (I use Kosher salt or sea salt), all spice and brown sugar (don't panic! this recipe uses 1 tablespoon of brown sugar to season 3 pounds of chicken!).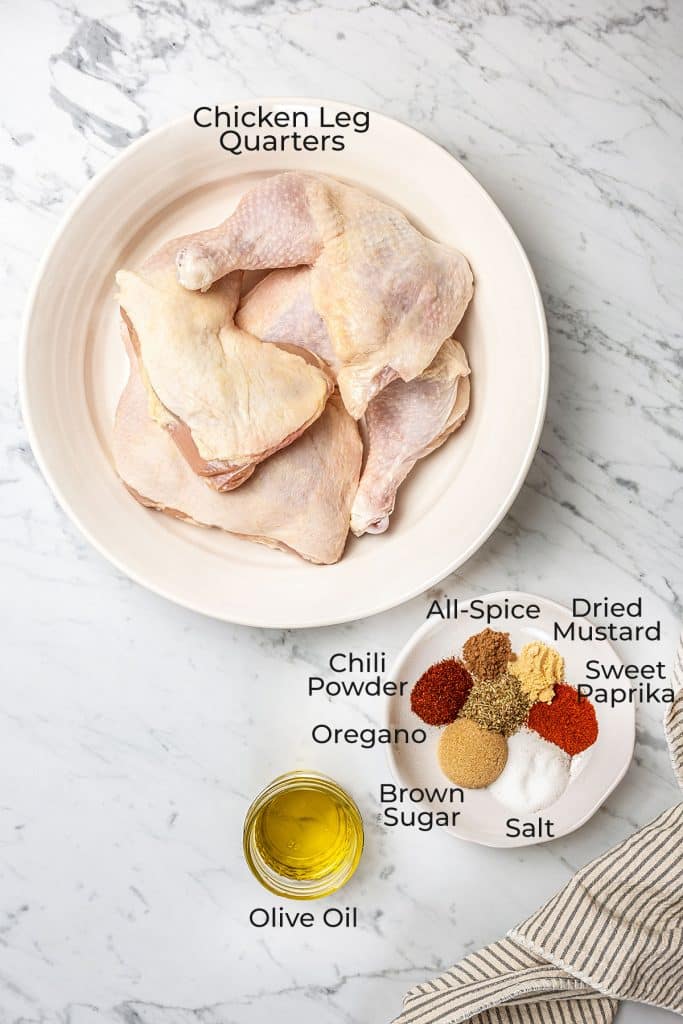 How to Make Baked Chicken Leg Quarters
For full instructions, please check the recipe card below.
Mix Spices: In a small bowl, combine the spices.
Prep: Line a sheet pan with aluminum foil for easy clean up. Remove any excess fat and pat the chicken dry with paper towel. Don't skip this step! Excess moisture prevents the chicken skin from getting crispy.
Season: Spread some of the spice mix between the leg's meat and skin. Brush (or rub) the chicken with oil and season with the remaining spices. Lay the chicken in a single layer on the prepared baking sheet, skin side up. Let it sit at room temperature for 30 minutes or in the refrigerator overnight. This step makes the chicken extra flavorful.
Preheat the oven: Preheat the oven to 400º Fahrenheit.
Bake: Roast chicken uncovered for 40 to 50 minutes or until the internal temperature of the chicken reaches 165º Fahrenheit when checked with a meat thermometer on the thickest part of the leg. For extra crispy skin, place the chicken under the broiler for a few minutes.
Rest: Remove from the oven, tent with foil, and rest for 10 minutes before serving.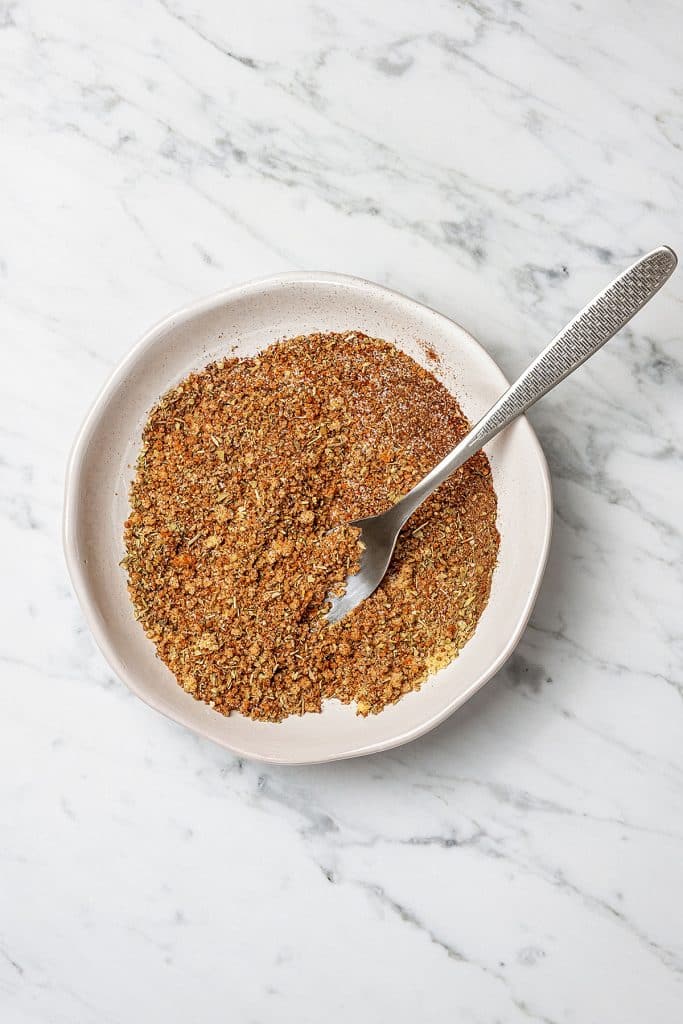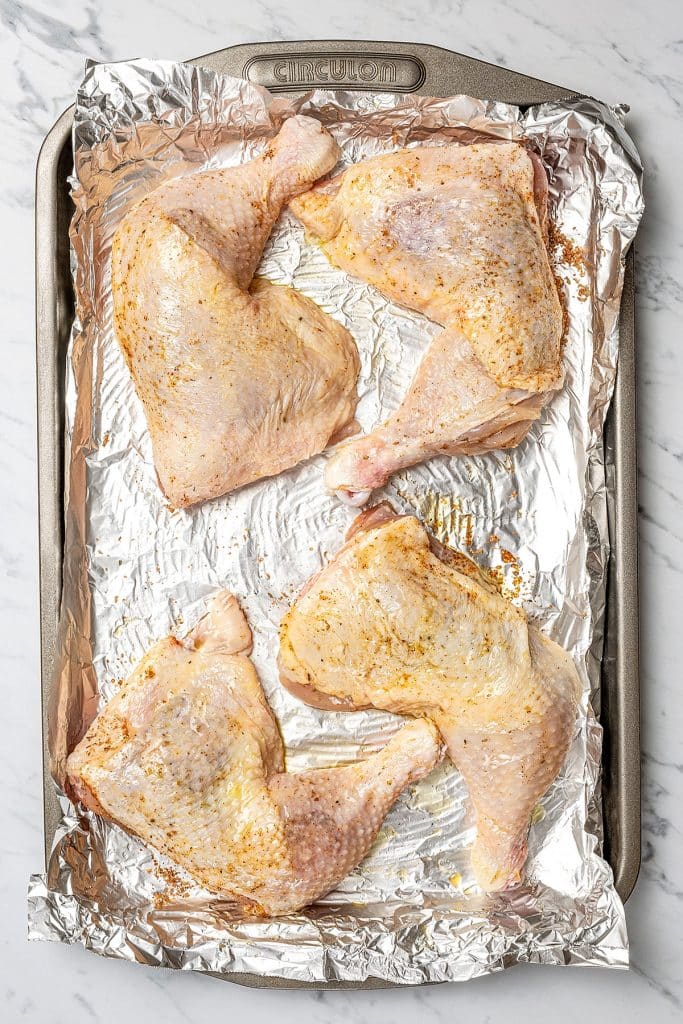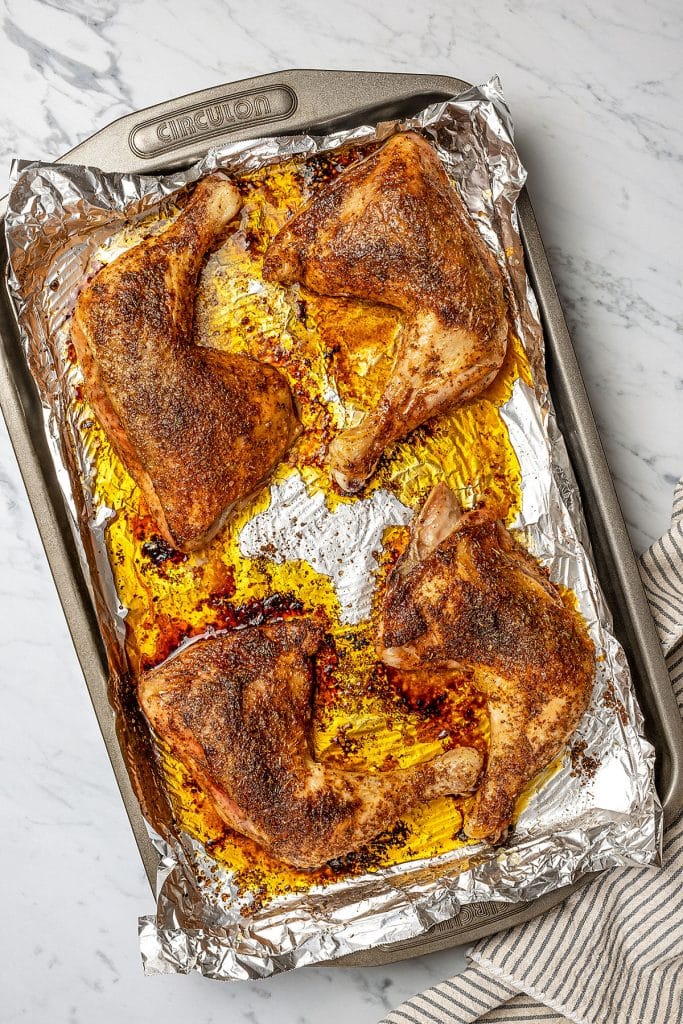 Chef Tip: You can bake chicken at 350, 375, 400 and even 425 degrees Fahrenheit uncovered, with great results! Cooking times will need to be adjusted slightly. Check chicken doneness with a meat thermometer for accuracy.
How Long Does it Takes to Cook Leg Quarters?
Usually, it takes about 40 to 45 minutes to cook average size bone-in chicken leg quarters in a pre-heated 400º F oven however, exact times vary depending on the size of the chicken and how hot your oven runs. The most accurate way to know if the chicken leg quarter is done, is by checking the internal temperature of the meat with an instant-read thermometer. The safe internal temperature for chicken is 165ºF.
Is it Better to Bake Chicken Leg Quarters at 350 or 400 degrees Fahrenheit?
For best results, I prefer baking the chicken leg quarters in a preheated 400 degrees F. oven. A hot oven crisps up the skin nicely while keeping the meat tender and juicy. That being said, chicken baked at 350 or 375 will also produce good results. Adjust cooking times accordingly (don't worry! As long as you check the internal temperature with a meat thermometer you are good!).
What is The Safe Temperature for Baked Chicken?
For safety, always cook chicken until the juices run clear and the internal temperature has reached 165 degrees Fahrenheit. Use an instant-read thermometer for accuracy.
Should I Cover the Chicken While Baking?
No, for extra juicy and crispy baked chicken leg quarters, bake the chicken uncovered.
What to Serve with Baked Chicken?
Since this recipe uses simple seasonings, this flavorful meal can be paired with many side dishes. Some of our favorites are: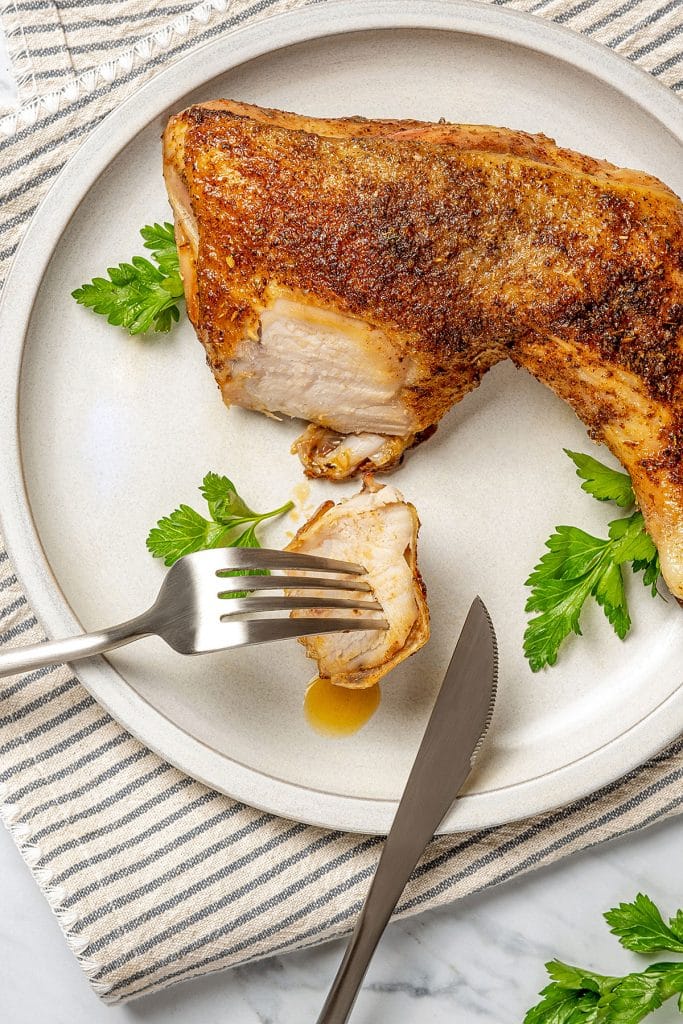 Other Seasoning Ideas
If you want to make this recipe with different spices, here are a few ideas:
Lemon Pepper: 2 tea. lemon pepper, 2 tea. garlic powder, 1 tea. onion powder, 1 tea. dried parsley.
Poultry Seasoning: 2 tea. dried basil, 2 tea. dried rosemary, 1 tea. garlic powder, 1 tea. paprika, 1 tea. dried thyme, 1 tea. dried mustard, 1/2 tea. onion powder, 1/4 tea. dried sage, 1/8 tea. cayenne pepper, salt and pepper.
Smoked Chipotle: 1 teaspoon smoked chipotle, 1 teaspoon chili powder, 1 teaspoon cumin, 1 teaspoon garlic powder, 1/2 teaspoon salt, 1/2 teaspoon ground black pepper.
Cajun Seasoning: This is our favorite Cajun seasoning if you love creole flavors!!
Making Ahead, Storage and Reheating
Making Ahead: Because the chicken is seasoned with a dry rub and not a marinade with any acid or citrus, you can season the chicken and store it in the refrigerator for 24 hours. Remove the chicken from the fridge 30 minutes before baking so it comes to room temperature before it's placed in the hot oven.
Storage: Leftover baked chicken will keep, stored in an airtight container, in the refrigerator for 3-4 days.
Reheating: Although you can enjoy chicken quarters cold or at room temperature, they can be reheated in the microwave or uncovered in a preheated 350ºF oven for about 10-15 minutes. You can also use an air fryer for about 5-7 minutes at 375ºF
Baked Chicken Leg Quarters Tips for Success
Pat the chicken dry with paper towels to remove excess moisture then, coat the chicken with olive oil before seasoning. These steps are very important if you want crispy, golden brown skin.
If you don't like chicken skin, I suggest you remove it after the chicken is cooked. The skin protects the meat from drying when cooked at a higher temperature.
If the chicken starts getting too brown too quickly, tent the chicken with aluminum foil.
You can line a baking sheet with foil and insert a wire rack to lift the chicken. With or without a wire rack the chicken will cook to juicy, golden brown perfection.
You can use bone-in, skin on chicken drumsticks or chicken thighs to make this recipe.
Check these other incredibly delicious and easy chicken recipes.
Follow me on social media for more recipe ideas & inspiration! Pinterest Facebook Instagram My Newsletter
Baked Chicken Leg Quarters
Spice-packed and incredibly juicy, these baked chicken leg quarters will become your new favorite fuss-free meal.
Prep: 15 minutes
Marinating Time: 30 minutes
Cook: 45 minutes
Total Time 1 hour 30 minutes
Servings 4 servings
Instructions
In a small bowl mix together the sugar, salt, chili powder, paprika, dried oregano, dry mustard, black pepper and allspice. Set aside.

Line a rimmed baking sheet with aluminum foil for easy clean up. Set aside.

Pat the chicken dry and remove any excess fat. Carefully slide your fingertips between the meat and skin of each chicken leg quarter to loosen the skin from the meat. Spread some of the spice mix between the two layers.

Drizzle and rub the chicken with the olive oil (you can also do this with a brush), and smear the remaining spice mix all over the chicken.

Lay the chicken, skin side up, on a rimmed baking sheet and marinate for 30 minutes or in the refrigerator overnight.

Preheat the oven to 400°F.

Bake the chicken uncovered for 40 to 50 minutes (depending on size) or until the juices run clear and a meat thermometer or instant read thermometer registers an internal temperature of 165 degrees Fahrenheit. For extra crispy skin, place the chicken under the broiler until the skin is dark brown, about 4-5 minutes.

Remove from the oven, tent with foil, and rest for 10 minutes before serving.
Nutrition
Calories: 638kcal (32%)Carbohydrates: 5g (2%)Protein: 39g (78%)Fat: 51g (78%)Saturated Fat: 12g (75%)Polyunsaturated Fat: 10gMonounsaturated Fat: 24gTrans Fat: 0.2gCholesterol: 236mg (79%)Sodium: 1358mg (59%)Potassium: 532mg (15%)Fiber: 1g (4%)Sugar: 3g (3%)Vitamin A: 593IU (12%)Vitamin C: 0.1mgCalcium: 36mg (4%)Iron: 2mg (11%)
* Please note that all nutrition information are just estimates. Values will vary among brands, so we encourage you to calculate these on your own for most accurate results.