Find my best tips for stocking up your kitchen pantry, freezer and refrigerator with the right foods during the COVID-19 social distancing and/or quarantine.
Even for someone who has been cooking professionally for many years, stocking up your kitchen for an outbreak or natural disaster can feel like a daunting task. Making rush decisions during stressful times can result in spending money and buying items you most likely won't eat.
In this post, we will talk about basic food items that will help you create a simple menu of easy recipes that are also budget friendly. Here you will find information about:
Pantry Essentials You Should Always Keep At Home.
Must Have Spices and Seasonings.
Best Vegetables and Fruits To Keep (Fresh, Frozen, Canned) – How To Store Them and For How Long
Dairy, Meats and Fish
Best Options For Fresh, Frozen and Canned Foods.
Breads
Snacks To Keep Kids Happy
Disclaimer: I Am Not Promoting Any Brands Nor Have I Been Compensated By Any Company To Promote Their Product(s).
Pantry Essentials To Keep At Home
During times like this, baking is both good for the soul and good for your budget. Homemade bread is delicious and it requires just a few ingredients. My baking essential list is one you should consider for sure!
Oil: I use olive oil mostly. I like to keep vegetable or canola oil handy, if possible.
Salt and Pepper: Must have basic seasonings.
Sugar: Granulated sugar.
Honey
Apple Cider Vinegar: This vinegar is versatile and can be used instead of other vinegars in most recipes.
Canned Tomatoes: I always keep diced tomatoes in my pantry. Always! Other varieties that are good to keep are tomato sauce, tomato paste, crushed tomatoes and whole tomatoes.
Rice: White long grain is what I grew up eating. Brown rice is a great option.
Beans: Dry beans are budget friendly. Canned beans are excellent too although they take more pantry space. My must have beans are pinto beans, garbanzo beans and brown lentils.
Baking Essentials: All-purposed flour, baking soda, baking powder, yeast, cornstarch, granulated sugar (brown sugar is also good to keep).
Dry Pasta: Short and long noodles. Couscous.
Soup Base: Stock Powders, Cubes or Paste (Bouillon): These add instant flavor, take up very little space and are economical. The other best option is chicken or vegetable stock in shelf stable containers or canned).
Rolled Oats: Can be used for breakfast, desserts and baked goods.
Tea or Coffee
My Must Have Spices, Herbs and Seasonings
These are the spices and seasonings I use the most:
Garlic Powder
Ground Cumin
Seasoned Salt
Chili Powder
Dried Oregano (or make it simple and get Italian seasoning)
Soy Sauce
Bouillon Cubes, Powder or paste
I also like to keep Tabasco Sauce around for adding heat to soups and stews.
Fresh parsley, fresh cilantro and fresh ginger can last 1 to 2 weeks in the fridge (really depends on how fresh they are). You can blend the fresh herbs and freeze them for later use.
Stocking Up vegetables and Fruits
Keeping fruits and vegetables in the refrigerator or freezer is very helpful during times when stocking up is a must. I try to keep all my veggies and fruits refrigerated to give them a longer life. As much as I would love to tell you to buy 20 different types of veggies, space is limited so these are things I keep.
REFRIGERATOR FAVORITES:
Potatoes: Keep potatoes in the fridge so they last longer. They may keep up to 2-3 weeks.
Onions: Although I heard onions wrapped in old grandma's panty hose last longer, I keep mine in the refrigerator (vegetable drawer). They last up to 3 weeks.
Carrots: Keep them refrigerated.
Lemons: A fruit I cannot live without! Keep refrigerated. It will last between 3-4 weeks.
Garlic: Although I am a big fan of fresh garlic, I sometimes buy garlic paste (found in the produce area of any supermarket). Keep refrigerated.
Apples: If you have little ones at home, apples are a must. Refrigerate for up to 2 weeks. They also freeze well.
Oranges and Grapefruits: They keep well in the refrigerator for up to 3 weeks.
Bananas: Buy them on the green side (not ripe) so they last longer on the counter. If they get brown and overly ripe, make banana bread or freeze them for up to 3 months (I place peeled bananas in a freezer safe resealable bag).
FREEZER FAVORITES: I buy these vegetables and fruits frozen:
Broccoli, cauliflower, corn, green beans, spinach, bell peppers, peas and carrots.
Blueberries, strawberries, peaches, fruit mixes (strawberry banana, mango).
CANNED VEGETABLES AND FRUITS: I must admit, I am not the biggest fan of canned vegetables but sometimes they are a necessity. My favorite canned goods besides tomatoes are green chiles and mandarin oranges (kids love mandarin oranges!).
Canned corn, canned beets, canned mushrooms, canned peaches, olives, mandarin oranges.
Other helpful veggies to keep in a well stocked kitchen are sweet potatoes (in the fridge will last up to 2 weeks), cabbage, lasts longer than lettuce and can be made into coleslaw, stews and in soups like this cabbage roll soup.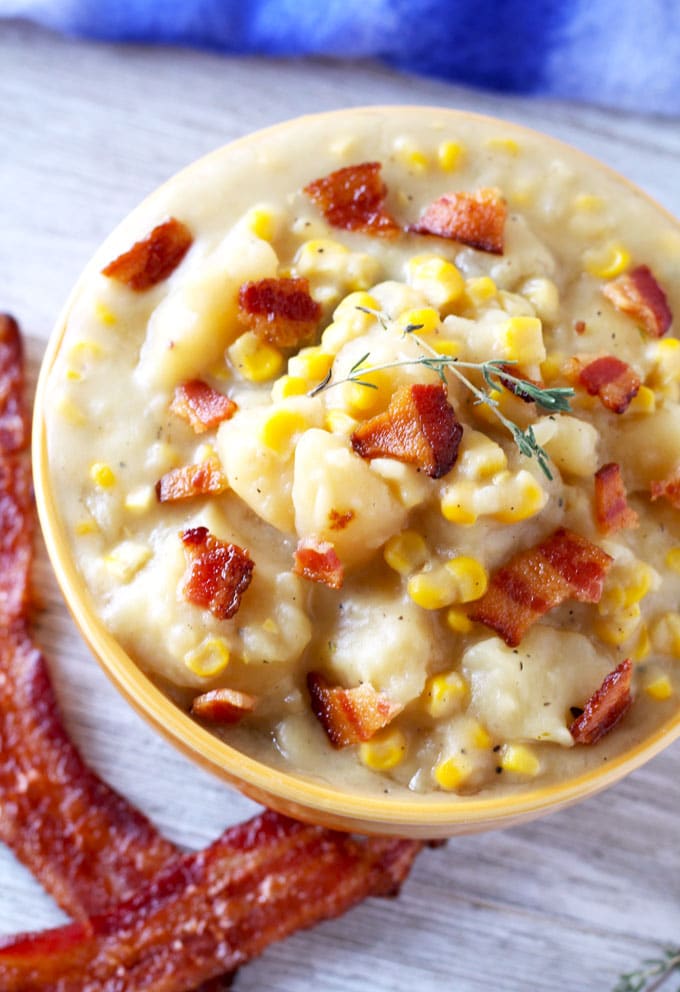 Dairy, Meats and Fish
Milk: Regular milk (whole fat, 2% and fat free) has a short shelf life however, milk freezes well. Shelf stable (regular and non-dairy) and canned milk are good options too. Powdered milk is your best alternative if space is limited. Milk alternatives, like almond or soy milk lasts longer than cow's milk in the fridge.
Half & Half and Heavy Cream: They freeze well.
Butter: Butter freezes well. I keep lots of butter at home for spreading and for baking.
Cheese: I buy large bags of shredded cheese and freeze them.
Hard cheese like Parmesan cheese lasts longer than soft cheeses. This is a great time to be brave and admit that grated Parmesan cheese in the famous green plastic container doesn't bother me at all. Adds flavor to pasta and it's budget friendly. Bring it!
Eggs: A must in every kitchen. Unfortunately eggs have a shelf life so buy enough and rotate them according to their expiration date.
Bacon, Ham and Sausages: Bacon is such a versatile ingredient that can be used in so many different recipes. From breakfast to dinner and everything in between. Bacon keeps in the fridge (sealed) for up to 2 weeks and freezes well. Take a look at my favorite way to cook it, Bacon in the Oven! I prefer to freeze both ham and sausages.
Ground Meats: Ground meats or minced meats like ground beef, ground turkey and ground chicken are budget friendly and keep well in the freezer.
Chicken: I like to keep individually wrapped frozen chicken breast (IQF – individually quick frozen). This allows me to pull out 1 or 2 servings instead of a whole tray of breasts.
Canned chicken is also a good item to keep in your pantry.
Beef: If space is an issue, don't buy big roasts, although they are more economical than buying steaks. Big chuck can be made into stews, chilis and shredded beef so it is always a beef cut I like to keep.
Pork: Pork chops are easy to make, lean and always on sale! Pork roast like pork butt or pork shoulder is a great option.
Tuna, Salmon and Sardines: Canned or in pouches.
HELPFUL PANTRY ITEMS
Cinnamon and vanilla extract
Mayonnaise
Mustard
Ketchup
BBQ Sauce
Jarred Salsa
Dried Fruit (especially raisins and cranberries).
Nuts or nut butters – almonds, cashews, peanut butter and almond butter.
Coconut milk
Breadcrumbs or Panko
Quinoa
Canned fruits in juice (pineapple and pears are good options).
Baking Mixes (yes, I said it! Nothing wrong with using muffin or cake mix once in a while). Make sure you have the ingredients listed in the back of the box also. I have a rule, if more than 2 eggs are needed – I don't buy it! Eggs have a short shelf life so I consider them "gold" during times such as this.
Breads
Sandwich bread (honey wheat, white, wheat), English muffins and bagels freeze well but take some space. Tortillas (corn and flour) keep in the refrigerator for up to a month (properly stored to prevent them from drying) and also freeze well.
Making homemade bread is very easy, especially if you make quick breads.
Snacks To Keep Kids Happy (and adults too)
Popcorn
Apple Sauce
Crackers
Beef Jerky
Trail Mix
Jello (dry)
Pudding (dry)
Hummus (keeps for about 1 week in the refrigerator)
Peanut butter and Jelly
Don't Forget your Pets!
Keep enough dry or canned food for your pets and don't forget treats!
When following a recipe, be flexible and be creative. You may not have all the ingredients listed so feel free to sub and experiment.
Instant Pot (pressure cooker) recipes can easily be made in a crock pot/slow cooker or on the stove top or oven.
Use spice mixes if you don't have a particular spice, for example, use taco seasoning instead of chili powder.
You have questions? We have answers!
Hydration is extremely important and keeping a supply of water at home is a must. According to FEMA a normally active person needs to drink half gallon of water per day. That is 2 quarts! People in hot climates, nursing mothers, children and ill people will need more than that.
How Much Drinking Water Should A Family Of Four Keep For An Emergency?
A family of four needs 2 gallons of drinking water per day or 60 gallons per month.
What Drinks Should I Keep In My Pantry During The Covid-19?
Besides drinking water, you should keep low sugar with electrolytes drinks and canned or boxed low sodium broths. Since I have a child with Juvenile Type 1 diabetes, I also keep pouches of sugary juice in case of low glucose.
What Are Good Sources Of Protein To Keep In My Pantry During an Emergency or During COVID19?
Some of the best sources of protein (non-animal protein) are nuts, nut butters, beans and bean spreads like hummus) Good sources of animal protein are canned tuna, canned salmon (fish in pouches work too), canned sardines
Stock Up CONSCIOUSLY. Don't allow fear or greed invade your heart. Visit stores early when less shoppers are around. That is usually when products like milk, eggs and bread are hitting the shelves.

If you are unable to shop, contact a local church, neighbor or use online services like Instacart (download their app). They will do the shopping for you at your local grocery stores and can deliver to your door.