Tom Yum Soup is one of the easiest and quickest soups to make. This Tom Yum Soup recipe made with tender shrimp is absolutely delicious!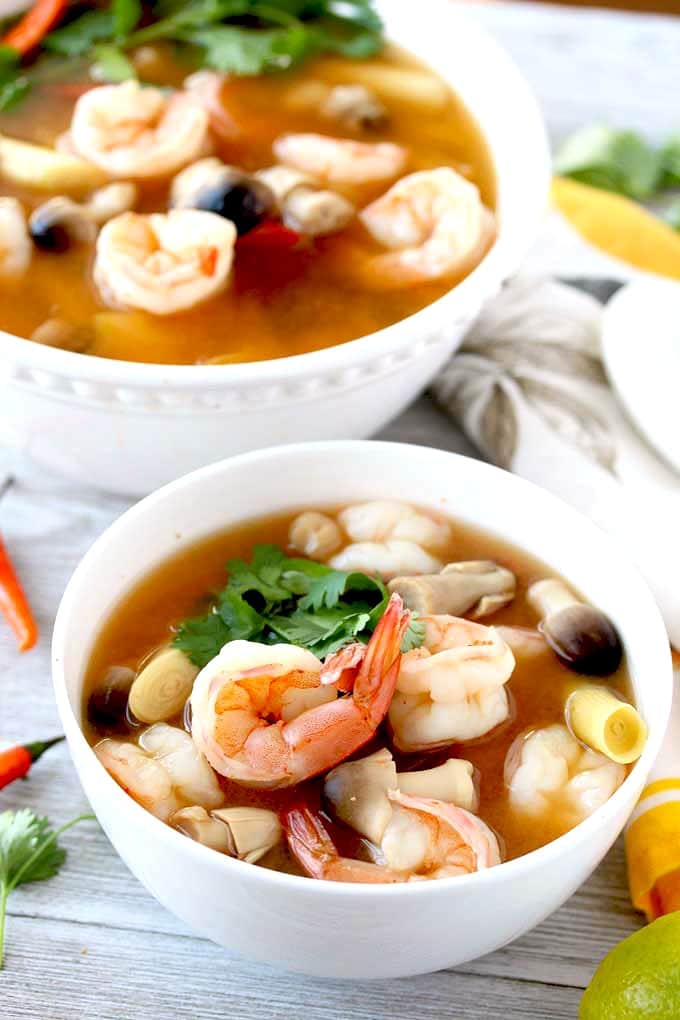 This Tom Yum Soup recipe is the absolute best! The full flavored broth is infused with lemongrass, ginger and Thai chiles. Plump shrimp, mushrooms and fresh cilantro complete this simple and easy to make Thai soup.
Tom Yum or Tom Yum Goon is possibly one of the most popular soup recipes in Thailand. Just like this Coconut Curry Soup, Tom Yum is one we make at home all the time due to its simplicity and amazing flavor.
This soup will seriously knock-your-socks-off! Tom Yum Soup is light, healthy, low-carb, gluten free and packed with flavor! And if you want, you can make it spicy enough to clear out your sinuses (guaranteed!).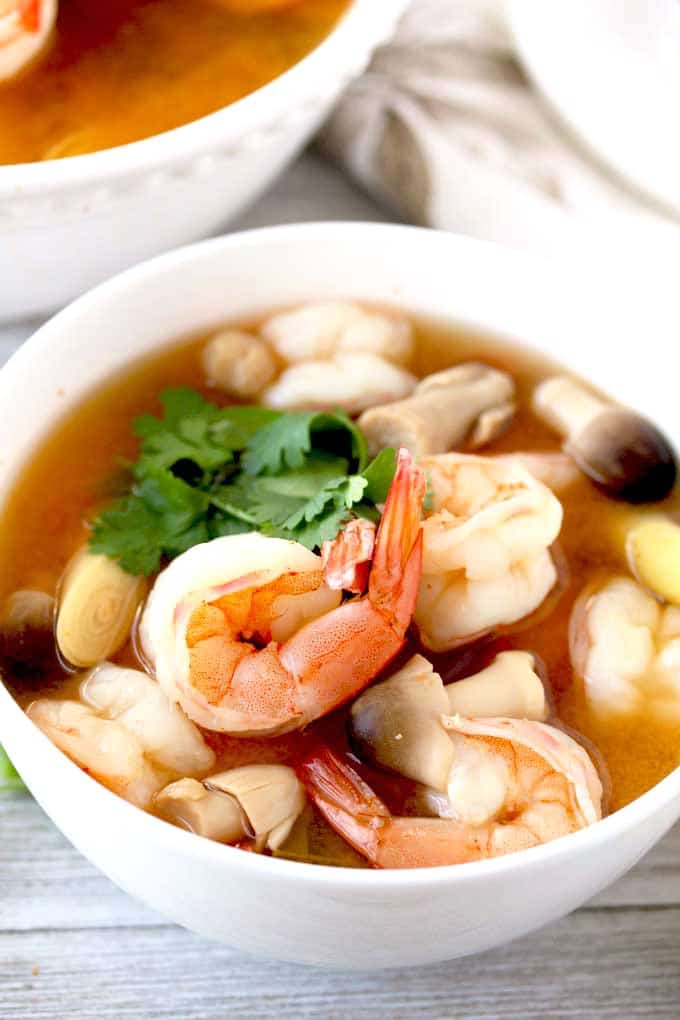 What is Tom Yum Soup?
Tom Yum is a type of Hot and Sour soup that originated in Thailand. Commonly made with shrimp, it can also be made with chicken. In Thailand is sometimes served with sticky rice on the side.
If you are wondering what does Tom Yum means, Tom means "boiling" and Yum refers to the "spicy and sour" flavor.
Tom Yum Soup Ingredients
Authentic Thai Tom Yum soup uses galangal – a root similar to ginger. However, galangal is very hard to find in my neck of the woods so I always use ginger with amazing results.
How To Make Tom Yum Soup
This soup is a breeze to make – which makes you wonder how can you develop so much flavor with such a few ingredients in such little time?
What's The Difference Between Tom Yum and Tom Kha Soup?
Although both are similar in taste, Tom Kha has the addition of coconut milk. Coconut milk makes Tom Kha soup slightly creamier.
Is Thai Tom Yum Soup Healthy?
This tasty Thai soup is low in carbs, gluten free and has very few calories. In Thailand, this soup is consider to have beneficial health properties.
Add In Ideas For This Thai Hot and Sour Soup
Other Thai Recipes You May Like