This Mojo Pork is marinated with the best citrus and garlic Mojo Criollo and slow cooked until fork-tender. The perfect crock pot dump-and-go Cuban pork recipe!
If you love Cuban food as much as we do, you must try my Cuban Mojo Chicken for dinner. It's super easy to make and absolutely delicious!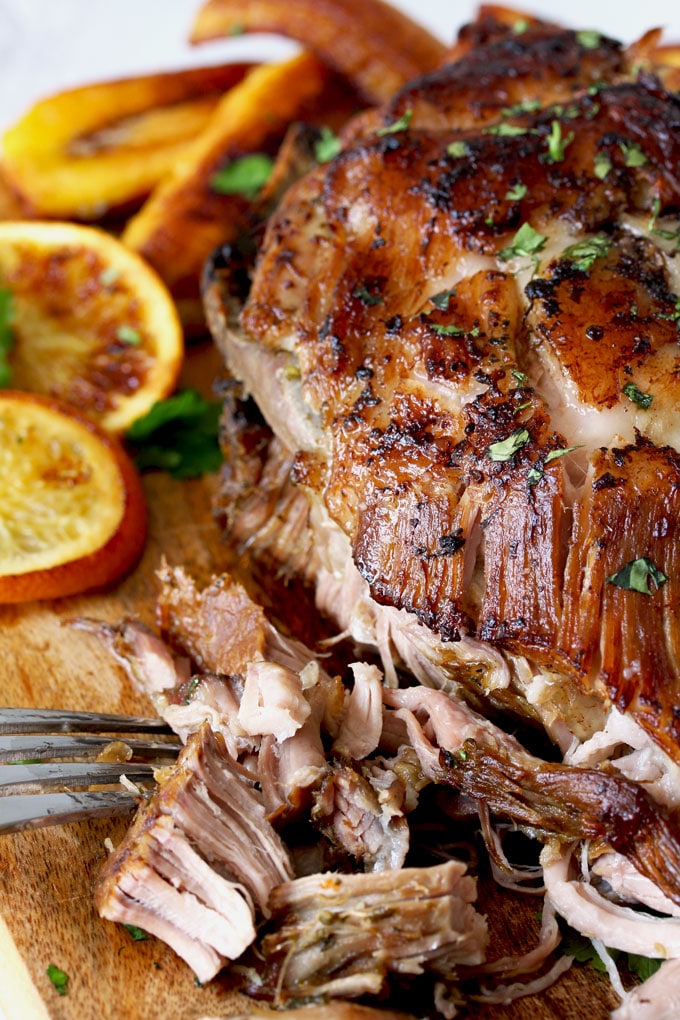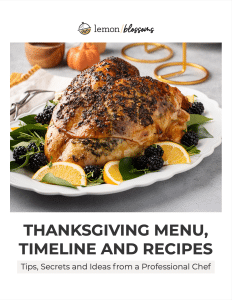 psst… Thanksgiving stress? Not anymore!
Download our limited-time guide to hosting Thanksgiving, as guided by Chef Kathy.
We love Cuban recipes and this slow cooker Cuban pulled pork is packed with flavor and very easy to make. Besides being a great weeknight dinner, Mojo Pork is one of those recipes that is perfect to serve at parties when you need to feed a lot of people on a budget.
Mojo Pork
This Cuban Pork Roast is made with pork butt (pork shoulder) cooked slowly in a mixture of citrus juices, garlic and spices. The meat is so tender and juicy that you can shred it with a fork! After it's completely cooked, I like to roast the pork in the oven for a few minutes just to get a charred, crispy crust. This step is optional, but I highly recommended it.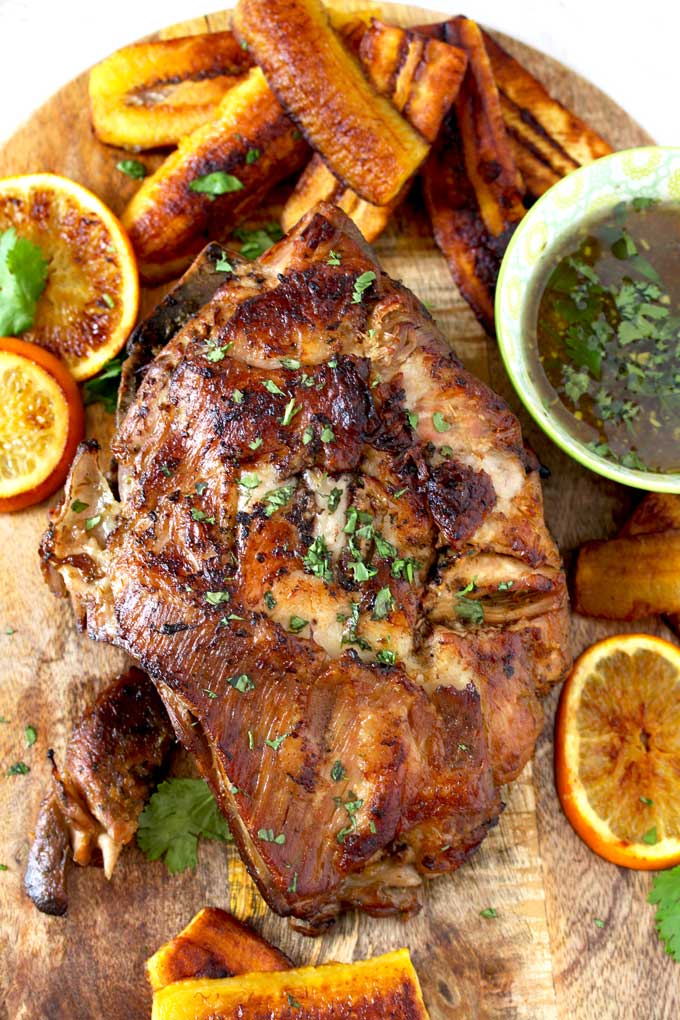 What Is Cuban Mojo?
Cuban Mojo (pronounced MOH-hoh) also known as Mojo Criollo, is a very simple, fresh and flavorful marinade made with sour oranges, garlic, oregano, cumin and olive oil. Cuban Mojo can also be used or served as a sauce or condiment.
Mojo originated in Cuba, although it is also found in other Latin American cuisines. Mojo Criollo is one of those recipes every family makes with different variations and claims as the most authentic Cuban recipe! That includes my grandma who wasn't even Cuban!
Since sour oranges are hard to find in the states, I replicate its flavor by combining freshly squeezed orange juice and lime juice. Try to use fresh citrus juice as bottled orange juice is too sweet.
How To Make Mojo Pork?
With a sharp knife, make a few slits in the pork roast so the flavor of the Mojo marinade can better penetrate the meat.
Place the pork and the Cuban marinade ingredients in the slow cooker. Make sure the pork gets coated with the marinade.
Cover and cook on low for 8 hours or on high for 5-6 hours or until the pork is tender and can be easily shred like pulled pork.
Remove the Mojo pork from the crock pot and place it on a baking sheet.
Roast the pork in a preheated 400 degree oven until the top is golden brown. (This step is optional)
You have questions? We have answers!
Do I Have To Marinate The Pork To Make Cuban Mojo?
Marinating is always a good idea and should be done when time permits. This Mojo Pork recipe cooks for hours in the slow cooker. During this time, the marinade penetrates the meat infusing it with flavor. If time permits however, marinate for 4 hours to overnight in the refrigerator.
This Is What Readers Are Saying About This Mojo Pork Recipe:
"I made this recipe exactly as written. It was amazing! The flavor was spot on. Reminded me of the pork I used to have in Cuba". Angie
"I used pork butt and cooked overnight in the crock pot. The meat was so tender. Flavor was AMAZING." Wendy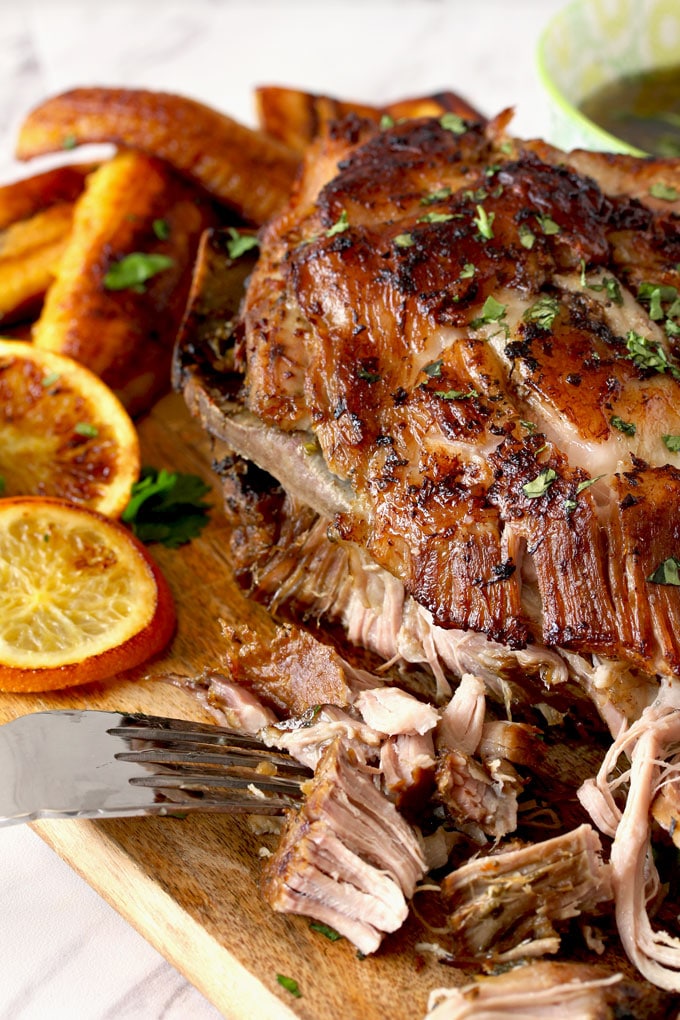 Cuban Pork Recipe Tips
Mojo Pork can be served with the juices from the slow cooker or you can make a quick Mojo sauce (recipe in the notes portion of the recipe card).
Leftover Cuban pork makes the absolute best sandwiches. You can also make quesadillas, burritos or use the slow cooker Mojo pork to top salads or to add to soups.
Roasting the pork is optional, but I highly recommend it.
You can use pork shoulder or pork butt (Boston butt) to make this recipe. Pork Picnic Roast can be used without the skin.
Some people have asked if they can use Goya Mojo or Badia Mojo to make Cuban Mojo Pork. Although I have not personally tried them, I know they are popular products. However, the great thing about this recipe is the fresh, simple and super easy to make homemade Cuban Mojo. It really adds an amazing flavor to Mojo Pork that cannot compare to any bottled product.
This post was first published in 2017 and has been updated to provide the reader with additional information. The recipe remains the same.
Follow me on social media for more recipe ideas & inspiration! Pinterest Facebook Instagram My Newsletter
Slow Cooker Cuban Mojo Pork
This Mojo Pork is marinated with the best citrus and garlic Mojo Criollo and slow cooked until fork-tender. The perfect crock pot dump-and-go Cuban pork recipe!
Prep: 10 minutes
Cook: 6 hours
Total Time 6 hours 10 minutes
Servings 8 servings
Ingredients
1 (4-pounds) pork shoulder or pork butt (bone-in or boneless
1 1/2 teaspoons salt
1 teaspoon ground black pepper
3/4 cup orange juice, freshly squeezed
1/2 cup lime juice, freshly squeezed
Zest of 1 orange
Zest of 1 lime
1/2 cup olive oil
8 cloves garlic, chopped finely
2 teaspoons dried oregano
2 teaspoons ground cumin
1/4 cup chopped cilantro (lightly packed)
Instructions
Using a paring knife, make a few slits all over the surface of the pork. (See Note 1)

Place the pork roast in the slow cooker and add the rest of the ingredients. Make sure the pork gets coated with the marinade.

Cover and cook on high for 5 – 6 hours or on low for 8 or until tender.

At this point, the pork is fully cooked and can be served with the cooking juices or you can make a quick sauce (see Note 2)

To crisp up the top, carefully remove the pork from the slow cooker and place it onto an aluminum foil lined baking sheet. Bake on a preheated 400 degrees F oven for about 15 to 20 minutes or until nicely browned.

Remove from the oven and let it rest for 10 minutes before serving. You will be able to shred the meat with a couple of forks. Yes, it will be that tender!

Serve with the remaining juices from the slow cooker or sauce. (See Note 2)
Chef's Tips
Note 1: You can marinate the pork for 4 hours in the refrigerator if time permits.
Note 2: Serve the Cuban pork with the juices (cooking liquid) from the slow cooker or make a sauce. Here is how to make a quick sauce.
After removing the pork roast from the slow cooker, skim some of the fat off the top. In a small bowl, combine 1 tablespoon of cornstarch with 1 tablespoon of cold water. Mix until the cornstarch is dissolved. Turn the slow cooker to high. Stir in the cornstarch mixture and allow the sauce to cook on high for about 20 minutes (while the pork is in the oven). The sauce will thicken slightly. Serve with the Mojo Pork.
Nutrition
Calories: 140kcal (7%)Carbohydrates: 5g (2%)Protein: 1g (2%)Fat: 14g (22%)Saturated Fat: 2g (13%)Cholesterol: 1mgSodium: 1601mg (70%)Potassium: 76mg (2%)Fiber: 1g (4%)Sugar: 2g (2%)Vitamin A: 94IU (2%)Vitamin C: 15mg (18%)Calcium: 27mg (3%)Iron: 1mg (6%)
* Please note that all nutrition information are just estimates. Values will vary among brands, so we encourage you to calculate these on your own for most accurate results.