Minimal prep and great Cuban flavors! Slow Cooker Cuban Mojo Pork made with citrus, garlic and spices resulting in fork-tender, succulent and delicious pork!
This easy to make, flavor-packed Slow Cooker Cuban Mojo Pork is perfect for large gatherings or weeknight meals! So tender and delicious everyone will love it!! Finish it in the oven for a beautiful browned crispy crust!
I don't even know where to start. This Slow Cooker Cuban Mojo Pork is just one of those meals I make over and over again. Perhaps because I love how easy it is to prepare (big plus on busy weekdays). Maybe because I'm always blown away by how much flavor you get from such simple and common ingredients.
What is Mojo anyway? Well according to the dictionary it is "a magic charm, talisman, or spell" and although we are talking about Cuban Mojo sauce here, I can guarantee this delicious Slow Cooker Mojo Pork will charm your taste buds with it's magic! (cheesy sentence of the week – sorry couldn't help it!)
Cuban Mojo Sauce (and marinade) is made from sour oranges, garlic, oregano, cumin and olive oil. Did I tell you it was simple and with common ingredients? It's almost a vinaigrette that doesn't need any whisking!
Since sour oranges are hard to find in the states, I use a combination of orange juice and lime juice. Fresh is key here, as ready to drink orange juice has too much sugar – we are trying to replicate the flavors of sour oranges!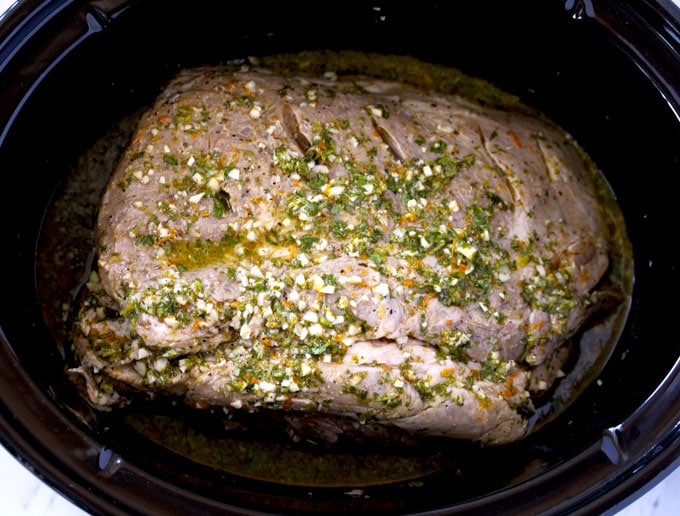 Marinating time is always a plus, but in this case optional! I like putting all the ingredients in a large zip top bag and marinade the pork overnight, but if I forget – sometimes I don't plan ahead, I like living on the edge – then all I do is place all the ingredients in the slow cooker and let it do its' thing! Yes, the famous dump and cook method works here! The pork absorbs all those amazing flavors while cooking slowly in the crock pot.
When the pork is cooked and falling-off the bone tender, it's ready to eat! However, I go one step further. I carefully (remember tender pork you can shred with forks is happening here) place it on a baking sheet and roast it until it gets browned and gorgeous! It only needs about 15 – 20 minutes in the oven for a perfect crispy crust.
Kathy's Notes
Check my recipe for Cuban Mojo Chicken, juicy, tender and roasted to golden brown perfection!
Some people serve Cuban Mojo Pork with a side of mojo sauce (the same sauce you cook the pork in). I think the cooking liquid/drippings left in the slow cooker are absolutely divine and wasting them would be almost sinful in my book! I like to pour the drippings all over my pork – rice, beans, etc.
You can also make a thicker sauce with the drippings by adding a cornstarch slurry (directions provided in the recipe notes). While you brown the pork in the oven, you can cook the sauce in the slow cooker (no need to get any other pots/pans dirty).
You can serve this delicious Slow Cooker Cuban Mojo Pork with fried plantains, rice, beans or go less traditional and enjoy it with some Parmesan Herb Easy Skillet Potatoes, a simple Mexican Three Bean Salad or with this Green Chili Rice Casserole.
Need more easy slow cooker fall-off-the-bone-tender recipes? I highly recommend this Smokey Pulled Pork Pork Chile Verde Style, made into amazing tacos and served with a fresh and tasty pineapple coleslaw.
Leftovers are great for making sandwiches, quesadillas, burritos, and to top salads and soups!
The oven roasting is also optional. If pressed for time, you can serve this dish off the slow cooker!
---
WANT TO TRY THIS SLOW COOKER CUBAN MOJO PORK?
PIN IT TO YOUR DINNER, SLOW COOKER OR PORK BOARD TO MAKE IT LATER!!
FIND ME ON PINTEREST FOR MORE DELICIOUS RECIPES!
Follow me on social for more recipe ideas & inspiration! Pinterest Facebook Instagram My Newsletter
Slow Cooker Cuban Mojo Pork
Easy and succulent Slow Cooker Cuban Mojo Pork made with citrus, garlic and spices resulting in the most tender, delicious and flavored-packed Cuban-style pork. Minimal prep time makes this a perfect meal your family and friends will love!
Prep: 10 minutes
Cook: 5 hours
Total Time 5 hours 10 minutes
Servings 8 servings
Ingredients
1 bone-in pork shoulder (about 4 pounds) pork butt works as well)
11/2 teaspoons salt
1 teaspoon ground black pepper
3/4 cup orange juice, freshly squeezed
1/2 cup lime juice, freshly squeezed
Zest of 1 orange
Zest of 1 lime
1/2 cup olive oil
8 cloves garlic, chopped finely
2 teaspoons dried oregano
2 teaspoons ground cumin
1/4 cup chopped cilantro (lightly packed)
Instructions
Using a paring knife, make a few slits all over the surface of the pork. **See Note 1

To the slow cooker, add the rest of the ingredients. Mix to combine.

Place the pork in the slow cooker and cook on high for 5 - 6 hours or on low for 8 - 10 hours. *See Note 2

The pork should be tender and almost falling of the bone!. Carefully remove it from the slow cooker and place it onto an aluminum foil lined baking sheet.

Bake at 400 degrees Fahrenheit for about 15 to 20 minutes or until browned.

Remove from the oven and let it rest for 10 minutes before serving. You will be able to shred the meat with a couple of forks, yes, it will be that tender!

Serve with the remaining juices from the slow cooker *See Note 2
Chef's Tips
Note 1. You can place the pork and the rest of the ingredients and marinade for 4 hours or overnight. Note 2. You can serve your pork with the cooking liquid from the slow cooker as is or you can add a cornstarch slurry to thicken it. This is how you do it:
As soon as you remove the pork from the slow cooker:
Skim some of the fat off the top
Mix 1 tablespoon of cornstarch with 1 tablespoon of cold tap water
Add the cornstarch mixture into the slow cooker and mix to combine. Cook on high for 30 minutes (while the pork is in the oven). Serve with the pork.
Nutrition
Calories: 294kcal (15%)Carbohydrates: 4g (1%)Protein: 27g (54%)Fat: 23g (35%)Saturated Fat: 5g (31%)Cholesterol: 92mg (31%)Sodium: 1706mg (74%)Potassium: 547mg (16%)Sugar: 1g (1%)Vitamin A: 100IU (2%)Vitamin C: 15.7mg (19%)Calcium: 46mg (5%)Iron: 2.4mg (13%)
* Please note that all nutrition information are just estimates. Values will vary among brands, so we encourage you to calculate these on your own for most accurate results.
---
NEVER MISS A RECIPE!
If you've tried this or any other of my recipes, don't forget to rate the recipe and to leave me a comment. I love hearing from you!
---
 Things You May Need
Slow Cooker
Lemon Lime Squeezer – Manual Citrus Press Juicer
Citrus Lemon Zester
Ground Cumin