Not too spicy and super cheesy, this Skillet Cheddar Jalapeno Sweet Potato Cornbread is moist and savory with a little hint of natural sweetness from the perfectly oven roasted sweet potatoes.

I love cornbread and I am crazy about sweet potatoes, so why not combine both and create this delicious skillet full of yam-y goodness. Sweet Potato Cornbread!!!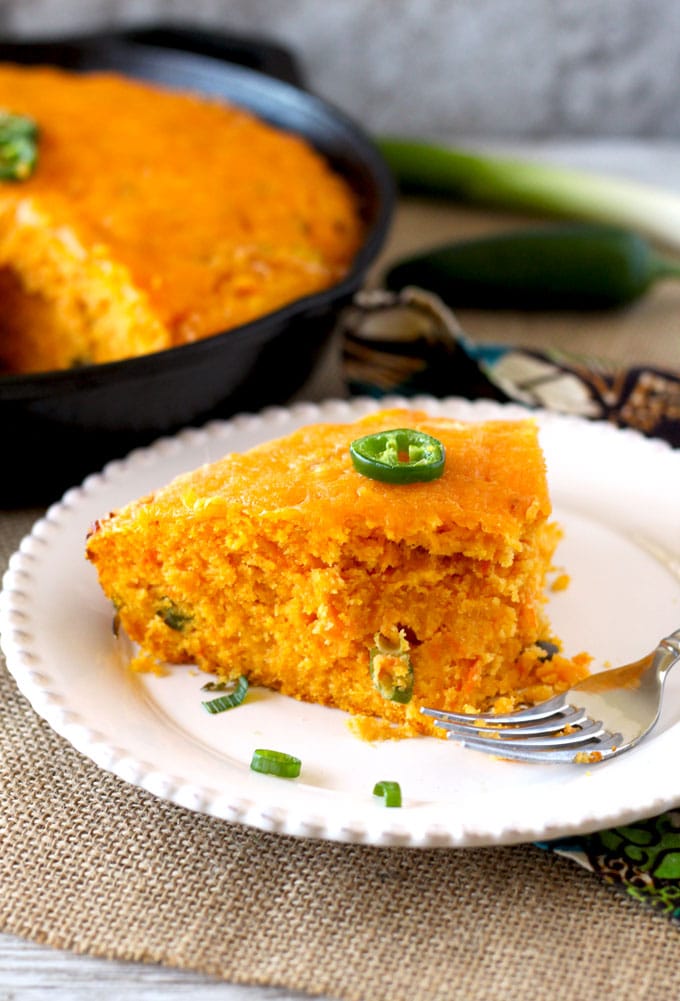 Let me tell you a secret, my kids do not like sweet potatoes. They have never ever like them. I remember making homemade-all organic-all natural-perfect-smashed sweet potato baby food (maybe that was for baby number one, by the second baby maybe I just bought a jar at the market, I don't know, who can remember?) – Anyway, after all the time, love and care I put into preparing this very special baby meal, my kids would just make a face and spit it out! All my work and dedication sprayed all over the high chair and me! Oh the joys!
So of course when I decided to add sweet potato to their favorite cornbread recipe, I thought I may have to deal with riots and whining and "why, mom why???"
Hopeful and with great determination (I can be a stubborn chef and tell you what to eat and how), I went ahead anyway and as Chef Emeril would say BAM!!
Skillet Cheddar Jalapeno Sweet Potato Corn Bread
First, I hooked my family with the amazing aromas coming out of the oven while this delicious sweet potato corn bread bakes.
Second, I made sure to point out the super melt-y-cheesy top. Who wouldn't get sold with that?
Then, I made a comment about the super amazing golden-sunset color of this bread….. I live with picky boys and trust me the hubs is the pickiest of them all! So I have used all sorts of tricks to make them try new things.
They couldn't wait to try it! But then of course one asked "why is it so orange?" So speaking fast and with my heaviest accent I mumble "I added sweet potato!" By then, they already had the first bite and were going for more. Success!
After they devoured almost the whole sweet potato corn bread skillet, they admitted to really, really liking it. They asked me to make it again and vaguely reminded me about how much they dislike sweet potatoes…. SUCCESS!
Kathy's Notes
Adjust the amount of jalapenos to your liking. This recipe calls for 2 ounces, I used exactly half a can of this diced jalapenos. You can use more or omit them.
Want more cheese? Go for it!
You need 1 1/2 cups of mashed sweet potato. I roasted 2 large ones and I had enough for this recipe. To save time you can cook them in the microwave.
Serve this delicious Skillet Cheddar Jalapeno Sweet Potato Corn Bread with this Chile Colorado Beef Stew
Follow me on social for more recipe ideas & inspiration! Pinterest Facebook Instagram My Newsletter
Skillet Cheddar Jalapeno Sweet Potato Cornbread
Not too spicy and super cheesy, this Skillet Cheddar Jalapeno Sweet Potato Cornbread is moist and savory with a little hint of natural sweetness from the oven roasted sweet potatoes.
Prep: 10 minutes
Cook: 55 minutes
Total Time 1 hour 5 minutes
Servings 8 servings
Ingredients
1 - 2 large sweet potatoes, you will need 1 ½ cups of cooked mashed sweet potato
1 ½ cups yellow cornmeal
1 cup all-purpose flour
¼ cup sugar
1 tablespoons baking powder
1 teaspoon salt
2 large eggs
½ cup sour cream
¾ cup milk
2 ounces diced jalapenos
2 tablespoons mild flavored oil, vegetable, canola, safflower, plus more to coat the skillet.
3 tablespoons green onions, sliced
1 ½ cups cheddar cheese, shredded, divided
Instructions
Preheat the oven to 400 degrees Fahrenheit. Roast the sweet potato for about 35 - 45 minutes or until tender and cooked through. Remove from the oven and let it cool for a few minutes.

Remove all the pulp from the sweet potato and mash it until smooth. Reserve.

Coat the inside of a 10-inch cast iron skillet with oil. Place the skillet in the oven and preheat to 425 degrees Fahrenheit.

While the oven and skillet are preheating, stir together the cornmeal, flour, sugar, baking powder and salt in a large bowl.

In a separate bowl, whisk together 1 ½ cup of the mashed sweet potato, eggs, sour cream, milk and 2 tablespoons of oil until smooth.

Stir the wet ingredients into the dry ingredients and mix to combine. Add the diced jalapenos, sliced green onions and ½ cup of shredded cheese. Fold gently until well incorporated.

Take the preheated skillet from the oven and carefully pour in the cornbread batter. Smooth the top and return the skillet to the oven.

Bake for about 20 to 25 minutes or until the top is golden, carefully remove from the oven and top with the remaining cheese. Return to the oven and bake for a few minutes until the cheese melts.

Remove from the oven and serve.
Chef's Tips
You will need 1 ½ cups of cooked mashed sweet potato for this recipe.
Nutrition
Calories: 387kcal (19%)Carbohydrates: 46g (15%)Protein: 12g (24%)Fat: 17g (26%)Saturated Fat: 7g (44%)Cholesterol: 72mg (24%)Sodium: 471mg (20%)Potassium: 429mg (12%)Fiber: 4g (17%)Sugar: 9g (10%)Vitamin A: 2800IU (56%)Vitamin C: 9.3mg (11%)Calcium: 276mg (28%)Iron: 2.2mg (12%)
* Please note that all nutrition information are just estimates. Values will vary among brands, so we encourage you to calculate these on your own for most accurate results.
Things You May Need
Pre-Seasoned Cast Iron Skillet
Potato Masher
Yellow Cornmeal