Parker House Rolls are fluffy, buttery, soft and incredibly delicious! This foolproof yeast Parker House rolls recipe come together easily and are a great addition to any meal.
When it comes to homemade dinner rolls I admit, I always go back for seconds. I have a hard time resisting fresh out of the oven bread. Especially spread with some honey butter. If you love homemade bread as much as I do, check my soft Homemade Dinner Rolls and these flaky Buttermilk Biscuits.
Parker House Rolls
There's nothing quite like fresh out of the oven homemade dinner rolls! They are always the perfect side dish to any meal and the best companion to comfort food dishes like Beef Stew, Instant Pot Pot Roast and Creamy Chicken with Mushrooms!
Bread rolls are a must on any holiday table. I don't know about you, but I love soaking my bread in homemade gravy and pipping hot soups. Pure deliciousness!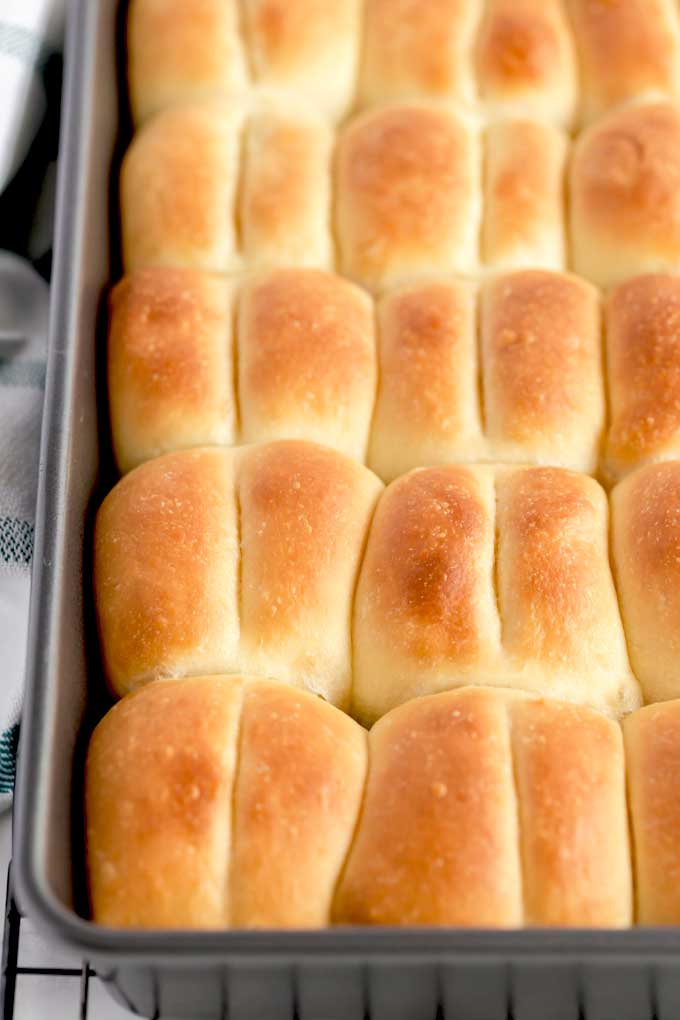 Parker House Rolls Recipe Ingredients
Bread Flour: I like using a combination of flour for this recipe. Bread flour helps the bread rise upwards due to its high protein content.
All-Purpose Flour: This type of flour gives the bread structure while keeping its texture light.
Active Dry Yeast
Unsalted Butter: Butter makes everything more decadent while adding flavor and texture.
Milk: I prefer using whole milk as they make the dough richer.
Sugar: Sugar feeds the yeast and adds a slight sweetness to the bread.
Salt: Adds flavor to the dough.
How To Make Parker House Rolls
First, proof the yeast by combining the warm water, yeast and some sugar. You can read more about Proofing Yeast in the Chef's Tips below.
Melt the butter and mix it with the milk. Heat the mixture until is lukewarm, between 110 and 115 degrees F (think of the temperature of a baby bath).
Combine the yeast mixture with the milk mixture and the remaining sugar. Add the bread flour and salt and mix to combine.
Add the all-purpose flour and mix until just incorporated.
Dump the dough onto a clean work surface and bring the dough together into a ball. The dough will be sticky.
Knead the dough for 8 to 10 minutes, adding all-purpose flour as needed. The dough should be elastic, smooth and a bit sticky.
Form the dough into a ball and place it in a bowl. Let the dough rest for about one hour or until doubled in size.
Butter a baking pan. Divide the dough into equal pieces and form each into a ball.
Place the rolls in the baking pan and allow the dough to rest one more time for about 45 minutes.
Make a crease on each roll by using a chopstick or ruler. Brush the rolls with butter and bake.
Why Are They Called Parker House Rolls?
Where Did They Originated? These tender and light rolls were a 19th century staple of the Parker House, a famous upscale Boston hotel. This is the same hotel that created the Boston Cream Pie. Legend has it that an angry hotel baker threw some unfinished dough into the oven and these tasty buttery dinner rolls were created!
Can I Freeze Parker House Rolls?
Yes! You can freeze these dinner rolls before or after baking them.
Freezing Baked Rolls: To freeze already baked Parker House Rolls, cool the rolls completely before placing them in a resealable freezer bag or airtight container.
Freezing Unbaked Rolls: To freeze unbaked rolls, shape the rolls and place them on the baking pan or baking sheet. Place the baking pan in the freezer for about 2 hours. Remove from the freezer and place the rolls in a resealable freezer bag. Freezing the dinner rolls this way prevents them from sticking together. Remove the unbaked rolls from the freezer 2 – 3 hours before you are ready to bake them so the dough has time to thaw out.
How Do You Reheat These Homemade Rolls?
To reheat baked Parker house rolls, place them on a parchment paper baking sheet and warm them up in a preheated 300 degrees oven until heated through.
Foodie Science Stuff – Proofing Yeast
What does Proofing Yeast Means?
Proofing yeast means to proof that your yeast is alive and active. Although it may sound like a difficult task, it is as simple as combining 2 ingredients and waiting 5 to 10 minutes!

Simply add the yeast into a container filled with a small amount of warm water or milk. The liquid temperature should be between 110 and 115 degrees F. Some recipes will ask you to add sugar to this mixture. Sugar helps activate the yeast.
After 5 to 10 minutes, the mixture should be foamy. Don't expect lots of foam, some bubbles will do.

If you don't see any bubbles, simply toss the mixture and start over.

Why Is my yeast not foaming? There are many reasons why the yeast is inactive (dead), for example:
The water was too warm or too cold.
The yeast is expired.
Although the expiration date on the package tells you the yeast should be active, it died due to temperature changes while in transit (from warehouse to market, etc).
Too much salt was added or was added too early when proofing the yeast, not allowing the yeast to develop properly.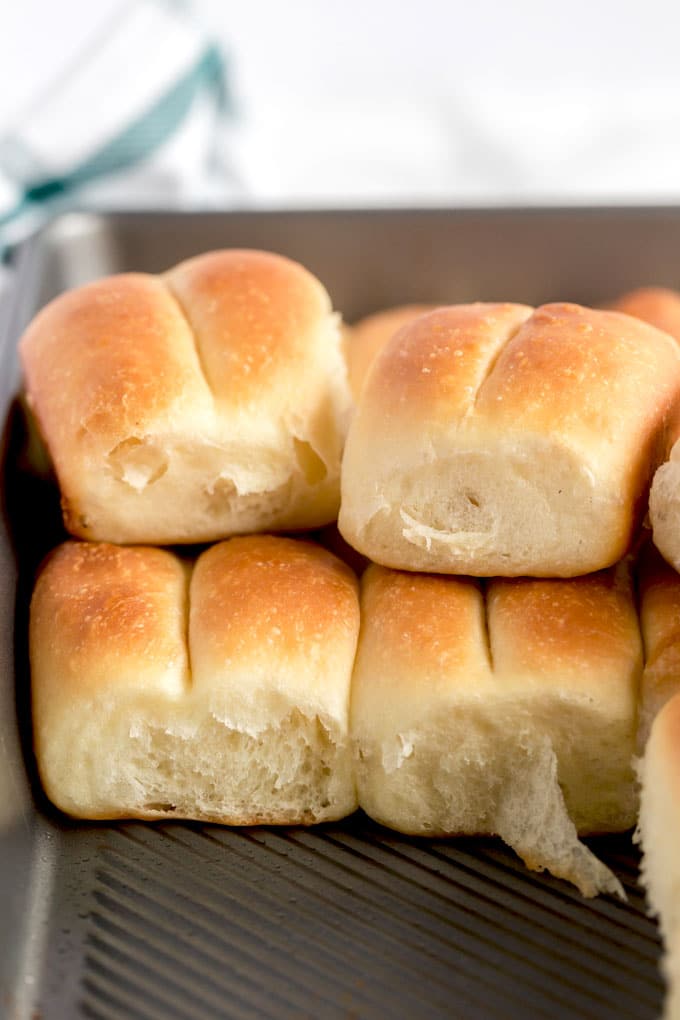 Parker House Rolls Recipe Tips
To make this homemade bread even more decadent, brush the warm rolls with melted butter and sprinkle them with flaky salt.
Enjoy these soft and tender Parker House Rolls with some of our favorite soups and stews recipes.
Other Amazing Bread Recipes:
Follow me on social media for more recipe ideas & inspiration! Pinterest Facebook Instagram My Newsletter
Parker House Rolls
This Parker House Rolls are fluffy, buttery, soft and hard to resist! This easy to make dinner rolls are absolutely delicious!

Prep: 40 minutes
Resting Time: 2 hours
Cook: 20 minutes
Total Time 3 hours
Servings 20 rolls
Ingredients
3 tablespoons warm water (105 to 115 degrees F)
3 tablespoons sugar divided
1 (1/4 -ounce) package active dry yeast (2 1/2 teaspoons)
8 tablespoons (1 stick) unsalted butter, divided
1 cup whole milk
2 cups bread flour
1 1/2 teaspoons salt
3/4 cups all-purpose flour plus more as needed
Additional butter for the bowl and baking pan.
Instructions
In a small bowl, stir together the warm water, 1 tablespoon of sugar and yeast until it dissolves. Let the mixture stand for a few minutes or until you see bubbles resembling foam. This is the way of proofing yeast to make sure it is "alive". If the mixture doesn't foam, then you need to start over.

In a small saucepan over low heat, melt 6 tablespoons of butter. Stir in the milk and heat the mixture until lukewarm, about 110 to 115 degrees F. You can use the microwave, if you prefer.

Pour the butter and milk mixture into a large bowl. Add the yeast mixture and the remaining 2 tablespoons of sugar. Add the bread flour and salt and using a wooden spoon, mix until just combined. Stir in the ¾ cups of all-purpose flour and mix until just incorporated.

Dump the dough onto a clean work surface and begin to bring the dough together into a ball. If the dough is too sticky, add more all-purpose flour in small increments (use up to ½ cup of additional a/p flour). The dough should be slightly sticky, yet easy to handle.

Knead the dough for about 8-10 minutes, adding extra flour if needed until the dough is smooth, elastic yet a bit sticky.

Form the dough into a ball and place it in a large bowl greased with butter. Cover with plastic wrap or a towel and let the dough rest in a draft free place, for about an hour or until doubled in size.

Butter a 9×13-inch baking pan. Divide the dough into 20 equal pieces. Roll each one into a ball and arrange evenly in 4 rows of 5 in the baking pan. Cover loosely with plastic wrap and let rise in a warm, draft free place until almost doubled in size, about 45 minutes.

Using a floured chopstick or the edge of a ruler, make a deep crease down the center of each row of rolls. Let rolls rise, loosely covered for 15 minutes.

Preheat oven to 375 degrees F and place a rack in the center of the oven.

Melt the remaining 2 tablespoons of butter and cool slightly. Brush the tops of the rolls with butter and place in the oven for 20-25 minutes, until golden brown. Cool rolls in the pan for 5 minutes then remove and serve warm.
Nutrition
Calories: 117kcal (6%)Carbohydrates: 15g (5%)Protein: 2g (4%)Fat: 5g (8%)Saturated Fat: 3g (19%)Cholesterol: 13mg (4%)Sodium: 181mg (8%)Potassium: 34mg (1%)Fiber: 1g (4%)Sugar: 2g (2%)Vitamin A: 160IU (3%)Calcium: 18mg (2%)Iron: 1mg (6%)
* Please note that all nutrition information are just estimates. Values will vary among brands, so we encourage you to calculate these on your own for most accurate results.