These Breakfast Tacos made with soft tortillas, scrambled eggs and all of your favorite toppings is one of my go-to easy breakfast recipes for any day of the week. This breakfast taco recipe can be easily customized and is ready in about 30 minutes!
Serve these tasty breakfast tacos with Pico de Gallo or salsa fresca, the best restaurant-style Homemade Mexican Salsa, corn salsa and my creamy easy Guacamole recipe!
The Best Breakfast Tacos
My oldest son's favorite meal of the day is breakfast. He is always happy to have breakfast for dinner (or lunch/brunch) and I can confidently say that growing up in California that often meant breakfast tacos or breakfast burritos with all the fixings!
Breakfast Tacos are a delicious and fun way to switch up your breakfast routine. These satisfying tacos can be customized to please picky eaters, they can accommodate anyone with a special diet and can be made super healthy or as rich and decadent as you want.
Breakfast Tacos Ingredients
The essential ingredients to make homemade breakfast tacos are eggs, cheese and soft tortillas. You can use corn or flour tortillas. Although I always say that tacos are never to be made with four tortillas, in Texas I had breakfast tacos and all were made with soft flour tortillas. I didn't complained once!
Check the recipe card below for ingredients and their exact measurements.
Eggs: I use large eggs.
Cheese: Shredded cheddar, Monterrey Jack, queso fresco or any other cheese you like.
Tortillas: Soft flour or corn tortillas.
Bacon: At home, we like bacon extra crispy. I always cook bacon in the oven. It's easy, it can be made in big batches and you don't have to worry about making a big mess in the kitchen.
Frozen Potatoes: i use frozen potatoes thawed out for convenience. Potatoes O'Brien, diced or country-style potatoes also work.
Butter: I use butter to cook the eggs. You can use coconut oil, olive oil or bacon fat.
Spices: I like adding spices to the potatoes for a little extra flavor. Paprika, chile pepper, cayenne pepper and even homemade Cajun seasoning are great options.
Optional Toppings: Pickled Jalapeños, corn or corn salsa, sour cream, chopped tomatoes, avocados, chopped fresh cilantro.
How To Make Breakfast Tacos
In a skillet over medium heat, cook the chopped bacon until your desired crispiness.
Drain all but 1 or 2 tablespoons of bacon grease and add the potatoes to the skillet.
Cook the potatoes until tender, Stir in the paprika,
When the potatoes are golden brown and a bit crispy, season with salt and pepper to taste.
Beat the eggs with a bit of salt, pepper and a generous dash of hot sauce (optional).
Wipe the skillet clean and melt the butter.
Scramble the eggs over low heat.
When the eggs are set, stir in the cheese. Mix until melted.
Load warm tortillas with the crispy potatoes, cheesy scrambled eggs and bacon and top with your favorite toppings.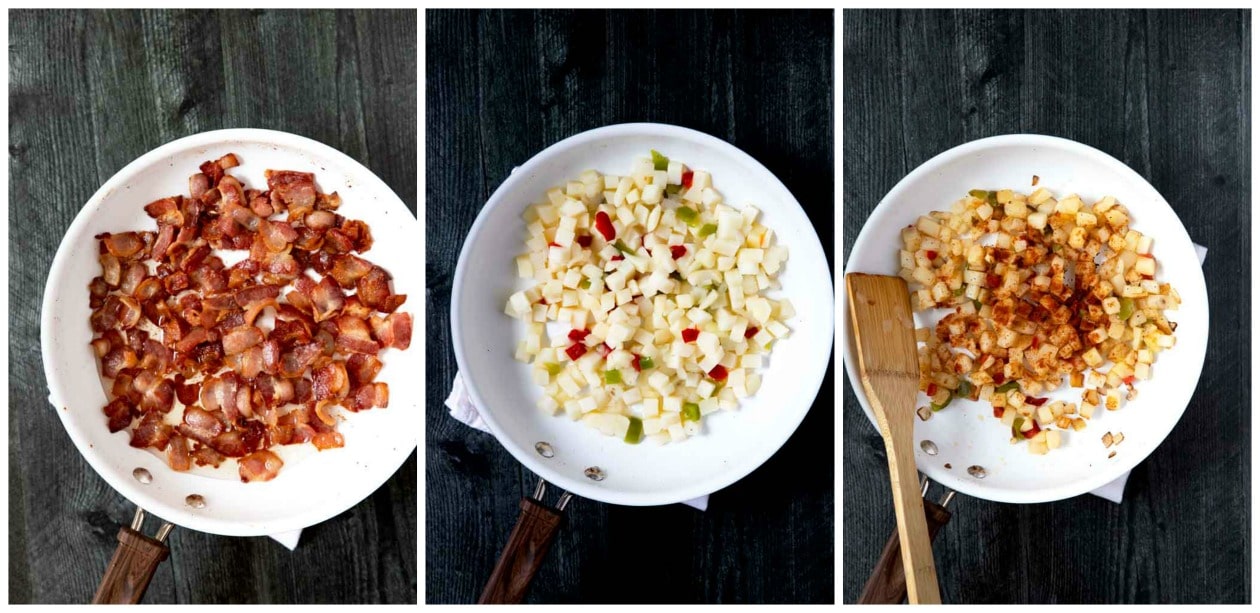 I like to warm up my tortillas wrapped in a towel in the microwave. Sometimes I char them a bit in a dry cast iron skillet over high heat.
Possible Variations To Customize Your Tacos
Make these breakfast taco recipe your own. Add refried beans or Charro Beans. make them vegetarian or try Hollandaise sauce for the most upscale taco ever!!
Switch up the meats: Aside from crispy bacon, you can cook up some Mexican chorizo, ground beef (taco meat), ground turkey or chicken, sausage and even pork carnitas. My Instant Pot pork carnitas and my crock pot carnitas make for the best leftovers!
Add extra veggies: Sliced mushrooms, chopped or sliced onions, bell peppers, spinach, roasted sweet potatoes are great additions.
Add sauces for additional flavor: Sour cream, chipotle mayo, green salsa, guacamole, taco sauce or Hollandaise sauce among others.
Spice it up: Add some seasoning to the eggs, hash browns or breakfast potatoes. Taco seasoning, seasoned salt, cumin, ground coriander, ground chili, are all good!
You have questions? We have answers!
Are breakfast tacos a Texas thing?
Tacos are plentiful in Texas and a must have breakfast item in Austin. Just like BBQ, tacos for breakfast are very popular thanks to the Mexican cultural influence in the area.
Can I make these recipe with egg whites only?
Yes! If only using the egg whites, increase the amount to 10 to 12 eggs.
If you don't use bacon or bacon grease to cook and crisp the potatoes, add 1 tablespoon of oil to the recipe.
Can I Freeze Breakfast Tacos?
Yes! To make these tacos freezer friendly, simply wrap the filling ingredients in the tortilla (as if it was a burrito), wrap in parchment paper or foil and place in a resealable freezer bag. To reheat, simply put the frozen taco in the microwave and heat up until warm through. If you use parchment paper as wrapper you can microwave it as is. The only topping that freezes well is salsa!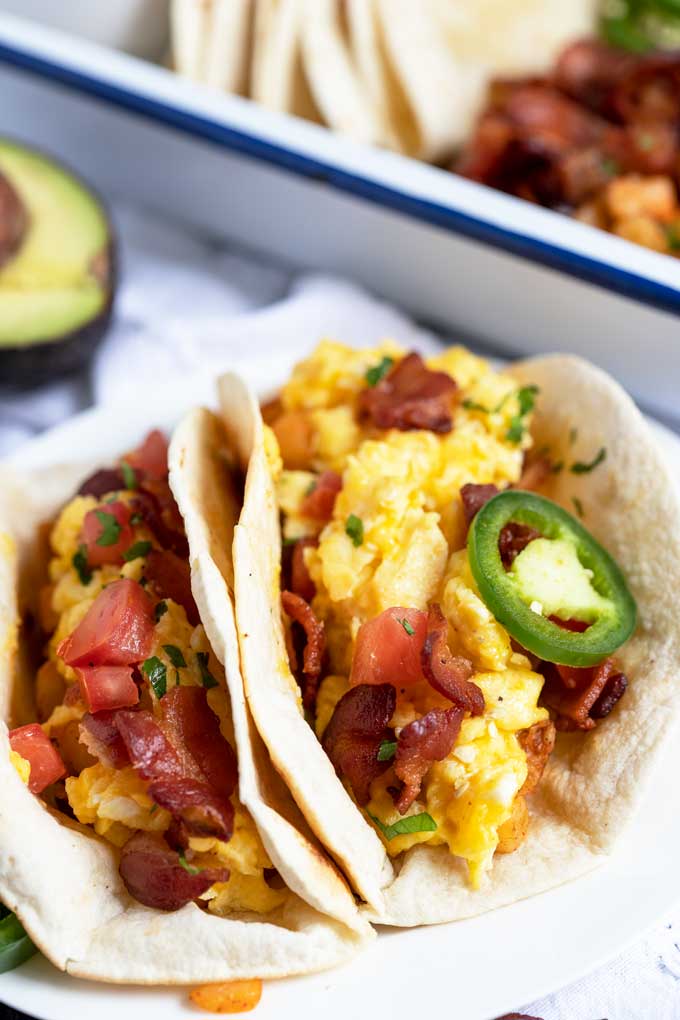 Take A Look At These Other Breakfast Recipes:
Follow me on social media for more recipe ideas & inspiration! Pinterest Facebook Instagram My Newsletter
The Best Breakfast Tacos
These Breakfast Tacos made with soft tortillas, scrambled eggs and all of your favorite toppings is one of my go-to easy breakfast recipes for any day of the week. This breakfast taco recipe can be easily customized and is ready in about 30 minutes!
Prep: 10 minutes
Cook: 20 minutes
Total Time 30 minutes
Servings 8 tacos
Ingredients
8 slices bacon, chopped into 1 to 1/2 inch pieces
1 1/2 cup frozen breakfast diced potatoes (thawed) *see notes
1/2 teaspoon paprika
1 tablespoon butter
8 eggs
Dash of hot sauce (optional)
1/2 cup shredded cheddar cheese
8 taco size flour tortillas, warmed
Optional Toppings
Avocado slices
Salsa
chopped cilantro
chopped onions
sliced pickled jalapenos
Instructions
Heat a large nonstick skillet over medium high heat. Add the bacon and cook stirring often until browned and crisp, about 5 minutes. Transfer the bacon to a plate lined with paper towels to drain.



Remove all but 1 tablespoon of the bacon drippings from the skillet. Add the potatoes and cook for about 6 minutes or until the potatoes are tender. Season with the paprika and salt and pepper to taste. Remove the potatoes from the skillet.

In a medium bowl, beat the eggs with a generous pinch of salt and pepper and a dash of hot sauce. Wipe out the skillet and melt the butter over medium-low heat. Add the eggs and cook and scramble eggs until set. Stir in cheese and remove from the heat.



To assemble the tacos, layer the tortillas with the potatoes, scrambled eggs and bacon. Top with any additional toppings. Serve warm.


Chef's Tips
You can use any breakfast diced potato like "Diced Hash Brown Potatoes" or "Potatoes O'Brien"
Instead of frozen potatoes, you can use 1 large russet potato, peeled and diced.
While cooking the eggs, you can keep the potatoes and bacon warm by placing them in a preheated 300 degree oven.
Nutrition
Calories: 301kcal (15%)Carbohydrates: 20g (7%)Protein: 13g (26%)Fat: 19g (29%)Saturated Fat: 7g (44%)Cholesterol: 189mg (63%)Sodium: 471mg (20%)Potassium: 235mg (7%)Fiber: 1g (4%)Sugar: 2g (2%)Vitamin A: 420IU (8%)Vitamin C: 1.1mg (1%)Calcium: 110mg (11%)Iron: 2.1mg (12%)
* Please note that all nutrition information are just estimates. Values will vary among brands, so we encourage you to calculate these on your own for most accurate results.