Breakfast Tacos – Incredibly delicious tacos made with warm tortillas loaded with golden potatoes, crispy bacon, fluffy scrambled eggs, cheese and all the toppings. These easy to make breakfast tacos are a great way to start the day!
My oldest son's favorite meal of the day is breakfast and yes, he can eat breakfast foods any time of the day. Breakfast tacos and breakfast burritos are by far his favorite.
I used to think breakfast tacos were only something I could make during the weekend when I had plenty of time, but honestly if you plan ahead and have an action plan, you can enjoy this easy breakfast recipe any day of the week.
Here are some tips that will help you make this breakfast recipe in 30 minutes or less:
Use frozen breakfast potatoes or hash browns. Breakfast potatoes cook faster than raw potatoes and not only will speed up the cooking time but also the prep time. No scrubbing, peeling or dicing potatoes – that is a huge time savings!
Thaw out the amount of potatoes you need the night before and be ready for some quick cooking.
Although cooking chopped bacon in a skillet doesn't take that long, save extra time by cooking the bacon in the oven the night before.
Instead of bacon, use store bought diced ham (I do this on particularly busy days) – the already pre-cooked diced ham only needs to be warmed up. A minute or so in the skillet is all that is needed. You can also add the ham to the set scrambled eggs.
Breakfast Tacos Ingredients
Eggs
Frozen Potatoes (thawed out) – I used Potatoes O'Brien but simply diced or country style potatoes also work.
Bacon
Butter
Cheddar Cheese – feel free to use your favorite cheese.
Flour Tortillas – I am a firm believer that tacos are meant to be served in a corn tortilla – unless it is a breakfast taco! (why do I dare engage in that debate? I wish I knew!)
Hot Sauce (optional) – Adding a dash of hot sauce to the egg mixture adds flavor (and not a lot of heat) to scrambled eggs. My favorite hot sauces for scrambling eggs are Texas Pete and Louisiana.
Optional Toppings
Chopped Tomatoes
Chopped Cilantro or Parsley
Extra Cheese
Avocado
Salsa
How To Make Breakfast Tacos
In a skillet over medium heat, cook the chopped bacon until your desired crispiness.
Drain all but 1 or 2 tablespoons of bacon grease and add the potatoes to the skillet.
Cook the potatoes until tender, Stir in the paprika,
When the potatoes are golden brown and a bit crispy, season with salt and pepper to taste.
Beat the eggs with a bit of salt, pepper and a generous dash of hot sauce (optional).
Wipe the skillet clean and melt the butter.
Scramble the eggs over low heat.
When the eggs are set, stir in the cheese. Mix until melted.
Load warm tortillas with the crispy potatoes, cheesy scrambled eggs and bacon and top with your favorite toppings.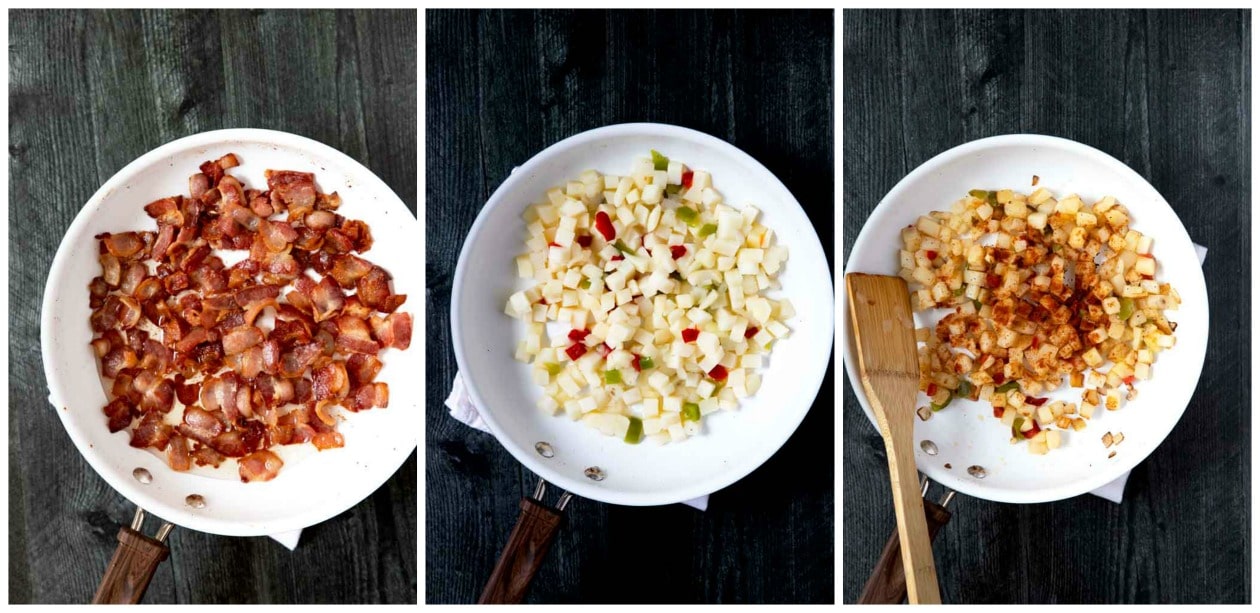 I like to warm up my tortillas wrapped in a towel in the microwave. Sometimes I char them a bit in a dry cast iron skillet over high heat.
Breakfast Taco Variations
These ridiculously simple and extremely tasty breakfast tacos are your "basic" flavor combination for a traditional morning meal. You can sub ingredients and create your own taco recipe. Here are a few ideas:
Try this savory combination of scrambled eggs, sauteed mushrooms, caramelized onions and Swiss cheese.
Carnitas, roasted green chiles, scrambled eggs, Cotija cheese, salsa make for a super tasty Mexican style taco.
Add a Southwestern spin to your taco with chorizo, black beans, breakfast potatoes, Cotija cheese and cilantro.
Make a vegetarian breakfast taco with hash browns, scrambled eggs, green onion, jalapenos, Monterrey Jack cheese, avocado and top it with sour cream.
Fancy up your tacos for a special holiday brunch or celebration with smoked salmon, red onion, capers and Hollandaise Sauce.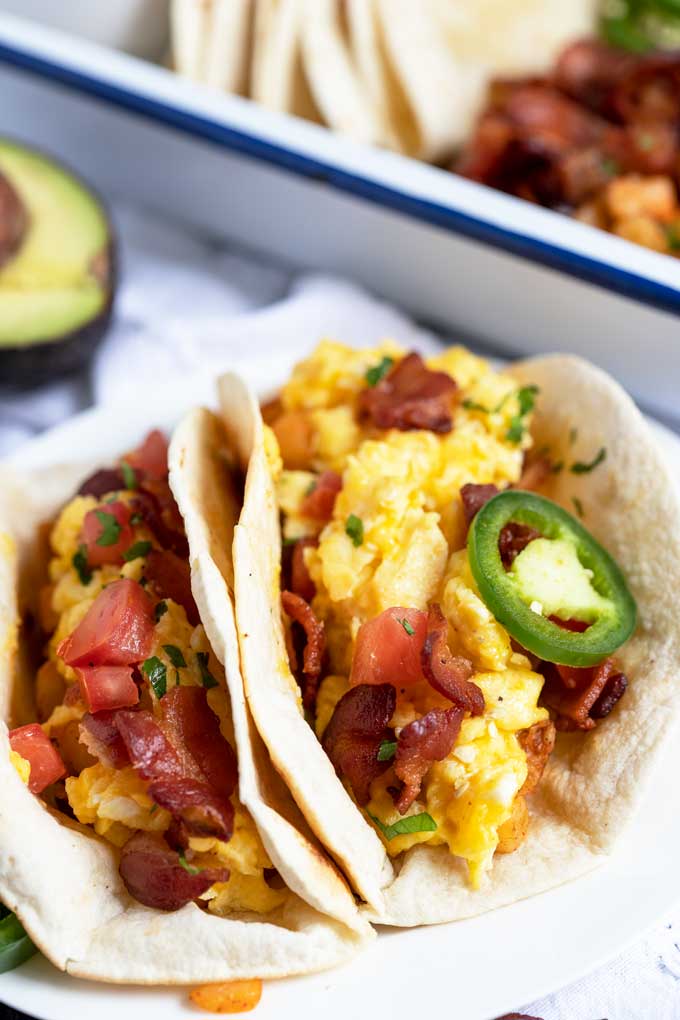 Can I freeze breakfast tacos?
Yes! To make these tacos freezer friendly, simply wrap the filling ingredients in the tortilla (as if it was a burrito), wrap in parchment paper or foil and place in a resealable freezer bag. To reheat, simply put the frozen taco in the microwave and heat up until warm through. If you use parchment paper as wrapper you can microwave it as is. The only topping that freezes well is salsa!
Can I make these recipe with egg whites only?
Yes! If only using the egg whites, increase the amount to 10 to 12 eggs.
If you don't use bacon or bacon grease to cook and crisp the potatoes, add 1 tablespoon of oil to the recipe. 
Take A Look At These Other Breakfast Recipes:
Follow me on social media for more recipe ideas & inspiration! Pinterest Facebook Instagram My Newsletter
Breakfast Tacos
Incredibly delicious Breakfast Tacos made with warm tortillas loaded with golden potatoes, crispy bacon, fluffy scrambled eggs, cheese and all the toppings. These easy to make breakfast tacos are a great way to start the day!


Prep: 10 minutes
Cook: 20 minutes
Total Time 30 minutes
Servings 8 tacos
Ingredients
8 slices bacon, chopped into 1 to 1/2 inch pieces
1 1/2 cup frozen breakfast diced potatoes (thawed) *see notes
1/2 teaspoon paprika
Salt and pepper to taste
1 tablespoon butter
8 eggs
Dash of hot sauce (optional)
1/2 cup shredded cheddar cheese
8 taco size flour tortillas, warmed
Optional Toppings
Avocado slices
Salsa
chopped cilantro
chopped onions
sliced pickled jalapenos
Instructions
Heat a large nonstick skillet over medium high heat. Add the bacon and cook stirring often until browned and crisp, about 5 minutes. Transfer the bacon to a plate lined with paper towels to drain.



Remove all but 1 tablespoon of the bacon drippings from the skillet. Add the potatoes and cook for about 6 minutes or until the potatoes are tender. Season with the paprika and salt and pepper to taste. Remove the potatoes from the skillet.

In a medium bowl, beat the eggs with a generous pinch of salt and pepper and a dash of hot sauce. Wipe out the skillet and melt the butter over medium-low heat. Add the eggs and cook and scramble eggs until set. Stir in cheese and remove from the heat.



To assemble the tacos, layer the tortillas with the potatoes, scrambled eggs and bacon. Top with any additional toppings. Serve warm.


Chef's Tips
You can use any breakfast diced potato like "Diced Hash Brown Potatoes" or "Potatoes O'Brien"
Instead of frozen potatoes, you can use 1 large russet potato, peeled and diced.
While cooking the eggs, you can keep the potatoes and bacon warm by placing them in a preheated 300 degree oven.
Nutritional information provided is only an estimate and will vary depending on the brand of ingredients used.
Nutrition
Calories: 301kcal (15%)Carbohydrates: 20g (7%)Protein: 13g (26%)Fat: 19g (29%)Saturated Fat: 7g (44%)Cholesterol: 189mg (63%)Sodium: 471mg (20%)Potassium: 235mg (7%)Fiber: 1g (4%)Sugar: 2g (2%)Vitamin A: 420IU (8%)Vitamin C: 1.1mg (1%)Calcium: 110mg (11%)Iron: 2.1mg (12%)
* Please note that all nutrition information are just estimates. Values will vary among brands, so we encourage you to calculate these on your own for most accurate results.