In this post, I will give you 5 easy pantry recipes, each one with different ingredient substitutions so you can make them with what you already have in your pantry, fridge and freezer.
I will also provide other methods of cooking to make dinner planning super simple for you and your family
I recently shared a post about What To Stock Up In Your Pantry in the hopes to help you sort out what kind of ingredients you should keep in your pantry, refrigerator and freezer.
After shopping, the next question in my mind was – what can I make for dinner? (and lunch?). What if I pick an easy recipe with simple ingredients yet, I don't have all the ingredients listed on the recipe? Do I have to wait until I go out shopping again? And what if I found a delicious and easy instant pot recipe but I only have a crock pot at home?
To answer these questions, I decided to write this post. I hope you find it helpful.
Instant Pot Shredded Chicken Mexican Style
This is an easy instant pot recipe made with 5 – ingredients, including jarred salsa. The recipe uses boneless skinless chicken breast.
Get the recipe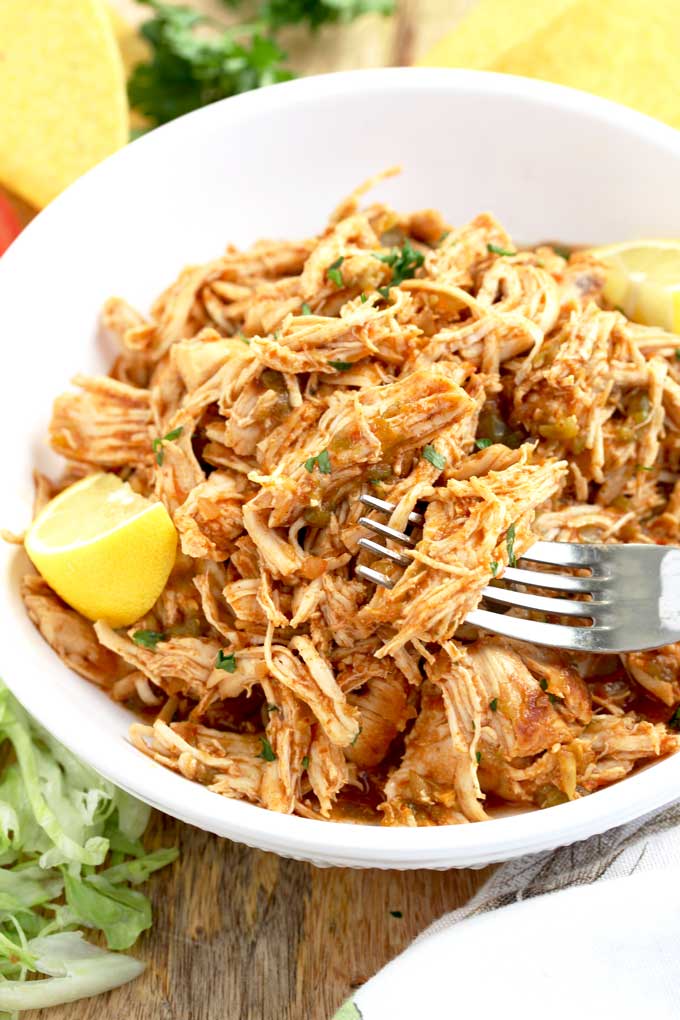 EASY SUBSTITUTION IDEAS FOR THIS EASY CHICKEN RECIPE:
Instead of boneless chicken breasts, use other chicken parts (fresh or frozen):
Use fresh or thawed boneless and skinless chicken thighs and cook them on high pressure for 7 – 8 minutes. Followed by a 10 minute natural pressure release (NPR).
Cook frozen boneless chicken thighs in the instant pot for 12 – 14 minutes. Do a 10 minute natural pressure release (NPR).
To cook bone-in chicken thighs in the IP (fresh/thawed out chicken). Cook on high for 15 – 16 minutes. Do a 10 minute natural pressure release (NPR).
Make this Pressure Cooker Recipe in the Crock Pot:
Make this pressure cooker recipe in the slow cooker instead! Place all the ingredients in the crock pot, cover and cook on high for 4 – 5 hours or on low for 6 – 7 hours.
INGREDIENT SUBSTITUTIONS:
For this Instant Pot Mexican Shredded Chicken, you can season the chicken with 2 teaspoons of seasoned salt or sea salt, 1 teaspoon each ground cumin, garlic powder, chili powder and 1/2 teaspoon each paprika and ground black pepper. Use canned diced tomatoes or canned diced tomatoes with chiles if you don't have jarred salsa. Serve on tortillas or with rice and beans.
Make Instant Pot BBQ Chicken: Serve it on burger buns, with creamy coleslaw.
Make Teriyaki Instant Pot Shredded Chicken: Serve over rice or ramen noodles.
Version 1: Season the chicken with 1 teaspoon each of salt and garlic powder and 1/2 teaspoon each ground ginger and ground black pepper. Place the chicken in the instant pot and add 1 cup teriyaki sauce and 1 cup low-sodium chicken broth.
Version 2: Mix together 1/4 cup soy sauce (use low sodium, if preferred), 1/2 cup water, 1/2 cup chicken broth, 5 tablespoons brown sugar, 2 tablespoons honey, 1/4 teaspoon ground ginger, 1/4 teaspoon garlic powder. Place the chicken in the pressure cooker and pour the sauce over. After the chicken is fully cooked, and the natural release is completed, open the lid. Remove the chicken and turn the instant pot to saute. Mix 1 tablespoon of cornstarch with 2-3 tablespoons water to make a slurry. Add the slurry to the sauce and allow to cook for 2 minutes, stirring as needed.
White Chicken Chili
This easy to make white chicken chili is pure comfort food in a bowl! It is a favorite at my house and I hope you love it as much as we do.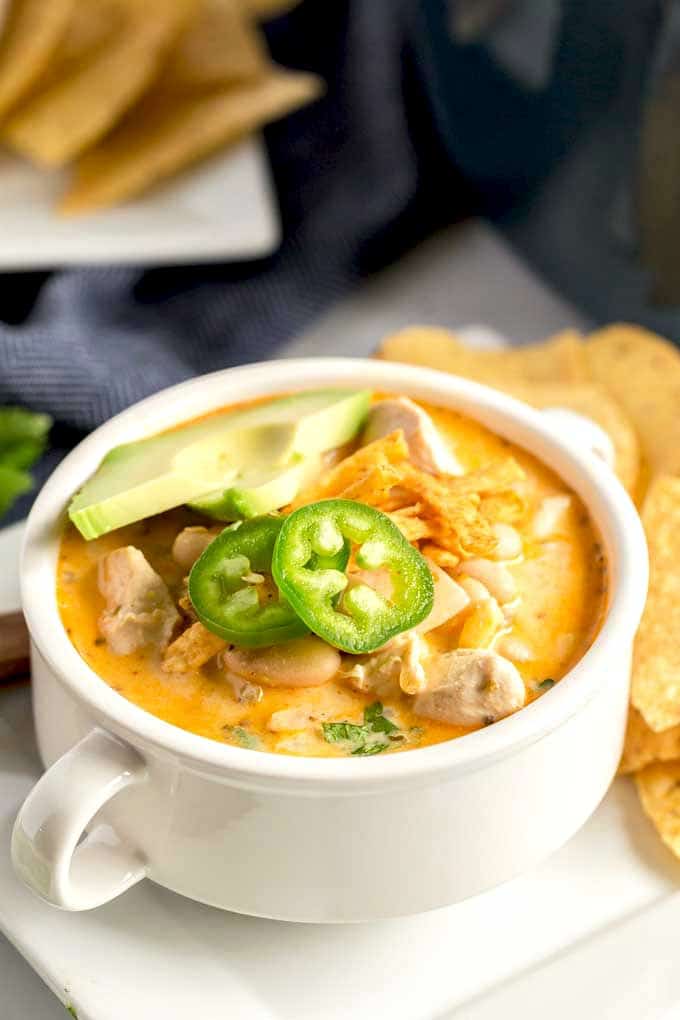 EASY SUBSTITUTION IDEAS FOR THIS EASY WHITE CHILI RECIPE:
Make It In The Crock Pot:
Instead of cooking this tasty white chicken chili on the stove top, make it in the slow cooker. Don't chop or dice the chicken, simply place the chicken breast halves in the slow cooker with the rest of the ingredients – except the cream cheese and Half and Half. Cover and cook on low for 6 – 8 hours or on high for 4 – 6 hours. After the cooking is done, remove the chicken to a plate and shred it. Add the Half and Half to the slow cooker and the cream cheese. Stir in. Return the chicken to the slow cooker, cover and cook on high for 15 minutes. Serve.
INGREDIENT SUBSTITUTIONS:
Use boneless chicken thighs.
Use cooked chicken like rotisserie chicken or canned chicken. If using cooked chicken, add it right before adding the Half and Half.
Use any type of beans like pinto beans, garbanzo beans, kidney beans, or a combination. Keep in mind your white chili may not be as white if you use a darker bean.
Use fresh jalapeno peppers or green bell peppers instead of the canned green chiles.
Use garlic powder instead of fresh garlic.
Use parsley instead of cilantro or skip it all together.
Skip the cream cheese!
Use milk or heavy cream instead of Half and Half.
If Half and Half, cream or milk are not available, mash extra beans to make the chili creamy.
Mediterranean Tuna Pasta Salad
This light and easy pasta salad is perfect for lunch or dinner. This pasta salad recipe is versatile and can be customized to your taste.
EASY SUBSTITUTION IDEAS FOR THIS EASY PASTA SALAD RECIPE:
INGREDIENT SUBSTITUTIONS:
Use any type of noodles, short noodles or even spaghetti works.
Instead of canned solid white tuna, use any type other type of canned tuna.
Use canned salmon or canned chicken.
Keep this pasta salad vegetarian and skip the tuna fish!
Use regular olives instead of Kalamata olives.
No plain yogurt? No problem! Use mayonnaise or sour cream instead or skip it!
Use bottled Italian salad dressing or Balsamic Dressing instead of making your own.
Version 1: 12 ounces pasta cooked, 1/2 cup chopped celery, 3 chopped hard boiled eggs, 1/2 cup peas (thawed if frozen). For the dressing, 1/2 cup mayonnaise, 1 tablespoon lemon juice or white wine vinegar, 1/2 teaspoon mustard. Season to taste with salt and pepper.
Version 2: 12 ounces pasta cooked, 1/2 cup onions, 1/4 cup red bell pepper (fresh or roasted), 1 – 2 tomatoes, chopped, 1/2 cup chopped olives, 8 ounces mozzarella cheese, cubed (fresh mozzarella can be used), 1/4 cup Parmesan cheese. Toss with Italian salad dressing.
One Pot Pizza Pasta
This family friendly, kid favorite easy pasta dish has all the flavors of your favorite pizza all cooked in a single pot.
EASY SUBSTITUTION IDEAS FOR THIS EASY PASTA RECIPE:
INGREDIENT SUBSTITUTIONS:
Instead of ground sausage, you can use any ground meat like ground beef, ground chicken or ground turkey.
If you don't have pepperoni, skip it.
Crispy bacon is also a nice addition.
Keep this pizza pasta vegetarian by skipping the ground sausage and pepperoni.
Instead of fresh bell peppers, you can use frozen bell peppers.
For an amazing vegetarian pizza pasta, add frozen veggies the last 5 minutes of cooking. Frozen yellow squash, frozen zucchini, frozen carrots and frozen spinach are good options.
Make your own marinara sauce instead of using of jarred marinara. Simply saute 1 medium onion, chopped and 4 garlic cloves chopped in 2 tablespoons of olive oil. Add 1 (28-ounces) can of whole tomatoes, 1 teaspoon of dried oregano and simmer on low for 40 – 45 minutes. Season to taste.
Easy Baked Pork Chops
These oven baked pork chops one of the most popular recipes on this blog and for a good reason. These oven baked boneless pork chops always turn out juicy and are super easy to make! Turn them into a sheet pan meal and have dinner on the table in no time!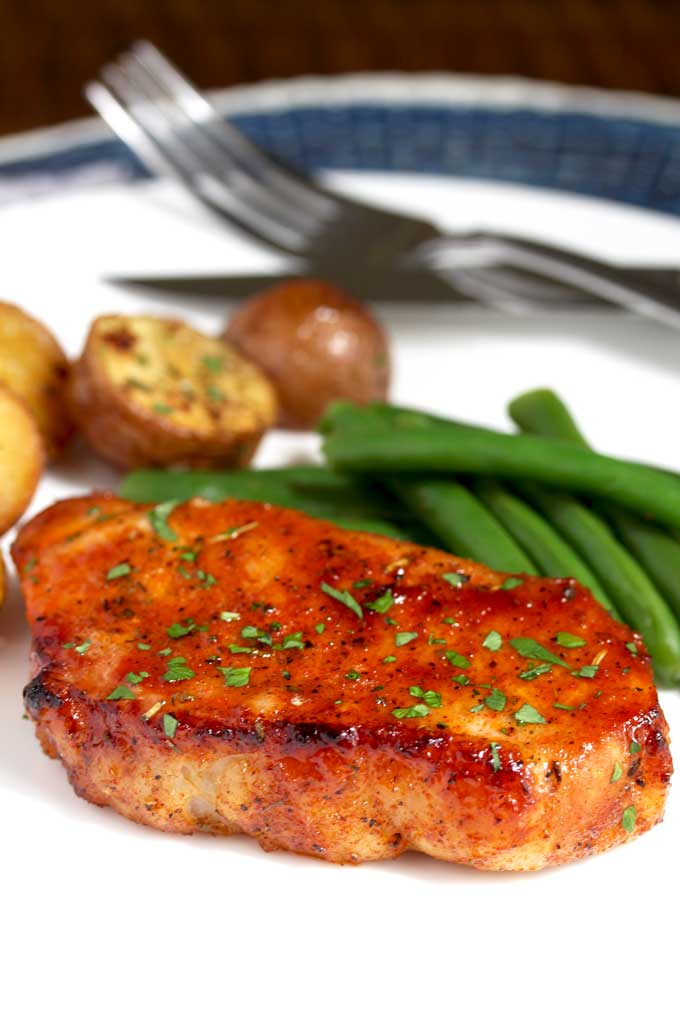 EASY SUBSTITUTION IDEAS FOR BAKED PORK CHOPS RECIPE:
Make this recipe on the grill. Fire up the grill and enjoy some fresh air. Grilled pork chops are as delicious as baked ones!
INGREDIENT SUBSTITUTIONS:
Use bone-in pork chops.
Skip the sugar in the spice mix, add some cumin instead.
Season the pork with your favorite spice mix. Italian seasoning and taco seasoning are great options.
Make Italian Shake and Bake Pork Chops:
Mix 1 cup of bread crumbs or Panko bread crumbs with 1/4 cup of grated Parmesan cheese, 1 teaspoon of Italian seasoning and 1/4 cup of oil. Brush the pork chops with a bit of oil and season with salt and pepper to taste. Coat both sides of the pork chops with the bread crumb/Parmesan mixture, then bake.
Make Sheet Pan Baked Pork Chops with Vegetables:
Prepare a quick dry seasoning mix with 1 ounce of Ranch seasoning mix, 1 teaspoon smoked paprika and 1/2 teaspoon ground black pepper. Place 4 bone-in or boneless pork chops, 1 pound of baby potatoes, 1 cup of baby carrots (fresh or frozen), and about 1 cup of green beans (fresh or frozen on a sheet pan. Brush the pork with olive oil and season both sides of the chops with the dry seasoning mix. Drizzle the vegetables with some olive oil and season with salt and pepper to taste. Bake.
Additional Tips
Take a look at this easy Air Fryer recipe – Air Fryer Pork Chops they are absolutely delicious!
Stores are stocking up their shelves daily so there is no need to go into panic mode. Buy sensibly and keep enough food and essentials items to last about 2 weeks.
Visit the stores early in the morning. Items like dairy, eggs and bread usually get delivered to the stores first thing in the morning.
Be creative, channel your inner Julia Child and enjoy the cooking process.