Tequila Lime Chicken bursting with flavor from the tasty margarita style marinade made with tequila, fresh lime juice, cilantro and spices. This grilled chicken recipe is easy to make (I even share my time-saving shortcut) and is always a crowd favorite. Budget friendly too (chop it up and make lots of tacos!)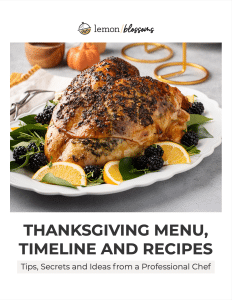 psst… Thanksgiving stress?
Not anymore!
Download our limited-time guide to hosting a smooth Thanksgiving, as experienced & perfected by Chef Kathy.
Margarita Grilled Chicken with Tequila Lime Marinade
Tequila Lime Chicken is a great recipe with big citrus flavor made with an easy to make tequila lime marinade. The chicken is then grilled until tender, juicy and perfectly charred with brown grill marks.
Some people call this recipe Margarita chicken due to the popularity of the Tex-Mex restaurant's favorite dish – Chili's Margarita Grilled Chicken.
I've been making this grilled chicken recipe for many years at home as well as during my catering years. This tequila chicken was always a dish my clients ordered, especially for summer events.
Why You Should Make This Recipe
All Purpose Boneless Chicken Breast: The flavorful chicken can be served with a side dish, can be used to top salads as a filling for burritos, quesadillas, etc.
Grilled: This is the perfect recipe for summer barbecues or backyard parties.
Healthy Protein: The succulent chicken breast is grilled which means is a healthy recipe. If you like to eat low carb or meal prep, this is an excellent option.
Margarita Chicken Tequila Lime Marinade
This simple boozy marinade, is made with a few simple ingredients and it's very easy to prepare. If you are concern about the alcohol content in the marinade, you don't need to worry, the alcohol in the tequila burns off during the grilling process, leaving behind a delicate "lime margarita" flavor.
PRO-TIP: I make the lime chicken marinade 2 different ways depending on the ingredients I have at home (and my level of laziness when I am about to make this recipe).
Original Tequila Lime Marinade: I make this with good quality tequila (but not top of the line!), fresh lime juice, sugar, garlic, cilantro and spices.
Shortcut Margarita Marinade: To make this recipe even easier, I use pre-made margarita (with the tequila already mixed in), then I simply add the garlic, cilantro and spices. Quick, easy and no lime squeezing at all!
I am a big fan of Costco's Kirkland Margarita Wine. The price is reasonable and besides making a killer cocktail, it makes this chicken marinade incredibly easy to make. This is not a promotion and I am not getting paid for a review – (although someone please tell Costco that I will gladly take a case of their Margarita drink anytime!).
Tequila Lime Margarita Chicken Ingredients
Be sure to check the printable recipe card below for full ingredients and their exact quantities.
Chicken Breast: I use boneless, skinless chicken breasts. Use organic, free-range chicken if available.
Tequila: Use good quality tequila (u don't have to buy the most expensive kind). Tequila silver or reposado tequila can be used.
Lime Juice: Fresh lime juice is a must. If you can't find fresh limes, fresh lemon is your next best option.
Garlic: Fresh garlic.
Spices and Seasonings: Ground cumin, sea salt or Kosher salt and ground black pepper.
How To Make Tequila Lime Chicken
Mix the chicken marinade ingredients in a shallow baking dish or in a resealable plastic bag.
If your chicken breasts are thick in some areas and thin in others, you can pound them with a meat mallet to even them out.
Marinate the chicken for as little as 15 minutes or for up to 4 hours. The longer you marinate, the better the flavor however, because of the citrus acid in the marinade, I don't recommend marinating it for any longer than 8 hours.
Heat up a grill or grill pan to medium-high heat. Grilling the chicken at this temperature seals in the juices while also giving the chicken a nice charred exterior. Place the chicken pieces on the grill in a single layer with a some room between each piece for good air circulation.
Remove the chicken from the marinade and grill for about 5 to 8 minutes per side. The exact timing will vary depending on the thickness of the chicken breasts.
If the chicken gets stuck on the grill grates, don't force it off. That usually means the chicken is not ready to be flipped or be removed yet. Just let it cook a bit longer until it releases easily.
After removing the chicken breast from the grill, allow it to rest for about 5 to 10 minutes before slicing or serving.
You have questions? We have answers!
How Do You Prevent Chicken Breast From Sticking to the Grill?
To prevent the chicken from sticking on the grill first, clean the grill's grates and brush them with oil or cooking spray. Coating the food with oil helps as well. Keeping the grill's temperature under 450ºF. is also a must. When the grill is too hot the meat tends to stick.
How Long To Let the Chicken Marinate?
You can marinate margarita tequila lime chicken for 15 minutes to up to 8 hours. Because this marinade contains acid from lime juice, I don't recommend marinating the meat for any more than 8-10 hours. After long periods of time, the acid changes the chicken's texture and it becomes mushy and very unpleasant.
How Long to Grill Chicken Breast
It takes about 5-6 minutes per side to grill boneless and skinless chicken breast however, the most accurate way to tell if the chicken is done, is to check the chicken's internal temperature with an instant read meat thermometer. A meat thermometer should reach an internal temperature of 165ºF when checked in the thickest part of the breast.
At What Temperature Should I Grill Boneless Chicken Breast
We set the grill's temperature to medium-high (400ºF to 425ºF) for best results. This temperature produces tender and juicy chicken in the inside with perfect grill marked exterior.
What Goes With This Tequila Lime Margarita Chicken Recipe?
This Mexican inspired Tequila Lime chicken goes well with so many side dishes and salads. I love serving it with this creamy coleslaw recipe or this tasty and nutritious three bean salad. This decadent and creamy rice casserole pairs beautifully with the light grilled lime chicken.
Need a Quick and Budget Friendly Recipe To Feed A Crowd?
One of my favorite things about this grilled chicken recipe (besides its taste), is that you can feed a large crowd for very little. Simply chop up the chicken into small bite size pieces and set up a taco bar!
Taco bars are always fun and a great way to bring people together. It allows your guests to participate and make their own best taco. Although the possibilities are endless, a good taco bar must have tortillas (I prefer corn), shredded lettuce, chopped tomatoes, chopped onions, some shredded cheese, and tasty homemade salsa.
If you like a little spice in your life – I recommend you add these Taqueria style Pickled Jalapenos, they are like the ones served at restaurants (the ones with the pickled carrots! Yum!!!!). No canning knowledge necessary!
If you need to stretch your dollar, boneless chicken thighs are a great option. Chicken thighs are very juicy, tasty and cheaper than boneless chicken breasts.
What is The Safe Temperature for Boneless Chicken Breast?
The safe internal temperature for chicken is 165 degrees Fahrenheit. The best way to check is by using an instant-read thermometer.
Storing and Reheating Margarita Chicken
Storing Leftovers: Cool the grilled chicken completely and store in an airtight container or resealable bag in the refrigerator for 2-3 days.
Reheating: You can reheat leftover tequila lime chicken in the microwave at 60% power in small intervals until heated through or in a skillet, covered over low heat, until heated through. I like to flip the chicken a few times so it warms evenly. You may want to add a couple of tablespoons of chicken broth in the pan to keep the chicken very moist.
Tequila Lime Chicken Recipe Tips & Notes
You can make this grilled margarita chicken with boneless chicken thighs. Cooking times may vary slightly.
Resting the chicken before serving it, allows for carryover cooking. Carryover cooking simply means that the heat will continue to move (from the surface to the interior of the meat) and the temperature will increase about 5 to 10 degrees after you remove the meat from the heat source, in this case the grill. For perfectly juicy and tender grilled chicken breast, you can remove the chicken from the grill when an instant read thermometer, inserted in the thickest part of the breast reads 160 degrees Fahrenheit.
Tent the chicken with aluminum foil while resting.
If your chicken is getting too charred but is not cooked through, you can always finish the cooking in a pre-heated 300 degrees Fahrenheit.oven. Just place the chicken in an oven safe dish and cover it with foil to keep it moist. Bake it until cooked through.
You can store leftover grilled chicken in the refrigerator in a sealed container for up to 3 days.
Check Out These Other Mexican and Tex Mex Inspired Recipes:
Follow me on social media for more recipe ideas & inspiration! Pinterest Facebook Instagram My Newsletter
Tequila Lime Chicken
Tequila Lime Chicken made with boneless skinless chicken breasts marinated in a flavorful mixture of lime juice, tequila, cilantro and spices. A super easy grilled chicken recipe perfect for summer entertaining!
Prep: 5 minutes
Marinating Time: 15 minutes
Cook: 15 minutes
Total Time 20 minutes
Servings 6 servings
Ingredients
Chicken
6 chicken breast halves, boneless and skinless
Instructions
To prepare the marinade, combine the lime juice, tequila, sugar, chopped garlic, chopped cilantro, ground cumin, salt, pepper and olive oil in a zip top bag or large bowl. Check the notes if using pre-made margarita.

Season the chicken with salt and pepper. Add the chicken to the marinade.

Marinate for 15 minutes or up to 8 hours in the refrigerator.

Heat up a grill to medium high. Remove the chicken from the marinade and grill turning once for about 5-6 minutes per side or until cooked through.

Remove from the grill to a plate, cover with foil and let it rest for about 5 to 10 minutes. Serve

Chef's Tips
If using bottled Margarita with tequila, omit the first 3 ingredients.
Cook the chicken until it reaches an internal temperature of 160 to 165 degrees Fahrenheit. Allow the chicken to rest for 5 to 10 minutes before consuming. This resting period will increase the temperature by 5 to 10 degrees due to carryover cooking.
The safe internal temperature for chicken is 165 degrees Fahrenheit.
Nutrition information provided is an estimate and will vary based on the brands of ingredients used
Nutrition
Calories: 330kcal (17%)Carbohydrates: 4g (1%)Protein: 24g (48%)Fat: 21g (32%)Saturated Fat: 3g (19%)Cholesterol: 72mg (24%)Sodium: 908mg (39%)Potassium: 461mg (13%)Sugar: 2g (2%)Vitamin A: 75IU (2%)Vitamin C: 8mg (10%)Calcium: 18mg (2%)Iron: 1mg (6%)
* Please note that all nutrition information are just estimates. Values will vary among brands, so we encourage you to calculate these on your own for most accurate results.
This post was first published in 2016 and has been updated to provide the reader with additional information. The recipe remains the same.