Last updated on October 10th, 2018 at 06:35 pm
This Mexican Green Chile Rice Casserole is creamy, cheesy and irresistible. Baked with Corn, Roasted Chile Peppers, Sour Cream and Cheese, this is the perfect make-ahead side dish!
---
Packed with layers of flavor, this Mexican Green Chile Rice Casserole is incredibly tasty. Serve it at your next event or assemble it and give it away to one of your neighbors. After they bake it and taste it, they will love you forever.
This is a very simple and almost humble dish. Nothing really fancy about it. Just a few simple ingredients that make for a delicious casserole. It's really comfort food to the max. I honestly don't think the photos I captured can give you a clear "visual idea" on how good this Mexican Green Chile Rice Casserole is.
When I say there are layers of flavor, I really mean it! The little bits of roasted poblano peppers throughout every bite of rice are delicious! Roasting the poblanos makes such a huge difference in flavor and texture. You get like these little surprises with a kick – not burn-your-mouth kick but an unexpected explosion of mild heat flavor. Soooo good!
The corn provides crunch and the sour cream gives a little tartness and makes it so creamy! A little bit of cilantro brings a fresh element to the whole dish and the cheese…. well, what can I say about the cheese? It's melty, gooey and full of flavor!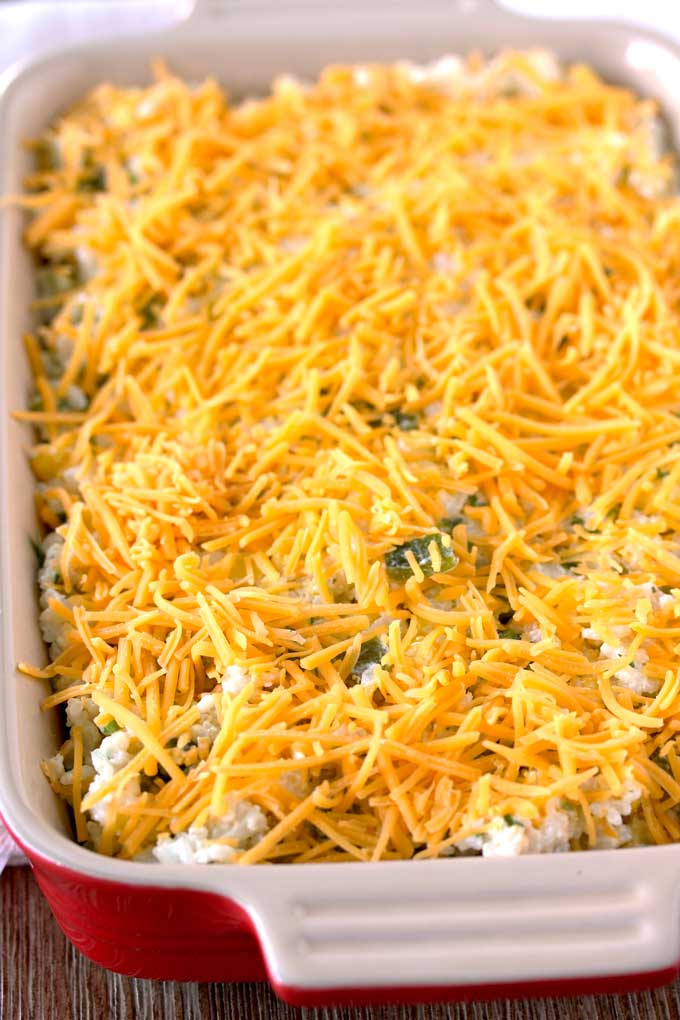 You can cook the rice, assemble the casserole and save it in the refrigerator until you are ready to bake it. At this point, you can also cover it and give it to a friend, neighbor or someone at your church with a simple instruction "Bake at 400 uncovered for 20 minutes"! I love when people give me food with notes like that!! (this is a hint to the people in my life!!!)
Kathy's Notes:
Roasted Poblano Peppers have such an amazing flavor, however in a pinch you can use canned green chiles. I suggest you use "mild" for this recipe.
I give you instructions on how to char/roast the peppers on the notes area of the recipe
Experiment with different cheeses like white Cheddar, Monterrey Jack, Mozzarella and even smoked Gouda!
Need another delicious and easy side dish? Try these:
Mexican Street Corn Pasta Salad
Mexican Three Bean Salad
Zesty Baked Beans with Bacon
WANT TO TRY THIS MEXICAN GREEN CHILE RICE CASSEROLE?
PIN IT TO YOUR SIDE DISHES BOARD!!
FIND ME ON PINTEREST FOR MORE DELICIOUS RECIPES!
Print Recipe
Mexican Green Chile Rice Casserole
This Mexican Green Chile Rice Casserole is creamy, cheesy and irresistible. Baked with Corn, Roasted Chile Peppers, Sour Cream and Cheese, this is the perfect make-ahead side dish!
Prep Time10 mins
Cook Time45 mins
Total Time55 mins
Servings: 4 servings
Calories: 472kcal
Ingredients
1 tablespoon olive oil
1/4 cup chopped onions
2 chopped garlic cloves
1 cup white rice, rinsed
2 cups water
1 cup corn kernels
3/4 teaspoon salt
2 poblano chiles, charred/roasted, peeled, stemmed, seeded and chopped
1/4 cup chopped cilantro
1 cup sour cream
8 ounces cheddar cheese, plus more for topping (about 2 more ounces)
Instructions
Heat the oil in a medium skillet over medium-high heat. Add the onions and saute until soft and translucent, about 4-5 minutes. Add the garlic and sauté for about 2 minutes, stirring frequently. Add the rice and cook for about 5 minutes, stirring frequently. You want the rice to turn opaque without toasting.

Stir in the water, corn kernels and salt. Bring the mixture to a boil. Reduce the heat to low, cover and simmer until the rice is tender (about 15 - 20 minutes).

When the rice is cooked, fluff it with a fork and transfer it to a bowl to cool for a few minutes.

Preheat the oven to 400 degrees Fahrenheit.

Mix the rice with the roasted poblano chiles, cilantro, sour cream and cheese until well combined.

Pour the rice into a 8 x 10 baking dish. Sprinkle the top with some extra cheese and bake for 20 minutes or until the top is melted and golden brown. Serve.
Notes
To char/roast the peppers:
Put them over an open flame until they blackened on all sides or place them under the broiler turning them as needed. They can also be roasted on a dry hot cast iron skillet or in the oven at 400 degrees (in the oven they will take longer).
Place the charred/roasted peppers in a zip top bag, paper bag or wrap them in foil. You want them to sweat/steam for about 8 - 10 minutes. This will make the skin peel off easily. Just rub them with a paper towel and the skin comes off. Remove the stem and seeds.
Nutrition
Calories: 472kcal | Carbohydrates: 25g | Protein: 18g | Fat: 34g | Saturated Fat: 19g | Cholesterol: 89mg | Sodium: 920mg | Potassium: 325mg | Fiber: 2g | Sugar: 5g | Vitamin A: 24.7% | Vitamin C: 61.2% | Calcium: 48.8% | Iron: 5.5%
---
NEVER MISS A RECIPE!
---
Things You May Need

Baking Dish, 10" x 8", White
Calphalon Stainless Steel Sauce Pan with Cover
Cuisinart CTG-00-BG Boxed Grater