Slow Cooker Ham simmers in a finger-licking brown sugar and pineapple glaze to delicious perfection. This Crock Pot Ham is made with only a few ingredients effortlessly!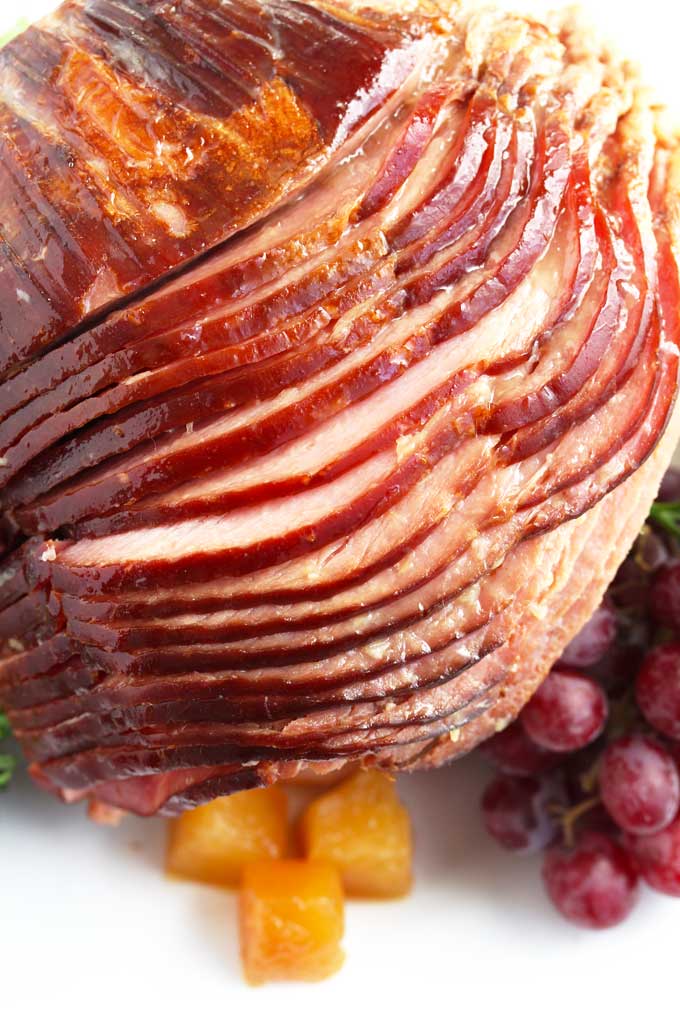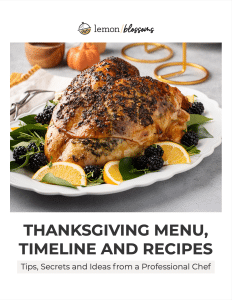 psst… Thanksgiving stress?
Not anymore!
Download our limited-time guide to hosting a smooth Thanksgiving, as experienced & perfected by Chef Kathy.
A holiday ham is a must for many holidays and special occasions. Making a Crock Pot Ham requires minimal prep and saves you oven space! Depending on the season, we like serving it with candied sweet potatoes or grilled asparagus for a perfect and satisfying meal!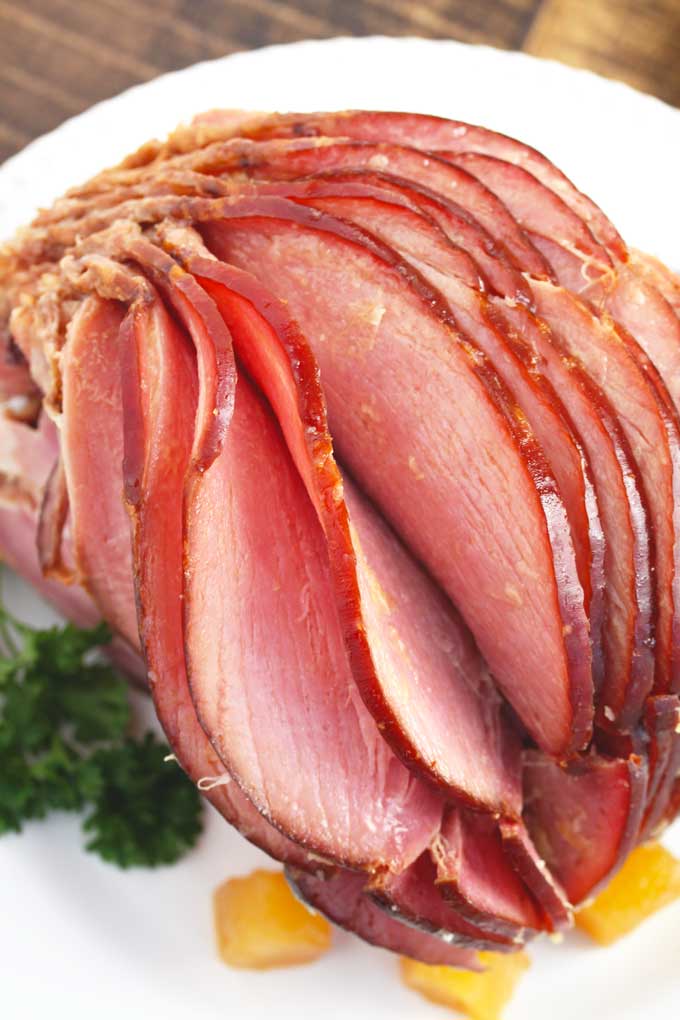 Brown Sugar Ham Glaze with Pineapple
This Slow Cooker Ham cooks smothered in a tasty and easy to make ham glaze! The Brown Sugar Ham Glaze with pineapples is sweet and tangy and gives this ham delicious flavor and a nice caramelized color and shine.
Because ham already has a lot of smokey and savory flavors, I keep this ham glaze recipe very simple by using only a few ingredients. Brown sugar, Dijon mustard, pineapple preserves, pineapple juice (or water) and a little bit of garlic powder.
Types of Ham
There are three types of ham. City Hams, Country Hams and Fresh Hams.
City Ham: The most popular variety of hams sold in American supermarkets. They are "wet cured" or injected with a wet brine. They are also often smoked and fully cooked. They come bone-in or boneless.
Country Ham: These hams are dry-cured with salt and spices, then aged for months to years. Their flavor is concentrated and a bit salty. Some are also smoked. They are sold both cooked or uncooked. Country Ham is very popular in the south, usually served with biscuits and gravy.
Fresh Ham: These are sold raw for you to cook at home or to cured. They are the rear leg of the pig.
What Type Of Ham Should I Buy?
To make this recipe or any other holiday ham, you want to get a City Ham. Since that answer doesn't seem like a lot of help due to the fact that supermarkets go into ham overload during the holidays – I will make it simple for you, You want to get a Fully Cooked, Bone-In, Spiral Ham.
Fully Cooked: Since they are safe to eat out of the package, fully cooked hams only require a bit of warming up. Of course, we like to dress them up for the holidays with a fabulous ham glaze! Some hams bring a glaze package but I love making my own.
Bone-In: Bone-In Hams are more flavorful and are easier to keep juicy. They also have a better texture than boneless ham (boneless hams are pressed into an oval shape, just like ham you buy at the deli). As an added bonus, you can use the ham bone to flavor beans or in recipes like this Pressure Cooker Split Pea and Ham Soup or this Slow Cooker Ham Bone and Navy Bean Soup.
Spiral Cut: These bone-in hams are thinly sliced for your convenience. If you are using a glaze for ham, you can brush the glaze in between the slices to add extra flavor.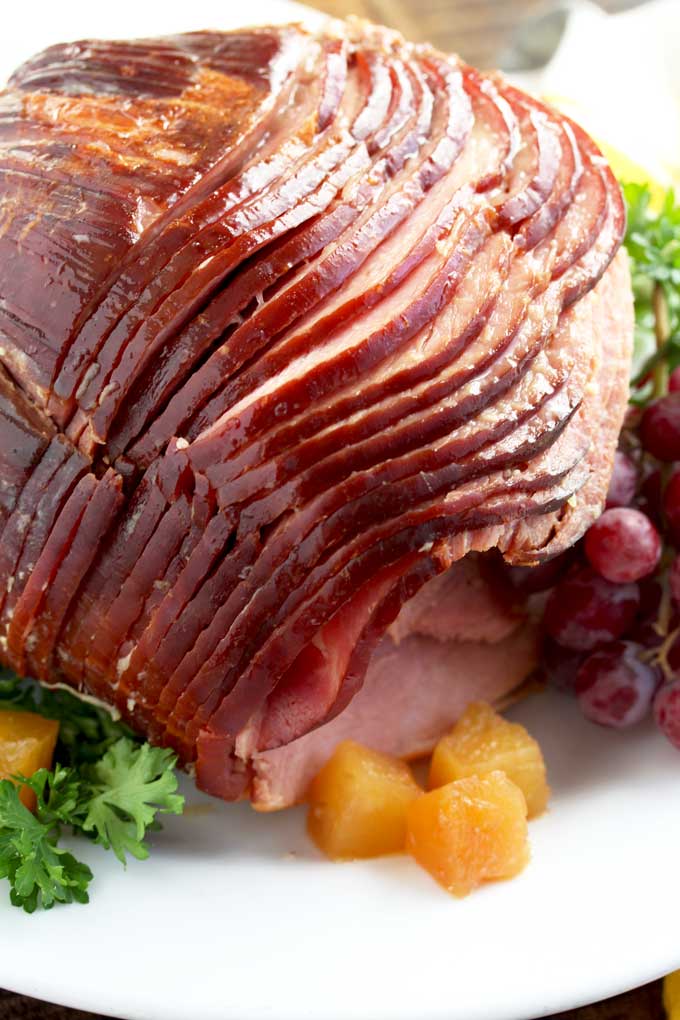 How To Cook Ham In A Crock Pot
First, make the glaze by warming up the glaze ingredients in a small pot over low heat.
Sprinkle brown sugar on the bottom of the slow cooker. Place ham on top cut side down. Add pineapple chunks around it.
Brush the ham with the glaze and pour any extra glaze over the ham.
Cover and cook on low.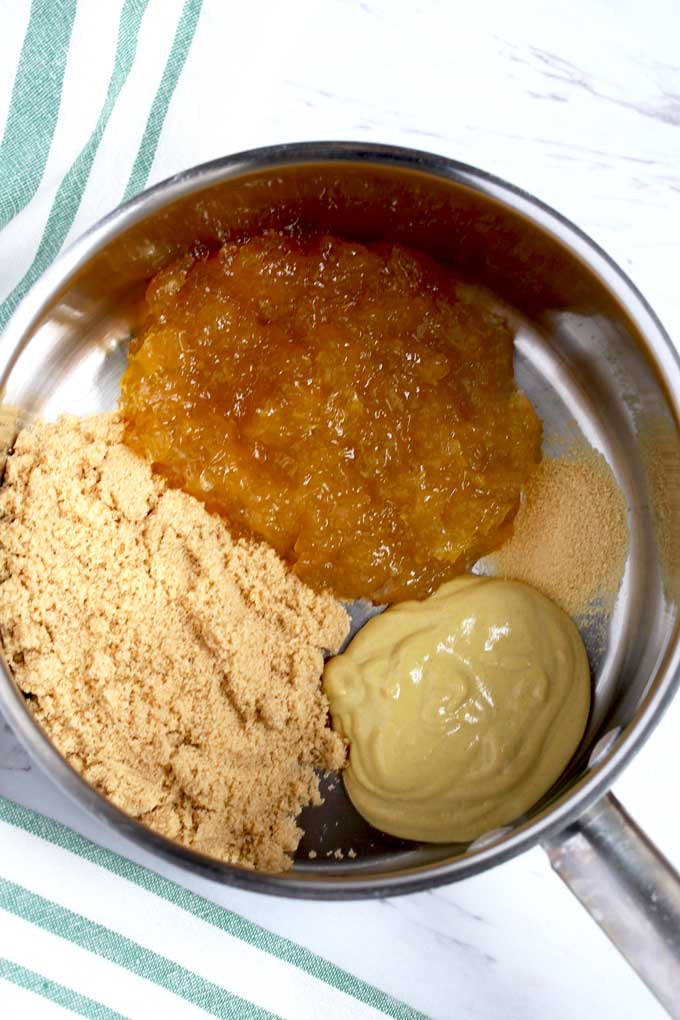 How Long To Cook Ham in a Crock Pot?
To make ham in the crock pot, cook it on low for about 3 to 4 hours. This time is sufficient for your slow cooker ham to get heated through without getting dried up. Keep in mind that you are preparing a "fully cooked ham" so all you are doing is warming it up.
How Much Ham Do I Need Per Person?
Estimate about 3/4 pound of bone-in ham per person. You can increase it to 1 pound if you want plenty of leftovers.
You will need about 1/2 pound of boneless ham per person.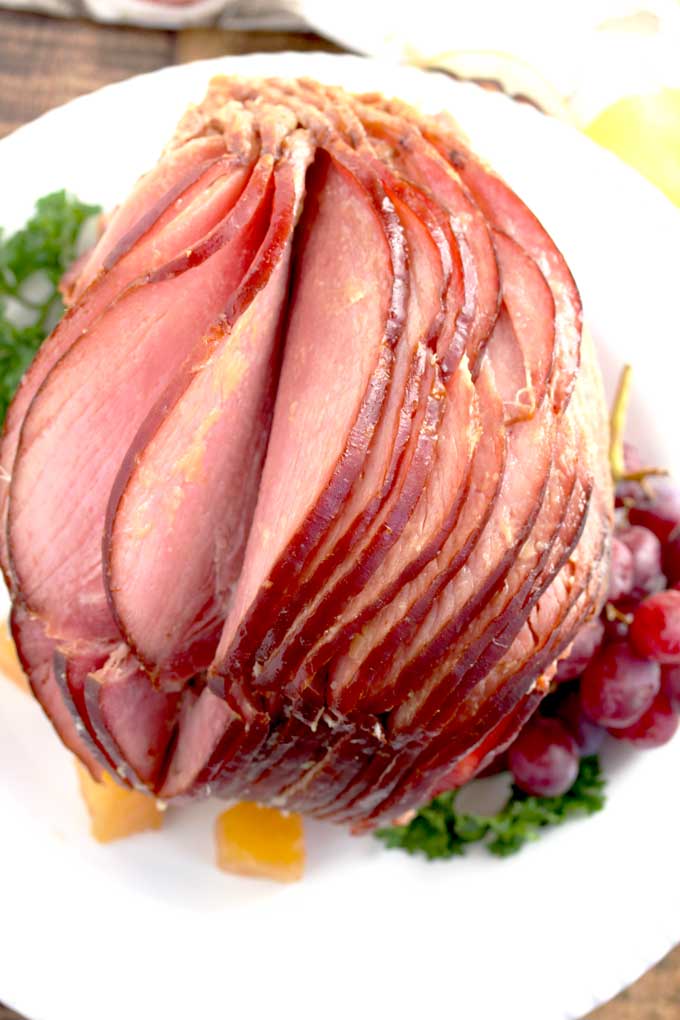 Slow Cooker Ham Recipe Tips
The glaze recipe calls for pineapple juice or water. I use the juice from the canned pineapple chunks. Just drain and save the juice!
I like to brush some of the glaze between the ham slices for extra flavor!
Although you are reheating a fully cooked ham in the slow cooker that it is safe to eat at any temperature, you can check if it's warm enough by using an instant-read thermometer. I serve my ham when the internal temperature has reached 140 degrees Fahrenheit.
Allow the ham to rest for about 10 minutes before carving it.
What to Serve with Ham?
The possibilities are as delicious as are endless. Here are a few suggestions:
Sauteed Green Beans
Oven Roasted Sweet Potatoes
Skillet Apple and Sausage Stuffing
Instant Pot Mashed Potatoes
Homemade Baked Mac and Cheese
Sauteed Mushrooms
What to Do with the Leftover Ham?
Creamy Slow Cooker Ham and Potato Soup
Ham and Potato Casserole Supreme
One Skillet Ham and Cheese Pasta
Ham and Smoked Gouda Quiche
Follow me on social media for more recipe ideas & inspiration! Pinterest Facebook Instagram My Newsletter
Slow Cooker Ham with Brown Sugar Pineapple Glaze
Slow Cooker Ham simmers in a finger-licking brown sugar and pineapple glaze to delicious perfection. This Crock Pot Ham is made with only a few ingredients effortlessly!
Prep: 5 minutes
Cook: 3 hours
Total Time 3 hours 5 minutes
Servings 8 servings
Ingredients
1/4 cup packed brown sugar
8 ounces canned pineapple chunks in juice, drained (reserve the juice for the glaze)
8 lb spiral cut ham (fully cooked)
Instructions
In a small pot over medium-low heat, combine the brown sugar, pineapple preserves, Dijon mustard, pineapple juice or water and garlic powder. Warm to form a glaze.

Sprinkle 1/4 cup brown sugar in the bottom of a 7-8 qt slow cooker. Place the ham into the slow cooker cut side down. Place the pineapple chunks all around the ham.

Brush the ham with the glaze trying to get in between the layers. Pour the remaining glaze over the ham.

Cover and cook on low for for 3 hours.

Transfer to a platter and serve with the glaze and pineapples. You can also keep the ham warm in the slow cooker until ready to serve.
Chef's Tips
The recipe calls for 3 tablespoons of pineapple juice or water. I use the reserved juice from the canned pineapple chunks.
Nutrition
Calories: 1296kcal (65%)Carbohydrates: 48g (16%)Protein: 99g (198%)Fat: 76g (117%)Saturated Fat: 27g (169%)Cholesterol: 281mg (94%)Sodium: 5489mg (239%)Potassium: 1407mg (40%)Fiber: 1g (4%)Sugar: 40g (44%)Vitamin A: 14IUVitamin C: 6mg (7%)Calcium: 64mg (6%)Iron: 4mg (22%)
* Please note that all nutrition information are just estimates. Values will vary among brands, so we encourage you to calculate these on your own for most accurate results.