This Hot Honey Chicken recipe delivers extra crispy, oven-fried chicken that is finished with a luxurious drizzle of sweet and spicy homemade hot honey sauce. This recipe is definitely an upgrade to traditional chicken tenders – that you never knew you needed until now!
The Best Hot Honey Chicken Recipe (and easy too!)
Whether you make this easy chicken recipe in the oven or in an air fryer (directions for both methods are included), these extra crispy oven baked chicken strips with hot honey sauce, perfectly combines the flavor of sweet honey with a spicy kick and a nice crunchy bite.
This is a great recipe to make during busy weeknights, perfect for parties, game days or for meal prep.
What Is Hot Honey Chicken?
This oven baked or air fryer spicy honey chicken recipe features golden brown, crispy, boneless chicken breasts strips or chicken tenders drizzled or tossed with sweet honey infused with dried chili pepper.
Although hot honey is sold at the grocery store, making your own hot honey allows you to control the spice level of the sauce. Homemade hot honey is also easy to make and much more affordable than store bought honey sauce. If you're already a fan of crispy chicken (hello chicken fingers!), you may fall in love with this recipe.
Why You'll Love Hot Honey Chicken
Customizable: The chicken fingers can be made with boneless chicken breast cut into strips, with chicken tenders and even with chicken thighs.
Mild, Medium or Hot: Adjust the heat of the hot honey sauce by increasing or decreasing the spices in it. You can also add cayenne pepper for more heat!
Extra Crispy: A double coating of egg wash and cornflake mixture results in the crispiest tenders .

Oven Fried Chicken or Air Fryer Fried Chicken: Choose your favorite method!
What's in Hot Honey Chicken?
Hot Honey Chicken is made with a delicious combination of lean chicken meat, coated in a tasty and crispy cornflake crust. It is oven fried until crispy outside and succulent and juicy inside then served smothered in hot honey sauce for an added punch of flavor!
Ingredients and Substitutions
For the complete list of ingredients and quantities, check the printable recipe card below.
Chicken: Boneless and skinless chicken breast or chicken tenders can be used. Boneless chicken thighs without skin is also a good option. You can also purchase strips that are pre-cut, although those can cost more per pound.
Cornflakes: The secret to these crispy, golden, and crunchy hot chicken recipe. Cornflakes provide the perfect texture and a light sweetness to the coating.
Paprika – This vibrant spice adds a touch of subtle, sweet smokiness to the breading. For enhanced smoky flavor, try using smoked paprika.
Garlic Powder – Garlicky flavor balances the rest of the ingredients in the breading. You can also add onion powder for oniony flavor.
Grated Parmesan cheese – Parmesan cheese adds salty nuttiness.
Italian seasoning – The aromatic herbs and spices in this spice mixture add more depth of flavor.
Eggs: Used to make the egg wash that glues the coating to the meat. I use large eggs.
Butter: The melted butter helps to keep the chicken from sticking to the sheet pan and contributes to its crispiness and golden color.
Oil: A quick spritz of cooking spray or neutral flavored oil (such as olive oil or avocado oil) prevents the chicken from sticking and also aids in achieving a perfectly crispy coating.
Hot honey – Drizzling hot honey over the finished dish is what elevates these chicken strips. The sauce imparts all of the sweet and spicy flavor. If you prefer not to make your own homemade hot honey, store bought hot honey such as Mike's hot honey can be used.
How To Make Hot Honey Chicken
Here's the quick version of how to make this easy hot honey chicken. Find all of the details on the printable recipe card below.
Place cornflakes, paprika, garlic powder, Parmesan cheese, and Italian seasoning in the bowl of a food processor.
Pulse the cornflake mixture until it is fine.
Transfer the crushed cornflakes and seasonings to a plate and set aside.
To make the egg wash, add the eggs, water, salt, and pepper to a medium bowl and beat until combined.
Dip a piece of chicken into the egg mixture, then cover with the crumb mixture before placing on the prepared baking sheet in a single layer.
Repeat with the remaining chicken pieces until all have been dipped and dredged.
Spray with cooking spray and place chicken in the preheated oven.
Bake until the chicken is crispy and light golden brown. Use a meat thermometer to ensure that the internal temperature of the chicken is 165 degrees Fahrenheit.
After removing the baked chicken tenders from the oven, transfer them to a serving dish and drizzle the hot honey over the top.
Garnish with a little bit of chopped parsley and chives, if desired.
Air Fryer Instructions:
Place the coated chicken into the prepared air fryer basket of the preheated air fryer, ensuring that they're in a single layer with room in between each.
Spray the chicken with cooking spray and cook for the recommended time, flipping halfway through.
If you need to make these in batches, transfer finished fried chicken to a wire rack set on a pan in an oven on low heat to keep them warm.
If you want the chicken to be extra crispy, coat them twice with the egg mixture and the cornflake mixture like shown below.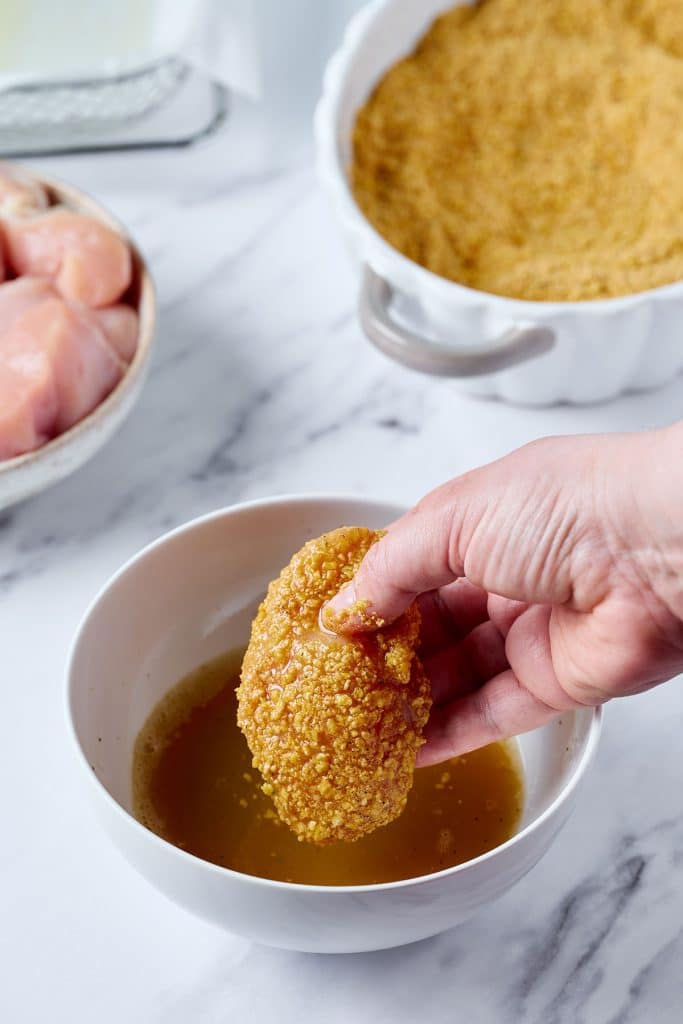 Common Questions About Hot Honey Chicken?
What is Hot Honey Made of?
Hot honey is a wonderfully sweet and spicy sauce or condiment made by infusing honey with fresh or dried chili peppers. The level of heat depends on the type of peppers used and their quantity. You can easily adjust the spice level of hot honey sauce to your taste.
What Does Hot Honey Taste Like?
Hot honey combines the sweetness of honey with the heat and spiciness of fresh or dried chili peppers, pepper flakes or hot sauce.
Is Hot Honey Chicken Spicy?
This hot honey chicken recipe has a nice spicy kick without being overwhelmingly spicy. The level of spiciness of the chicken also depends on how spicy your hot honey is and on how much of it you pour over the crispy chicken.
You can adjust the level of heat of hot honey by using the right pepper and by increasing or decreasing the red pepper flakes, chili powder, or hot sauce.
What Goes with Hot Honey Chicken?
This spicy sweet chicken recipe can be served by itself as an appetizer or as a main dish with different side dishes. Here are some side dish ideas:
.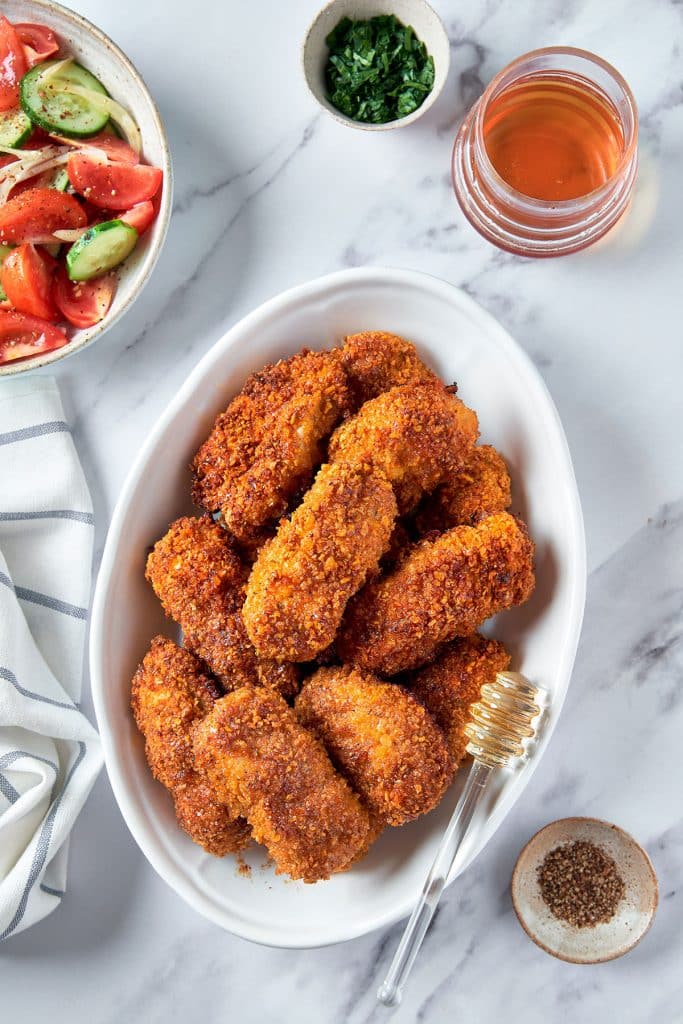 Make Ahead, Storing, and Freezing Hot Honey Chicken
Make Ahead: You can easily make this recipe ahead of time and reheat in the oven or air fryer when ready to serve. Wait to pour the hot honey over the top until right before you serve it.
Storage: Hot honey chicken can be stored in an airtight container in the refrigerator for 3-4 days. It's best to store the honey and the chicken separately, if possible.
Freezer: Freeze hot honey chicken for up to 3 months in resealable bags. It's best to store the honey separately in a cool, dark place. Thaw overnight in the fridge when ready to eat.
Tips For The Best Hot Honey Chicken
Each chicken breast usually yields 3-4 strips.

If you choose to make this recipe in the air fryer, substitute the butter with cooking spray or a neutral flavored oil.

The double dredging process results in chicken that's extra crispy.
You can make this recipe into chicken nuggets by cutting the chicken into smaller bite-size pieces.
Follow me on social media for more recipe ideas & inspiration! Pinterest Facebook Instagram My Newsletter
Crispy Hot Honey Chicken (Baked or Air Fried)
This Hot Honey Chicken recipe can be made in the oven or in the Air Fryer (both directions included). A delicious combination of lean chicken meat, coated in a tasty and crispy cornflake crust, oven fried or air fried until crispy on the outside, succulent and juicy inside. Finish it with hot honey sauce for an added punch of flavor!
Prep: 15 minutes
Cook: 25 minutes
Total Time 40 minutes
Servings 4 servings
Ingredients
2 pounds boneless and skinless chicken breasts about 3-4 breasts, cut into strips.
For Serving
Hot honey for serving about 1/3 cup
Chopped parsley or chives for serving optional
Instructions
In a food processor, place the cornflakes, paprika, garlic powder, Parmesan cheese and Italian seasoning and pulse until you have fine crumbs. Place the crumbs into a wide shallow plate (a pie plate is ideal) and set aside.

In a medium bowl, lightly beat the eggs with the water, salt and pepper.

Preheat the oven to 425ºF.

Place parchment paper on a rimmed sheet pan. Melt the butter and drizzle it or brush it onto the lined sheet pan to coat the parchment paper.

Working with one chicken strip at a time, dip the chicken in the egg mixture. Allow any excess egg to drip from the chicken and then dredge in the crumb mixture pressing each strip lightly so the coating adheres to the chicken. For a thicker coating, dip the chicken into the egg and the crumbs coating for a second time before placing the chicken onto the prepared sheet pan.

Place the chicken strips on the sheet pan in a single layer, leaving some room between each strip (about 1 inch). This will help the chicken crisp up properly. Spray the top of the chicken with oil spray.

Bake for 20-30 minutes or until the chicken is golden brown, crispy and reaches an internal temperature of 165°F. Cooking time will vary depending on the thickness of your chicken strips.

Remove from the oven and transfer to a serving dish. Pour hot honey over the chicken and serve, garnished with chopped parsley or chives.
Air Fryer Instructions:
Preheat the air fryer to 400ºF. Spray the air fryer basket with cooking spray. Place the coated chicken in the air fryer and lightly spray the chicken with cooking spray. Don't overcrowd the basket. Cook for 8 minutes, then flip the chicken strips and lightly spray with cooking spray. Cook for an additional 7 minutes or until the chicken is golden brown and cooked through.
Chef's Tips
You can get about 3 to 4 strips from a chicken breast
If you prefer using the air fryer, you will need the same ingredients except for the butter. Substitute the butter with cooking spray or oil.
Nutrition
Calories: 578kcal (29%)Carbohydrates: 37g (12%)Protein: 57g (114%)Fat: 22g (34%)Saturated Fat: 11g (69%)Polyunsaturated Fat: 2gMonounsaturated Fat: 6gTrans Fat: 0.5gCholesterol: 263mg (88%)Sodium: 971mg (42%)Potassium: 979mg (28%)Fiber: 2g (8%)Sugar: 4g (4%)Vitamin A: 1607IU (32%)Vitamin C: 12mg (15%)Calcium: 138mg (14%)Iron: 14mg (78%)
* Please note that all nutrition information are just estimates. Values will vary among brands, so we encourage you to calculate these on your own for most accurate results.