You will fall in love with these easy Air Fryer Chicken Legs as soon as you bite into the tender meat and crispy skin. Easy to make with budget friendly bone-in chicken legs, this easy air fryer recipe will convert even the pickiest eaters!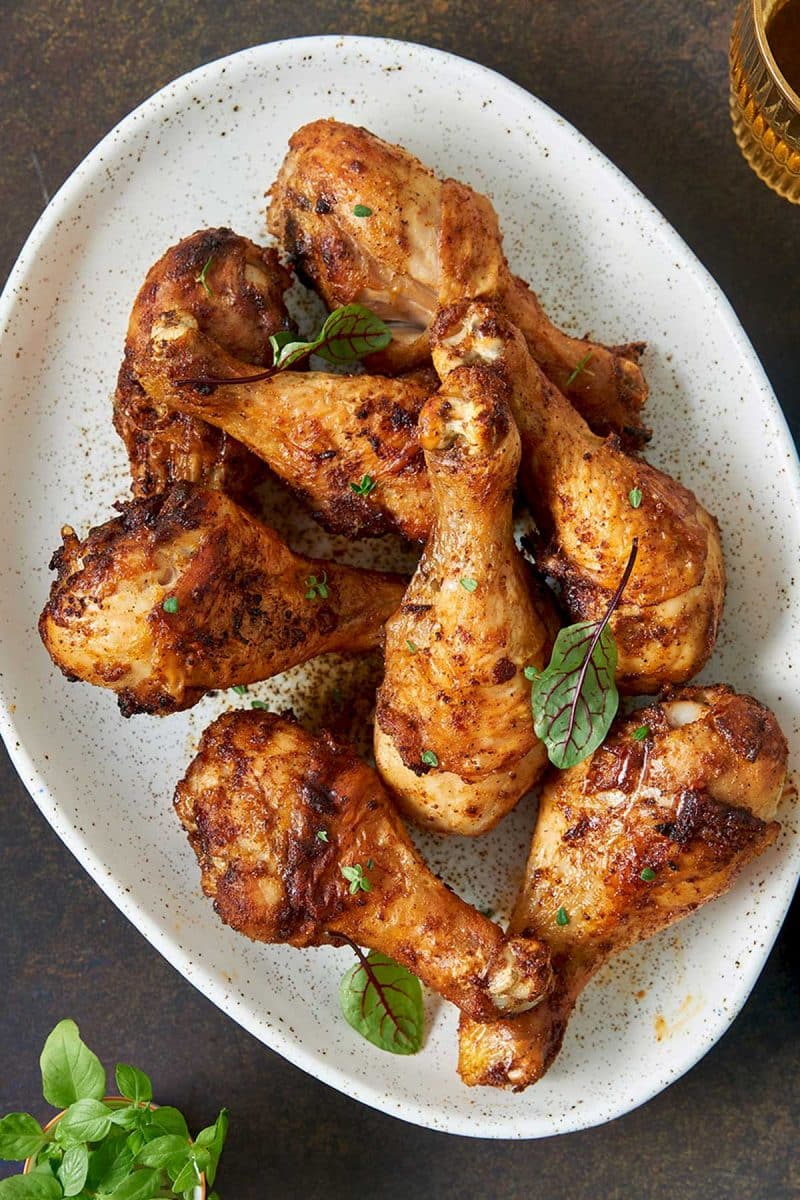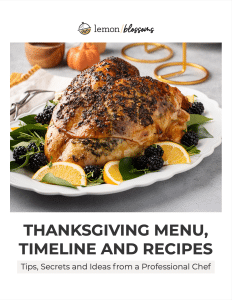 psst… Thanksgiving stress?
Not anymore!
Download our limited-time guide to hosting a smooth Thanksgiving, as experienced & perfected by Chef Kathy.
The Best Crispy Air Fryer Chicken Legs Recipe
Welcome to the dark side of the meat! The bone-in dark meat that is. This air fryer chicken leg recipe is so simple and easy to make. Just toss the chicken legs (aka chicken drumsticks) with any mild oil such as olive oil, some dry spices, air fry it, and — voila! — you have a dinner meal that your whole family will love; even the picky eaters!
With less than 30 minutes of overall prep and cooking time, you will still have enough time to toss together any of your favorite side dishes. This air fryer chicken drumsticks recipe is perfect for busy weeknights!
Why You'll Love Air Fry Chicken Legs?
Quick and Easy: These air fryer drumsticks require very little hands-on prep time and the cook time is incredibly quick. Plus, since you're not frying anything, the cleanup is a cinch.
Convenient: To make this air fryer recipe, all you need are simple ingredients available at most grocery stores. The seasoning mixture is made with everyday spices you most likely have in your pantry already.
Versatile: These chicken legs are ideal for weeknight dinners but are also a budget friendly option if you are having a party and need to feed a crowd. Plus, this easy chicken recipe can be served with any of your favorite sides.
Customizable: While we love the seasoning in this recipe, you can use other spice mixes such as Italian seasoning or even dunk the crispy drumsticks in your favorite dipping sauce after air frying them. Buffalo sauce, ranch dressing, BBQ sauce and honey mustard come to mind!).
What Are Air Fryer Chicken Legs?
Air fryer chicken legs are a much healthier alternative to traditional fried chicken. Enjoy the delicious flavor of perfectly tender, juicy chicken with the absolute best crispy skin without having to worry about extra calories and the mess made by deep frying.
Cooking chicken legs without breading them first and then frying them in hot oil means less prep work and less mess! Enjoying a delicious and quick dinner and less time cleaning is why I love air fryer recipes.
Air Fried Chicken Legs Ingredients and Substitutions
For the complete list of ingredients and quantities, check the printable recipe card below.
Chicken Legs: I use bone-in and skin-on chicken drumsticks. You can also use bone-in chicken thighs.
Olive oil: I use good quality olive oil but any mild cooking oil such as avocado oil or vegetable oil can be used.
Garlic Powder: Granulated garlic helps to give these chicken legs a good amount of garlicky flavor. You can add in onion powder, too.
Paprika: You can use regular, sweet paprika or smoked paprika for a hint of smokiness.
Chili Powder: One of my favorite spices. Adds so much flavor without the intense heat of hot sauce.
Ground black pepper: Freshly ground black pepper or a shake out of a jar work.
How Do You Make Air Fryer Chicken Legs?
Here's the quick version of how to make this easy air fryer chicken legs recipe. Find all of the details on the printable recipe card below.
Mix the spices together in a small bowl.
Preheat the air fryer.
Pat the chicken dry with paper towels to remove any excess moisture. This important step help the spices to stick to the chicken and also get the chicken skin crispier.
In a large bowl or resealable plastic bag, toss the chicken with a little oil. Add the spice mix and toss until the chicken is coated.
Place chicken in the air fryer basket in a single layer with plenty of room in between each piece so the air fryer's hot air can circulate properly.
Cook halfway, then flip the chicken. Cook until golden brown or until the internal temperature of the chicken reaches 165 degrees F. when checked with a meat thermometer.
Remove the crispy chicken legs from the air fryer. Allow to rest briefly before serving.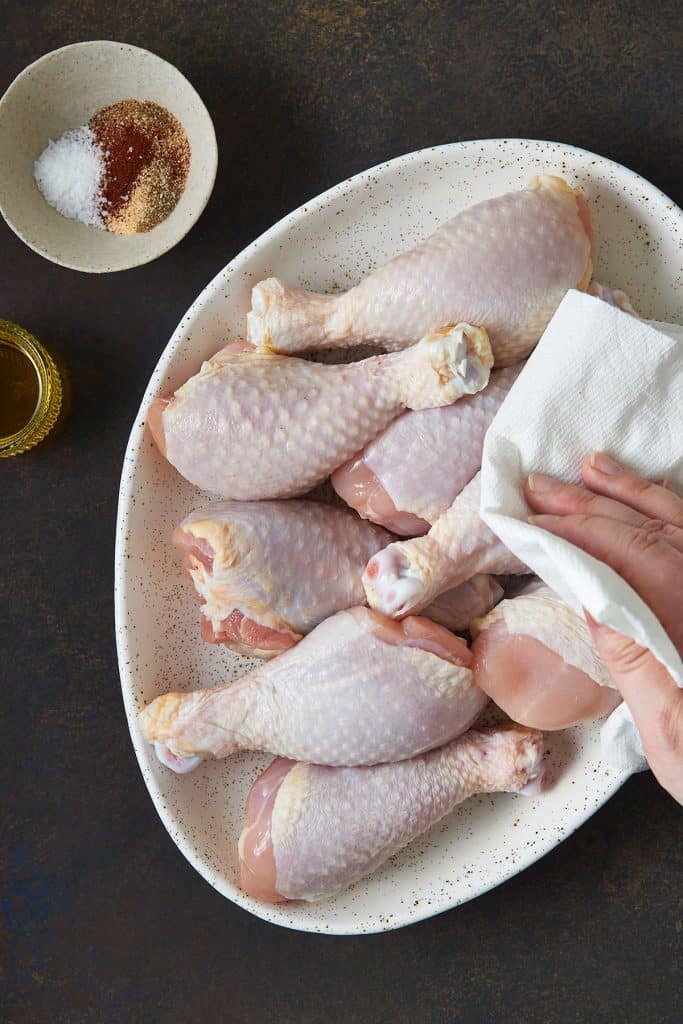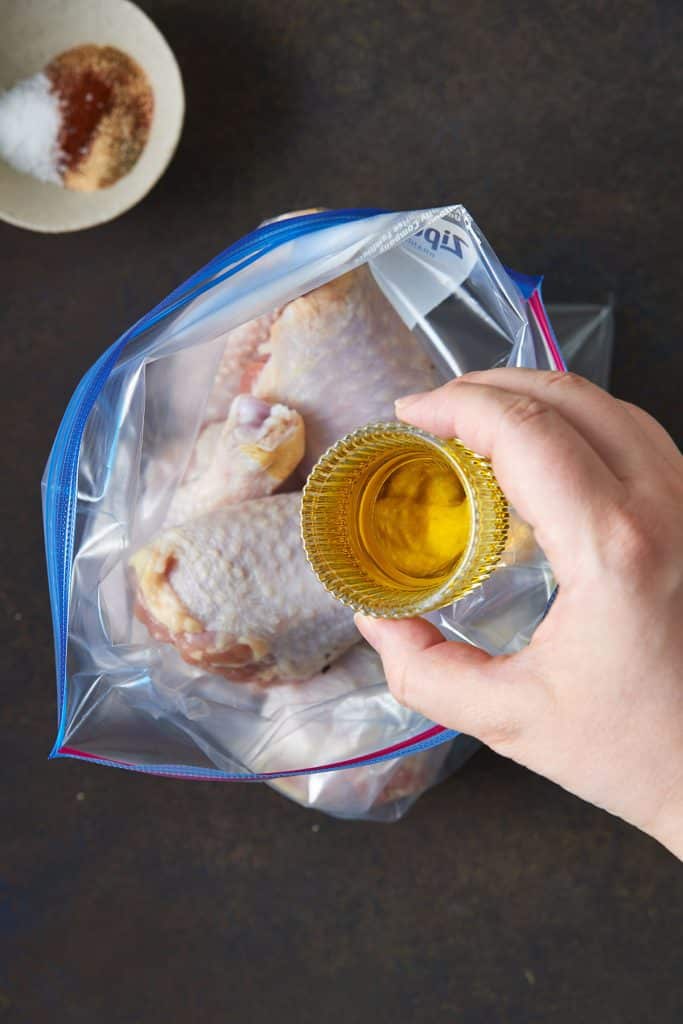 How Long Do I Cook Drumsticks in the Air fryer?
Chicken legs or drumsticks take about 20 minutes to cook in the air fryer at 400ºF. which makes them the perfect weeknight dinner! The best way to guarantee evenly cooked chicken is to flip the chicken halfway through the cooking time. The chicken is done when the internal temperature reaches 165º F when checked on the thickest part of the meat, with a digital thermometer.
Do you Have to Flip Drumsticks in an Air Fryer?
Yes, in order for the chicken legs to cook evenly and all the way through, you'll need to grab those kitchen tongs and flip the chicken drumsticks about halfway through cooking.
Are Drumsticks Better in the Oven or the Air Fryer?
Both the air fryer and the oven produce great results however, both methods have pros and cons. Cooking chicken drumsticks in the air fryer is quicker but an oven can accommodate a bigger batch of chicken.
Can You Put Chicken Legs on Top of Each Other in the Air Fryer?
You should absolutely avoid stacking chicken legs in the air fryer.For best results, even cooking and crispy skin it's best to place the chicken on a single layer with enough room between each chicken piece (about 1-inch is fine)
Can I Use Chicken Wings to Make this Recipe?
Absolutely! Chicken wings like chicken legs get crispy and always turn out delicious when air fried. We have the perfect Crispy Air Fryer Chicken Wings Recipe for you (is a family favorite)!
Are These Chicken Legs Spicy?
Not really! They are very well seasoned but not spicy hot. If you prefer spicier chicken, simply add 1/2 to 1 teaspoon of cayenne pepper to the spice mix. You are welcome!
What to Serve With This Air Fryer Chicken Recipe?
Making Ahead, Storing, Freezing and Reheating
Making Ahead: You can season the chicken and keep it in the refrigerator overnight.
Storing: After they have reached room temperature, store the chicken legs in an airtight container or resealable bag in the refrigerator for 3-4 days.
Freezing: Cool the chicken completely and store them in a freezer-safe container or a resealable freezer bag. Freeze for 2-3 months. Thaw out in the refrigerator overnight.
Reheating: Reheat leftover chicken drumsticks in a preheated 325ºF oven or in the microwave until heated through.
Tips for Success
Evenly Cooked: The hot air in the air fryer needs to reach all sides of the meat in order for them to crisp up. Make sure that there's plenty of space between each chicken leg.
Single Layer: For the same reason as avoiding overcrowding, keep chicken in a single layer in the air fryer basket. They will not cook evenly or be crispy otherwise.
Cooking in Batches: Your user's manual should contain information about the ideal amount to fill your specific model. Follow those guidelines and cook in batches if necessary.
For Perfect Golden Brown Crispy Skin: Pat the chicken dry with paper towels to remove extra moisture and don't skip the oil! Although spraying the air fryer basket is not necessary, I always recommend using cooking spray to prevent the chicken from sticking.
Take a Look at These Other Air Fryer Recipes:
Follow me on social media for more recipe ideas & inspiration! Pinterest Facebook Instagram My Newsletter
Air Fryer Chicken Legs

These Air Fryer Chicken Legs are perfectly seasoned, have tender juicy meat and crispy skin. Made with simple ingredients and ready in 30 minutes, this is such an easy dinner recipe that will please even picky eaters!
Prep: 5 minutes
Cook: 25 minutes
Total Time 30 minutes
Servings 4 servings
Instructions
In a small bowl combine the salt, garlic powder, paprika, chili powder, ground cumin and black pepper. Set aside

Preheat the air fryer to 400º Fahrenheit according to the manufacturer's instructions.

Pat the chicken legs dry with paper towels.

Place the chicken in a bowl or in a resealable plastic bag and drizzle with oil. Toss to combine. This will help the spices to stick to the chicken and also get the chicken crispier.

Sprinkle the spice mix over the chicken and toss to coat.

Arrange the chicken legs on a single layer in the air fryer basket.

Cook for 10 minutes. Flip the chicken legs over and cook for an additional 10 minutes or until the chicken registers an internal temperature of 165º Fahrenheit when a meat thermometer is inserted at the thickest part without touching the bone.

Transfer to a plate and allow to rest for 5 minutes then, serve hot.
Chef's Tips
Pat the chicken dry with paper towels to remove extra moisture and don't skip the oil! Although spraying the air fryer basket is not necessary, I always recommend this step to prevent the chicken from sticking.
Don't crowd the air fryer basket. If the chicken legs are too close to each other, they won't crisp up.
Check the user's manual for information about how much you should fill your particular model.
Place the chicken in a single layer. Stacking the chicken will prevent it from cooking properly and getting crispy.
Depending on your air fryer capacity, you may have to cook the chicken in two batches.
Nutrition
Calories: 557kcal (28%)Carbohydrates: 2g (1%)Protein: 42g (84%)Fat: 41g (63%)Saturated Fat: 11g (69%)Polyunsaturated Fat: 9gMonounsaturated Fat: 17gTrans Fat: 0.2gCholesterol: 240mg (80%)Sodium: 803mg (35%)Potassium: 552mg (16%)Fiber: 0.4g (2%)Sugar: 0.1gVitamin A: 560IU (11%)Vitamin C: 1mg (1%)Calcium: 28mg (3%)Iron: 2mg (11%)
* Please note that all nutrition information are just estimates. Values will vary among brands, so we encourage you to calculate these on your own for most accurate results.