This Chicken Tortilla Soup recipe is loaded with shredded chicken, vegetables, tortilla strips and spices in a tasty tomato broth. This hearty Tortilla Soup recipe is the absolute best!
We love the flavors of Mexican and Tex-Mex food. Our Instant Pot Carnitas and easy Shrimp Ceviche are two of our most popular recipes.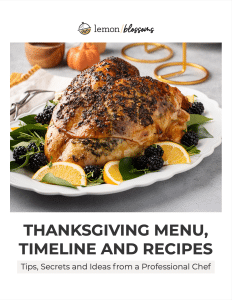 psst… Thanksgiving stress?
Not anymore!
Download our limited-time guide to hosting a smooth Thanksgiving, as experienced & perfected by Chef Kathy.
Chicken Tortilla Soup is one of those soups everyone always orders at restaurants. Infused with Mexican flavors, warm spices and loaded with toppings like sour cream, shredded cheese, crispy tortilla strips and cilantro, this tasty soup is incredibly popular and loved by all.
Thankfully, you don't have to go to a restaurant or travel to Mexico to enjoy the flavors of Tortilla soup. You can make authentic Chicken Tortilla Soup at home any time from your own kitchen. This delicious homemade version is incredibly delicious and easy to make.
What is Tortilla Soup Made of?
Tortilla soup is a classic Mexican soup made with a tomato or chicken base. There are many variations of this soup but corn tortillas are what give this Mexican soup its distinct flavor and slight thickness.
Some recipes for Tortilla soup include ingredients like diced tomatoes, corn and black beans. Creamy Chicken Tortilla Soup gets its luscious creamy consistency in different ways by the use of heavy cream or by blending some of the soaked corn tortillas with the soup broth.
How Do You Thicken Tortilla Soup?
Tortilla chicken soup is thickened with corn tortillas. Cutting the tortillas into fairly thin strips allows the broth to be absorbed quickly. The soft tortillas then release their starch, thickening the soup.
Masa Harina, the gluten free soft flour made from dried corn can be used as well.
Chicken Tortilla Soup Ingredients
Olive Oil – You can use canola, avocado oil or vegetable oil.
Onions – Brown, yellow or white onions diced.
Celery – Large diced.
Carrots – Peeled and large diced.
Jalapenos – If you don't like a lot of heat, remove the seeds and veins.
Green Bell Peppers – Seeded and large diced.
Garlic – I use fresh garlic.
Crushed Tomatoes – You could use diced tomatoes but I really like the texture of crushed tomatoes for this Mexican soup.
Chicken Broth – the recipe calls for low sodium although I often make it with regular stock.
Shredded Chicken – I like using my Instant Pot Chicken Breasts recipe, rotisserie chicken or baking whole bone-in chicken breast in the oven.
Corn Tortillas – I don't fry the tortillas before adding it to the soup. I like to keep the soup on the healthy side. I prefer white corn tortillas.
Fresh Cilantro – If you don't like cilantro, use parsley instead.
Seasonings and Spices: Salt, Cumin, Coriander, Dried Oregano
How To Make Tortilla Soup
Heat the oil in a Dutch oven or soup pot and saute the onions, carrots, celery, bell pepper and jalapeno until the onions become soft and translucent.
Add the garlic and then the spices.
Stir in the crushed tomatoes and chicken broth and bring to a boil.
Add the chicken, tortilla strips and cilantro. Lower the heat and simmer for about 20 to 25 minutes.
Season to taste and serve with your favorite toppings.

Best Chicken Tortilla Soup Recipe Tips
Store the soup in an airtight container in the refrigerator for 3 to 4 days. Make sure you cool the soup completely before storing it in the fridge.
You can make this easy soup with homemade chicken stock.
You can make the soup extra spicy by using jalapenos without removing the veins. You can also add cayenne pepper if you like.
Take a look at this recipe for homemade corn tortillas with step by step instructions.
You can use leftover rotisserie chicken to make this soup.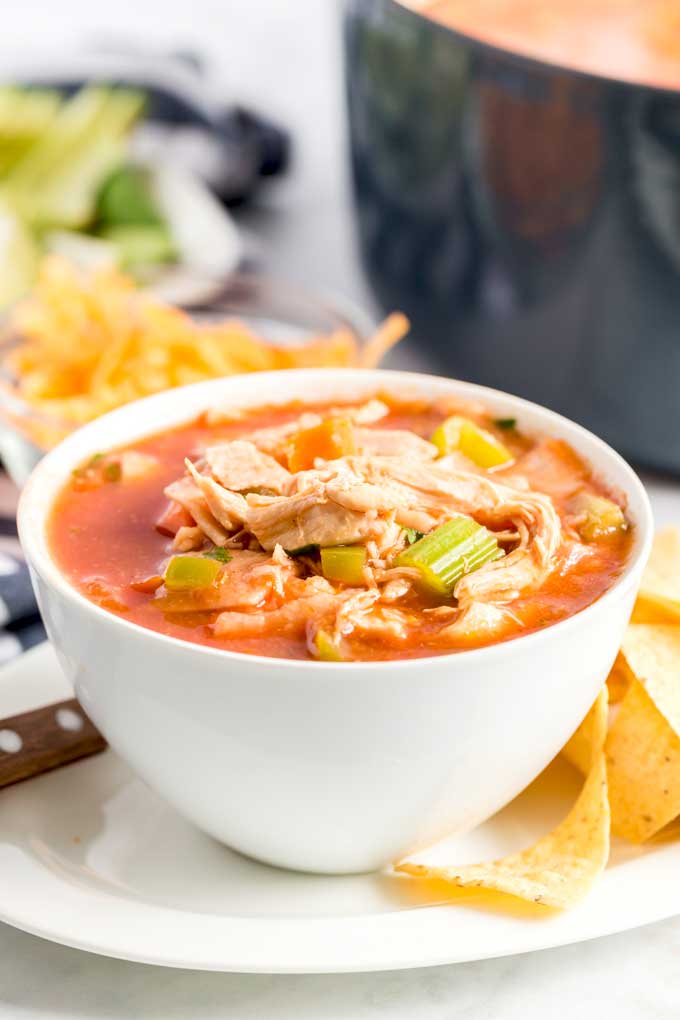 Take A Look At These Mexican Style Recipes:
Follow me on social media for more recipe ideas & inspiration! Pinterest Facebook Instagram My Newsletter
Chicken Tortilla Soup Recipe
This Chicken Tortilla Soup recipe is loaded with shredded chicken, vegetables, tortilla strips and spices in a tasty tomato broth. This hearty Tortilla Soup recipe is the absolute best!
Prep: 5 minutes
Cook: 35 minutes
Total Time 40 minutes
Servings 6 servings
Ingredients
1 medium onion diced
2 stalks of celery large diced
4 carrots peeled and large diced
1 small green bell pepper large diced
1 – 2 jalapeno peppers seeded and finely chopped
6 garlic cloves chopped
1 teaspoon dried oregano
1 teaspoon ground cumin
1 teaspoon ground coriander
1 teaspoon salt
1 28- ounce can crushed tomatoes
10 cups low sodium chicken broth (2.5 qts)
4 heaping cups shredded chicken
¼ cup chopped fresh cilantro
6 fresh white corn tortillas cut crosswise into about ½ inch strips
To Serve (Pick your favorites)
Shredded Cheese Cheddar, Pepper Jack or Mexican blend
Tortilla Chips
Sliced Avocado
Lime wedges and chopped cilantro
Sliced Jalapenos
Instructions
Instructions
In a large pot or Dutch oven, heat up 1 tablespoon of olive oil over medium-high heat. Add the onions, celery, carrots, green bell pepper and jalapeno. Sautee for about 5 – 6 minutes or until the onions become translucent. Add the garlic and cook for about 1 –2 minutes.

Lower the heat to medium low and stir in the oregano, cumin, coriander and salt. Stir in the crushed tomatoes and chicken stock. Bring to a boil. Add the shredded chicken, tortilla strips and the fresh cilantro. Reduce the heat to low and simmer for 20 to 25 minutes. Season to taste with salt and pepper.

Serve the soup hot, top with sour cream or Mexican crema, shredded cheese, sliced avocado and tortilla chips. Garnish with lime wedges and chopped cilantro if desired.
Nutrition
Calories: 281kcal (14%)Carbohydrates: 38g (13%)Protein: 13g (26%)Fat: 8g (12%)Saturated Fat: 1g (6%)Cholesterol: 12mg (4%)Sodium: 634mg (28%)Potassium: 752mg (21%)Fiber: 4g (17%)Sugar: 10g (11%)Vitamin A: 7040IU (141%)Vitamin C: 25mg (30%)Calcium: 82mg (8%)Iron: 1.9mg (11%)
* Please note that all nutrition information are just estimates. Values will vary among brands, so we encourage you to calculate these on your own for most accurate results.