Last updated on April 14th, 2019 at 08:39 pm
This Chicken Tortilla Soup is beyond delicious. It's healthy, flavorful, easy to make and a complete meal. Especially if you add all the amazing toppings ~ who doesn't like to pile up on toppings?
Years ago while living in Southern California, I used to have a gourmet foods business. I was lucky (and blessed) to partner with a dear friend and marketing genius who shared with me a passion for all things food and wine.
We decided to sell our offerings at local farmers markets (the cool place to shop on the West Coast).
Our product line consisted of a few gourmet sauces, cookies, brownies and some interesting snacks. After a few weeks of success with our line, we decided to introduce to-go-soups into the menu. This chicken tortilla soup was by far our best seller!
I would shop, prep and cook like a mad woman and Dani would jar, wrap, seal, pack and beautify!
We will wake up at the crack of dawn and drive a couple of cars full of merchandise through the canyon all the way to a very "hip and celebrity packed" market! Some mornings were freezing cold (that would be 68 degrees by California standards), but we always had a great time. We really had the best looking stall at the market and we even dressed the same!
The biggest issue we had was keeping the soup available for purchase for more than 30 minutes! We were always sold out no matter how much we made! It seems like the more I made, the faster it would go! Seriously exhausting you guys!
Chicken Tortilla Soup
Anyway, back to the soup. Big shreds of chicken, aromatic vegetables, crushed tomatoes, amazing spices…. all thickened by corn tortillas… yum! I'm about to eat my keyboard! It's super easy to make and the results are amazing! To take it to the next level of yum, the toppings ~ shredded cheese that will melt as soon as they touch the soup, sour cream or Mexican crema, tortilla chips (feel free to crush them and pour them all over). Top it all off with some creamy ripe sliced avocados and some more cilantro and you've got yourself a meal!!
Kathy's Notes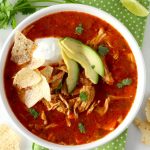 Print Recipe
Chicken Tortilla Soup
This Chicken Tortilla Soup is beyond delicious. It's healthy, flavorful, easy to make and a complete meal. Especially if you add all the amazing toppings! This soup is truly everyone's favorite!
Prep Time10 mins
Cook Time1 hr
Total Time1 hr 10 mins
Servings: 6 servings
Calories: 281kcal
Ingredients
4 split, 2 whole chicken breasts, bone in, skin on
1 tablespoon Olive oil, plus extra for the chicken
Salt and Pepper to taste
1 large onion, chopped
3 stalks of celery, chopped
4 carrots, chopped
1 small green bell pepper, chopped
1 - 2 jalapeno peppers, seeded and finely chopped
6 garlic cloves, chopped
1 teaspoon dried oregano
1 teaspoon ground cumin
1 teaspoon ground coriander
1 28-ounce can crushed tomatoes
10 cups 2 ½ quarts homemade chicken stock (or canned)
¼ cup chopped fresh cilantro
8 fresh white corn tortillas, cut crosswise into about ½ inch strips
To serve:
Shredded cheese Cheddar, Pepper Jack or a Mexican blend work well
Tortilla Chips
Sliced Avocado
Lime wedges and chopped cilantro optional
Instructions
Preheat the oven to 350 degrees Fahrenheit

On a sheet pan place the chicken breasts skin side up, rub with olive oil and season with salt and pepper to taste. Roast the chicken for about 35 to 45 minutes or until cooked through. Remove from the oven. When your chicken is cool enough to handle, shred the chicken discarding the skin and the bones. Reserve until ready to use.

In a large pot or Dutch oven, heat up 1 tablespoon of olive oil over medium-high heat. Add the onions, celery, carrots, green bell pepper and jalapeno. Sautee for about 8 - 10 minutes or until the onions become translucent. Add the garlic and cook for another 2-3 minutes.

Lower the heat to medium low and add the oregano, cumin, coriander and about 1 tablespoon of salt (the amount of salt you add depends on the saltiness of your chicken stock). Mix well. Add the crushed tomatoes and chicken stock. Bring to a boil. Add the shredded chicken, tortilla strips and the fresh cilantro. Reduce the heat to low and simmer for 25 – 30 minutes. Season to taste with salt and pepper.

Serve the soup hot, top with sour cream or Mexican crema, shredded cheese, sliced avocado and tortilla chips. Garnish with lime wedges and chopped cilantro if desired.
Nutrition
Calories: 281kcal | Carbohydrates: 38g | Protein: 13g | Fat: 8g | Saturated Fat: 1g | Cholesterol: 12mg | Sodium: 634mg | Potassium: 752mg | Fiber: 4g | Sugar: 10g | Vitamin A: 7040IU | Vitamin C: 25mg | Calcium: 82mg | Iron: 1.9mg
Things You May Need
Ground Cumin
Ground Coriander
Oregano/easyazon_link]
[easyazon_link identifier="B010CHJ3YE" locale="US" tag="lemonblossoms-20"]White Corn Tortillas