Cantaritos is a refreshing Mexican drink made with citrus juices, bubbly grapefruit soda and tequila. A cocktail often served in a traditional clay cup, this classic cantarito recipe is packed with flavor!
What's A Cantarito?
Cantaritos – A Refreshing Mexican Drink
Originally from the state of Jalisco Mexico, Cantaritos is a tequila cocktail packed with the bright flavors of lemon and lime juice, aromatic tequila, and bubbly grapefruit soda. The salty flavors of the glass rim adds to the depth and complexity of this drink.
Similar to a paloma cocktail, this popular Mexican drink is sold in bars, restaurants and even roadside stands, where the drink is usually served in clay jugs.
Why you'll Love Cantaritos?
Flavor: Fresh citrus juice complements the tequila while the carbonation from the soda makes it light and refreshing. The rim of cantaritos drinks can be spicy with a pinch of salt, adding another layer of flavor to this traditional Mexican cocktail.
Easy:This simple citrusy drink is perfect for parties — you can easily pour them on the fly or make a large batch of the lemon, lime, and tequila, and add the soda as necessary.
Festive: Sparkly and full of fun citrus flavor, this cocktail is a great way to kick off any summer celebration.
What's in a Cantarito?
Ingredients and Substitutions
For the complete list of ingredients and quantities, check the printable recipe card below.
Silver Tequila or Reposado Tequila: Tequila brings the signature bold flavor to the cantarito drink. Whether you choose blanco tequila for a smoother taste or tequila reposado for added complexity, it sets the foundation and provides that distinct agave essence.
Orange Juice: The addition of freshly squeezed orange juice adds a bright and citrusy note with a touch of sweetness to the drink.
Lemon Juice: Tangy and zesty, fresh lemon juice adds a refreshing acidity to the Cantarito.
Lime Juice: Fresh lime juice provides a burst of tanginess and a vibrant citrus kick.
Grapefruit Soda: The effervescence of grapefruit soda brings a bubbly and slightly bitter quality to the drink that pairs well with the tequila and citrus juices.
Crushed Ice: Not only does crushed ice chill the drink, it also adds a pleasant crunch.
For the Rim (optional): Add spicy or salty flavor to each sip by rimming the glass with spice or salt. Salt, Tajin or Chili Lime Powder, or chili powder.
To Garnish: (optional): Citrus fruits like lemon, lime or grapefruit slices or fresh orange wedges. Fresh Mint.
How Do You Make A Cantarito?
Here's the quick version of how to make this easy cantaritos recipe. Find all of the details on the printable recipe card below.
Soak the Clay Cups (if using):If using the traditional clay cups or jugs, soak them in cold water prior to making the drink. Otherwise, chill highball glasses.
Rim: Use a lime wedge to coat the rim of the cup or glass with juice before dipping the rim into a plate of salt or chili lime powder.
Pour Ice and Juices: Add crushed ice to the glass before adding the tequila, orange juice, lemon juice, and lime juice.
Add Soda and Serve: Top with the grapefruit soda and give it a quick stir. Garnish and serve immediately.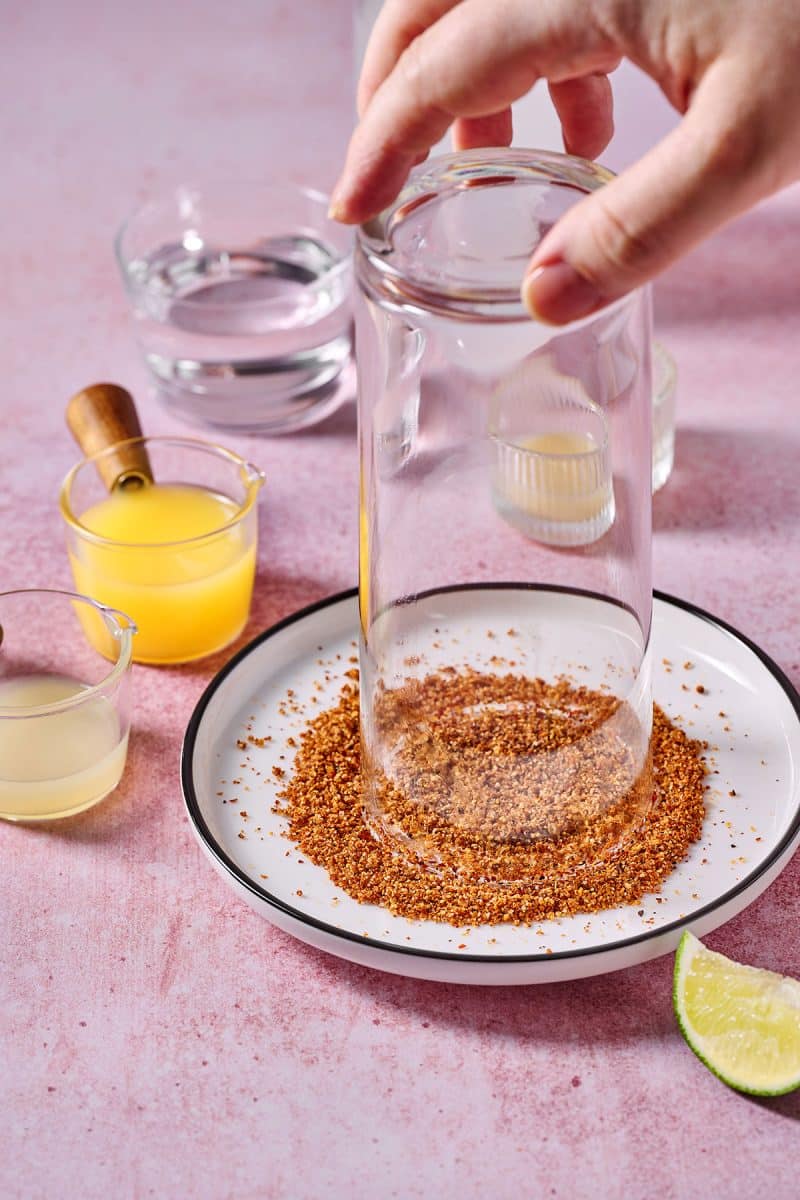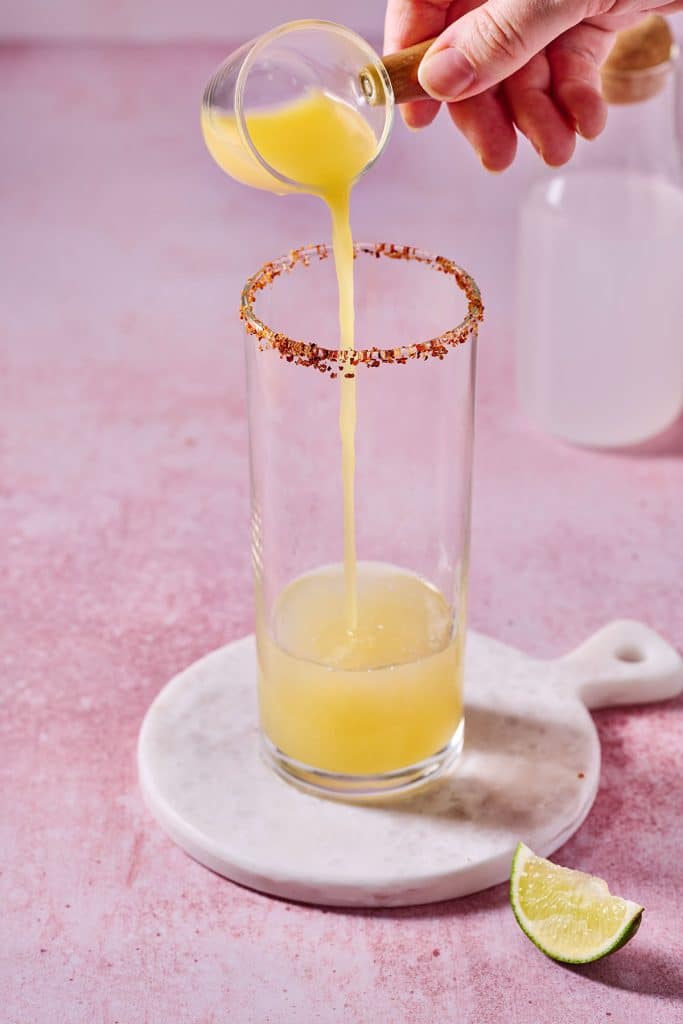 Frequently Asked Questions About Cantaritos
What are Mexican Cantaritos Made of?
Cantaritos, the popular Mexican cocktail is made with tequila, fresh orange juice, lemon, lime juice, and grapefruit soda. Cantaritos is also the name of the traditional clay cups used for serving cold drinks.
What's the Difference Between a Paloma and a Cantarito?
While a paloma cocktail incorporates tequila, grapefruit, and lime juice, a cantaritos drink adds additional sweetness and citrus flavors by including orange juice and lemon.
What Does Cantarito Means?
Cantarito or jarrito in Spanish means little jugs and refers to handmade clay cups used for serving cold drinks and/or tequila. Cantarito is also a popular Mexican cocktail made with tequila and a combination of fresh citrus juice.
What are the Flavors of Cantaritos?
The flavor of this Mexican cocktail is citrusy, tangy, a bit sweet and very refreshing.
What's a Cantarito Cup Called?
Cantarito or Jarrito de barro in Spanish, is the name of the traditional clay cup used for serving the drink by the same name, as well as tequila and other cold drinks. Clay keeps the drinks colder much longer than other cups.
About Cantaritos Clay Cups
Traditional cantaritos cups or jarritos the barro in Spanish, are clay cups used for drinking tequila in the Mexican state of Jalisco. They are also used to serve other delicious cocktails such as Micheladas.
Benefits and Care
Cantarito cups are made out of red clay which keeps drinks cold longer than cups made from other materials. It also give the cocktail an earthy organic taste that only makes the drink more fabulous (if that's even possible)
After buying cantarito cups, rinse them well and soak them in cold water for about 30 minutes.
Before every use, soak the clay cups in cold water for about 10 minutes.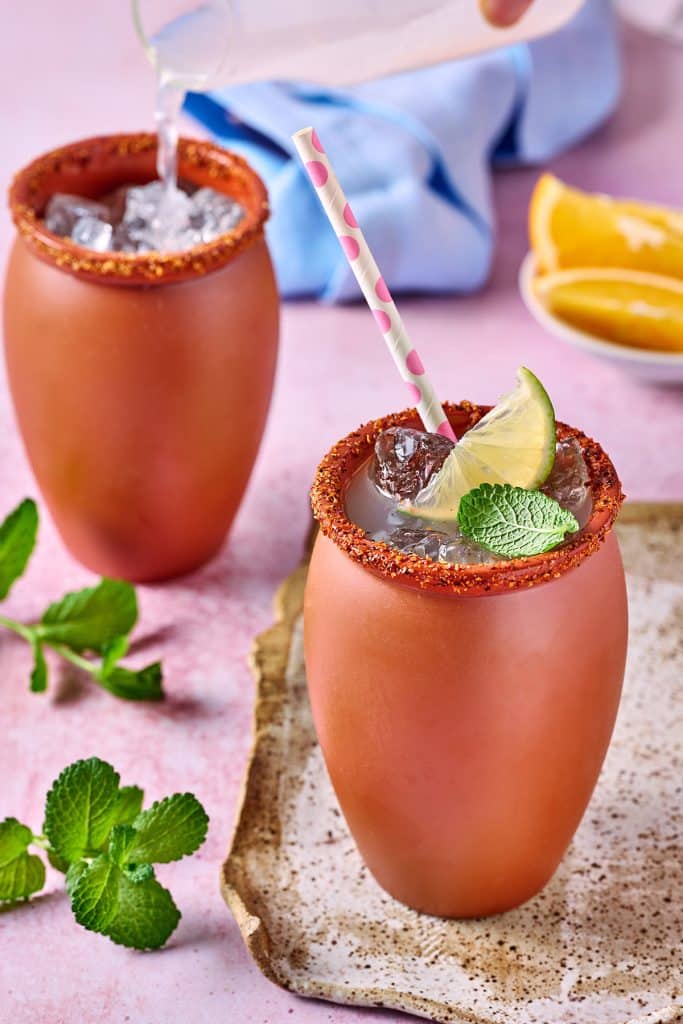 What To Serve With A Cantaritos Drink
You can serve this refreshing citrusy tequila cocktail with appetizers or antojitos or with your favorite Mexican dishes:
Variations
Sweetness: If you prefer a sweeter drink, add a splash of agave nectar or simple syrup. For less sweetness use club soda.
Jarritos Soda: Use Mexican soda (Jarritos) for a more authentic taste.Squirt and Fresca.
Booze: Swap the tequila for mezcal for an interesting smoky flavor.
Flavored Rims: Instead of Tajin use coarse salt (like the one used for margaritas), sugar, chamoy and chili powder.
Virgin Mocktail: Skip the tequila and increase the fruit juices and soda.
Make Ahead and Storing Cantaritos
Make Ahead: Mix the tequila and citrus juices together ahead of time. Then, pour into the prepared glasses and top with the grapefruit soda before stirring.
Storing: Leftover cantaritos drinks with the grapefruit soda and ice will not retain the same flavor or carbonation. However, you can store them in the refrigerator for 24 hours if you have leftovers.
Bartender tips for Success
Best Tequila: The best tequila is not always the most expensive one!

Real Juice: Nothing compares to the flavor of real citrus juice.

Clay Cups: If using clay jugs, soak them in cold water for 10 minutes before using them. Rinse quickly and pour in the cocktail ingredients.
Soak, Rinse Serve: Don't dry up the clay cups. The wet exterior and the ice in the drink keep the drink extra cold and refreshing.

Highball Glasses: If you don't have red clay mugs, try using a highball glass or collins glass instead.

Soda Pop: In a pinch, if you can't find grapefruit soda, mix fresh grapefruit juice with club soda.

Stir not Shake: Avoid using a cocktail shaker to keep the soda's effervescence!
Take a Look at these other Easy Cocktail Recipes:
Follow me on social media for more recipe ideas & inspiration! Pinterest Facebook Instagram My Newsletter
Cantaritos Recipe
Refreshing Cantaritos are a traditional Mexican drink infused with fresh citrus juices, aromatic tequila and bubbly grapefruit soda.
Prep: 10 minutes
Cook: 0 minutes
Total Time 10 minutes
Servings 1 drink
Ingredients
2 ounces tequila blanco or reposado
1 ounce orange juice freshly squeezed
1/2 ounce lemon juice freshly squeezed
1/2 ounce lime juice freshly squeezed
3 to 4 ounces

grapefruit soda


Crushed ice
For the Rim:
Salt or Chili lime powder (like Tajin) or chili powder
To Garnish:
Lemon lime and/or grapefruit slices
Fresh mint optional
Instructions
If you will be serving this drink in traditional clay cups, soak them in cold water for 15 minutes before making the drink.

Rub lime around the rim of the clay cup. Place the salt/ or chili lime powder on a plate and dip the rim of the cup.

Fill the clay cup with crushed ice. Add the tequila, orange juice, lemon juice and lime juice. Add the grapefruit soda and give it a quick stir. Garnish and serve.
Nutrition
Calories: 185kcal (9%)Carbohydrates: 14g (5%)Protein: 0.4g (1%)Fat: 0.1gSaturated Fat: 0.02gPolyunsaturated Fat: 0.01gMonounsaturated Fat: 0.01gSodium: 10mgPotassium: 90mg (3%)Fiber: 0.2g (1%)Sugar: 12g (13%)Vitamin A: 65IU (1%)Vitamin C: 24mg (29%)Calcium: 8mg (1%)Iron: 0.1mg (1%)
* Please note that all nutrition information are just estimates. Values will vary among brands, so we encourage you to calculate these on your own for most accurate results.