This Baked Brie with Cranberries is creamy, rich, elegant and very easy to make. This Baked Brie in Puff Pastry is the perfect appetizer to serve during the holidays or any other time when you want to impress your guests!
This Baked Brie recipe is one of those appetizer recipes everyone always raves about. My family and friends always request this easy appetizer at every holiday party or gathering and for a good reason –  perfectly golden and flaky puff pastry encasing a round of warm, gooey and decadent triple creme brie cheese topped with sweet and tart cranberries is hard to resist!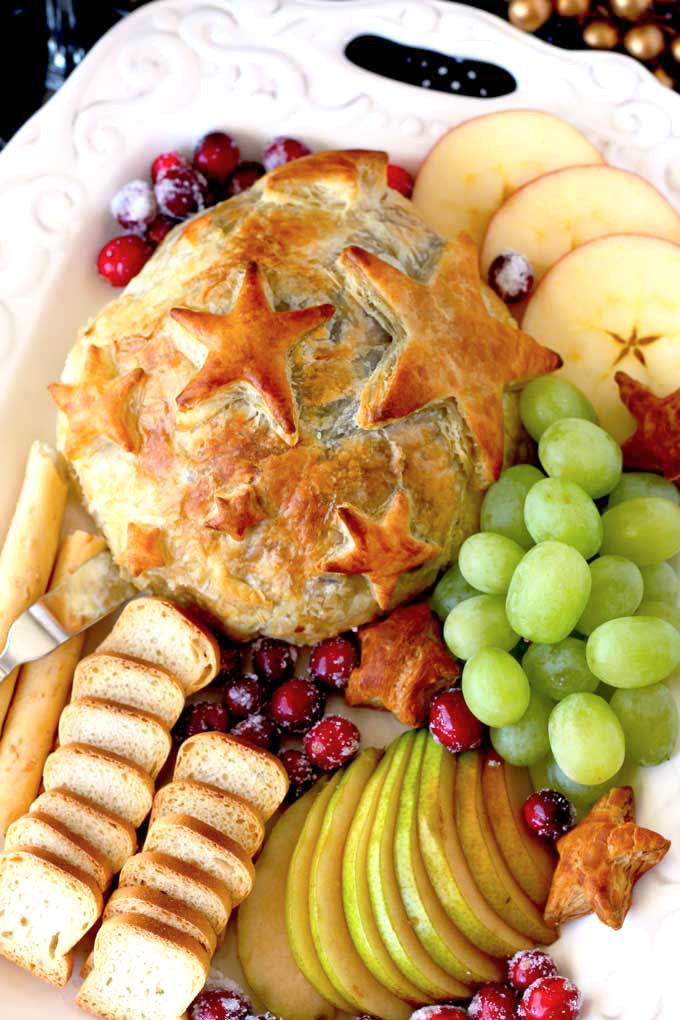 Baked Brie is such a classic and elegant appetizer for a crowd. It can also be served as part of a cheese board or charcuterie plate. This showstopper Baked Brie recipe has the perfect combination of crispy, rich, creamy, buttery, savory and sweet!  I love serving it with  assorted crackers, breads and fruits like sliced apples and pears.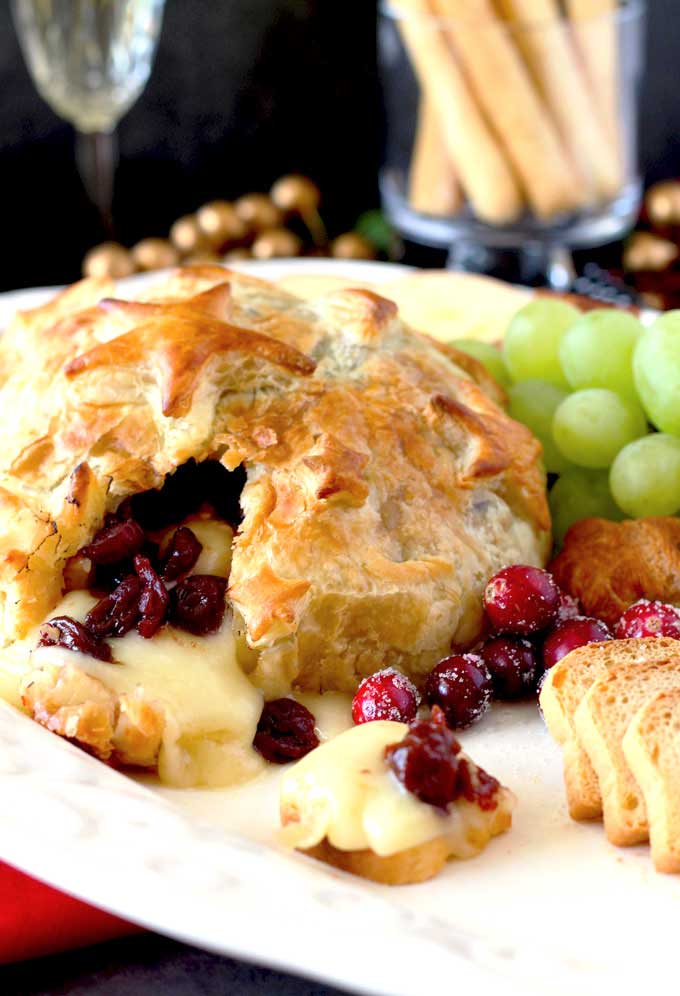 Making Baked Brie with Cranberries
Baked Brie or Brie en Croute can be prepped ahead of time and baked when you are ready to serve it. This is always a big plus during busy holidays or when having a dinner party or cocktail party.
Puff pastry is one of my go-to ingredients when I want to impress my guests. I keep a few boxes in my freezer at all times and they have come to my rescue more than once when I need to come up with a fabulous, quick and easy dish for entertaining.
This simple but impressive Pear and Goat Cheese Tart is one puff pastry recipe I like to serve as an appetizer or for brunch. Serve it with a salad for a fantastic light lunch.
TIPS FOR BAKING WITH PUFF PASTRY
Most puff pastry is sold frozen and comes in sheets. Puff pastry sheets are usually folded.
Thaw out the pastry, either overnight in the refrigerator or for about 35 – 45 minutes at room temperature. You want the pastry to be pliable yet cold.
Unfold the pastry gently. Don't worry, if your pastry sheet tears or gets a hole, you can easily fix these with your fingers. Wet your fingers if needed as this always seems to help.
Lightly flour your working surface before rolling out the pastry dough. This will prevent the dough from sticking.
Using a rolling pin, lightly roll across the entire puff pastry sheet surface. Dust your rolling pin with flour to prevent it from sticking.
Be gentle. If the pastry gets too thin it won't puff much in the oven.
Cut and shape the pastry.
The secret to total success when baking puff pastry is to chill the pastry before you bake it. Don't stress about the cutting, wrapping, or the decorations! The secret is "chilled pastry!"
The handling will make your pastry a bit warm so before baking it, chill it for at least 15 -20 minutes or stick it in the freezer for 10 minutes!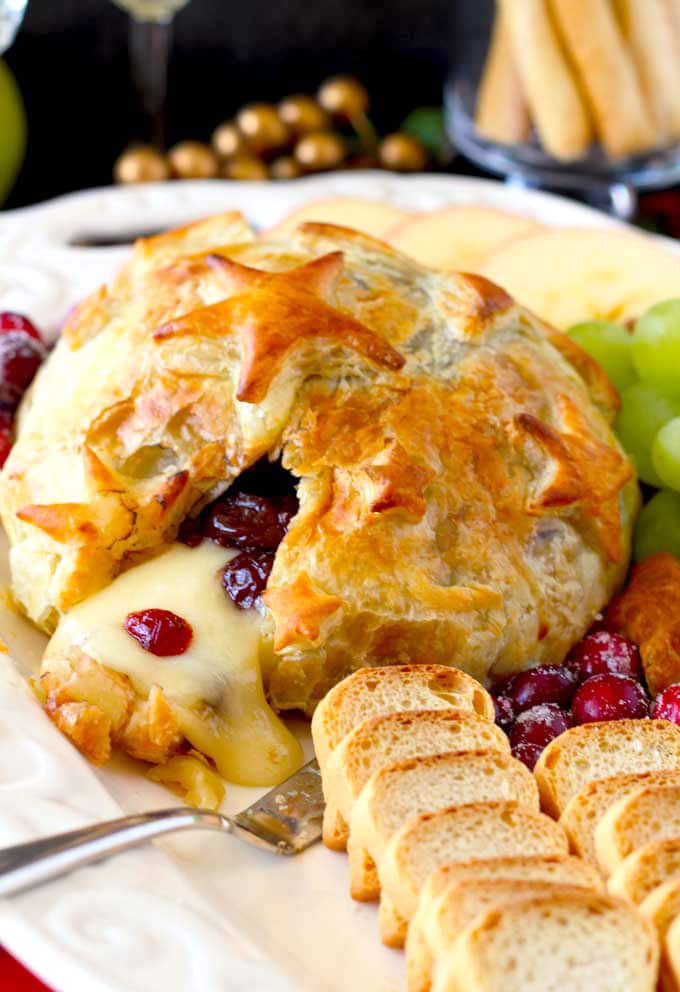 The Cranberries
For this creamy Brie appetizer, I make a very simple 15-minute, 5-ingredient cranberry sauce. I used a combination of dried cranberries and cherries. This cranberry sauce doesn't include any additional sugar. The sweetness comes from the dried fruit alone! You can use any combination of dried fruits you may prefer. Dried cranberries and golden raisins also work very well.
This cranberry sauce can be made days ahead. Properly stored in the refrigerator it will last for a week.
Tips and Notes For Making Baked Brie
Things you may need:
Silpat Non-Stick Silicone Baking Mat
Silicone Basting Pastry Oil Brush
Commercial Baker's Half Sheet Pan
Non Stick Parchment Paper
Dried Cranberries
---
WANT TO TRY THIS BAKED BRIE RECIPE?
PIN IT TO YOUR APPETIZER OR HOLIDAY BOARD TO MAKE IT LATER!!
FIND ME ON PINTEREST FOR MORE DELICIOUS RECIPES!
Follow me on social for more recipe ideas & inspiration! Pinterest Facebook Instagram My Newsletter
Baked Brie with Cranberries in Puff Pastry
This Baked Brie with Cranberries is creamy, rich, elegant and very easy to make. This Baked Brie in Puff Pastry is the perfect appetizer to serve during the holidays or any other time when you want to impress your guests!
Prep: 10 minutes
Cook: 20 minutes
Total Time 30 minutes
Servings 8 Servings
Ingredients
For the Cranberries
8 ounces dried cranberries
4 ounces dried cherries
1 cup water
1 teaspoon orange zest
1 teaspoon vanilla extract
For the Cheese and Pastry
1 (13.2 ounces) Brie Cheese wheel (anywhere from 8 to 14 ounces will work)
1 package Puff Pastry thawed (one sheet will cover the cheese completely. You can use the second sheet to make some decorations if you chose to)
About ¼ cup of flour for rolling the dough)
1 egg
For serving: Choose from French Bread sliced crackers,sliced apples, sliced pears, grapes
Instructions
For the Cranberries
In a small saucepan over medium heat, place the cranberries, cherries and water. Make sure the water covers the dried fruit. Add more water if needed. Bring to a boil and lower the heat to low. Add the orange zest and vanilla extract. Simmer for 15 minutes. Remove from the heat and let cool for about 10 minutes.

Line a baking sheet with a non-stick baking mat, parchment paper or foil.

Preheat the oven to 400 Fahrenheit

Dust your work space or counter with a little flour. Do the same to your rolling pin. Unroll one sheet of puff pastry gently and place it on the counter. Roll your pastry gently until it reaches about 11 x 11 inches. There is no need to measure it! We are just trying to make the pastry a bit thinner and get rid of the folding creases (slightly). If it breaks, wet your fingers with water and pinch the pastry dough back together. (Think of it as play dough and enjoy the process!!)

Follow one of the methods below.
Method #1 Super Easy
After rolling the pastry, place the round of brie in the middle. Top with the cranberries. Fold the corners over the cheese forming a neat package. Almost like wrapping a present. If you feel you have too much puff pastry in some areas, trim it with a sharp knife. Keep the trimmings to use for decorating.
Method #2 Easy
Lay the pastry on a dinner plate. Add the cranberries in the middle of the puff pastry. Place the cheese on top. Fold the corners over the cheese. This will be the bottom so you don't have to be so neat.

Place the prepared sheet pan on top of the wrapped brie. Gently hold the dinner plate (don't press too hard) and flip! Lift the dinner plate. Voila! The seams are down.

In a small bowl, combine the egg with about a tablespoon of water to make an egg wash. Cut decorative shapes from the remaining puff pastry. You can use cookie cutters if you wish. Using a pastry brush, gently brush the decorative cut outs with the egg wash and adhere to the wrapped brie. Brush the wrap brie evenly with egg wash. Refrigerate for at least 15 minutes.

Bake the brie for about 15-25 minutes or until golden brown. Remove from the oven and allow to cool for 5-10 minutes. This will give the cheese time to firm up a bit. Otherwise, it will all gush out. Not that there is anything wrong with that!

Serve with accompaniments.
Nutrition
Calories: 311kcal (16%)Carbohydrates: 47g (16%)Protein: 3g (6%)Fat: 12g (18%)Saturated Fat: 3g (19%)Cholesterol: 20mg (7%)Sodium: 89mg (4%)Potassium: 37mg (1%)Fiber: 3g (13%)Sugar: 26g (29%)Vitamin A: 535IU (11%)Vitamin C: 0.3mgCalcium: 22mg (2%)Iron: 1.3mg (7%)
* Please note that all nutrition information are just estimates. Values will vary among brands, so we encourage you to calculate these on your own for most accurate results.
KEEP IN TOUCH AND NEVER MISS A RECIPE!
If you've tried this or any other of my recipes, don't forget to rate the recipe and to leave me a comment. I love hearing from you!