This Greek Chopped Salad is quick, easy, healthy and super tasty. Tomatoes, cucumbers, red onions, garbanzo beans, Kalamata olives and Feta cheese are tossed in a simple red wine-oregano vinaigrette.

This is actually one of my son's favorite meals! Full of fresh vegetables, tangy cheese and salty olives. This Ultimate Greek Chopped Salad is what he craves for dinner,
We are still trying to figure out how it happened. My little-est is almost 100% vegetarian, always has been. When he was a baby, he would spit out all those meats I carefully made into mush – I mean yummy and nutritious baby food.
He is now 5 years old and occasionally will eat a strip of extra crispy perfectly cooked bacon. I think I've seen him take a bite of the very popular kid's favorite chicken nugget 5 times in all his years! Needless to say, I was in complete shock!
My oldest son always tells his little brother "you are making me look bad eating all those vegetables!!"
Everything I cook at home has to be tweaked and turned into a vegetarian friendly meal! My little one is also very observant and doesn't like it when we give him something that looks totally different than what everyone else is having.
Let's say I make Sticky Chicken with Peach Glaze and Grilled Peaches for dinner. For him, I would grill a few vegetables cut into big chunks and baste them with the peach glaze. Just as I did with the chicken for everyone else.
The Ultimate Greek Chopped Salad is full of vegetables and the addition of garbanzo beans makes it a complete, healthy and quick meal!
There's no need to make any tweaks here!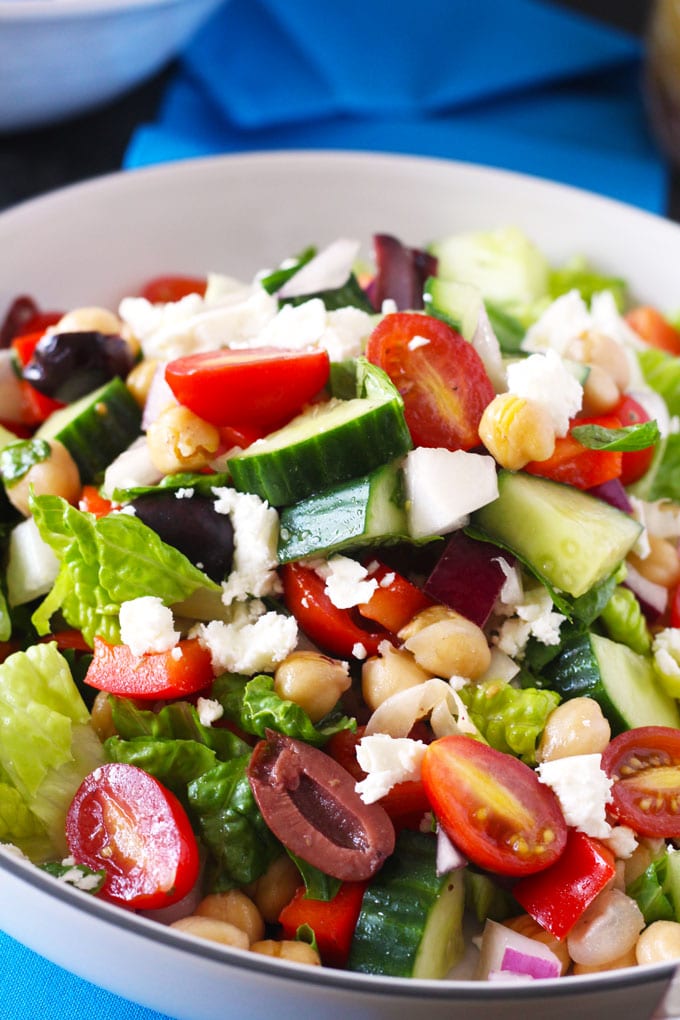 Because I live in a house full of boys with big appetites (OK, there are only 3 boys but I feel outnumbered), I decided to make a big bowl of buckwheat cooked in chicken broth to serve on the side (shhhh don't tell my vegetarian son there's chicken in the broth). Of course you can cook your buckwheat in vegetable stock or water, although I prefer the stock over the water any day as it imparts more flavor.
I would be lying if I told you we didn't mix this Greek chopped salad with the buckwheat. We couldn't help it! The result was amazing!
Kathy's Notes
Add chopped green bell peppers to the salad! You will not be disappointed.
I used canned garbanzo beans for this recipe to make it a quick meal. Feel free to soak and cook your own beans if you have the time.
Quinoa can be submitted for the buckwheat if you prefer.
If you love Greek flavors, try these amazing Baked Greek Meatballs with Tzatziki Sauce
Follow me on social for more recipe ideas & inspiration! Pinterest Facebook Instagram My Newsletter
The Ultimate Greek Chopped Salad
A quick, easy and healthy salad with tomatoes, cucumbers, red onions, garbanzo beans, Kalamata olives and Feta cheese tossed in a simple red wine-oregano vinaigrette.
Prep: 15 minutes
Total Time 15 minutes
Servings 6 servings
Ingredients
For the Salad
3 cups of romaine lettuce, chopped
2 cups cherry or grape tomatoes, halved
1 English cucumber, chopped
1 small red onion, chopped
1 15 ounces can garbanzo beans (chickpeas) drained and rinsed
½ cup pitted Kalamata olives, halved lengthwise
4-6 ounces feta cheese, crumbled
Chopped parsley to taste
For the Vinaigrette
1 garlic clove, minced
1 teaspoon dried oregano
½ teaspoon Dijon mustard
¼ cup red wine vinegar
½ cup olive oil
1 teaspoon salt
¼ teaspoon ground black pepper
Pinch of sugar
Instructions
To make the Vinaigrette:
In a small bowl whisk together the garlic, dried oregano, Dijon mustard, red wine vinegar, salt, pepper, and a pinch of sugar. Still whisking, add the oil slowly to create an emulsion.
For the Salad
In a large bowl toss the lettuce, tomatoes, cucumbers, onions, garbanzo beans and Kalamata olives with desired amount of vinaigrette. Add the Feta cheese and chopped parsley and toss gently. Adjust seasoning to taste.
Nutrition
Calories: 373kcal (19%)Carbohydrates: 27g (9%)Protein: 10g (20%)Fat: 25g (38%)Saturated Fat: 5g (31%)Cholesterol: 16mg (5%)Sodium: 793mg (34%)Potassium: 484mg (14%)Fiber: 7g (29%)Sugar: 7g (8%)Vitamin A: 2485IU (50%)Vitamin C: 16.1mg (20%)Calcium: 165mg (17%)Iron: 3.2mg (18%)
* Please note that all nutrition information are just estimates. Values will vary among brands, so we encourage you to calculate these on your own for most accurate results.