Greek Salad Dressing is easy to make and better than anything you can buy at the store! Whip up a batch of this delicious salad dressing recipe and keep it in the fridge for later use.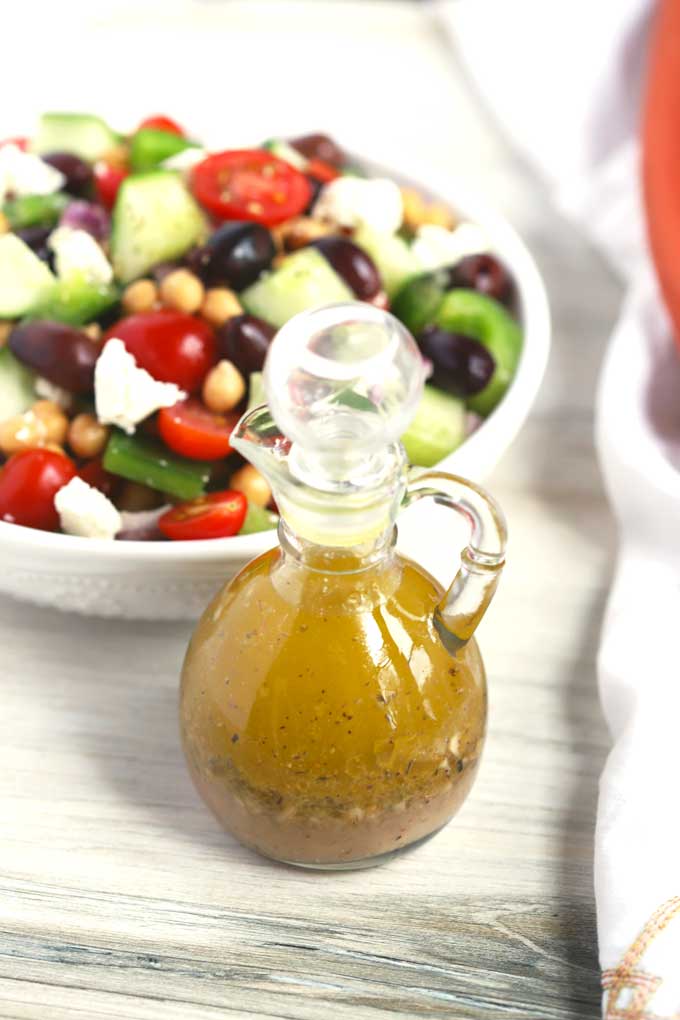 Greek Salad Dressing has become so popular that you can find it in many restaurant menus and on the shelves of most supermarkets. The fresh, tangy and tasty flavors of this simple salad dressing recipe goes well poured over vegetables and salad greens and it is also a great alternative for dressing quinoa or pasta salads.
I also use it quite often as a marinade for chicken, beef, lamb and vegetables. Quickly marinating any of these ingredients before tossing them on the grill results in a super flavorful meal.
Greek Salad Dressing Ingredients
A tasty Greek Salad dressing only requires a few simple ingredients that you most likely already have at home.
Extra virgin olive oil, red wine vinegar, fresh lemon juice, Dijon mustard, fresh garlic, salt, pepper and the most important ingredient dried oregano.
Because of the simplicity of this salad dressing, it is important to use high-quality ingredients. Good quality extra virgin olive oil is a must, freshly squeeze lemon juice tastes much better than anything you can buy in a bottle and fresh garlic always adds freshness and amazing flavor to simple vinaigrette recipes.
As for the dried oregano, for this particular recipe I like to use Greek or Mediterranean oregano which is a bit earthier and savory than Mexican oregano.
Mediterranean Oregano vs Mexican Oregano
Mediterranean oregano and Mexican oregano come from two different species. Mediterranean oregano is part of the mint family while Mexican oregano is part of the verbena family! Although they share a name, they are not the same plant!
How To Make Greek Salad Dressing
Making this salad dressing is as simple as:
Whisk together the red wine vinegar, lemon juice, garlic, Dijon mustard, salt, pepper and oregano.
Slowly add the oil while whisking vigorously to create an emulsion.
Although the process is simple, the key for a perfect vinaigrette is to make a good emulsion. These two important steps are crucial:
Add the ingredients in the right order – oil should always go in last.
Add the oil in a slow stream while whisking constantly.
Emulsion is the uniform mixture of two or more liquids that don't usually mix (think water and oil) by using agitation in the form of whisking or blending. A vinaigrette is a temporary emulsion as the ingredients will eventually separate.
You have questions? We have answers!
Can I use Mexican oregano for this recipe?
Yes, although as I mentioned above Greek and Mexican oregano are different, you can use Mexican oregano if that is what you have handy.
How Can I make this Greek Salad Dressing creamy?
You can make Creamy Greek Salad Dressing by adding Greek yogurt (about 1/4 cup), mayonnaise (about 1 tablespoon) or sour cream (about 1/4 cup). You may want to add less salt.
Can I make this salad dressing recipe in a jar?
Yes, although I find that whisking in the oil slowly, keeps the vinaigrette from separating longer than when shaken in a jar.
Greek Dressing Recipe Tips
You can keep this vinaigrette refrigerated in a sealed container for about a week.
Mince or grate the fresh garlic to prevent big chunks of raw garlic in the dressing.
This recipe is gluten free, vegan and low carb (Keto friendly).
Take A Look At These Other Salad Recipes:
Follow me on social media for more recipe ideas & inspiration! Pinterest Facebook Instagram My Newsletter
Greek Salad Dressing
This Greek Salad Dressing is easy to make and better than anything you can buy at the store! Whip up a batch of this delicious salad dressing and keep it in the fridge for later use. Gluten free, low carb, vegan and absolutely the best!
Prep: 5 minutes
Total Time 5 minutes
Servings 6 servings
Instructions
In a small bowl, whisk together the vinegar, lemon juice, garlic, mustard, oregano, salt and pepper.

Slowly add the olive oil while whisk vigorously until the dressing is emulsified.
Nutrition
Calories: 165kcal (8%)Carbohydrates: 1gFat: 18g (28%)Saturated Fat: 2g (13%)Sodium: 204mg (9%)Vitamin C: 2.2mg (3%)Calcium: 7mg (1%)Iron: 0.3mg (2%)
* Please note that all nutrition information are just estimates. Values will vary among brands, so we encourage you to calculate these on your own for most accurate results.