Last updated on April 23rd, 2019 at 08:24 pm
Sauteed Peas with Prosciutto and Shallots is an easy and quick side dish perfect any day of the week and fabulous enough to serve for holiday meals!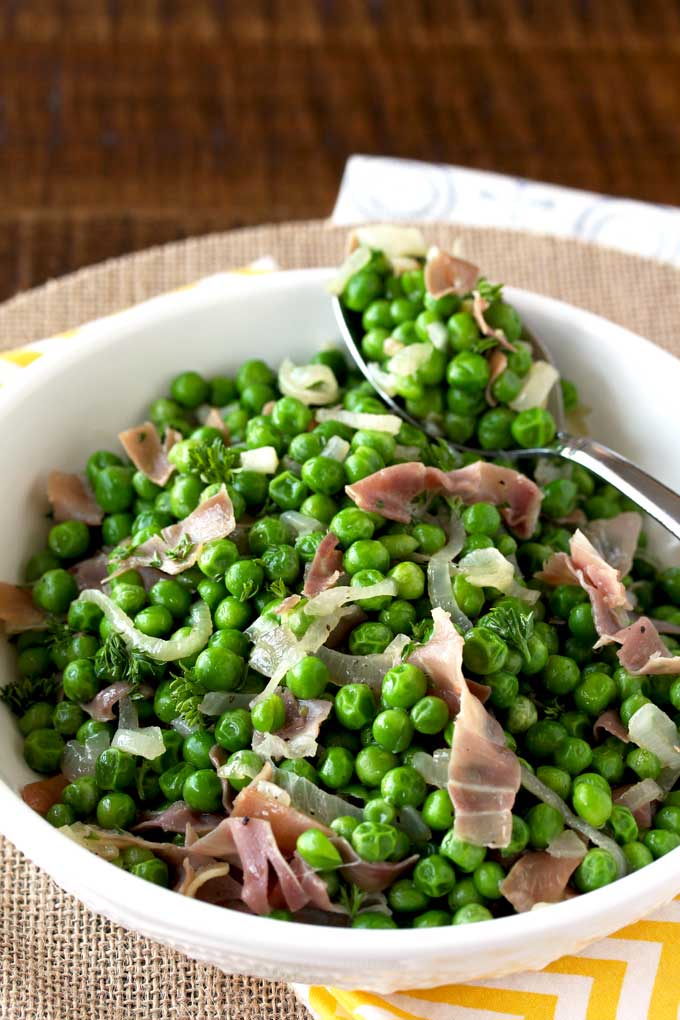 I love side dishes that can be made in less than 15 minutes with ingredients that are available all year round. You may be thinking – well fresh peas are only available during spring – luckily this side dish can be made with frozen peas which I always have in the freezer.
To make this Sauteed Peas with Prosciutto and Shallots you don't even need to thaw out the peas! I love interesting frozen peas recipes – one can only have so many bowls of steamed peas! In this peas recipe the caramelized shallots and the saltiness of the prosciutto really bring this dish to life.
For this peas recipe, I take time to cook the shallots until they start to have a little bit of color. Caramelizing them brings out their sweet flavor and also adds a nice golden color. Now take a look at the photo below, the shallots are starting to get some color – that is when I pulled them out and use them for this recipe. If you have time to caramelized them until they are completely golden brown, you can also do that. Just watch them carefully – it is a low heat – slow process that takes a bit of time and results in wonderful results.
What is Prosciutto?
Prosciutto is an Italian dry-cured ham. It is salty, buttery and delicious.
Prosciutto Ham (Prosciutto di Parma) is readily available in most supermarkets and is usually sold sliced paper-thin.
The fat around the ham should not be removed. It is what gives the prosciutto it's distinct flavor.
Can I use Bacon or Pancetta for this recipe?
Absolutely, but you will have to fully cook the bacon or pancetta before adding it to the peas. Unlike ham, they should not be eaten raw.
Need other Side Dish Ideas?
---
WANT TO TRY THIS SAUTEED PEAS WITH PROSCIUTTO AND SHALLOTS RECIPE?
PIN IT TO YOUR SIDE DISH BOARD TO MAKE IT LATER!!
FIND ME ON PINTEREST FOR MORE DELICIOUS RECIPES!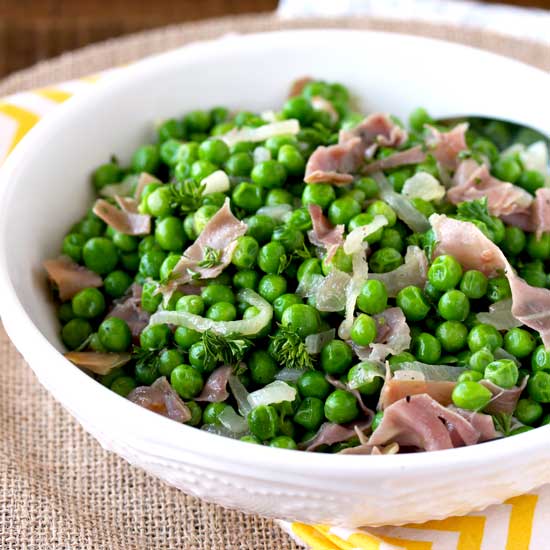 Print Recipe
Sauteed Peas with Prosciutto and Shallots
Sauteed Peas with Prosciutto and Shallots is an easy and quick side dish perfect any day of the week and fabulous enough to serve for holiday meals!
Prep Time4 mins
Cook Time11 mins
Total Time15 mins
Servings: 6 servings
Calories: 116kcal
Ingredients
3 tablespoons unsalted butter
2 shallots, thinly sliced
2 garlic cloves, thinly sliced
3 ounces thinly sliced prosciutto, chopped
1 (12-ounces) bag of frozen peas
1/4 teaspoon salt
ground black pepper to taste
Instructions
Melt the butter in a skillet over medium-low heat.

Add the shallots and garlic and saute stirring constantly for about 4 - 5 minutes or until the shallots start to get golden brown.

Add the frozen peas and saute until heated through, about 4 - 5 minutes. Add the salt and stir to combine.

Add the prosciutto and cook for about a minute. Season with salt and pepper to taste. Serve.
Notes
You can use a 1-pound bag of frozen peas for this recipe. 
You can use fresh shelled peas for this recipe. Blanch the peas in salted boiling water first. Then follow the recipe and saute until the peas are tender. They do take longer to cook than frozen peas.
Nutrition
Calories: 116kcal | Carbohydrates: 1g | Protein: 2g | Fat: 11g | Saturated Fat: 5g | Cholesterol: 24mg | Sodium: 192mg | Potassium: 55mg | Vitamin A: 175IU | Vitamin C: 1mg | Calcium: 7mg | Iron: 0.2mg
NEVER MISS A RECIPE!
If you've tried this or any other of my recipes, don't forget to rate the recipe and to leave me a comment. I love hearing from you!