This creamy Lemon and Herb Artichoke Dipping sauce pairs deliciously with steamed artichokes. The rich and tangy dipping sauce is made with 6 simple ingredients like Greek yogurt, lemon juice and fresh herbs.
I grew up eating artichokes at home. My grandmother would cook artichokes, usually boiled or steamed (and sometimes grilled) and would serve them with a very basic vinaigrette. Although it was delicious, I sometimes enjoy a creamy dipping sauce (and I'm not just referring to plain mayonnaise!)
Artichoke Dipping Sauce
This lemon and herb artichoke dipping sauce is simple, yet full of flavor. A combination of mayonnaise and Greek yogurt makes this sauce rich and creamy while cutting down on the calories.
Artichoke Sauce ingredients
Mayonnaise: I tested this recipe with regular mayonnaise. Light mayonnaise can be used but the dipping sauce will not be as rich and creamy.
Greek Yogurt: 5% whole milk or 2% are best
Garlic: Fresh garlic cloves are best to make this sauce.
Lemon Juice: Use fresh lemon juice. Bottled lemon juice doesn't compare to the real deal!
Herbs: Fresh basil and parsley. You can also add mint for a different twist.
Seasonings: Salt and ground black pepper.
How To Make This Dipping Sauce for Artichokes
This is one of those recipes that doesn't need any special instructions. All you need to do is combine all the ingredients in a bowl and you are done!
How To Eat Artichokes
Artichokes are amazing, especially when in season. If you are not familiar with this delicious vegetable, you should check out my How To Cook Artichokes tutorial and learn how to pick, prepare and cook artichokes with 2 different methods, steaming and boiling. Plus I answer a lot of the questions you may have about this nutritious vegetable.
Eating artichokes may seem like an enigma to some people and like a task that requires a lot of effort to others. However, dunking artichoke leaves (actually called bracts) and smearing a savory creamy dipping sauce on artichoke hearts makes eating artichokes a must!
Eating Steamed Artichokes with Lemon Herb Dipping Sauce:
Pull off the leaves and dunk the bottoms in the amazing artichoke dipping sauce. Gently bite down on the bottom tightly gripping the other end of the leaf while scrapping it through your teeth to remove the meaty flesh. Yum!
You will start to see the tender inner leaves which sometimes have purple tips. Remove them by pulling them all at once.
Now, you are close to the best part, the artichoke heart, but first you need to get rid of the choke. Scrape off the fuzzy inedible part with the help of a spoon or the tip of a knife.
You finally got to the treasure at the end of the artichoke. The artichoke heart! This part is all edible. This is where I purposely over do it by spooning extra dipping sauce all over the tender and tasty artichoke heart. Absolutely irresistible if you ask me! At this point, I'm completely satisfied, yet I'm searching for something else to smear this dipping sauce on. Yes! It's that good!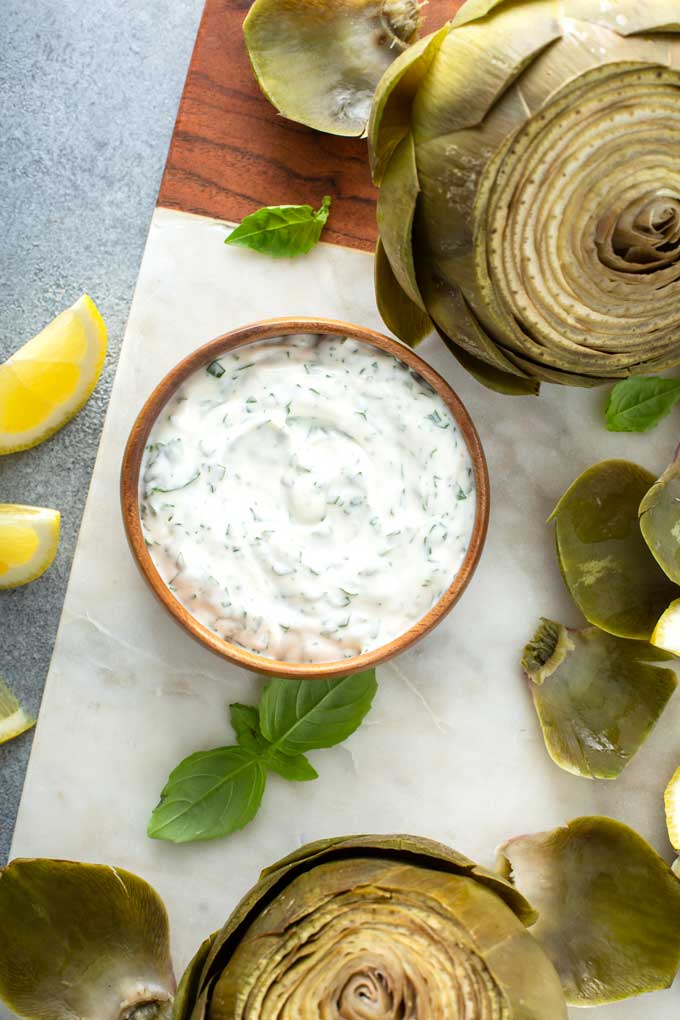 Artichoke Dipping Sauce Recipe Tips
This artichoke sauce can be made ahead! Store in an airtight container in the refrigerator for 2-3 days.
This artichoke dipping sauce does not freeze well.
This recipe yields about 3/4 cup of dipping sauce.
Take A Look At These Other Dip Recipes:
Follow me on social media for more recipe ideas & inspiration! Pinterest Facebook Instagram My Newsletter
Lemon Herb Dipping Sauce for Artichoke
This Artichoke Dipping sauce is creamy, easy to make and super flavorful. A bit garlicky and tangy with lots of fresh herbs, this artichoke dipping sauce adds lots of flavor to your steamed or boiled artichokes.
Prep: 10 minutes
Cook: 0 minutes
Total Time 10 minutes
Servings 6 servings
Ingredients
1/2 cup mayonnaise
1/4 cup Greek yogurt
1 garlic clove minced or grated
1 teaspoon lemon juice
2 teaspoons chopped parsley
2 teaspoons chopped basil
Instructions
Place all ingredients in a small bowl and stir to combine. Season with salt and black pepper to taste.
Chef's Tips
This artichoke sauce can be made ahead! Store in an airtight container in the refrigerator for 2-3 days.
This artichoke dipping sauce does not freeze well.
This recipe yields about 3/4 cup of dipping sauce.
Nutrition
Calories: 132kcal (7%)Carbohydrates: 1gProtein: 1g (2%)Fat: 14g (22%)Saturated Fat: 2g (13%)Trans Fat: 1gCholesterol: 8mg (3%)Sodium: 122mg (5%)Potassium: 17mgFiber: 1g (4%)Sugar: 1g (1%)Vitamin A: 17IUVitamin C: 1mg (1%)Calcium: 11mg (1%)Iron: 1mg (6%)
* Please note that all nutrition information are just estimates. Values will vary among brands, so we encourage you to calculate these on your own for most accurate results.